This list is continually updated as TV shows are added and removed from the Netflix library. Last update: July 25, 2014. Jacob O'Gara, Drew Prindle, and Brandon Widder contributed to this guide.
Netflix has a treasure trove of awesome movies that you can stream right now, but if you're looking for more than just a two-hour commitment, it's also got a boatload of great TV shows you can delve into to keep yourself occupied for days, or even weeks on end. If you just finished a good series and you need a new one to fill the void, Netflix is the place to go. Nothing beats a weekend-long marathon with no commercials, so without further ado, we give you our tightly-curated list of the best Netflix Instant TV shows.
Related: Best movies currently streaming on Netflix, Hulu, and YouTube.
Drama
Jump to:
Mad Men
Set in New York in the 1960′s, Mad Men follows one of the city's most prestigious ad agencies on Madison Avenue. The agency is doing well, but as the industry grows the competition begins to stiffen. The agency tries to survive in a time when everything, including the ad industry, is undergoing a radical shake-up. The two protagonists are the enigmatic Don Draper, a self-made executive who's childhood seems to always get in the way of his happiness and ultra-terse Peggy Olson, a former secretary who works her way up the corporate ladder.
Breaking Bad
Walter White (Brian Cranston) is a high school chemistry teacher diagnosed with late-stage lung cancer. To secure his family's finances before he dies, he quits his job and begins to cook and deal meth. Using his chemistry background, White cooks and deals premium blue meth and upends volatile Southwest meth market. His partner is former student, and burn-out Jesse Pinkman (Aaron Paul). It's teeming with moral consequences and family issues, and fittingly, as addicting as the crystal meth Walt produces in his beat-up van in the desert.
The Netflix-produced series is one of the best political dramas since The West Wing. The show revolves around protagonist Francis Underwood (Kevin Spacey), the U.S. Senate Majority Whip who uses every political secret and inch of his clout to dethrone enemies and leverage his way to the top. His alliance with environmental lobbyist Claire (Robin Wright) is arguably one of the best alliances on TV, brilliantly showcasing just how the two characters are willing to go to beat their opponents and catapult — or destroy —approval ratings.
House of Cards (Original)
So you've seen the American House of Cards, right? Well, check out the BBC original, based off Michael Dobbes' book of the same name. Dobbes is a former Chief of Staff for the UK's Conservative Party, and as expected, the show is steeped in political controversy. Ian Richardson plays protagonist Francis Urquhart — not Frank Underwood but still F.U. —on his monomaniacal and revenge-fueled quest to become Prime Minister. It's extremely British and a bit outdated given it originally aired in 1990, but it's still bloody good.
The West Wing
Quite possibly the best political drama of all time, The West Wing follows fictional President Jed Bartlett (Martin Sheen) and his staff as they fight various personal and political battles, through his two terms as president. Critics and people close to the White House praised the show for its accuracy and the Aaron Sorkin's razor sharp dialog, and even now, the show lives on through multiple Twitter Handles for several West Wing characters. Still, Netfflix offers all seven seasons.
Friday Night Lights
Nothing like a good old fashioned football drama to make you feel all warm and fuzzy inside. There's not much happening in the rural Texas town of Dillion on Friday nights, except for high school football. The show is set in Dillon, Texas the epicenter of high school football, and follows a team that is considered one of the best in the state. Inspired by the film and loosely based on H.G. Bissinger's gritty novel of the same name, the team's effect on the rural Texas community is captivating, and there's plenty of playbook tricks to keep you hooked.
Scandal
Currently in its third season, you can still catch up with the first two of this insanely popular — and insanely insane — political drama. Kerry Washington is Olivia Pope, the head of a task-force that cleans up politicians after they get down and dirty in scandals. The former press aide from the Bush administration serves as a co-producer for the show, so you know that there are nuggets of real events the show tries to flesh out on screen. It's so much more than that, though, with plot twists, political intrigue, and conspiracies that make 24 look tame.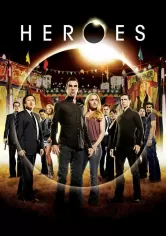 Heroes
With the NBC series Heroes Reborn set for 2015, it's time for a rehash. The original story revolves around a group of ordinary people who discover they posses superpowers, like the ability to read minds or regenerate. Of course, there are several "non-gifted" individuals who attempt to kill off all the gifted. The show has the feel of a comic pool, with a strong focus on the visual and major plot arcs that span entire seasons and give birth to smaller more nuanced personal stories.
Next Page: Comedy.