Andrew Couts: Eating. You're doing it wrong.
Short of choking yourself to death, there's really no wrong way to eat something. You just put the foodstuff in your mouth, chew, swallow, and let your gut do the rest. But there definitely are better ways to eat certain foods – like chicken wings, for example. Did you know that you don't actually have to eat around those bones? Or how about cupcakes, bananas, sushi, and even apples? There are better ways to eat all of those tasty treats and more, as explained in this enlightening little video roundup from the Daily Dot, which shows exactly how to improve the ways in which you scarf down the sweet sustenance of life. The only downside to learning this wisdom is that you'll never be able to watch someone eat a hot wing the "wrong" way again without offering a correction. Bon appetit!
Amir Iliaifar: Bambi 'rides' the bus
Public transportation isn't just for humans anymore.
After failing to sprint across a Pennsylvania street in time, a poor – and oh-so-lucky – deer smashes through the windshield of a 10-ton bus, causing massive amounts of damage to the windshield and the driver's underpants.
As you can see from the security video, Bambi comes flying through the windshield, misses the driver, and falls to the floor, only to pull a Rocky Balboa, get up, and run around in crazed panic. It even attempts to GTFO the way it came but to no avail.
Thankfully, the driver finally brings the bus to a halt, where the deer eventually manages to escape but not before taking a quick victory lap around the bus' cabin.
When you consider the sheer force of the deer's impact with the bus, it's a miracle the poor thing even survived. But I suppose witnessing the death of his mother made Bambi one tough bastard. Makes me wonder what that deer would do to my Corolla. Yikes.
Caleb Denison: Fame is exhausting
I think Freeman might be feeling his age a bit. Or maybe he's just really tired.
Naturally, a new movie means Hollywood stars must embark on a seemingly endless series of promotional interviews with local network affiliates. My guess is poor Morgan Freeman and Michael Cain were up at the buttcrack of dawn pimping their new flick, because in this interview with a Fox affiliate in Tacoma, Washington, Freeman totally nods off. As early as 1:22 in the video, you can see that Freeman is struggling to keep awake. By 1:43, he's making half-hearted nods of acknowledgement, probably with no real idea of what's being said. And by 1:53, it's lights out for Red.
The actor's on-screen nap only lasts for about 10 seconds before his eyes suddenly flash wide open the way a dozy schoolkid's does in 5th-period Social Studies class. But there's no denying it, he was asleep there for a second. And slightly funnier than the accidental slumber is Freeman's response to the question, "What makes a good narrator." Priceless.
Bill Roberson: Parallel parking made easy
Of course, from the Digital Trends Cars section comes…. a car. But not just any car. This electric vehicle prototype from DLR, a big-brained research firm in Germany, give us a glimpse of what future electric cars will be capable of in terms of maneuverability and style. OK, maybe most people will not want to drive in something that looks like a cross between a vehicle from 'Tron' and the people-mover from Woody Allen's 'Sleeper' future-parody, but if it did look more, uh, normal, and still did stuff like this, I'd be in line with my Bitcoin credit card. Nice bonuses: the video has no narration (none needed) and if you plug in some decent speakers, you have an instant dance party. Now ees zee time vee dance (and drive)!
Brandon Widder: Get back up to speed on Arrested Development in a hurry
It's been a long, winding road for one of television's now-beloved dysfunctional families, but the wait is finally over (almost). The Bluths and the rest of the Arrested Development crew are coming to a Netflix streaming device near on Sunday, breaking a seven-year hiatus with what looks to be a promising fourth season. If you want, you'll be able to watch all 15 episodes in a single marathon sitting, chuckling away at Michael Cera's borderline-incestuous thoughts of his cousin, Lucille's rape horn, and Gob's infamous chicken dance. It's going to a hoot.
However, if you're like me, you're AD knowledge is wee bit rusty – just admit it. Sure, you could head over to Netflix right now and stream all three seasons before this weekend, but who has that kind of time these days? Luckily, the folks at Beautler Ink have cataloged some of the show's many running jokes, complete with every episode in which they air. Finding every incident of sweartakes, Annyong and hot cops has never been easier.
You still have a couple days to check out the interactive visualizer of all the show's recurring developments before the premiere. Also, make sure to shoot concept creator Chris Doty an email if you think something may have been missed.
Steve Holt!
Les Shu: Digital pareidolia
Face detection is one of the more useful features in digital cameras. Using algorithms to make out a human face, the camera is able to pick proper settings and focus when shooting the photo. The latest advancements in face detection can pick out things like multiple subjects and smiles. While it's an effective tool for the layman to take digital portraits, PetaPixel came upon two South Korean artists – Shin Seung Back and Kim Yong Hun – who discovered that the algorithms could be used to detect faces in passing clouds.
It's not uncommon for kids to stare at the sky and find shapes in clouds that look like objects and people – it's all about imagination (a phenomenon known as pareidolia). The same can be said to describe using face detection on the clouds. In the photos from the artists' Cloud Face project, it's a bit hard to make out the faces, and you really have to exercise some creative thinking. Cloud Face is a collection of cloud images that are recognized as human face by a face-detection algorithm. It is a result of computer's vision error, but they look like faces to human eyes, too. This work attempts to examine the relation between computer vision and human vision," the artists wrote.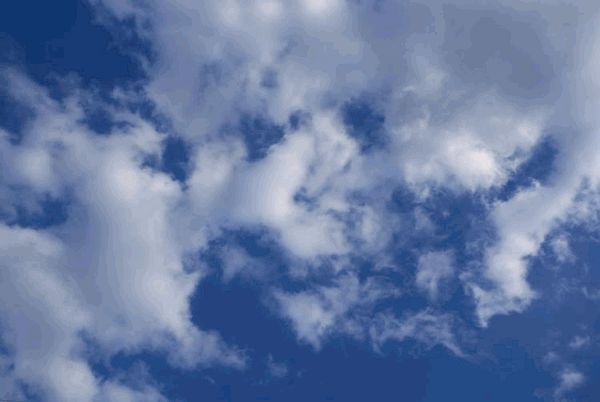 Editors' Recommendations