Transcend has revealed an 8TB StoreJet 35T3 external hard drive which, according to Tom's Hardware, is scheduled to retail for $409. The USB 3.0 HDD offers new recording technology and the lowest price-per-GB on the market.
Presently, only two 8TB HDDs exist on the market — the Seagate Active Archive HDD and the HGST Ultrastar He8. A close look at the pricing reveals that the StoreJet 5T3 actually contains the Seagate Archive HDD within the confinements of its enclosure.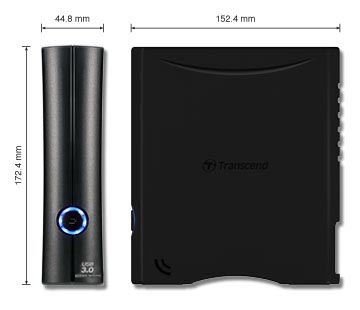 The Transcend StoreJet allows for transfer speeds of up to 200 MBps, in comparison to the 190 MBps its employed Seagate Archive HDD is specified to exhibit alone. Thanks to SMR (Shingled Magnetic Recording), the StoreJet is also able to boost its capacity by layering data tracks intimately on top of one another. That's in contrast to the standard PMR (Perpendicular Magnetic Recording) in which data tracks are separated by negative space.
Unfortunately, SMR drives don't play well with random write data, which hinders the StoreJet's potential as a means of extra storage for casual desktop users. As a result of this same setback, the Seagate Archive HDD is often dismissed as a backup/archival unit given its reputation for being a "cheap and deep" storage solution at only 3 cents-per-gigabyte, an industry-low in the internal hard drive space.
The StoreJet's enclosure, a distinguishing feature of the rig, introduces a One Touch auto-backup button to instantly backup user data, made possible by the complimentary Transcend Elite data management software. And, to help secure that data, the StoreJet also boasts AES-256 file and folder encryption.
Transcend's StoreJet is accompanied by a three-year warranty, similar to the enclosed Seagate Active Archive, and notably an entire year longer than that of most desktop hard drives. In an unfavorable competition for Transcend, it should be noted that Seagate offers its own 8TB external hard drive for only $250.
Fortunately, for consumers who don't need quite as much space to work with, Transcend will also be releasing 3 and 4TB variants sporting the same enclosure. Those models will retail at $159 and $209, respectively.
Editors' Recommendations