There are several great options if you're searching for the best desktop computer, but Dell's XPS Desktop (8960) still takes the crown in 2023. It's highly flexible, decently priced, and comes with super powerful hardware. There are desktop PCs to pick from, though.
We've reviewed hundreds of desktop PCs from brands like Dell, Apple, Lenovo, and HP, but only a few truly stand out. These are the computers to look for when making your next upgrade. For our picks, we tried to balance price, performance, build quality, and our experience actually using the desktop. Make sure to read our explainer about how we review desktops to get an inside look at our evaluation process.
Quick overview
Dell XPS Desktop 8960: A highly flexible desktop that can accommodate almost any budget and purpose, from home office work to high-end gaming.
Lenovo Legion Tower 7i: A well-built and customizable desktop that shoots ahead in gaming performance.
Apple iMac 24-inch: Even a few years after releasing, Apple's iMac 24-inch remains unmatched with the M1 processor.
Apple Mac Mini M2: A supercharged version of Apple's storied Mac Mini that's as portable as it is powerful.
HP Envy 34 all-in-one: One of the most powerful all-in-one PCs you can buy still, despite its age.
Falcon Northwest Tiki: A boutique desktop PC that's small and very powerful for gaming.
HP Z2 Mini G9: A tiny PC that packs some of the most powerful hardware on the market.
HP Chromebase All-in-One: ChromeOS on a desktop that's easy to set up and use.
Lenovo ThinkStation P620: A powerful workstation that can handle the most demanding tasks.
Why you should trust us
We've reviewed hundreds of desktop PCs for years, looking for machines that stand out for gaming, home office use, photo and video editing, and so much more. From miniature PCs that can fit on a bookshelf to behemoth desktops with custom liquid cooling, we've seen literally everything, and we know what stands out and what doesn't.
Key considerations when selecting the best desktop
There are a few key areas we focus on when looking a desktop computer.
Performance
Performance is king when it comes to a desktop computer, but it's not an equal bar for every PC. Some machines, like the Mac Mini, are offering power in a portable package, while a desktop like the Lenovo Legion Tower 7i goes all-out for gaming prowess. We meet desktops where they're at, evaluating what they're trying to accomplish, and at what price.
Build quality
A desktop may look nice, but it's built of cheap plastics and throwaway components, it won't last for long. Our review process includes a teardown of every desktop to understand what the internal components look like. In addition, we look at fan placement, ventilation, and cooling to ensure the desktops will stay quiet during operation without overheating.
Support
Things go wrong with PCs, so it's important to have a robust support system in place. A one-year warranty is standard on most electronics, so we look for companies that go above and beyond what's required with multi-year warranties and around-the-clock support.
Upgradability
One of the main benefits of a desktop PC is that you can upgrade it in the future, but some brands have missed that memo. We keep an eye out for proprietary components and try to focus on desktops that provide some upgrade paths for users. This isn't possible for all machines, though, such as Apple's iMac, where upgrades are tricky for end users due to the form factor.
Dell XPS 8960
The best desktop computer
Pros
Flagship performance
Understated, attractive design
Relatively quiet
Solid port selection
Cons
Limited upgrade potential
Expensive
| Specifications | |
| --- | --- |
| CPU | Intel Core i7-13700K |
| GPU | Nvidia RTX 4080 |
| RAM | 32GB DDR5-4800 |
| Storage | 1TB NVMe SSD |
| Ports | 5x USB 3.2 Type-A, 2x USB 2.0 Type-A, 2x USB-C, 1x SD card reader |
The best overall desktop PC is the one that will work for the most people, and that's the Dell XPS 8960. It's understated in all the right ways, reasonably priced considering the power you can pack inside, and comes in a variety of configurations to suit work, gaming, or both. Choosing the highest-rated PC isn't easy, but the Dell XPS 8960 gets rid of that issue.
Regardless of what configuration you choose, you'll find something that matches your needs. That's because Dell builds them custom ordered, which is the best feature of the XPS 8960. The options are nearly endless, with prices ranging from $750 to over $3,000 depending on the parts you choose. Some of the desktops come without a discrete graphics card, meaning they're more suited for work than games. However, you can get one of the more expensive ones that include a discrete graphics card.
Dell is offering this new XPS desktop with Intel Raptor Lake and DDR5 RAM for those who are in search of the best gaming PC. You can add up to an RTX 4090 graphics card as well, which is a serious amount of power considering the size of the machine. Powerful hardware means more heat, but the XPS 8950 gets rid of it well with optional liquid cooling and a case with plenty of room for airflow.
Dell XPS 8960
The best desktop computer
Lenovo Legion Tower 7i
The best desktop PC for gaming
Pros
Flagship 4K gaming performance
Support for DLSS 3
Fully upgradable
Sleek, attractive design
Cons
RAM runs at slower speed
McAfee continues to annoy
| Specifications | |
| --- | --- |
| CPU | Intel Core i9-13900KF |
| GPU | Nvidia RTX 4080 |
| RAM | 32GB DDR5-5600 |
| Storage | 1TB NVMe SSD |
| Ports | 7x USB 3.2, 4x USB 2.0, 1x USB-C 3.2 Gen 2 |
The Lenovo Legion Tower 7i gets almost everything right. It comes with the latest flagship hardware, packing in an Nvidia RTX 4080 and a 13th-gen Intel Core i9 processor, and it comes in a sleek, attractive design that doesn't get too loud or hot. Perhaps most importantly, it uses standard-sized components so you can upgrade it in the future.
That's easily the best thing about the Legion Tower 7i. It comes with the more affordable price of a mainstream gaming PC without any of the hurdles that come from brands like Alienware and Asus. The convenience doesn't come at the cost of performance, either. Based on our testing, the Legion Tower 7i is just as fast as a custom-built PC with the same hardware.
The only downside is how the machine is configured. It comes with fast DDR5 memory, so this computer is great for playing ricky casino online without lag, but it's set up to run at a slower speed out of the box. That didn't make a big difference in overall performance based on our testing, but certain applications will run slightly slower in the Tower 7i's default configuration. Thankfully, boosting the memory speed just takes a couple of clicks.
Lenovo Legion Tower 7i
The best desktop PC for gaming
Apple iMac 24-inch
The best desktop for photo editing
Pros
Eye-popping screen
Speakers sound amazing
Webcam is excellent
M1 performance still surprises
Lots of fun color options
Touch ID built into keyboard
Cons
Lame port selection
The Magic Mouse is still annoying
| Specifications | |
| --- | --- |
| CPU | 8-core Apple M1 |
| GPU | 8-core Apple M1 |
| RAM | 8GB Unified Memory |
| Storage | 512GB NVMe SSD |
| Ports | 2x Thunderbolt / USB 4, 3.5mm headphone, Gigabit Ethernet, 2x USB-3 ports |
Apple is more of a laptop than a desktop brand, but the iMac is an exception. It's a balanced computer that has power where it counts and looks that are unmatched.
When it comes to Apple, a portion of the charm lies in the aesthetic. The 24-inch iMac is no exception. Coming in up to seven colors — blue, green, pink, white, yellow, orange, and purple — the iMac offers the ability to choose a look that fits you. It's also shockingly thin, measuring a mere 11.5mm, making it thinner than any other all-in-one desktop on the market.
The 24-inch (or 23.5-inch, to be precise) version of the iMac is not just a pretty package with little to back it up. Equipped with Apple's signature breathtaking 4.5K Retina display, this is a powerhouse for both professionals and home users who value display quality. Prices start at $1,299 for the base model with Apple's M1 chip — an 8-core processor that is also found in the Macbook Air — but you can spend up to $2,499 if you want extra RAM and storage.
Outside of raw power, the iMac M1 is a great desktop because it's easy to use. Setup is seamless thanks to the no-nonsense macOS operating system, and you don't need to worry about finding a space for a hefty desktop. It's a fantastic option for everyday use, but the M1 chip still provides enough power to run creative apps like Logic and Final Cut without breaking a sweat.
We're still waiting on the iMac to get the M1 Pro and M1 Max chips inside the MacBook Pro, but with the M2 MacBook Air already making the rounds, we may not see a new iMac until the M2 version is out.
Although we still recommend the iMac M1 in 2023, it's starting to show its age. If you're looking for something more modern, Acer's upcoming Aspire S all-in-one machines look like solid alternatives.
Apple iMac 24-inch
The best desktop for photo editing
Apple Mac mini M2
The best desktop computer for home
Pros
Still very compact
M2 Pro boosts the graphics
Lots of storage options
Stays amazingly quiet and cool
Fantastic port selection
Very affordable base configuration
Cons
Base configuration has slower SSD
Not user upgradable
| Specifications | |
| --- | --- |
| CPU | 8-core Apple M2 |
| GPU | 10-core Apple M2 |
| RAM | 8GB Unified Memory |
| Storage | 512GB NVMe SSD |
| Ports | 2x Thunderbolt 4, 3.5mm headphone, Gigabit Ethernet, 2x USB-A ports |
We rarely give products a perfect score, but that's exactly what Apple's Mac mini M2 earned in our full review. The updated mini PC features the same compact footprint that Apple has used for over a decade, but now with a major update under the hood.
The base M2 model is a big upgrade over 2020's Mac mini M1, but the updated desktop really shines with the M2 Pro chip. That takes the Mac mini from being a MacBook without a screen to a full-fledged creator machine capable of tackling the most demanding tasks you can throw at a computer today.
The only problem is the base configuration, which comes with a much slower SSD. We wholeheartedly recommend the Mac mini M2, but make sure to read our Mac mini M2 buying guide to pick the right configuration.
Apple Mac mini M2
The best desktop computer for home
HP Envy 34 All-in-One
The best desktop computer for work
Pros
Large 5K display
Powerful and upgradable
Wireless charging built into the stand
| Specifications | |
| --- | --- |
| CPU | Intel Core i7-12700 |
| GPU | Nvidia RTX 3060 |
| RAM | 16GB DDR5-4000 |
| Storage | 1TB NVMe SSD |
| Ports | 2x Thunderbolt 4, 3.5mm headphone, Gigabit Ethernet, 4x USB-A ports |
The HP Envy 34 All-in-One packs flagship hardware behind a screen. If you're looking for a Windows iMac alternative, the HP Envy 34 is your best option. It features a beautiful 34-inch ultrawide display, which you can open toolless-ly in the back to upgrade memory and storage.
HP updated the machine with up to a 12-core Intel 12th-gen processor, as well as a discrete RTX 3060 graphics card. We're still waiting to see if HP will update to Nvidia's new RTX 40-series mobile GPUs, as well as Intel's new processors, though.
Outside of raw power, the Envy 34 has a slew of quality-of-life features. It includes a detachable webcam, which you can position at five different points around the screen, and the stand supports wireless charging for your phone. The ports are built directly into the stand, too, offering quick access to everything you need.
All-in-one PCs are a dime a dozen, but the HP Envy 34 manages to stand out. If you want to keep your desk clean while still having a powerful PC, the Envy 34 is for you.
HP Envy 34 All-in-One
The best desktop computer for work
Falcon Northwest Tiki
The best mini gaming PC
Pros
Blazing 4K gaming performance
Fantastic thermal design
Top-notch build quality
Accessible upgrades
Standard three-year warranty
Limited fan noise
Cons
Limited Intel configurations
| Specifications | |
| --- | --- |
| CPU | AMD Ryzen 7 5800X3D |
| GPU | Nvidia RTX 3080 Ti |
| RAM | 32GB DDR4-3200 |
| Storage | 1TB NVMe SSD |
| Ports | Front: 2x USB 3.2, 1x USB-C / Back: 4x USB 3.2 Gen 2, 1x USB-C |
Falcon Northwest is one of the few true boutique PC builders left, and the Tiki explains why. It's one of the smallest gaming PCs you can buy, and it still manages to pack in flagship hardware. More importantly, the Tiki does both without sacrificing heat or thermals, which is the biggest pitfall for small form factor machines.
It's expensive, but Falcon Northwest's attention to detail still manages to stand out. From premium component selection to a detailed dossier of every aspect of your build, the Tiki goes beyond being just a shell for high-end components.
Falcon Northwest offers the machine with AMD or Intel configurations, paired with up to an RTX 3090 GPU. Unfortunately, the Tiki is too small to fit Nvidia's monstrous RTX 4090. Although the Tiki is clearly a gaming PC first, Falcon Northwest also offers it with Nvidia's professional GPUs.
Falcon Northwest Tiki
The best mini gaming PC
HP Z2 Mini G9
The best desktop for graphic design
Pros
Powerful processor performance
Compact
User accessible internals
VESA-mountable
Solid design and build quality
Cons
Odd port selection
Gets hot and loud
| Specifications | |
| --- | --- |
| CPU | Intel Core i9-12900 |
| GPU | Nvidia RTX A2000 |
| RAM | 32GB DDR5-4400 |
| Storage | 1TB NVMe SSD |
| Ports | 1x USB-C, 7x USB-A, 3.5mm headphone jack, Ethernet port |
HP's Z2 G9 is a remarkable mini PC that punches way above what its size would suggest. It's only 2.7 inches thick and about 8.5 inches long and wide. Despite that, it can pack the most powerful processor Intel offers today and a professional Nvidia RTX graphics card.
You can configure up to a Core i9-12900K in the machine, and it's not a mobile part. You're getting the full, fat 16 cores available to the desktop CPU. Combine that with up to an Nvidia RTX A2000 GPU, 64GB of DDR5, and 8TB of total storage, and you have one of the most powerful home desktops you can buy right now. And you can fit it in a backpack.
It comes at a price, though. Although the Z2 G9 is an excellent machine with some of the most powerful you can buy today, you can spend several thousand dollars depending on your configuration. That said, if you're a pro, or just need a high-end desktop with a small footprint, the HP Z2 G9 is an excellent choice.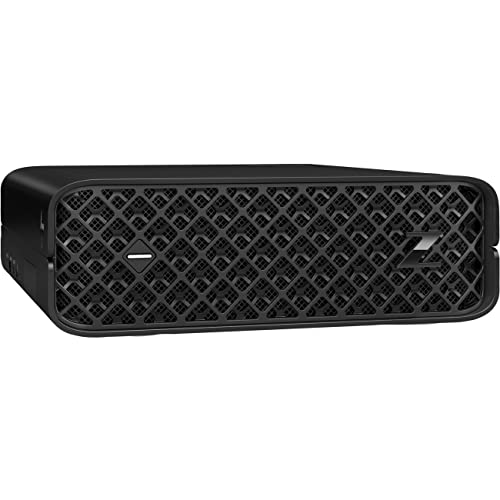 HP Z2 Mini G9
The best desktop for graphic design
HP Chromebase 22
The best desktop computer for home office
Pros
Unique, sleek design
Great-sounding speakers
Highlights versatility of ChromeOS
High-resolution webcam with privacy slider
Solid performance
Cons
The screen doesn't feel sharp
Ports are inconvenient
The included keyboard, mouse are cheap-feeling
| Specifications | |
| --- | --- |
| CPU | Intel Pentium Gold 6405U |
| GPU | N/A |
| RAM | 4GB |
| Storage | 64GB |
| Ports | 3.5mm headphone jack, 2x USB-C, 2x USB-A |
Desktops aren't the first thing that comes to mind when thinking about ChromeOS. The HP Chromebase 22 makes a strong argument for them, though. It's best described as a family PC, with an intuitive interface and dead-simple usability.
It's truly an all-in-one PC, too. The base holds a speaker and all of your ports, allowing you to plug in the power and get to work immediately. There's a wireless keyboard and mouse in the box, too, so you have everything you need.
The screen, despite being locked to a 1080p resolution, still looks great and there's an included webcam for video calls. Even better, you can rotate the screen vertically on the stand and the orientation will automatically adjust.
This is one of the advantages of the HP Chromebase 22 over a Windows or Mac machine. Although ChromeOS isn't for everyone, it's a simple, intuitive option for light web browsing and Android apps.
HP Chromebase 22
The best desktop computer for home office
Lenovo ThinkStation P620
The best desktop workstation computer
Pros
Insane processor performance
Easily upgradeable
Tool-free design
10Gb Ethernet
| Specifications | |
| --- | --- |
| CPU | AMD Ryzen Threadripper Pro 3995WX |
| GPU | Nvidia Quadro RTX 8000 48GB |
| RAM | 128GB octa-channel DDR4-3200 ECC |
| Storage | 1TB NVMe SSD |
| Ports | 8x USB-A, 2x USB-C, 3.5mm headphone, PS/2 |
The Lenovo ThinkStation P620 is a workstation in every sense of the word. This is a desktop designed to perform the most resource-heavy tasks out there. Created specifically for engineering, data science, machine learning, 3D modeling, video editing, and more, the ThinkStation is the kind of PC that will find uses across many fields, aiding professionals in their daily tasks.
More importantly, it's the only workstation available now with AMD's new Threadripper 5000 Pro processors. You can pack in up to a Threadripper Pro 5995WX processor, which packs in 64 cores and 128 threads, along with an astounding 256MB of L3 cache. Similarly, you can add up to two Nvidia Quadro GV100 GPUs, which is powerful enough for even the most demanding tasks.
The other specs are just as impressive – eight RAM slots for up to 512GB of memory, as well as six drive slots for up to 24TB of storage. Windows 11 comes default on the machine, but you can also have it pre-configured for Red Hat Enterprise Linux or Ubuntu as well.
The Lenovo P620 isn't for everyone. It's an insanely expensive workstation that can cost upwards of $40,000 fully tricked out, but for professionals who demand peak performance, nothing can touch the ThinkStation P620.
Lenovo ThinkStation P620
The best desktop workstation computer
Frequently Asked Questions
What's the best brand of desktop computer?
Dell, HP, Lenovo – how do you know what brand of desktop PC is best for you? Brand loyalty isn't the best way to approach desktop PCs, but brands have certain specialties. Apple is focused on rock-solid performance and a clean user experience for a slightly higher price, for example, while Dell creates several PCs that have the bandwidth for a home office and a gaming setup.
The best thing to do is look at individual desktop reviews rather than relying on what someone says is the "best brand." Some brands come out with excellent PCs one generation and poor desktops the next, so it's important to check in on reviews when you need to upgrade.
What is the best processor for a desktop computer?
The best CPU will depend on how you're using your desktop. Gamers who want the utmost performance will want an overclockable Intel Core i9-11900K found on most high-end systems, while creatives looking at juggling large media files will want something with more cores. That means AMD, which offers 12- and 16-core chips in the form of the AMD Ryzen 5900X and 5950X.
If you're working primarily on Office files and use your desktop to browse the web, scaling down to an Intel Core i5 or Core i7, or an AMD Ryzen 7 or Ryzen 5 processor, would help make substantial savings without impacting performance much.
Should my desktop have USB-C or Thunderbolt 3?
USB-C is beginning to show up in more desktop builds, but it's still more common on laptops. It's not strictly necessary, as there are plenty of USB-A to USB-C cables out there, but if it's a must for you, keep an eye on the case that your new system comes in. That will or won't have USB-C as standard.
Thunderbolt 3 uses the USB-C form factor but it offers the most bandwidth of any USB-based wired connection available at this time, giving speeds that scorch standard USB ports. However, it is even less common on desktops than plain old USB-C. If you want it, you'll need to go with an Intel or Apple system, though if you opt for the former and Thunderbolt 3 is not standard on the chassis or motherboard, you could always get a PCI-Express add-in card that has it.
When is the best time to buy a desktop?
The best time to buy a desktop is when your current computer isn't able to handle the applications you want to use. Black Friday and Amazon Prime Day usually bring the steepest discounts on desktop computers, but the reality is that you can score a deal on a PC almost any time during the year. Make sure to keep our roundup of the best desktop deals handy for when you want to upgrade.
How do you know if you need a laptop or desktop?
Choosing between a desktop and a laptop comes down to portability and comfort. You can take a laptop nearly anywhere, but they're not as comfortable to use as desktops with a larger screen. On the other hand, a desktop is more flexible and allows you to use a keyboard/mouse combo you like, but it's restricted to one area.
Consider what you'll use your machine for. If you're gaming, for example, a desktop makes more sense. If you're answering email and browsing the internet, a laptop is probably better a option.
How to choose a desktop computer
If your existing PC is so slow it can barely run Windows Solitaire, let alone video editing software, don't fret. There's some good news for computer users facing the inevitable upgrade: There's never been a better time to buy a new PC.
Prices are at an all-time low, while at the same time, computers are becoming incredibly powerful and full of convenient features. But choosing the right computer to match your needs and budget can be an overwhelming task -- especially for tech-shy folks intimidated by geeky terminology and pushy salespeople.
Here's how to choose a computer that's just right for you.
Laptop or desktop
If you require portability, then a laptop (also referred to as a "notebook") PC is for you. But if you want the flexibility of adding a larger display or upgrading other components (such as adding a bigger hard drive or better video card), then perhaps a desktop PC is the way to go.
If you buy a desktop computer, you will also need a display to plug into it to see anything, unless you buy an all-in-one computer, such as Dell All-in-One or an Apple iMac, which have the display built directly into the unit. If you've decided on a laptop, you'll need to consider portability like weight and size. A larger screen is nice, but do you want to deal with the added size and weight? The bigger the screen (e.g. 17 inches as opposed to 12 inches), the bigger and heavier the laptop will be.
While laptops are becoming more powerful, a desktop is still better suited for graphic-intensive applications such as computer gaming, video editing, or animation rendering. But if portability is a priority, then laptops are the only way to go.
Other things to keep in mind when deciding between a laptop and a desktop computer include upfront costs, noise and cooling, and peripherals. You should expect a laptop to cost a bit more than a desktop of similar specifications, as you're buying the display and input mechanisms at the same time, as well as paying for a battery -- though there are great budget laptops out there.
Laptops are also often very compact, which means they are more likely to be noisier when the fans ramp up to keep the computer cool. While desktops can also get noisy when under heavy loads like gaming or video editing, they tend to still be quieter than laptops under the same load due to the improved airflow in the case -- and you can always modify the cooling to improve it. That's not so easy with laptops.
As for peripherals, desktops tend to have more ports than laptops, meaning if you need to connect a bunch of peripherals (e.g. printers, external storage, speakers, microphone, etc.) then a desktop may be a better choice. The latest port standards include USB-C and Thunderbolt 3, which are excellent connections to look for.
Mac or Windows
Personal preference and experience dictate the operating system of choice more than anything, making it hard to recommend one over the other. The best way to tell which one is ideal for you is to try both out to see which one feels more intuitive for you to work on, and which one will work with your favorite programs. Mac computers are generally more expensive than Windows-based PCs, though they tend to be a little more secure. With fewer macOS PCs out there, hackers are less interested in making viruses for them. The closed-ecosystem approach Apple employs for its products also makes it harder to distribute malware -- though not impossible.
Windows PCs have a much more robust gaming ecosystem to enjoy and are definitely better for gamers.
Outside of that niche, the app ecosystem for both macOS and Windows is very good -- there are so many apps for both platforms so no matter what you need to do, you'll likely be able to find an app to accomplish the task. Ultimately, you need to make the call for yourself, but definitely keep in mind that today's Mac computers can also run the Windows operating system through programs such as Boot Camp, Parallels, or VMWare Fusion.
Power and performance
Performance is arguably the most important metric of any PC, and the CPU is the heart of that. You want at the very least a dual-core CPU with simultaneous multithreading/hyperthreading, but a quad-core will make a big difference to your everyday PC performance. Intel's Core i3 and AMD's Ryzen 3 CPUs are fantastic in this respect, though especially the latter.
If you need a bit more power for any kind of photo or video editing or are planning to play the latest games, then ideally you will want to look for a computer that sports a six-core (or better) processor such as an Intel i5 or i7 or an AMD Ryzen 5 or Ryzen 7.
For more in-depth CPU buying information, check out our guide on how to choose a CPU.
When it comes to system memory, or RAM, you want to make sure you have enough, and not too much more. A capacity of 8GB to 16GB is the sweet spot for most users, including heavy gamers; 32GB and beyond is only really recommended if you're doing a lot of heavy video editing, and will very much depend on the particular software you want to use.
A graphics card can be the most expensive part of a PC and is only necessary if you're looking to play games. If you are, buy a GPU that fits your needs and budget. There's no point in buying a $1,000 graphics card if all you want to play is Minecraft, but you'll be disappointed if you try to play the latest AAA games on a budget GPU. Check out the specifications of the games you want to play to help decide which graphics card is right for you or check out our list of the best GPUs you can buy.
Want to game on the go? Check out our list of the best gaming laptops available.
Storage
The size of a hard drive or solid-state drive determines how many programs and files you can fit on it before running out of space. Unless you're buying something like a Chromebook where cloud storage is a big feature, a computer with at least 500GB of space is a good starting point. If you have a lot of games or movies that you want to store, then you'll want to consider a secondary drive with a terabyte or two of additional space.
Today, most computers have at least one SSD, or solid-state drive, for storage. SSDs are much faster than older HDDs (hard disk drives with moving, magnetic parts), which means you can open and find files faster. SSDs are your best bet for a boot drive, with traditional hard drives best suited as additional storage space and secondary drives.
If you're concerned about running out of space on your drive, don't be. There are so many options to expand your storage for either a laptop or desktop with an inexpensive external hard drive or even cloud storage. External drives (you can find both external hard drives and external SSDs) are great, and these days, depending on which one you buy, can be just as fast as your internal drive thanks to new technologies such as Thunderbolt 4.
Wi-Fi and Bluetooth
If you're shopping for a laptop, chances are it'll have integrated wireless networking features. This means you can log on to the internet at broadband speeds when in range of a Wi-Fi network, be it at home, work, school, or one of many thousand "hotspots" around the world, including cafés, hotels, airport lounges, and so on. The latest laptops have 802.11ax (Wi-Fi 6) technology -- which offers a 30% to 60% speed boost over the older 802.11ac (Wi-Fi 5) technology and is a safer bet if you want to prepare for future devices.
Bluetooth is another common wireless feature that most laptops (and some desktops) have, which can make phone syncing easier (read: cable-free) and even add support for headsets and headphones, allowing you to roam freely while on a voice call or listening to music. Any desktop you choose should also offer Wi-Fi 5 or 6 wireless networking capability (offered via a built-in or optional attachment), or come with an integrated Ethernet port, which enables connection to the internet via an Ethernet cable.
Going Chromebook
While Windows and Mac are the common choices for operating systems, there is an alternative for new users -- a Chromebook. Chromebooks run on Chrome OS, a lightweight operating system designed for ultra-portable laptops.
Chromebooks are a give-and-take proposition: They tend to be very affordable, very easy to use, and ideal choices for more casual users, students, and those who want to save money while still getting a laptop. They also have growing compatibility with Android apps. On the other hand, they typically have limited power, very little storage (depending on cloud storage for many activities), and limited capability to run more demanding software or applications without Chrome OS compatibility.
If you're interested in a laptop with a light footprint, we suggest you check out our guide to Chromebooks, and our current list of best Chromebooks on the market.
Build your own computer
If you're feeling a little adventurous and are looking to do something a bit different, there's always the option to build your own computer. It's quite a lot of fun too, plus these days it's easier than ever to find and buy all the parts you will need, and all the advice above still applies.
If you're interested in building your own computer, the best place to start compiling a parts list is PCPartPicker. At PCPartPicker you can compile a list of parts from various retail websites including Newegg and Amazon. What's even nicer is if you pick parts that aren't compatible, PCPartPicker will let you know.
Editors' Recommendations