Apart from the thrill of choosing a smartphone from among Samsung's lineup of Galaxy S22 handsets, there is the equally head-spinning experience of selecting just the right case with which to enjoy and protect your phone. If you're the owner of Samsung's 6.8-inch Phantom Black, Phantom White, Burgundy, or Green Galaxy S22 Ultra beast, you'll not want to venture out of the house unless it has a high-quality case wrapped around it.
Samsung offers a large variety of its own official designs for a custom fit on its own phone, but many other third-party vendors also got in on the action. But how do you decide which one to pick? We've got your back. Here are our picks for the best Samsung Galaxy S22 Ultra cases available today.
Grabbed the S22 or S22+? We've got that covered, too. Check out the best cases for the S22 and the best cases for the S22+.
Samsung Ultra Silicone Cover
Pros
Streamlined with no added bulk
Supports Qi wireless charging
Grippy and durable
Cons
Cover does not completely close
Among Samsung's arsenal of official cases is the slim Silicone Cover Case, which is stylish, simple, and available in a variety of colors. Durable and slightly grippy, the case wraps tightly around the S22 Ultra's edges for excellent protection and features a raised lip to guard against damage when the phone lies face down on a flat surface. The back is shielded against scratches, splashes, bumps, and impacts, and it comes without added bulk. With its perfect fit, the case stays out of the way of power and volume buttons, headphone and charging ports, and front and rear cameras, offering easy access to all ports, controls, and connectors. This case also supports Qi wireless charging.
Samsung Ultra Silicone Cover
Spigen Neo Hybrid Case
Pros
Slim and lightweight
Advanced drop protection
Raised bezel protects screen and camera
Cons
Exterior too slippery for some users
Spigen is renowned for its top-notch protection, and the Neo Hybrid Case is no exception. Constructed from durable TPU and polycarbonate, this slim, lightweight case provides extreme drop and scratch protection, with advanced shock absorption, including Air Cushion Technology that protects your device's corners. A raised 1.5mm bezel around the screen protects against drops or placing your phone face down. This case comes in a sleek gunmetal colorway with a stylish two-tone pattern.
Samsung Ultra Clear Standing Cover
Pros
Provides full-screen protection
Does not add bulk
Supports Qi wireless charging
Cons
Cover does not completely close
This official Samsung Smart Clear View Cover Case is probably the optimal way to keep your Samsung Galaxy S22 Ultra smartphone protected from scratches, scrapes, and impacts while staying updated with notifications, the time, battery life, incoming calls, and messages, thanks to the case's clear-view, semi-transparent front cover. It provides unobtrusive full-screen protection, and it's precisely constructed to allow easy access to all ports, controls, and connectors, as well as Qi wireless charging. The Clear View cover attaches to the back cover of your S22 Ultra without adding any bulk and then folds over the front. Thus, the phone's screen, back, and sides are protected from harm without the added thickness and weight normally associated with flip cases.
Samsung Ultra Clear Standing Cover
Ringke Fusion X Case
Pros
Integrated non-slip ridges keep your grip
Military-grade drop protection
Interior coating protects the inside of the case
Cons
Not compatible with some screen protectors
Want a case that stands out from the crowd and also offers superior protection for your Samsung Galaxy? Ringke's Fusion X case comes in a cool semi-transparent camo style or a crystal-clear version with a black bumper. This hybrid case features a polycarbonate back with flexible TPU bumpers, which have integrated non-slip ridges to keep your phone firmly in hand. There's no need to worry if you do drop it, though, as this case offers MIL-STD 810G -516.6 certified military-grade drop protection. A raised bezel around the screen, toughened corners, TPU-hardened button covers, and a USB-C port cover round out the protection. There's even a special interior coating inside the case that stops it from scratching the back of your phone.
Ghostek Atomic Slim 4 Prismatic Aluminum Case
Pros
Sleek and slim profile
Military-grade lightweight alloy frame
Wireless and reverse charging compatible
Cons
Adds some bulk to the phone
You shouldn't have to choose between superior protection and a slim case, and with the Slim 4 Prismatic Aluminum case, you don't have to. This deceptively slim, sleek case has a hybrid dual-layer construction, providing rugged full-body shock and scratch-resistant protection for your phone. The military-grade lightweight alloy frame doesn't add bulk to your phone but keeps it safe from drops and bumps, while a raised bezel around the screen and camera ensures both stay safe. This case also features a silicone port cover to keep dust, dirt, and water out of your charging port. It's wireless and reverse charging compatible too, so you won't have to keep removing it to juice up your phone.
Ghostek Atomic Slim 4 Prismatic Aluminum Case
UAG Monarch Case
Pros
Provides five layers of protection
20 feet of drop protection
Raised bumper around screen and camera
This case from Urban Armor Gear is expensive, but the protection it promises is worth every penny. Choose from one of five colors and you'll get five layers of protection. That includes UAG's signature armor frame, a soft shock-resistant core with grained leather, a polycarbonate plate, alloy metal hardware, and an impact-resistant rubber bumper with honeycomb traction grip. The raised bumper around the screen and camera means both have extra protection from drops or your phone being placed face down. There's 20 feet of drop protection, which is just about the best available. Despite this rugged protection, the Monarch case is slim and featherweight, making it ideal for slipping into a pocket.
Snakehive Vintage Leather Wallet
Pros
Stylish and sophisticated
Crafted from top-grain nubuck leather
Includes three card slots and a pocket
Snakehive's vintage leather wallet case comes in six vibrant colors, though we love this classic Chestnut Brown. Crafted from top-grain nubuck leather, it ages beautifully, developing a patina over time that makes every case unique. Inside, there are three card slots and a pocket for cash or documents, with everything held in place by a strong magnetic clasp. The case also folds out into a hands-free kickstand for viewing or video calls.
Snakehive Vintage Leather Wallet
Nillkin CamShield Pro Case
Pros
Features a 0.2mm camera bezel slide cover
Non-slip textured grippy design
Easy to apply and remove
Cons
S-Pen reported difficult to remove
The Nillkin CamShield Pro Case showcases a non-slip camera protection design, corner reinforcement, and precision cutouts. The phone's delicate camera lenses get upgraded protection via a 0.2mm lifted bezel slide cover that shields the camera glass from scratches and other damage. Made of environmentally friendly TPU and PC material, the case also features four-corner protection with fingerprint- and impact-resistant bumpers and corners. Additional non-slip textured designs on both sides offer a comfortable grip. The case is easy to apply and remove, with an open mold and precise function cutouts.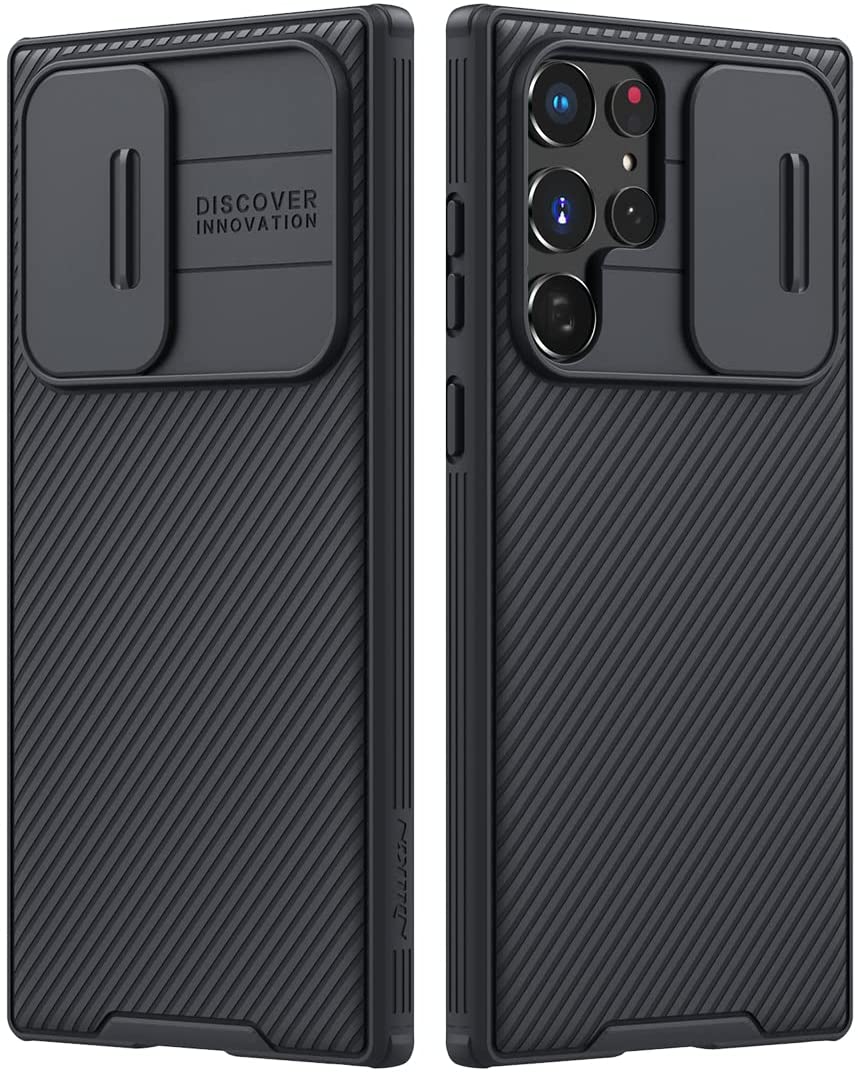 Nillkin CamShield Pro Case
Olixar Clear Case
Pros
Lets the beauty of your phone shine through
Adds no bulk
Raised bezel protects the glass and camera
Let the beauty of your Samsung Galaxy S22 Ultra smartphone shine through with the Olixar ultra-thin Clear Case. It may be invisible, but it doesn't fall down on the job of protecting your smartphone. It's made of an advanced TPU material that resists yellowing and maintains a transparent design while the case's enhanced 1mm cover adds virtually no bulk to your phone. The raised lip around the back camera and front screen protects the glass from scratches, dust, dirt, and scuffs.
Crave Dual Guard Case
Pros
Colorful and attractive
Grippy
Adds no bulk to your phone
Cons
Exterior reported slippery for some users
Available in eight colors — our favorite being this deep Forest Green — Crave's Dual Guard Case is a colorful choice to protect your Galaxy S22 Ultra. Made from high-quality TPU, this case has a compact profile that makes it easy to grip, plus it's slim and lightweight, so it doesn't add bulk to your phone. Tactile buttons and a lifetime warranty round out the excellent protection on offer.
SQMCase Carbon Fiber Clear Cover
Pros
Easy access to fingerprint unlocking
Soft rubber frame and built-in airbag
360-degree rotating ring for grip and kickstand
This multifunctional case, made of soft TPU, gives you the ultimate flexibility for toting your Galaxy S22 Ultra in style, all with easy access to fingerprint unlocking. The case sports a shock-absorbent design wherein four corners absorb impact and wear and tear. The case provides full-body protection with raised edges for the screen and camera. The soft rubber frame and built-in airbag provide full protection alongside the scratch- and fingerprint-resistant transparent back cover that displays the true color of your phone. A 360-degree rotating ring affords extra grip to reduce the dropping risk. The ring also acts as a built-in, fold-out kickstand that firmly holds the phone in place for horizontal viewing. The metal plate on the back can attach to a magnetic car mount for navigation when driving. The Carbon Fiber Clear Cover works with most third-party screen protectors and other accessories.
SQMCase Carbon Fiber Clear Cover
Editors' Recommendations