Severing ties with our cable TV providers has become easier than ever, thanks to all kinds of web-connected innovations, brought to us by smart TVs and streaming devices. For many of us, though, there is one thing that keeps many a household tied to a cable provider, and that's access to local TV stations.
Fortunately, certain streaming devices (and smart TVs) now include app versions of many live TV stations, but what if you're looking to catch that Santa Claus parade that only your local NBC affiliate will be broadcasting? In the event that you can't stream a station, you can always purchase an HD antenna instead. Like the models of yesteryear, today's antennas plug directly into your TV's coaxial input, and after running a channel scan, you'll be able to watch a number of local stations free of charge. There are many different antennas out there though, so we've put together all the best choices in this roundup of the best TV antennas.
Mohu Leaf Plus Amplified
The best overall TV antenna
Pros
Paper thin design
4K ready
Great features for the price
Cons
Setup instructions could be better
Mohu's Leaf Plus Amplified model is a future-proof, eco-friendly flat antenna near-perfect combination of affordability and quality. This antenna sports a 60-mile range and is able to handle 4K content (if available in your area). The flat design also allows you to place the amplifier as close to the antenna port as possible to reduce noise and improve signal clarity. With those features, it's no surprise that the multi-direction antenna excels at picking up signals, even when lesser antennas may struggle with the job.
The Mohu Leaf Plus Amplified is also incredibly easy to set up: The thin construction is designed to be attached to any wall or window. You can also paint over it without worrying about loss of signal quality if you want it to match a specific color or decor setup. The 16-foot coaxial cable also makes it easy to find the spot with the best reception even if it's not exactly close to your TV.
Mohu Leaf Plus Amplified
The best overall TV antenna
Winegard Amped Pro
The most user-friendly antenna
Pros
Ample cable to work with
Signal reception is great
Smartphone app makes things simple
Cons
Excess cable can be tricky to hide
The Winegard Amped Pro is the only TV antenna in this roundup to utilize a mobile app as part of your TV setup. Available for iOS and Android devices, the Winegard Connected app pairs to the Amped Pro antenna via Bluetooth. During setup, you'll be guided on where to locate the Amped Pro based on your home's proximity to community broadcast towers, ensuring you'll get the best signal possible based on your residence. Engineered for long-distance receiving, the Amped Pro is rated to capture broadcast signals up to 60 miles away. All this to say that signal strength certainly won't be an issue with this model!
Along with a friendly mobile experience, the Amped Pro features Winegard's Clear Circuit Technology, which provides boosted signal strength, cuts down on dropouts, and helps to eliminate pixelation in your TV's received image. Reversible for a white or black antenna appearance, and mountable to windows and walls, the Winegard Amped Pro is the ideal indoor antenna for those that want to cut the cord with style.
Winegard Amped Pro
The most user-friendly antenna
Philips Modern Loop Rabbit Ears Antenna
The best budget TV antenna
Pros
Super affordable
Sturdy and stable
No mounting required
For only $15, the Philips Modern Loop antenna isn't built for long-range performance like other antennas in this roundup. Instead, you can expect up to a 30-mile range for both VHF and UHF broadcast signals from these rabbit ears. A weighted base and rubber feet keep the Modern Loop from bouncing off your entertainment center, which is great for nosy pets and active toddlers.
If you're finding your picture is cutting in and out, the Modern Loop's extendable dipoles add a layer of amplification to the antenna's reception. While it's not glorious by any means, the Philips Modern Loop is the perfect antenna for those living close to broadcast towers, or those living further from towers that only care about receiving three or four stations.
Philips Modern Loop Rabbit Ears Antenna
The best budget TV antenna
Gesobyte Amplified HD Digital TV Antenna
The best flat TV antenna
Pros
Great amplification tech
Includes both short and long-range modes
Longer cable than usual
Easy installation
If you like the flat design of some antennas but want to make sure you're also getting as much power as possible, look to this Gesobyte model. It's slightly thicker than some of our other flat picks, but it includes an updated power amplifier that makes this one of the best flat antennas you can buy. It also has a unique dual-mode design: There's a short-range mode for accurately picking up signals around 35 miles away and a long-range mode that can search for signals up to 200 miles away. Choose the one that works best based on the number of towers where you live, and you should see results.
The Gesobyte antenna also offers filtering to remove possible interference from cell signals, as well as an 18-foot-long cable and USB power adapter to help during setup. This collection of features makes the antenna very easy to recommend, especially if you want to keep it out of sight while still getting lots of channels.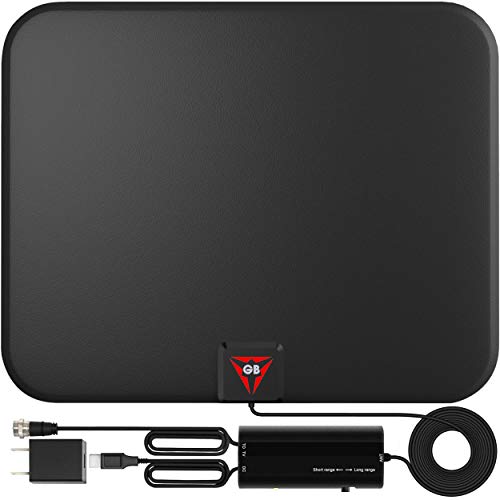 Gesobyte Amplified HD Digital TV Antenna
The best flat TV antenna
Mohu Leaf Metro
The best small TV antenna
Pros
Great value for the price
Reliable reception
Compact design
Though admittedly weaker than Mohu's larger Leaf antenna, the Leaf Metro antenna is the perfect tiny antenna for compact living spaces. Mohu designed the Leaf Metro for discreet installation in homes located close to broadcast towers. As such, those living in downtown or urban areas are most likely to get the best results from the Leaf Metro, which has a range of approximately 25 miles.
To compound the versatility enabled by its tiny size, the Leaf Metro digital TV antenna also comes in either black or white, so users have the ability to paint it to match their interior. Plus, its adhesive coating means it'll stick to almost any surface and can be moved to other locations with ease. An included 10-foot coaxial cable allows for fairly flexible installation.
Mohu Leaf Metro
The best small TV antenna
Clearstream 2Max HDTV Antenna
The best indoor/outdoor TV antenna
Pros
Sturdy, quality build
Stands on its own
Versatile installation options
Cons
No cable included
Expensive
Whether you're using it indoors or as your dedicated outdoor TV antenna, the Clearstream 2Max is quite simple to use and assemble, utilizing clamps or a base for installation. Despite the antenna being larger than almost every other antenna listed here, it's not so big that it can't fit behind a TV or mount to the wall of your living room. For outdoor installation, a 20-inch mast is included.
While we're recommending the Clearstream 2Max HDTV Antenna with 60-mile reception, if you live way out in the boonies, it may also be worthwhile to look into the larger and pricier 4Max version of the outdoor antenna, which features a 70-mile reception range and (some say) more reliable connection. Similarly, if you live closer to a signal, the 1max, which has a 40-mile range, is also a good option for an amplified antenna. With such a range of options available in the Clearstream Max line, it shouldn't be too difficult to find a great way to get free HD TV in the countryside.
Clearstream 2Max HDTV Antenna
The best indoor/outdoor TV antenna
Channel Master STEALTHtenna
The best outdoor TV antenna
Pros
Easy to install
Good value for the money
Rugged for outdoor use
For most users, an indoor HDTV antenna will nab the channels you desire. There are some spots, however, where only an outdoor antenna will do the job. With a reception range of over 50 miles (sometimes more depending on your location), Channel Master's STEALTHtenna provides incredible performance and impressive signal quality. This is thanks in part to the antenna's tough powder-coated aluminum body that can withstand the mightiest winds and nasty weather, allowing your signal to shine regardless of how gloomy the skies are.
The Channel Master STEALTHtenna is a small and light OTA antenna, making it easy to find the proper location for mounting, and includes installation hardware for mounting the antenna to a flat wall, eaves, or fascia board. Two included U-bolts also allow you to mount the antenna to a mast or pole. Better yet, if you're dropping your satellite service, you can use the U-bolts to mount your Channel Master to your old Dish Network hardware. For performance, easy installation, and durable design, look no further than the Channel Master STEALTHtenna.
Channel Master STEALTHtenna
The best outdoor TV antenna
Antop AT-800SBS
The best multi-use TV antenna
Pros
Indoor/outdoor use
Comes with 40 feet of cable
Highly adjustable
Can connect to two devices at a time
Cons
Harder to install than most antennas
Big and bulky
If you're looking for not just an HDTV antenna but a comprehensive antenna that can offer lots of options, check this Antop model out. Yes, it's big and bulky. Yep, it's harder to install than many of our picks. But it can also do a little of everything: You can mount it indoors or outdoors, it doesn't have to face any particular way, and it has an extra-long 40-foot cable to expand your installation options. Plus, it includes an FM antenna for picking up radio.
But the customization options on this antenna don't end there. The power booster includes an adjustment dial so you can find the right mix between range and clarity, there's a filter for cell signals, and you can connect two devices at the same time (one for a TV and one for a radio, for example). The kit includes both an indoor stand and wall- or pole-mounting supplies, so you should have everything you need.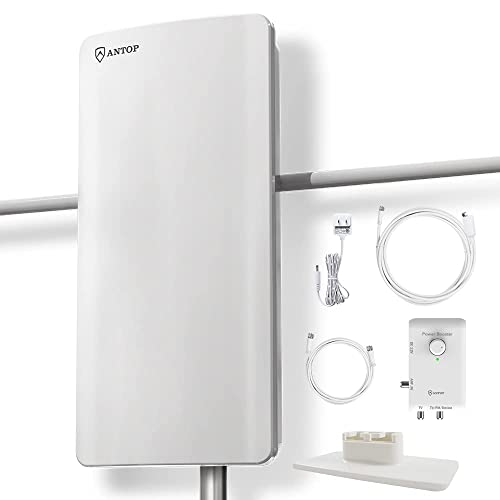 Antop AT-800SBS
The best multi-use TV antenna
Antennas Direct ClearStream Eclipse
Easily blends with any decor
Pros
Paintable for color matching
Easily placed in any location
Excellent companion app
The ClearStream Eclipse is a simple circle that you can stick on any nearby surface, making it especially useful for TV setups where you don't have much space but still want to add an antenna. It's even paintable, so you can paint it to match your wall or nearby décor. The 12-foot coaxial cable also gives you plenty of options to place the antenna away from your TV.
The model is rated for signals up to 35 miles away, and Antenna's Direct has an Antenna Point app that can help you locate nearby TV towers to see what signals you are most likely to pick up at this range. There aren't a lot of extra bells or whistles here, but the ease of placement is unparalleled.
Antennas Direct ClearStream Eclipse
Easily blends with any decor
Frequently Asked Questions
How can you figure out what TV antenna works best for your needs?
That depends a lot on your location and your specific entertainment space. Antennas come in a variety of shapes and sizes to fit next to TVs, on top of them, on nearby windows, or even outside on the roof. Generally, larger antennas get better reception, although placement is also important — look for range numbers when buying. Other features simply aren't as important.
Of course, if this is your first antenna you may not know how good your range should be to pick up as many nearby signals as possible. For that, you can turn to the FCC's DTV reception map, which is the most accurate look at the available channels in your region. Areas with good reception generally don't need to worry as much about range.
How do you set up your TV antenna?
The good news is that there's no complicated setup software to worry about. Today's TVs all include digital tuners: Plug in an antenna and go to the tuner/antenna section of your TV menu — that's about it. Your TV should automatically search and save any available channels with a strong enough signal: Refer to your TV manual for more specific instructions. If the number of channels picked up seems low to you, you will have an option to search again with a different placement.
When and where can you find the best deals on TV antennas?
TV antennas tend to be very affordable unless you go for large, amplified versions: Several of our top picks on this list make great budget options for antennas, including models under $30. If you're looking for a specific deal, then antennas may be discounted around holidays and Black Friday sales along with other electronics: Best Buy is a great place to check (look for items marked "Clearance" or "Price Drop," as is Amazon, especially during Prime Day.
Where do you put a TV antenna for best reception?
While it's still best to opt for an antenna listed with longer reception ranges for locations far from broadcast towers, there are no universal testing criteria for establishing what an antenna's operating range is. Plus, environmental factors will impact accuracy. Otherwise, here are some general tips to ensure the best possible reception.
Face your antennas directly toward the nearest towers, if possible. Some antennas are omnidirectional — meaning the orientation of their placement won't dampen matters much — but you should try and get it as close to the tower's general direction within your house as possible.

Place your antenna with as little geographical interference (mountains, hills, trees, buildings, etc.) as possible.

Buy an amplified antenna if you find yourself afflicted by the issues above. They're a bit costlier, but they typically perform better in less-than-ideal conditions, and they'll save you time (and sanity) in the long run.

Try to keep interference from radios, cell phones, or other electronics to a minimum. This doesn't necessarily mean keeping the antenna away from your TV. In some instances, however, the best location for an antenna may well be directly behind or under the TV.
What do VHF and UHF mean on my antenna?
There are differences in the signal types that your antenna will be picking up, and some antennas may be better at picking up certain signal frequencies than others. The two main signal types are VHF and UHF. The basic difference between the two is the channels broadcast in those frequencies. Channels 2-13 are broadcast in VHF, while channels 14-51 are UHF. Most antennas can pick up both VHF and UHF, but some can only pick up one or the other. This will be noted in an antenna's product description.
Also important to note is that a channel's number doesn't always correspond to that channel's actual broadcast frequency. This exception doesn't typically apply unless you're pairing your HD antenna with a third-party interface, such as a DVR OTA receiver. Tablo, for example, lists CBS 6 in Richmond, Virginia, on its channel 6 slot, which you would think requires a VHF antenna, but the content actually comes in over the UHF-bound channel 25. This should be a non-issue in most situations, but keep this outlier in mind if you ever run into any issues.
Do amplified antennas get better reception?
While we have recommendations for amplified antennas, we aren't entirely sold on the efficacy of that technology. Despite the name, "amplified" antennas or in-line amplifiers do not boost the signal reception itself. Rather, they strengthen the signal that is being picked up, meaning if you're getting a slightly fuzzy signal, the amplifier will try to artificially boost the quality of the TV. We've had varying degrees of success there, but in general there often isn't going to be an appreciable change in quality. It's also important to note that amplifiers should not be used in areas where signal strength is stable. This can cause noise and other picture quality problems.
Will TV antennas pick up 4K resolution signals?
All of the products we've highlighted will support the 4K-ready ATSC 3.0 standard (and you'll also need a TV that supports 4K for optimal results). Is ATSC 3.0, a.k.a. NextGen TV, available in your area? That's a more complicated question. These free 4K broadcasts have been steadily rolling out across the United States, especially in metropolitan areas, but they may not be available in your area quite yet. You can check current availability to learn more.
Which is better, an outdoor or indoor TV antenna?
They each have different advantages. Indoor antennas tend to be smaller, more affordable, and very easy to set up, requiring very little space to work. Outdoor antennas are larger, generally more expensive, and require careful mounting on a roof or exterior wall. While outdoor antennas tend to get better reception, they are not always a possibility depending on where you live or how much work you want to do to get signals.
Editors' Recommendations