It used to be that buying a tablet for a child would seem weird, but the world has moved on, and now it's commonplace for children to have a device all their own — even from a young age. But which tablet should you buy, how much time should your kiddos spend on them, and what should they be consuming on it? Such questions can haunt a parent, but you don't have to, because we're here to help.
There are plenty of tablets for kids now, with tools to help monitor content and keep track of screen time. Add educational apps, books, and movies to the mix, and you've got a safe and secure device that will help your child to develop. The Amazon Fire HD 10 Kids Edition is our current favorite. Amazon's tablet is durable and comes with a year's subscription to age-appropriate content. But it's not the only option. Read on for the entire lineup of the best tablets for kids in 2023!
Amazon Fire HD 10 Kids Edition (2021)
The best tablet for kids overall
Pros
Decent 10.1-inch screen
Curated age-appropriate content
Worry-free 2-year warranty for damage
Granular, smart parental controls
Long battery life
Cons
Locked into Amazon ecosystem
Some content requires internet
Fire OS can be buggy
Why you should buy this: Created especially for kids, it's durable, affordable, packed with age-appropriate content, and comes with a two-year free replacement program.
Who it's for: Young children with parents on a budget.
Why we picked the Amazon Fire HD 10 Kids Edition:
If you're looking for a tablet that's safe and fun for young kids, the Amazon Fire HD 10 Kids Edition ticks all the boxes and then some. The parental controls are excellent, allowing you to define exactly how much screen time your kids can have, as well as what they can and can't access, with Amazon Parent Dashboard allowing you to give kids access to apps like Netflix, YouTube, and more.
It comes with a one-year subscription to Amazon Kids Plus, which offers access to thousands of curated books, movies, TV shows, apps, and games that are suitable for children based on their age. It costs $3 per month thereafter. You can also set up multiple profiles with tailored content to suit each child's age.
The tablet itself features a 10.1-inch 1080p Full HD strengthened aluminosilicate glass screen, 32GB of expandable storage, an impressive 12 hours of battery life, and USB-C charging.
You also get a chunky protective case (available in Sky Blue, Aquamarine, or Lavender). If your little angel does manage to break the tablet, there's no need to worry because Amazon offers a no-questions-asked two-year replacement warranty that covers accidental damage.
If you don't mind a smaller screen, the older Fire HD 8 Kids Edition tablet is also an excellent buy, with the same storage and battery life and an 8-inch screen with 1280 x 800 pixels.
The Amazon Fire HD 10 Kids Edition won't suit older kids, but it's ideal for youngsters getting their first tablet. It's a complete solution that's quick and easy to set up and has everything your child could want out of the box. For the money, this is the best kids' tablet around.
Amazon Fire HD 10 Kids Edition (2021)
The best tablet for kids overall
Amazon Fire 7 (2022)
The best cheap tablet for kids
Pros
Excellent battery life
Runs simple tasks efficiently
Low cost
Portable
Optimized for streaming
Cons
Fire OS software
Long charge times
Poor display and cameras
Why you should buy this: It's cheap and durable, and suitable for a number of age ranges.
Who it's for: Somebody who wants a versatile and durable tablet for a child.
Why we picked the Amazon Fire 7 (2022):
A low price has an appeal all its own, and it's especially important when you're buying a device for a child. The Amazon Fire 7 is a solid and small tablet that has its limitations, but at $60, they're worth working around. It's not a slam dunk by any means, but you shouldn't expect it to be when you're grabbing a cheap tablet.
We'll start with the build. It's made from durable plastic, so it's durable even without the large kid's case and should be able to resist a number of drops and scratches. There's no waterproofing, so don't let your young ones take this tablet into the bath. The chunky bezels around the display are an advantage for younger kids, as it gives them plenty to grab onto. The display isn't the best we've ever seen, but it gets the job done for movies and games.
The battery is long-lasting, but the charge times are long, so you will probably need to remember to charge this overnight. The performance isn't up to handling many games, but it's great for simple tasks and simple games, making it a solid choice in this regard too. If your child is starting to branch out into more demanding titles like Minecraft or Fortnite then this is not the tablet for them.
Perhaps one of the biggest points in the Fire 7's favor is the size, which makes it incredibly portable — especially important if your kid is expecting entertainment while you're outside of the house. Even slapping a decent rugged case on this shouldn't make too big a difference in the size, making it a great choice to throw in a bag quickly while you're heading out the door.
As mentioned, the price is the biggest draw. $60 isn't a lot for a tablet, but it gets you a good amount in this case. However, keep in mind this isn't , which comes with an uber-protective case, and a bunch of kid-focused extras too. At just $50 extra, that's also a very solid choice, especially if you're thinking you're going to invest in a case and extras anyway. Still, if you're looking for the cheapest possible option, this is easily the best of the bunch.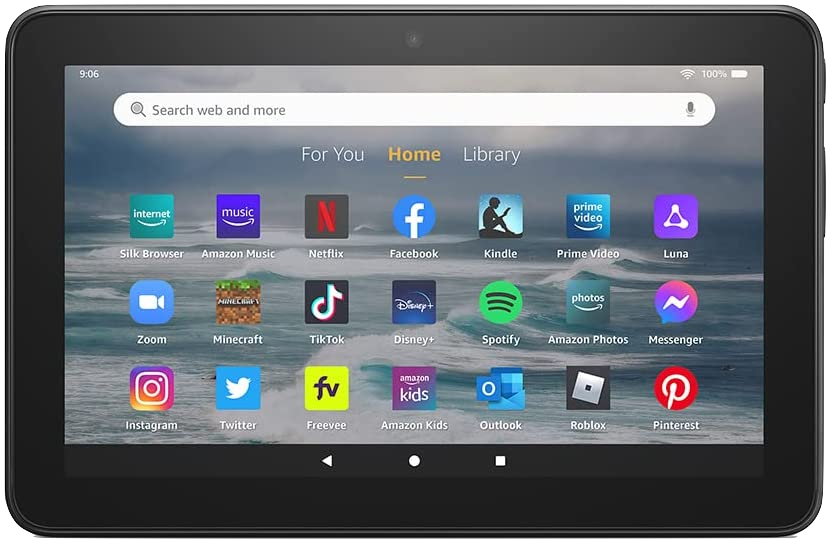 Amazon Fire 7 (2022)
The best cheap tablet for kids
LeapFrog LeapPad Academy
The best tablet for preschoolers
Pros
Tough, kid-friendly construction
16GB expandable storage
Easy to use parental controls
Cons
Battery life isn't the best
Only suitable for very young children
No color options to choose from
Why you should buy this: This tough tablet features great parental controls and plenty of educational apps and games to help your kids learn and develop.
Who it's for: Very young children and parents looking for an educational option.
Why we picked the LeapFrog LeapPad Academy:
The strength of the LeapFrog brand has long been in creating educational software tailored for different developmental ages but still fun for kids. The company usually limits devices to its own platform, but this is an Android tablet (and it's better for it).
The LeapPad is aimed at children aged between three and eight, and it's easy to tailor your child's experience to match their age. We think it's best suited to the lower end of that age range. You (or your child) can customize the home screen and there are over 2,000 games, puzzles, apps, e-books, and more to choose from in the LeapFrog App Center. The tablet comes pre-installed with 20 educational apps and creativity tools. You also get a free three-month LeapFrog Academy trial which engages your child in an interactive learning program. It's worth noting here that you can't download apps from the Google Play store.
Parental controls are intuitive and easy to use, allowing you to select which apps can be accessed and choose time limits for use. You get 16GB of onboard storage, expandable up to 32GB with a microSD card (not included), and around six hours of battery life, enough to keep little ones busy on road trips or commutes without running out of juice. The tablet allows you to save up to 24 activities to Favorites that your child can then play offline, great when you're out of Wi-Fi range.
The LeapPad has a chunky protective bumper but only comes in one color: bright green. There's a built-in stylus that's perfect for budding artists, a shatter-safe LCD screen, and a sturdy kickstand for hands-free fun.
Sadly, the tablet seems to suffer from being a bit slow and laggy, which can prove frustrating for wee ones and adults alike.
Overall, the Leapfrog LeapPad is still a solid choice for young children, especially since it has come down in price. The durable design and the educational software elevate it above some of the competition.
LeapFrog LeapPad Academy
The best tablet for preschoolers
Amazon Fire HD 10 Kids Pro
The best tablet for 5-to-9-year-olds
Pros
All the benefits of the Fire HD 10, with a few bonuses for older kids
Amazon ecosystem
Excellent parental controls
Great battery life
Cons
Limited app selection
Not particularly powerful
Why you should buy this: This great-value tablet offers everything kids need, and it gives parents plenty of control.
Who it's for: Elementary school kids with parents looking for the best tablet under $250.
Why we picked the Fire HD 10 Kids Pro:
This 32GB tablet, while boasting all the same specs as the Fire HD 10 Kids Edition, is a good choice for slightly older kids. The parent controls, Kids+ subscription, and other features all remain intact, along with the high-quality 10.1-inch screen, but there are several additional options here that make the Pro version better for kids that are growing up fast.
First, while the Pro version includes all the Kids+ content, it also has a separate Amazon-run digital store with a wide variety of apps created specifically for age ranges anywhere from six to 12 years old. Kids cannot buy the apps on their own — instead, they can send their parents specific requests for apps, and parents can choose to authorize a purchase or not. When the time comes, parents can also authorize specific non-store apps like Minecraft or Zoom when they believe it's appropriate. The dual cameras are also suitable for voice and video chatting.
Second, the included case for the Fire HD 10 Kids Pro is still made for kids, but the Pro model comes with a slimmer version that's friendlier for kids who have more control. Parents can also choose a bundle that adds a sleeve, headset, and screen protector for a more complete package of options.
If you're on a tighter budget, the is still a great option, with a smaller 8-inch screen, 2GB RAM, and up to 12 hours of battery life, plus the same access to Kids+ content and the Amazon-run digital store for kids, all for $150. Note though that the Fire HD 10 Kids Pro can often be found for around the same price on sale.
Amazon Fire HD 10 Kids Pro
The best tablet for 5-to-9-year-olds
Samsung Galaxy Tab S6 Lite
The best tablet for 10-to-12-year-olds
Pros
Not as "childish" as kid tablets
Capable and versatile
Long battery life
Multiple profiles for kids and adults
Cons
Limited storage options for media-loving kids
Parental controls may take time and effort to set up
Why you should buy this: Slim, stylish, powerful, and packed with useful features, this tablet will open up a world of possibilities for your kids.
Who it's for: Older kids who need something more powerful.
Why we picked the Samsung Galaxy Tab S6 Lite:
As your kids head toward middle school, they're going to want a more grown-up tablet, and they're reaching an age where they can be trusted with it. The Samsung Galaxy Tab S6 Lite could be ideal. It's one of our favorite Android tablets because it's very light and portable, it has a wonderfully sharp and colorful 10.4-inch screen, and boasts an impressive 11 hours of battery life. It's also not limited, like Amazon's offerings — you can enjoy the full range of Android apps and games on your Samsung Galaxy Tab S6 Lite.
You can set up separate profiles for every family member since this is a tablet that adults will probably want to use as well. You can safeguard access with the fingerprint sensor. Samsung also offers a comprehensive Kids Mode, or if you want to install alternative parental controls, you'll find a wealth of options in the Play Store.
This tablet will serve equally well for watching movies, gaming, reading, or even doing homework. It also has two speakers tuned by AKG with Dolby Atmos support, a decent 8-megapixel main camera and a 5MP front-facing camera, 64GB or 128GB storage, and a handy headphone jack — and it comes in a choice of gray, pink, or blue.
The Samsung Galaxy Tab S6 Lite will require a little more setup work than some of the others on our list. You'll want to snag a case, set up profiles, and sort out your parental controls. It's also more expensive, but it's the kind of tablet that any middle schooler would be delighted to own.
Then again, you may have a good idea about just how your tween is likely to treat a new tablet and balk at spending several hundred dollars when responsibility is still coming in careful stages. If that's the case, there are other options. We specifically recommend the Samsung Galaxy Tab A7 as an alternative. It's a very similar tablet as far as usability, with less storage space and a little less power for around $70 less than the Tab S6 Lite, making it a great choice for parents looking to save.
Samsung Galaxy Tab S6 Lite
The best tablet for 10-to-12-year-olds
Lenovo Tab P11 Pro Gen 2
The best tablet for students
Pros
Slim and lightweight aluminum
Sleek dual-tone design
Beautiful 11.2-inch 2.5K OLED display
Quad speaker system with support for Dolby Atmos
Great battery life
Cons
Front camera is terrible
Uses Android 12, Android 12L coming later
Only up to 6GB of RAM
Why you should buy this: It's a big and capable tablet that can easily double as a laptop.
Who it's for: Older kids who need the flexibility of a laptop-tablet hybrid.
Why we picked the Lenovo Tab P11 Pro Gen 2:
Needs change as your child grows, and there will come a time when they need a laptop, as well as a tablet. Why not combine the two and buy a laptop-tablet hybrid? The Lenovo Tab P11 Pro Gen 2 is a solid and reliable 2-in-1 hybrid, and while it has some issues, it's also an extremely good multimedia tablet.
Style matters more as children age, and so it's a real plus point in this device's favor that it looks as good as it does. The aluminum chassis has a two-tone finish, and the flat edges remind us of the iPad Pro — and it's rarely bad to be compared to Apple's tablet range. It's also very lightweight, so is perfect for carting around at college or school all day. If they like to draw, then you can invest in a Lenovo Precision Pen 3, and it can be charged and stored on the magnetic strip on the back of the device.
Performance is solid, and the basic model has 128GB of storage with an optional microSD card slot as well. The display is excellent. It's an 11.2-inch 2.5K OLED display with a 2560 x 1536 resolution and a 120Hz refresh rate, and simply put, it looks incredible. Add the quad JBL speakers with Dolby Atmos support, and you've got a tablet that's an exceptional multimedia station, as well as a hybrid 2-in-1. Thanks to this, your teen can happily retire to their room to watch Netflix or YouTube without settling for a subpar experience.
The battery is an 8,000mAh cell, and Lenovo claims it's good for 14 hours on a single charge. Using it as a multimedia device, we got a few days out of it, but you will see it drop faster if you're using it as a work device. You'll also need to invest in the Lenovo Keyboard Pack for $100 if you want a device for work, which is a small increase in price. However, with the tablet, that's still only $500, which isn't a bad price for a student's working device.
Lenovo Tab P11 Pro Gen 2
The best tablet for students
Apple iPad (2021)
The best iPad for teens
Pros
Extremely capable
Vast range of apps and games
Long battery life
Great value
Cons
Definitely one for the older kids that can be trusted
On the more fragile side
Why you should buy this: A fantastic design, plenty of power, and the best tablet app library make this a truly tempting choice for teens.
Who it's for: High school kids who want the best.
Why we picked the Apple iPad (2021):
Apple's 9th-generation iPad may be the cheapest tablet Apple has, but it's still one of the best tablets available. It has no real weaknesses, and it has everything your teen needs to work and play. Plus, it's more affordable than the latest Air model, and the latest 10th gen iPad too. The slim tablet looks identical to previous iPads, with the same screen, but this time around, it boasts a more powerful A13 Bionic chip, ensuring it performs flawlessly while multitasking and gaming. Battery life is great, the camera is good — with the selfie camera upgraded to a 12MP ultrawide lens — and Apple's Center Stage is included for selfies and video calls. What else? The latest iPad has more storage space, available in 64GB or 256GB options, and it sports Touch ID, too.
For families already invested in the Apple ecosystem, this tablet makes a lot of sense and may even be something to look at for younger kids if you have the budget. You can use Family Sharing to give everyone access to any apps, books, movies, or music that you've purchased.
Apple's parental controls, called restrictions, allow you to dictate what your child can access on the iPad, and you can restrict content by age rating. There are plenty of parental control apps if you want to maintain a tighter grip. There's also support for the Apple Pencil, which could be ideal for the budding artist in your life, though you do have to buy it separately for $100.
If you want something that can serve as a laptop for your young student, and money is no object, then you might look at adding the Smart Keyboard for an extra $159. If your teen loves gaming, the best Apple Arcade games justify the $5 per month subscription.
Apple iPad (2021)
The best iPad for teens
iPad Mini (2021)
The best iPad for younger kids
Pros
Just as capable as the large iPads
Great battery life
Small size makes it easy to carry
Why you should buy this: It's a smaller iPad fit for smaller people.
Who it's for: Kids who are ready to upgrade to an adult tablet they'll be able to use well into their teens.
Why we picked the iPad Mini (2021)
While the iPad is an excellent device, it's a little larger for kids who are still growing and want a more accessible tablet for playing games. The new iPad Mini is an ideal alternative, offering most of the iPad benefits with a smaller 8.3-inch Liquid Retina display that's more comfortable for kids and boasts improved clarity and vividness. The new iPad Mini is powered by the A15 Bionic, a flagship chip, and with 4GB of RAM, this tablet can handle anything from serious multitasking to the latest games.
The battery's a bit smaller than that in the 9th-gen iPad, but Apple promises all-day battery life. The 64GB model is fine for kids and helps keep the price down. It works with Bluetooth keyboards and the first-generation Apple Pencil if kids like drawing — and it's likely to last for years if well taken care of.
On that note, we do advise that you pick out a durable case so that the various accidents of childhood don't put the Mini out of commission early. Check out the best iPad Mini cases for your protective options.
iPad Mini (2021)
The best iPad for younger kids
Frequently Asked Questions
What age is appropriate for a tablet?
There are a lot of opinions on this, and they vary considerably. A few general rules can help parents who aren't sure what to aim for. First, a tablet often goes well with education. Is your kid at a level where access to a tablet could help them learn concepts or do research?
Second, technological exposure is so pervasive these days that learning how to use mobile devices shouldn't be a concern no matter what devices your kids may have, so there's not really anything akin to "starting them early."
Third, many parents feel comfortable with a "family-owned" tablet device with proper protections that can be shared among everyone — something that helps maintain family time while still providing some tablet benefits. This is a flexible solution that can work for many years with the right ground rules.
Do kids even need a tablet?
Not necessarily. But a tablet does provide a useful way to play games and interact with learning apps and various journeys of discovery. The key is careful monitoring and diligently restricting screen time to make room for other healthy activities. Tablets may start to become especially useful as kids start moving up in grade school (this is also based on what their friends have and use, of course, but that's a different issue). For older kids, everything that a tablet can do can usually be done on a smartphone as well, which may make a common-sense transition later on.
We generally recommend avoiding any kids' tablet with its own operating system instead of Android, iOS, or Windows, especially tablets that have a cartridge system. There aren't many built-in apps or games, so you have to fork over even more money to add entertainment to them.
Are kid-friendly tablets safe?
Kid-friendly tablets are about as safe as any other smartphone, computer, or laptop. Since all of these devices connect to the internet, your kid will also have access to social media, email, YouTube, and other websites and apps that are out there. It's not possible to always sit next to your child and supervise their tablet usage, but you can see what they're doing on the tablet without actually watching them. With parental controls, it's possible to limit activities and app access as well as screen time to whatever purposes you feel are safe (more on this with the question below), as well as some monitoring options to see what your kids are doing.
For younger kids, the Leapfrog Epic has entirely contained ecosystems on proprietary platforms. This is probably the only option where it's worth buying a separate platform that isn't Android, iOS, or Windows because it's limited to exclusive Leapfrog content appropriate for young children.
How do I kid-proof my existing tablet?
Amazon Fire tablets for kids are a perfect choice for this type of parental control. Amazon provides extensive parental control options and a kid's plan designed for kid-focused content, making it an ideal option for younger kids. When your kid starts to grow out of those kinds of restrictions, you might want to get them a standard tablet and install third-party parental controls. We have an excellent guide to the best parental apps for mobile devices and you can also find out which kids apps collect the most data, if you're concerned about privacy.
Editors' Recommendations