A few years ago, virtual reality (VR) was a costly endeavor. With controllers, sensors, and the headset itself, it was easy to drop $600 or more on a suitable setup. With the recent Oculus Quest 2 and Oculus Rift S, however, getting into VR is now more affordable than ever. The Oculus Rift is the system to use, not only because it's cheap, but also because it has a library of excellent games.
From animatronic scare-fests to tense first-person shooters, here are best Oculus Rift games available today.
Further reading:
Adventure
Five Nights at Freddy's VR: Help Wanted
Five Nights at Freddy's is expanding beyond the limits of traditional gaming systems to scare you even more. Five Nights at Freddy's VR: Helped Wanted includes a mix of classic experiences from the series' past, as well as new ones to leave you terrified and unable to visit a Chuck E. Cheese's restaurant again.
Five Nights at Freddy's VR tackles the hits from the first four games as well as the Sister Location spinoff, and it will scare you with all the classic animatronic murderers you remember. Of course, your sense of surprise and shock will be even more intense because of the Rift.
A Fisherman's Tale
Virtual reality is often used as a tool for players to inhabit unfamiliar worlds and act as if they were the hero of a story, but A Fisherman's Tale takes a more surreal approach. As a puppet fisherman living inside a cabin and unaware of the world around you, it's as if you are inside another tier of virtual reality.
As you progress, you'll complete environmental puzzles that bend your concept of reality and utilize physics in unique ways. A small, dollhouse-sized item could turn to an enormous one before your eyes, and figuring out how to use these as you climb your lighthouse is crucial to your success.
Lone Echo
Numerous VR experiences have attempted to capture the feeling of floating in space, but the Oculus exclusive title Lone Echo is the only one to do it in a way that feels accurate.
In reality, most of your actions involve simple maintenance fixes to a space station, but through the excellent Oculus Touch controllers, all of your movements have an immersion to them that few VR games have been able to replicate thus far.
With a strong sci-fi story and a wonderfully realized space setting, Lone Echo's several hours of play are the best way to visit space from your living room.
Read our full Lone Echo review
Wilson's Heart
One of the more ambitious Oculus Rift games to date, Wilson's Heart serves up psychological horror through the immersive experience of VR. Set in the 1940s, the game follows hospital patient Robert Wilson, who wakes up only to realize that his heart has been replaced by a perplexing device.
You play as Wilson, but you're not the only one with disturbing woes. As you make your way down spooky, tight corridors, you'll meet an eccentric cast of characters, all of whom want to find out how and why they have been poked and prodded by the dastardly hospital staff. Full of jump scares and eerie realizations, Wilson's Heart makes great use of the Touch controllers to get you into the thick of its mind-altering horrors.
Read our full Wilson's Heart review
The Invisible Hours
Developer Tequila Works has used VR to try something a little different — a murder mystery where you spend your time observing various people and their roles in the story. Set in a giant mansion owned by Nikola Tesla, the story's murder victim, your job is to wander the house as a ghostly, unseen observer, searching for clues and watching people to find out what's really going on, and who the culprit is.
True to the genre, everyone is up to something and the story gets pretty twisty. You'll spend your time rewinding and fast-forwarding in order to trace different people's movements throughout the mansion, to gather clues about who they are, why they're there, and what they've done. While it's a less interactive experience than most, The Invisible Hours suggests the kind of cool things you can do with VR when it comes to storytelling and giving players the ability to move around a space.
Star Trek: Bridge Crew
Quite possibly the best multiplayer VR experience to date, Star Trek: Bridge Crew lets users play out their childhood fantasies of joining the likes of James T. Kirk, Montgomery Scott, Hikaru Sulu, and Pavel Chekov as a member of a Starfleet crew.
Players work in teams of four, with each person in one of four roles — pilot, engineer, tactician, or captain. Each job — best acted out with an Oculus Touch controller, but playable with an Xbox One controller — asks players to tinker with a computer panel. Bridge Crew excels as a cooperative game due to the need to work together to find success. It really does feel like you're living inside an episode of Star Trek. Simply put, if you have a group to play with, Bridge Crew should be at the top of your wish list.
Read our full Star Trek: Bridge Crew review
Technolust
Imagine the kind of cyberpunk, virtual dystopia that came out of sci-fi novels and films from the 1980s and '90s, and you have Technolust. It's the kind of game where you "jack in" as a hacker to cross virtual landscapes in order to steal data from a host of evil corporations.
It's grimy, dark, and completely retro-futuristic, all of which render it worth more than a cursory glance. Technolust's games-within-the-game moments are a cool and fun addition, too, and add multiple layers to the VR experience.
Fated: The Silent Oath
The Viking-centered Fated puts you in the role of a man on the verge of death, as he and his family return to their village after an accident. A gift from the gods has kept you from Valhalla but cost you your voice, and things are about to get weird in a Norse mythology kind of way.
Fated is a story-focused game that's a bit slow but heavy on character development and plot. There's magic and mystery at play here — as well as quite a bit of Norse mythology — and VR is used to put you in the shoes of a character who's simply trying to save his people from utter destruction.
The Assembly
Another story-heavy experience, The Assembly is basically a first-person adventure game in which players gather items, solve puzzles, and unlock the story by interacting with characters and gleaning information from the environment. The Assembly takes place in a secret scientific laboratory, where personal drama meets the unintended consequences of playing god. It's not an action-heavy game, and The Assembly assuages some of the VR motion issues with useful tricks for getting around. It's simply a good entry point for VR newbies who want something that's heavy on story.
Read our full The Assembly review
Accounting+
From developer Squanch Games, which will come up again later in this list with another title, comes this outrageous comedy adventure from the minds of Rick and Morty. The visuals are as deranged, imaginative, and as unpredictable as the cast of characters and tasks you'll do in this "game." Half the game is just trying to figure out what the heck is going on, and the other is going with the flow and letting the absurdity of it all just wash over you. No matter where you land, you'll have great laugh with this one.
Shooter
Half-Life: Alyx
Although it's not the long-awaited Half-Life 3, Alyx is an incredible return to the Half-Life universe. Featuring an overly detailed City 17, the game lets players take on the role of Alyx as she tries to rescue her father, Eli, from the Combine. The game takes place five years before Half-Life 2 and does a great job of bridging the two titles. It also answers some of the burning questions fans have had over the years.
Superhot VR
Conceived as an alternate expression of experimental first-person shooter Superhot, Superhot VR adapts the stop-motion mechanic to your arms as you wield Oculus Touch controllers. When you move your hands around, the bullets rain in from enemies, but if you stop to consider your next move, you'll receive a welcome bullet remission. The goal remains the same — to advance to the exit in each room — but in VR, the intensity is amplified. Dismembering foes in VR will get your blood pumping. You must move your hands methodically to succeed, but Superhot VR's ingenious design makes it a constant delight.
Robo Recall
Originally designed as a pack-in game for the Oculus Touch controllers, Robo Recall is a frantic shoot-em-up designed to make it easy for you to look cool while blowing robots to bits. You play as Agent 34 of the robot manufacturing company RoboReady.
Your job at the company is to remove defective units from the production line, but a virus has turned the robots against their creators, and now you must take them out. While Robo Recall boils down to a series of timed shooting galleries, it's much more interesting than your average on-rails FPS. You can pick up enemies and fling them into other robots with a swipe of your hand, and you can even catch bullets in the air and whirl them back to turn the infected robots into nothing more than a pile of parts. Robo Recall shows off the brilliance of the Oculus Touch controllers.
Arizona Sunshine
One of the only full-fledged first-person shooters available in VR, Arizona Sunshine drops you into the smoldering heat of an American Southwest that is currently littered with zombies. Using the Oculus Touch, you can aim, shoot, and reload dozens of weapons.
More open than other shooters in VR, Arizona Sunshine has a campaign mode that lets players explore the deserts and caves in search of an escape. After the campaign is finished, there are both single- and multiplayer horde modes, which force you to fight off hordes of the undead. Arizona Sunshine is a fast-paced gore-fest filled with bloodied, hungry zombies. It's slick and demonstrates how the Oculus Rift can deliver complete packages with multiple game modes.
EVE: Valkyrie
One of the better-known Oculus titles to date is EVE: Valkyrie, a game that places you in the role of a spaceship fighter pilot. The good news is that if you're looking for that kind of experience, Valkyrie brings it.
You'll shoot through gorgeous space locales like shipyards and asteroid fields, hunting down and dogfighting enemy ships while trying to avoid missile locks and return fire. It's an intense game in terms of movement, which will make some people sick, but if you can handle it, Valkyrie is the kind of VR proof of concept that's been exciting players for years.
The Walking Dead: Saints & Sinners
The Walking Dead: Saints & Sinners throws you right in the middle of zombie mayhem. You play as a survivor in New Orleans, not only fighting off hordes of zombies, but warring factions, too. Short of Half-Life: Alyx, Saints & Sinners feels like the full AAA VR experience players have been waiting for. You'll fight plenty of zombies using melee weapons, guns, and more, but you'll also need to scavenge the areas around New Orleans to craft new items.
Saints & Sinners has multiple systems that work together flawlessly, which together create a campaign that's about 12 hours long. A The Walking Dead VR game could have just been a gallery shooter, and it still probably would have sold well. Thankfully, Saints & Sinners is more.
Action
Until You Fall
Until You Fall is an action roguelike that absolutely nails VR melee combat. You wield two weapons of your choice — which you can upgrade between runs — and you'll go back and forth with them to attack and block. Until You Fall gives you indicators whenever an opponent is about to strike, allowing you to correctly position your block before the strike hits. If you're quick, you can use that time to strike your opponent, whittling away their shield until you can attack their health directly.
In motion, the combat system feels like a rhythm game, and if Beat Saber has shown us anything, it's that rhythm games work exceptionally well in VR. Until You Fall keeps players hooked with an excellent combat system, backed by the usual tenets of a roguelike.
Trover Saves the Universe
Anyone who loves Rick and Morty won't want to miss out on Trover Saves the Universe. Justin Roiland, co-creator of the animated series, takes his bizarre sense of humor to the world of VR in a big way with hours' worth of combat, puzzles, and platforming. It's just as weird as you'd imagine and is a must-play for anyone with an Oculus Rift headset.
Vader Immortal
Broken into three episodes, Vader Immortal is an official part of Star Wars canon and follows an unknown smuggler who inadvertently uncovers a mystery related to Darth Vader. Each episode can be completed in under an hour but features some of the best uses of VR technology we've ever seen.
Star Wars: Squadrons
VR is almost too perfect a fit for games that put you into the pilot seat of an aircraft, or more accurately for Star Wars: Squadrons, a spacecraft. Right up there with swinging a lightsaber, piloting one of the iconic ships from the Star Wars films is one of any fan's biggest dreams. Thanks to VR, that dream can become a (virtual) reality. You're able to fly all the ships you know and love, including X-Wings, TIE Fighters, and more, in both single player and multiplayer modes. The sense of immersion you get from looking around your cockpit, diverting power, and dog fighting through the beautiful backdrop of space is enough to justify purchasing a headset on its own.
Penn & Teller VR: Frankly Unfair, Unkind, Unnecessary, & Underhanded
The legendary comedic magic duo Penn & Teller have their very own virtual reality game, developed and published by Gearbox. With the power of the Oculus Rift and a little training, you can perform awe-inspiring magic tricks to confuse your loved ones. Ever wanted to escape from a chained box as water rises, but without the risk of drowning? Want to shrink down to the size of a marble and get shot at? That and more is possible in Penn & Teller VR.
Penn Jillette will act as your mentor as you attempt to become a world-class magician. If you're playing with other people, they'll be your audience, but you can still act as a volunteer in one of the duo's crazy tricks if you happen to play alone. The greatest trick of all time is, of course, getting Teller to actually talk.
Virtual Ninja VR
Every young kid's dream is to become a ninja, mastering the katana and throwing shuriken soaring toward your enemies. With Virtual Ninja VR, you can do just that, fighting off samurai with carefully-timed blocks and powerful strikes in order to come out on top.
You'll also be tested with the precision of your shuriken throws, and you can even cut through watermelon to become a real fruit ninja. To really test your skill, however, you'll have to fight the game's five bosses, each of which are imposing enough to make you soil your virtual pants.
Job Simulator: The 2050 Archives
A testament to how VR excels at turning menial tasks into engaging, even sometimes transformative experiences, Owlchemy Labs' Job Simulator: The 2050 Archives pretty much plays as advertised. Yet, the mundane becomes fascinating in VR. Who would have thought? The year is 2050, and humans have automated every job.
To spice up your unburdened human life, you can now use a VR headset to simulate what "honest work" was all about. You can ring up chips and drinks as a convenience store clerk, fix cars as a mechanic, man the griddle as a short-order cook, or process paperwork as a run-of-the-mill 9-to-5 office worker. Of course, this is what robots thought work was like, so it may be different and much funnier than you remember.
Vacation Simulator
From the same bizarre folks who brought you Job Simulator, Vacation Simulator knows that sometimes you need to take a break and just relax. Of course, being on vacation isn't all about stretching out in the sun, so it's packed full of mini-games across settings like a mountain, forest, and beach.
Want to dive into the sea, play handball against a robot, or just goof around while definitely not working? You can even make a snowman, eat ice cream, or slap at fish in the water, for some reason. Hey — it's your vacation, so you can do what you want!
The Unspoken
This is the closest you can get to being a wizard at home. Oculus exclusive The Unspoken from heralded developer Insomniac Games does an exceedingly impressive job of making you feel like you're doing a lot of wizarding work without demanding much of you.
The Unspoken is an urban fantasy filled with customizable wizards and spellcasters, and you just happen to be one of them. The wide array of spells deployed via Oculus Touch controllers almost feel as if they are truly being guided from your fingertips. There's some exploration here and a dreary game world, but the meat of the experience comes from the duels that help you advance through the ranks of a wizard fight club. Unlike the fight club you're thinking of, it's okay to talk about this one. We recommend you play it, too.
Chronos
For people used to playing traditional video games and looking to ease into the world of VR, Chronos is a great option. An easy comparison is Dark Souls. It's a game full of pitched sword duels in which you have to carefully land blows and defend against the attacks of your foes to stay alive.
Chronos eschews the usual VR approach of the first-person viewpoint — in which you see the game through the eyes of the character you're playing as — in favor of the third-person view, where you watch and control the action from a separate perspective, much like a camera recording an event.
Edge of Nowhere
Insomniac Games took a stab at doing horror in virtual reality in a way that's different from nearly every other game of that genre on the platform. Rather than go the usual route, using a first-person perspective that has you playing as if you're in the shoes (and seeing through the eyes) of the protagonist, it puts the camera behind the main character, just like in Chronos.
The result is a more psychological, stealthy take on horror. Edge of Nowhere is another of those VR games that feels like it could easily exist as a more traditional game, but it does some experimentation with the platform to find new ways to scare players.
Subnautica
It seems like survival games are all the rage these days, and the best survival offering on the Oculus Rift is Subnautica. After your giant spaceship crashes in an alien ocean, your task becomes salvaging the wreckage and finding a way to stay alive.
That means gathering plants for food, finding components necessary to purify the water, and getting together the stuff needed to build tools. Oh, and you'll need to keep from becoming lunch for some alien critter, as well. Subnautica is still being actively developed (it's in Early Access on Steam), so it's not altogether complete. However, it does provide a strange and beautiful world in which to get lost.
Megaton Rainfall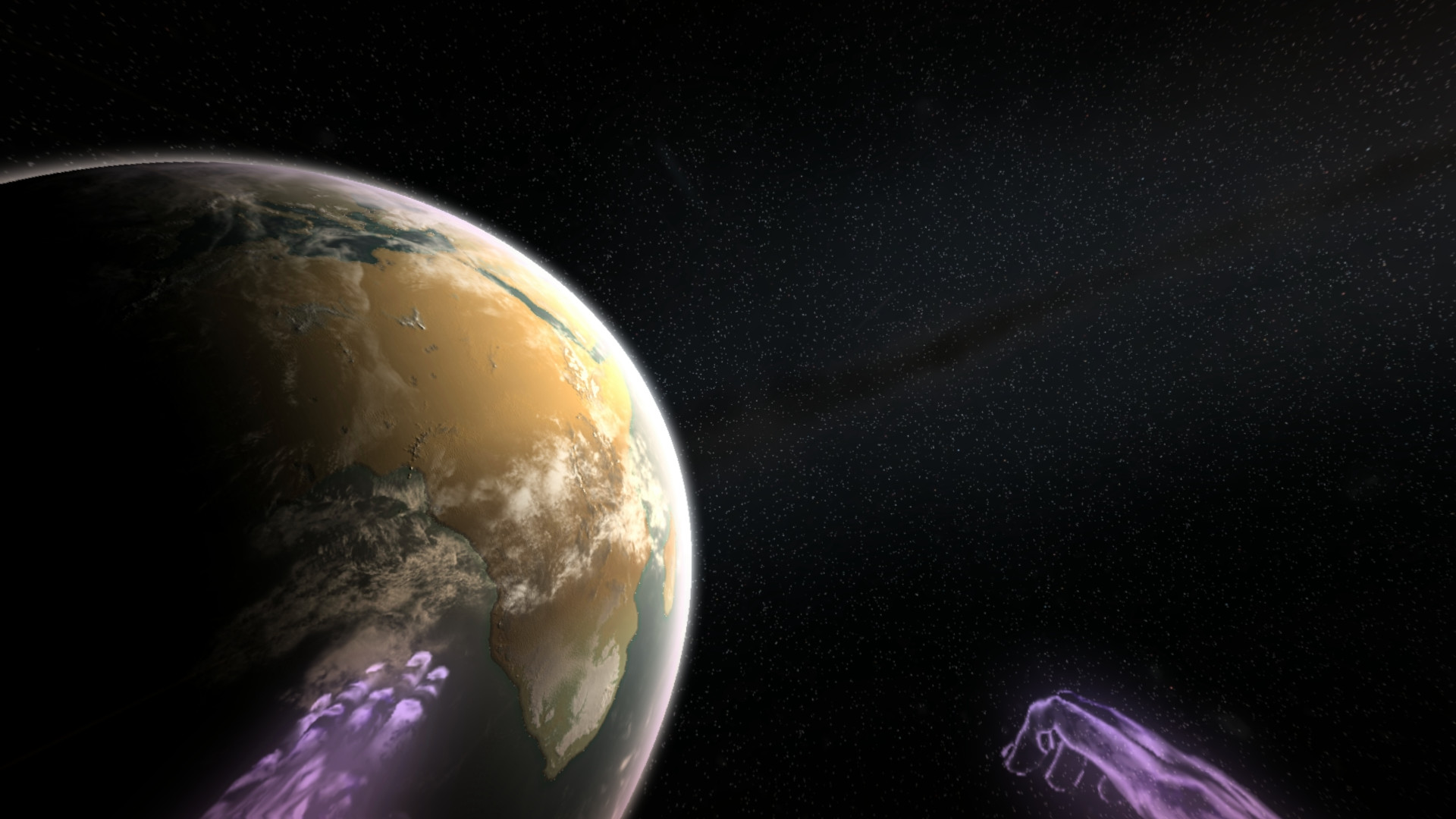 With the power trip you can experience in virtual reality, it's rather astounding that more developers haven't created superhero experiences. Megaton Rainfall is one of the few out there, and it offers you the chance to sour through the sky and fire extremely powerful blasts at enemies and buildings lining the ground.
You can each break out of the Earth's atmosphere and head into space like you're a Superman about to reverse the rotation of the planet, all at ridiculous speeds that would even make Goku jealous.
Platforming
Lucky's Tale
Although it's another game that doesn't really need to be in virtual reality, Lucky's Tale is still a good way to ease into VR, and it's a game that makes interesting use of the way the Rift presents players with a presence in a space.
The game feels mostly like something akin to Mario 64, but with the player acting as the camera that hovers above the action. Your ability to look around in the space does some interesting things to the standard platforming formula. In Lucky's Tale, how you go about looking at each portion of a level changes how you deal with it.
Mount Wingsuit
If you're a normal, sane person, the prospect of jumping off a cliff in a wingsuit is terrifying and something you'll never actually do in real life — that's why Mount Wingsuit is such a welcome VR experience.
Starting from a high peak, you soar through the air and race across the mountainside, all while flying through rings and attempting to keep yourself from meeting an untimely (and bloody) demise. Luckily, the death you'll experience is also virtual, so you can learn from your mistakes and give it another go.
Role-playing
Asgard's Wrath
One of the first full-scale Oculus Rift role-playing games worth getting excited about, Asgard's Wrath ditches the "tech demo" scale of similar projects in favor of an epic and combat-filled adventure that can compete with any traditional game. Set in the world of Norse mythology and featuring an array of fighting styles, it's one of the deepest VR games available today, and completely worth the price of admission.
Asgard's Wrath isn't for everyone, as its long length won't play nice with those who experience VR fatigue, but it is certainly one of the only games we've seen that effectively translated a legacy genre into VR without any tradeoffs.
The Elder Scrolls V: Skyrim VR
The Elder Scrolls V: Skyrim has come to practically every system known to man, so it isn't a huge surprise that Bethesda's masterpiece role-playing game eventually hit the Oculus Rift, as well. Skyrim VR is the full Skyrim experience rather than a pared down experience, so you can explore all of its worlds with more immersion than ever before.
Your first dragon kill in VR will be even more rewarding, and feeling like you're actually the one firing your bow or casting spells only allows you to get sucked into the game further. You'll have no choice but to throw another 200 hours into the game, even if it's just to steal everyone's gold and let dragons kill them again.
Read our full Skyrim VR review
Puzzle
Tetris Effect
Tetris Effect is utterly magical, which is somewhat surprising since it's yet another iteration of a puzzle game everyone has played. Tetris Effect adds musical and environmental effects created by the wonderful studio responsible for Lumines and Rez. The electronic soundtrack responds to each twist and turn of the falling blocks. When you clear lines, the environmental effects surrounding the board — animals, fireworks, skylines — fizzle and pop to create a soothing and triumphant visual display.
In VR, the effects are even more impactful. Tetris Effect is a beautiful and artsy spin on the classic puzzler. It's both calming and invigorating all at once.
Keep Talking and Nobody Explodes
Keep Talking and Nobody Explodes is a party game where people share a room, but only one person is in VR. The person wearing the headset can see and interact with a bomb that's covered in special panels, each presenting a puzzle that requires a solution to defuse the explosive. But the VR player has no idea what any of what he or she is seeing means, so it's on the other people in the room to help explain it, using a super-complex bomb-defusing manual.
The game requires quick thinking, communication, and teamwork, and it leads to some hilarious moments as players scramble to find the right information in the manual. Best of all, it's an excuse to play a VR game while entertaining.
I Expect You to Die
Though the title of this game might lead you to expect another horror experience, it's quite the opposite. I Expect You to Die puts you in the shoes of the world's least competent secret agent and tasks you with completing several clever puzzles that are interspersed with hilarious dialogue and zany situations.
You'll be touching and picking up tons of in-game objects such as lit dynamite in this game, so you'll have to use the Oculus Touch controllers. The game is like a retro British spy show that emphasizes the humor more than the villains.
Music
Beat Saber
Beat Saber is as close as we have to a Star Wars virtual reality game for the time being.
Players use their lightsabers to move, dance, and conduct every song in this fun game. You can manipulate the sword's direction using your fingers. It's a fantastic way to get ready for the Jedi Knight trials as well as being a master class in modern dance.
Editors' Recommendations