If you're a certified road warrior or hardcore traveler, mobile hotspots are now essential gear. Whether you're traveling to a remote place and need to stay up to date with your emails or visiting a city and wish to avoid public Wi-Fi, mobile hotspots are for you. While your new smartphone likely has a mobile hotspot built-in, standalone Wi-Fi hotspots are more flexible, especially for multiple devices and phones with network data caps. With a hotspot, you can connect your laptop, phone, tablet, or Wi-Fi-connected camera without component battery drain. We found some excellent hotspots for you to choose from.
The proliferation of 5G networks has increased the prevalence of 5G hotspots. If 4G LTE is not cutting it for your needs, have a look at our list of the best 5G hotspots.
Verizon Jetpack MiFi 8800L
Pros
Connects up to 15 devices simultaneously
Has a 2.4-inch color touchscreen
24-hour battery life
Cons
Reported less user-friendly than expected
If you want a no-nonsense, high-quality 4G LTE mobile hotspot for seamless browsing, go for the Verizon Jetpack MiFi 8800L. It's reliable, has long-lasting battery life, and connects up to 15 devices at a time. The device comes with a 2.4-inch color touchscreen with up to 24 hours of battery life so you can use it all day. It also has security features like Auto VPN, data monitoring, and an optional guest network. Plus, it comes with a universal charger and USB port for versatile use.
Verizon Jetpack MiFi 8800L
GlocalMe G4 Pro 4G LTE Mobile Hotspot
Pros
Worldwide compatibility for over 100 countries
Dynamic network switching
Offers multiple data plans
Cons
Data plan issues reported by some users
If you want a mobile hotspot that works around the globe, the GlocalMe G4 Pro 4G LTE Mobile Hotspot is a fine choice, as it's operational in 100 countries. With a massive 7,000mAh battery, it offers great runtime and connects to 10 devices at a time. The device is secure and offers great connectivity so you can get your work done without worrying about unsafe connections. It also offers dynamic network switching so you're never stuck. You can choose from multiple plans, including a monthly pass or a day pass to suit your unique data needs. 
GlocalMe G4 Pro 4G LTE Mobile Hotspot
Skyroam Solis
Pros
Combines mobile hotspot and power bank
Compatible in over 130 countries
Lightweight and portable
Cons
Some connectivity issues reported
Want a mobile hotspot and power bank packed in a single device? The Skyroam Solis features a large 6,000mAh power bank along with data connectivity features so you can enjoy continuous streaming without interruptions. It's operational in over 130 countries so you can use it almost anywhere. It also connects up to five devices for versatile use. You don't have to worry about the cost as it comes with different payment plans to suit your specific needs. It's light and easy to use so you can carry it with you on all your travels. 
T-Mobile Sonic 2.0 4G Mobile Hotspot
Pros
Standby time of 180 hours
Features a 32GB microSD slot
Connects up to eight devices simultaneously
Cons
Not compatible with some SIM cards
Looking for a two-in-one mobile hotspot? Consider the T-Mobile Sonic 2.0 4G Mobile Hotspot. It connects up to eight devices at once with a standby time of 180 hours so you can get all your work done on time. The device is compatible with Windows 8 and macOS 10.8 and higher and features the Qualcomm Cortex A5 processor. The best part for travelers and remote workers is the device's 32GB microSD slot, allowing you to store files, photos, videos, and other media on the go. Now you no longer have to worry about storage space for your photos and documents.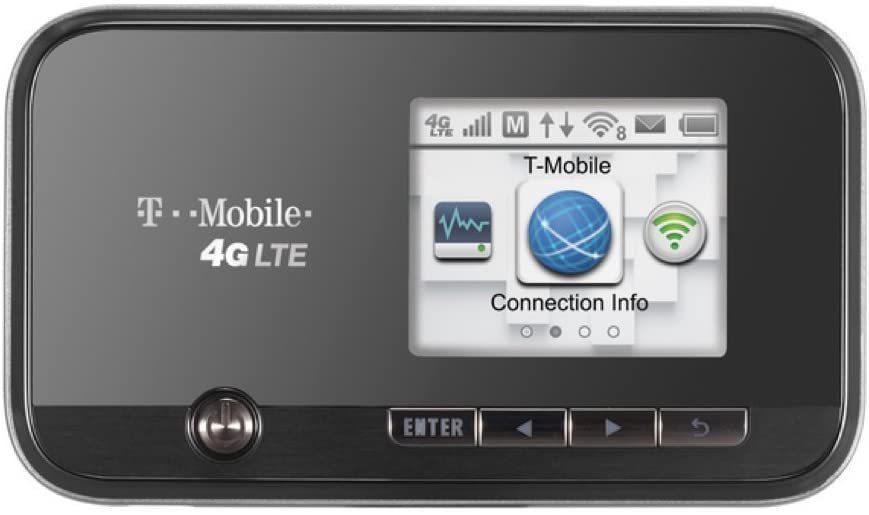 T-Mobile Sonic 2.0 4G Mobile Hotspot
Netgear Nighthawk M1 4G LTE WiFi Mobile Hotspot
Pros
Connects up to 20 devices simultaneously
All day battery life
Download speeds up to 1Gbps
If you're traveling with the family or your work involves the simultaneous operation of multiple connected devices, the Netgear Nighthawk M1 4G LTE WiFi Mobile Hotspot facilitates sharing Wi-Fi access with up to 20 devices. It has a 5,040mAH rechargeable battery for all-day use and allows easy charging of other USB devices. It features a 2.4-inch LCD screen that lets you monitor data usage, signal strength, and network management. It accepts all current SIM cards and works best on AT&T and T-Mobile. You'll need to check with your carrier about plan details. The unit needs a Nano SIM card from a carrier and a compatible data plan. It features download speeds up to 1Gbps, but that may vary by service and proximity to cell towers.
Netgear Nighthawk M1 4G LTE WiFi Mobile Hotspot
RoamWiFi R10 Portable WiFi 4G Router Mobile Hotspot
Pros
Operable in 160 countries and regions
Supports local data packages
Can connect to five devices at once
Cons
Data package reported as expensive
The RoamWiFi R10 Mobile Hotspot packs 50GB of local data for the U.S. and 1GB of global data that can be used in over 160 countries and regions via its secure network. RoamWiFi also offers local data packages via its app for both iOS and Android. Connect to RoamWiFi R10 and share with up to five smart devices at the same time. The R10 features a 5,000mAh battery, which can be used for over 18 hours with both 5GHz and 2.4GHz WiFi frequencies.
RoamWiFi R10 Portable WiFi 4G Router Mobile Hotspot
Frequently Asked Questions
What to look for in mobile hotspots?
When considering the best mobile hotspots to buy, keep in mind some major features to look for. Make sure to consider coverage, portability, price, data plans, and any other handy additional features for your convenience.
Why consider hotspot coverage?
One of the most important considerations should be the coverage area of the mobile hotspot. Does the mobile hotspot cover the regions you are visiting? What are the network speeds offered in that location, and are they sufficient for your purpose? Does your device have its own plan or support popular carriers?
What are some portability issues?
If your hotspot device is thick and heavy or unwieldy, you will struggle to use it. For travelers and remote workers who are always on the go, pay attention to the size, weight, and shape of the mobile hotspot you choose to make sure it's the most comfortable fit for your purpose.
What are some additional features to consider?
These days, mobile hotspots offer additional features like charging (as in the case of the Skyroam Solis) or storage space (as seen in the T-Mobile Sonic 2.0 4G Mobile Hotspot). Some hotspots come with data plans or can support multiple devices at once.
How much should I pay?
For a high-quality hotspot, you will wind up paying around $100, though the price also may take into account an included data plan, speed, and the coverage region. We have units listed here in a wide range of prices with various options.
Editors' Recommendations