After spending hundreds of dollars on your new smartphone, you'll want to protect your investment. The OnePlus 10 Pro boasts an IP68 rating, which means it's not only dustproof but waterproof too, safe to submerge in up to five feet or 1.5 meters of water for up to 30 minutes. While you don't need to worry about getting caught in the rain, spilling some water on it, or it taking an accidental dunk in the tub, it's still a good idea to keep your phone safe from bumps with a high-quality case or cover, particularly if you use it outdoors a lot.
Thankfully, there are numerous choices of many versatile cases and covers available on the market today. We've rounded up a list of the best OnePlus 10 Pro cases and covers so you can flaunt your smartphone in style while keeping it safe from harm.
Ringke Fusion-X
Pros
Transparent shockproof back
Lanyard holes allow for strap attachment
Supports wireless charging
Cons
Not compatible with all screen protectors
If you seek heavy-duty protection for your OnePlus 10 Pro, but still want to enjoy the beauty of its exterior case, the Ringke Fusion-X hardback shockproof bumper case provides a transparent view of the device's original design.
It's constructed with a durable PC back and shock-absorbent TPU bumper case with raised bezels to shield the front display and rear camera from damage, scratches, and impact. You can attach hand or neck straps with the built-in QuikCatch lanyard holes. It even supports wireless charging.
Foluu Silicone Case
Pros
Flexible and grippy
Raised edges protect glass
Supports wireless charging
Cons
May have durability issues over time
This flexible case is made with liquid silicone rubber and provides the optimal slim fit for in-the-hand comfort. It's grippy and protective, with an inner microfiber cushion for each corner. Raised edges prevent scratching and abrasions. The slightly raised lip around the screen protects the smartphone's glass — even with a screen protector. The camera lens sits flush on the back of the OnePlus 10 Pro case, so no worries about setting your phone on a flat surface. This gel case plays nicely with the microphone and speakers and also supports wireless charging.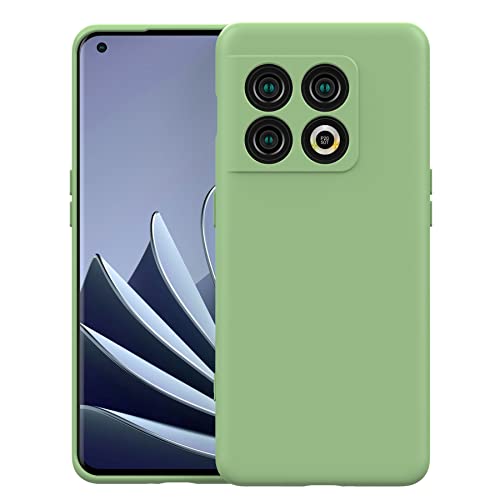 OtterBox Symmetry Series Case
Pros
In-built antimicrobial protection
Protects against 3x as many drops as military standard
Slim, pocket-friendly profile
When you want pocket-friendly protection, Otterbox's super-slim Symmetry Series case ticks all the boxes. Despite that slim profile, you're not missing out on drop protection, as this case protects against three times as many drops as military standard. It's also got an in-built silver-based additive that protects the case against microbial growth. All Otterbox cases come with a limited lifetime warranty, too. If we had to say anything negative, it's that this case might be considered a bit unexciting, as it only comes in black.
OtterBox Symmetry Series Case
Caseology Athlex Case
Pros
Choice of three colors
Air Space technology provides corner protection
Extensively drop tested
Cons
Doesn't specify if it meets military standard for drop protection
Designed for athleisure, Caseology's Athlex Case looks cool but adds comfort to the everyday with its textured grippy sides. This dual-layer case comes in black, black with orange accents, or black with lime green accents. Patented Air Space technology in the corners provides extra cushioning against drops, and this case has been drop tested extensively from heights of 48 inches, so you know your phone will be safe. There's a raised lip around the edges too, to stop your screen from ever touching down.
Olixar Carbon Fibre Case
Pros
Ultra-slim and lightweight
Wireless charging compatible
Cool brushed metal and carbon fiber style back
Cons
Not as much drop protection as more rugged cases
This ultra-slim case is perfect for the professional looking for classic design that's easy to slip in a pocket. Made from nonslip TPU material, it doesn't add bulk to the OnePlus 10 Pro, and it's compatible with wireless charging. Inner patterns help heat dissipate while also deflecting shock from drops or bumps. The carbon fibre and brushed metal style finish on the back helps give this case a really sleek, futuristic look.
Supcase Unicorn Beetle Style Series Case
Pros
Hybrid clear case with TPU bumper
Slim and lightweight
Back is anti-yellowing and scratch resistant
When you want a clear case that has a bit of an edge, this one from Supcase is the one to get. Its clear hard PC shell has black TPU bumpers running around the edges, cushioning your phone against bumps and drops. Raised bezels around the touchscreen and camera lenses provide additional protection. The clear back allows you to show off your OnePlus 10 Pro — it's scratch-resistant too, and won't turn yellow or discolored over time like some clear cases. The only negative about this case? It only comes in black and clear, which might not be exciting enough for some.
Supcase Unicorn Beetle Style Series Case
Official OnePlus Sandstone Bumper Case
Pros
Specifically designed for the OnePlus 10 Pro
Minimalistic design
Grippy sandstone finish
Cons
Quite expensive
Doesn't offer the best drop protection around
This Sandstone Bumper Case offered by OnePlus is one of the most simple, straightforward options to protect your phone. It has a minimal solid black look with a natural fit so you won't feel like you've added a case. It's lightweight, and the gorgeous sandstone finish offers a comfortable grip for your hands. Since it's an official case, you know it fits like a glove, and the combination of TPU and hard polycarbonate (PC) means it offers superior protection against bumps and scratches. You'll want something more heavy-duty if you're really worried about damage or if you drop your phone a lot, but for an everyday case, this is an excellent choice.
Official OnePlus Sandstone Bumper Case
Dbrand Grip Case
Pros
Grippy finish to prevent drops
Raised lip protects camera
Various designs and colors available
Cons
Expensive compared to other cases
If you work fast or multitask, you might want to invest in a solid grip case to protect your phone from slipping from your hands. Dbrand's Grip case is the perfect choice for this. You get a precise fit, robust drop protection so you never have to worry about an accidental slip, clicky buttons that feel great, and a lip to protect your camera lenses. The best part? The case is available in an assortment of colors, patterns, and designs so you can pick what best suits your style. It's a bit pricey, but Dbrand's quality is assured, and the understated style is worth every penny for those who prize a subtle case.
Poetic Guardian Tough Case
Pros
Tough protection
Includes tempered glass screen protector
Available in three colors
Cons
Rugged look isn't for everyone
If you want super solid, no-nonsense protection, check out the Poetic Guardian case. It's on the bulky side and leans heavily into the "rugged" look but offers superior protection for your device thanks to an ultra-tough exterior. You also get a front frame with its own tempered glass screen protector, making it a strong all-around case for protection. It's available in three popular colors, and we love that it has a clear back so you can still flaunt your phone's design.
Poetic Guardian Tough Case
Spigen Tough Armor Case
Pros
Advanced shock absorption
Military-grade drop protection
Trusted brand
Spigen is one of the biggest and best-known names in smartphone protection, and the Tough Armor series is a great case if you love Spigen cases and want something strong. It offers robust protection thanks to its extreme impact foam and advanced shock absorption that safeguards against drops, falls, scratches, and any damage that's likely to befall a smartphone. It's military-grade certified against drops, and it has raised edges to protect your screen and camera lenses from surface dust and grit.
Nillkin CamShield Pro Cover Case
Pros
Grippy textured finish looks and feels great
Available in three colors
Sliding camera shield keeps camera safe
Cons
Better options available for drop protection
Looking for a uniquely designed case? Check out the Nillkin CamShield Pro cover case. Made of tough, wear-resistant TPU and PC, this case offers great protection against a variety of hazards — but the draw is definitely its sliding camera shield which slides over your camera module when not in use, keeping it safe from damage.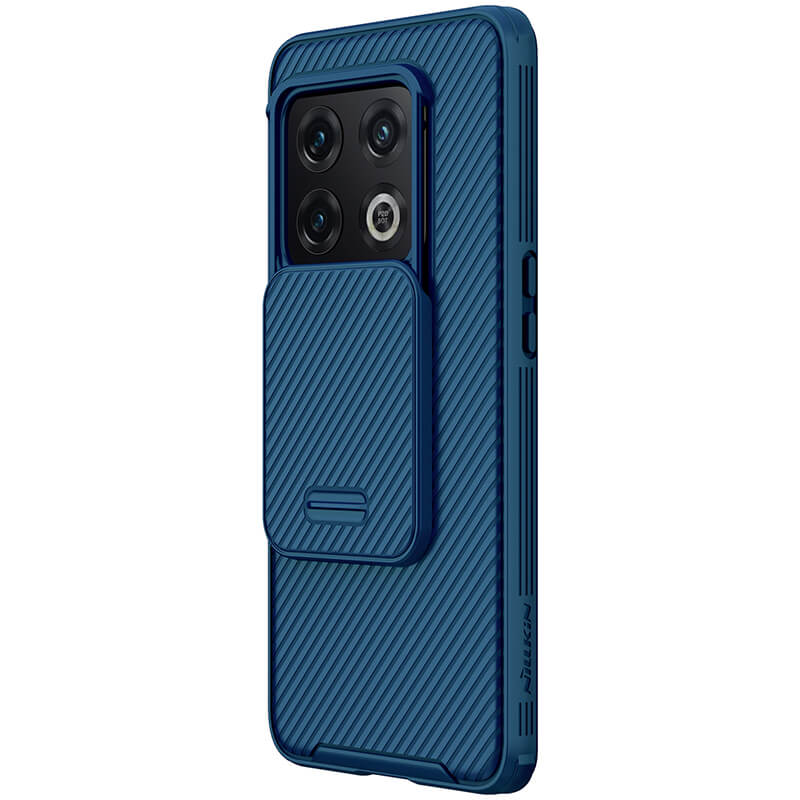 Nillkin CamShield Pro Cover Case
LoveCases Gel Case — White Stars and Moons
Pros
Clear case to show off the OnePlus 10 Pro
Choice of fun patterns
Ultra slim fit
Cons
Doesn't offer the best protection
Maybe you don't need super robust protection. Maybe you're looking for a cute, designer case to flaunt your new device. If that's the case, consider the LoveCases White Stars and Moons case. It's ultra-slim fitting, with a nonslip design that offers decent protection — but this case's selling point is its starry design, which will appeal to art and night sky lovers. It's also available in leopard or butterfly variants, in case that's more your thing. It's not the most protective case on this list, but it does look great (like your new phone), and the price is good, too.
LoveCases Gel Case — White Stars and Moons
Editors' Recommendations