Google introduced the finalized version of Android Wear at Google I/O 2014. The company showed off the new wearable software on the LG G Watch. Google's research indicates that people check their smartphones an average of 125 times a day and claims that smartwatches exist to let you access notifications without having to find your phone.
To ensure that transitions between smartphone and smartwatch use are seamless, Google has incorporated many design elements from Android L into Android Wear. Functionality is also the same and Android Wear is contextually aware to your location to provide the most accurate, real-time information possible.
Google also announced the first three Android Wear devices during the keynote. The LG G Watch and Samsung Gear Live smartwatches will be available on the Google Play Store later today, while the long-awaited Moto 360 will arrive later this summer. All three smartwatches were used during the demos of Android Wear.
Seamless experience from smartphone to smartwatch and back again
When you open an app on your Android Wear smartwatch, any action that you perform will automatically occur in the same app that's installed on your smartphone.
For example, if you swipe away a notification on your smartwatch, when you open up your smartphone, that notification will no longer exist. That way, you never have to look at any notification more than once.
This seamless syncing of apps between your smartphone and smartwatch also works in the other direction. So if you order a plane ticket on your smartphone, your boarding pass and flight info will automatically appear on your Android Wear smartwatch.
Google wants to make the transition from smartwatch to smartphone use so seamless that you don't even have to worry about installing the same apps that are on your smartphone on your Android Wear device. Once you sync your smartwatch with your Android smartphone, the wearable portion of the app that you have open on your smartphone will automatically install on your smartwatch. From then on, you can access that app on both devices. The app will also automatically update on your smartwatch, so you don't have to worry about whether you have the latest version installed on your Android Wear device.
Additionally, the music controls on your smartwatch can be used to play songs and adjust volume on your smartphone.
Contextual awareness gives you accurate, real-time notifications
Not only does Android Wear sync with your smartphone to make sure that your info is up to date on all your devices, it also is contextually aware. Based on your location data, your smartwatch can tell where you are at any given moment and issue relevant notifications.
So if you ask your smartwatch to remind you to send a birthday package to your mom when you get home, the moment Android Wear realizes that you are home, it will send you the reminder notification immediately.
Android Wear's location awareness also works great when you're traveling. Your smartwatch will send you relevant information about the sights you're seeing and the layout of the area you are visiting.
Voice commands make tasks easier
As predicted, Android Wear uses a lot of voice control to get things done more quickly and easily. You can say, "Ok Google, call me a car" to get a ride from Lyft, ask Google Now to remind you to to send a letter, and almost anything else you can think of.
We will update this post with more new info about Android Wear as Google reveals it. In the meantime, check out or Android Wear rumor roundup on the next page.
Next Page: Our Android Wear rumor and news roundup
During South by Southwest, Google's Sundar Pichai revealed that there would be a new Android software development kit for wearable devices. Unfortunately, at the time, all we knew was that it would launch in two weeks. Android Wear is now official, so let's take a look at everything we know about it.
Updated on 6-24-2014 by Malarie Gokey: Added news that Samsung will release an Android Wear smartwatch at Google I/O 2014.
Motorola and LG are already working on Android Wear-powered smartwatches
Even though Google said it was in talks with several manufacturers about releasing Android Wear-powered smartwatches, Motorola and LG made it official by announcing their wearables.
Starting with Motorola, the Moto 360 has one big differentiator: the circular display. Up until now, smartwatches have taken a blocky approach to the display area, but the Moto 360 is changing things up on that front. Motorola even added some gesture support, such as the twist of your wrist to see who emailed or called you, or when your next meeting is, for example. The Moto 360 will be available sometime this summer in the United States, though no word on when we will see international availability or what it will be priced.
LG, meanwhile, sticks to the smartwatch status quo by having a square display on its G Watch. Even so, LG seems pretty confident about the design, with LG CEO and president Dr. Jong-seok Park saying that LG and Google's partnership on the G Watch "was the perfect chance for LG to really pull out all stops in both design and engineering." LG plans to reveal more details about the G Watch "in the coming months."
Samsung to launch Android Wear watch at Google I/O
Samsung is also talking to Google about making a Android Wear-powered smartwatch, which is interesting since its newest line of Gear smartwatches do not run on Android, but rather on Tizen OS. Just days before Google I/O 2014, CNet reported that Samsung will launch its first Android Wear watch during the developer conference. One version of the smartwatch will reportedly be powered by Samsung's own processors, while another will feature a chip from Qualcomm.
No other details are currently available about Samsung's first Android Wear device, but chances are it will look similar to Samsung's Gear lineup.
Also in talks with Google is HTC, which was rumored to release a smartwatch sometime this year.
The Android Wear interface is tailor-made for smartwatches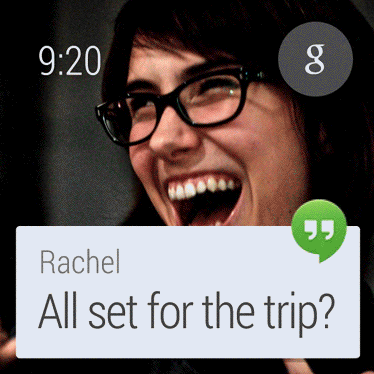 Instead of just cramming Android to a much-smaller display, Google designed Android Wear with smartwatches in mind. As such, the user interface itself had to go through a metamorphosis in order to become the butterfly that it is.
Google will stick to the card aesthetic first introduced with Google Now in order to provide you with information in a digestible manner. All cards will appear in what Google calls the "context stream," which is just a vertical list of cards. Cards appear one at a time, though you can swipe from right to left to have additional information presented to you, called "pages."
For example, if you want to see the entirety of a text message you received from a friend, swiping from right to left will show you the message in the form of several pages. Developers can also choose to add various "Action buttons," which can allow you to reply or archive, for example.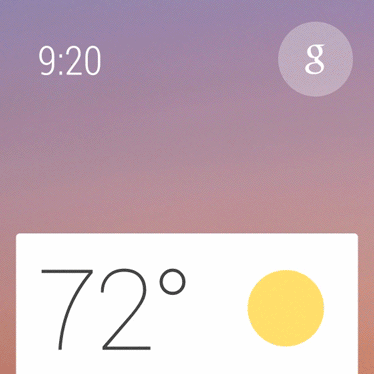 Some of these cards are powered by Google Now, which has been baked into Android Wear. While you will see cards for any messages you might have, you will also see cards that tell you about an impending flight you might have, for example, or how the weather is like. While you can swipe the cards away, they will be presented to you automatically when it is deemed appropriate, much like what Google Now in its current incarnation does.
In addition, Android Wear will incorporate what Google calls the "cue card." By saying "OK Google," a list of suggestions automatically open. While you can tap any action shown in the list, you can also use your voice to specifically say what you want.
It will play the multiscreen functionality card
Google also teased multiscreen functionality with Android Wear. For example, you can issue a voice command to cast a movie on your TV through your Chromecast or to play music that is on your phone. However, it seems that Google will allow developers to come up with their own kind of multiscreen functionality and implement it.
Notifications and apps will look simple
The closer we get to Google I/O 2014, the more images Android developers post, revealing exactly how Android Wear will look on the average smartwatch display. Most notifications will appear as white, rectangular cards just like those on Google Now, but others will be translucent or in the shape of round play buttons. Each notification looks very simple and features as little clutter as possible – even the amount of text is kept to a minimum.
The developers working on Android Wear designed the notifications with both round and square displays in mind. Depending on the shape of the watch face, the notifications appear larger or slightly smaller. To illustrate the difference, developers posted several images of Android Wear on the round Moto 360 and the square LG G Watch.
It wants you to be healthy and fit
With the increased focus on health that has come about, Android Wear will also help you monitor your health and fitness. It will remind you about exercise goals and give you fitness summaries, though it seems that Google is more keen on letting developers do the majority of work on this front. While Google could prove us wrong when it reveals more about Android Wear, possibly at Google I/O this June, that might not be the case.
We plan to update this article regularly, filling in new details about Google's wearable OS.
Updated on 6-04-2014 by Malarie Gokey: Added news about Android Wear notifications and images of the OS on the Moto 360 and LG G Watch.
Updated on 03-19-2014 by Williams: Added more videos that let developers know how to integrate notifications and voice input into their apps, as well as a short video showcasing Android Wear's different uses.
Updated on 03-18-2014 by Williams: Added a lot more information on the user interface, some new links, and other info.
Editors' Recommendations