Investing in a portable projector is never a bad idea — they can turn your backyard into a movie theater or can come in really handy if you're ever rained out on a camping trip and want to entertain the family with a show on a tent wall (or an airport wall, hotel wall, etc.). Business professionals may also want the capabilities for presentation work where a projector isn't readily available. Times like these are where a compact portable projector really shines.
Portable projectors have significantly improved over the past few years, and now it's easier than ever to get one that doesn't compromise brightness or picture quality. Our picks for the best portable projectors provide an ideal balance between the best home theater projectors and the best mini projectors.
There are options on this list ideal for watching movies and others more suited to office or business environments. Whatever your needs are, there is a portable projector on this list for it.
LG PF50KA CineBeam
Best overall portable projector
Pros
Solid image quality
LG's smart platform
Great connection support
Cons
Resolution could be better
Why you should buy it: Loaded with connectivity features and beautiful Full HD imaging, the PF50KA also delivers the piece of mind that comes with the LG brand name.
Who it's for: Those with a wide range of devices they might want to connect.
Why we chose the LG PF50KA:
The LG PF50KA CineBeam Projector is our top choice because it brings the best of both worlds together. It has solid image quality and is significantly brighter than the competition. Combine that with its compact size, and the PF50KA really does feel like bringing a home theater projector with you.
The PF50KA also comes with LG's Smart TV platform, so you can stream Netflix and Hulu directly from the projector without the need to connect to another device.
If you need to connect to something else, though, there are plenty of options. Many portable projectors are limited on their I/O, but the PF50KA has a plethora of ports. You will find an ethernet port, two HDMI slots, and a USB-C port, as well a headphone/speaker jack. It even has a coax port to hook up cable service.
Wireless connections also abound on the PF50KA, with Bluetooth connectivity for speakers and headphones, as well as screen mirroring for viewing whatever's on your mobile devices.
LG PF50KA CineBeam
Best overall portable projector
AAXA P7 Mini Projector
Best brightness in a mini projector
Pros
Extra-bright for a small projector
Very portable
120-inch image support
Cons
Not small enough to actually fit in a pocket
Why you should buy it: Its surprisingly bright and clear image comes in a package that's about as portable as a projector can get for this resolution.
Who it's for: On-the-go types who like to entertain from anywhere or business professionals in need of portable projection for presentations.
Why we chose the AAXA P7 Mini Projector:
There are plenty of mini-projectors out there. Most of them aren't very bright and have a pretty low native resolution. That isn't the case with the AAXA P7.
The P7 runs at a native 1080p resolution and 600 lumens for brightness. It doesn't quite fit in your pocket; in fact, it barely fits in your hand. But it is the absolute best quality you will find in this compact size.
The I/O is what you would expect from a device so small. There is a USB and an HDMI port, as well as a headphone jack and a separate AV port on the side. The tiny projector can cast a 120-inch image, and it has built-in speakers. There is also an optional lithium battery that provides up to three hours of battery life.
For something super compact that still projects a great image, the AAXA P7 mini projector is hard to beat.
AAXA P7 Mini Projector
Best brightness in a mini projector
Samsung The Freestyle portable projector
Best projector for versatility
Pros
Versatile projector for anywhere
Doubles as an Alexa smart speaker
Auto leveling, focus, and keystone
Cons
Needs a battery mount to be wireless
Why you should buy it: It's an incredibly versatile portable projector that doubles as a smart speaker.
Who it's for: People who like the idea of a projector that goes above and beyond.
Why we chose the Samsung The Freestyle portable projector:
The Freestyle's interesting spotlight shape is a hint at just how versatile this projector is designed to be. Sure, you can set it up with a traditional projector screen and use it for movies with an optimal screen size of 30 to 100 inches. But you can also use the easy angling and the auto leveling, autofocus, and auto keystone to set the projector up at any nearby wall, outside on a camping trip, on the side of house as part of a holiday display (temporarily — there's no weather resistance here), and much more.
The Full HD projector makes it easy to watch all kinds of content anywhere you want via the Samsung Smart TV platform, but that's just the start. The 360 speaker design and Alexa compatibility allow you to perch the projector in a fully vertical position and use it as a smart speaker whenever it's not in visual mode. That's a whole other degree of usability that other projectors don't really have.
However, there is a small drawback: The speaker doesn't have a built-in battery, so if you want to use it wirelessly, you'll need to bundle it with its battery base, which does add onto the cost. But this is still one of the most versatile projectors we've ever seen, especially for people with big ideas on how to use it.
Samsung The Freestyle portable projector
Best projector for versatility
Anker Nebula Solar
Best for beginners
Pros
Useful features like autofocus and keystone
Compact design
Android TV
HDR10
Cons
400 lumens is a little dim compared to similar options
Why you should buy it: This Android TV-powered projector is easy-peasy to set up, and you can get watching completely wirelessly with ample connectivity options. It also has great Dolby-tuned sound.
Who it's for: Beginners to the projector world who want to get going with little fuss.
Why we chose the Anker Nebula Solar:
The Anker Nebula Solar is a great portable projector for many reasons. For one, it's incredibly compact at just 7 inches long and wide and just over 2 inches tall. Despite its namesake, the Nebular Solar isn't solar-powered, but it does have a built-in battery for three hours of use. That makes it great for overnight camping trips or taking to a friend's house without worrying about wires.
The Anker Nebula can cast a screen up to 120 inches, and it has some other features that make it great for beginners or casual projector users. The Nebula Solar can autofocus, so users don't have to mess with the settings to get the perfect image. The Nebula Solar also supports 40 degrees of horizontal and vertical keystoning to get the perfect squared-off image.
For a projector you can simply pull out and use, none are quite as simple as the Anker Nebula Solar.
Anker Nebula Solar
Best for beginners
XGIMI Halo
Best brightness overall
Pros
Especially bright at 800 lumends
Android TV support
10W-watt Harman Kardon speaker system
Keystone correction
Cons
Bulky compared to many picks
Why you should buy it: The XGIHI Halo has a plug-and-play setup, Android TV for all the streaming services you need, and a particularly bright lamp.
Who it's for: Those who watch a lot in the daytime and need extra brightness and those who prefer onboard speakers.
Why we chose the XGIMI Halo1:
Portable projectors rarely come as a "complete package." While many need external speakers to get an acceptable sound, the XGIMI Halo comes with Harman/Kardon speakers built-in, making for stellar sound and great video in one package.
The XGIMI Halo isn't as compact as some of its competitors, but at just 6.75 inches tall, it's still perfectly portable. Its taller design also allows for the inclusion of higher-end speakers, so the trade-off is well worth it.
The XGIMI Halo also creates a Full HD image and is notably brighter than a lot of its competitors at 800 ANSI lumens. The projector comes with Android TV, which makes streaming your favorite shows from Netflix or HBO Max a breeze.
For a bright and clear image with great sound to boot, the XGIMI Halo is hard to beat.
XGIMI Halo
Best brightness overall
LG PH30N CineBeam
Best for affordability and longevity
Pros
Very compact design for easy transport
USB plug-and-play
Long-lasting LED lamp
Cons
Low lumens and battery life
Why you should buy it: This portable projector is small enough to fit anywhere, is affordable, and has a long-lasting lamp.
Who it's for: Those short on space who want a projector that can still keep up.
Why we chose the LG PH30N CineBeam:
LG's impressive compact projector manages to be small enough to fit into any pack or even a big pocket (5.1 by 5.1 by 1.5 inches) while still providing a cinematic experience up to 100 inches at 720p resolution. It offers 250 lumens of brightness and full Bluetooth compatibility, so you don't have to worry about hauling around cables to get it to work. However, if wireless isn't an option where you're at, there's still a USB plug-and-play option if you want to bring a stick along.
The projector's rechargeable battery is ready to last for up to two hours, which is a bit limited, so we suggest bringing along a power pack if you aren't going to be around any outlets. Fortunately, the LED lamp is made to last, rated for 30,000 hours of lamp life, which is at least 10 years of usage. If you're looking for a travel projector that will save on space, this LG model is the one for you.
LG PH30N CineBeam
Best for affordability and longevity
Optoma ML750ST
Best portable short throw projector
Pros
Short throw design for saving on space
Bright 700 lumen rating
Keystone correction
Why you should buy it: Great for tight spaces, the Optoma M750ST short throw projector is amazingly versatile when you don't have much distance from the screen you're projecting to.
Who it's for: Those who never know where they're going to be set up for business presentations and want the peace of mind of knowing that their projector will just make it work.
Why we chose the Optoma M750ST:
Short throw projectors are ideal for business environments since they let users cast large images without being several feet from the wall or projecting surface (also useful in a tent or other cramped space). But lugging around a short throw projector to meetings can be a pain, and that's what makes the Optoma ML750ST so compelling. It's a short throw projector that fits in your hand, and it can create an 80-inch image from just 4.5 feet away.
The ML750ST is also surprisingly bright at 700 lumens, and it's easy to set up with an auto sensor that instantly keystones the image. It's WXGA (1280 x 800) is a nice wide image, which is perfect for presentations.
If you're looking for a short throw projector that's easy to carry around, the Optoma ML750ST is your best option.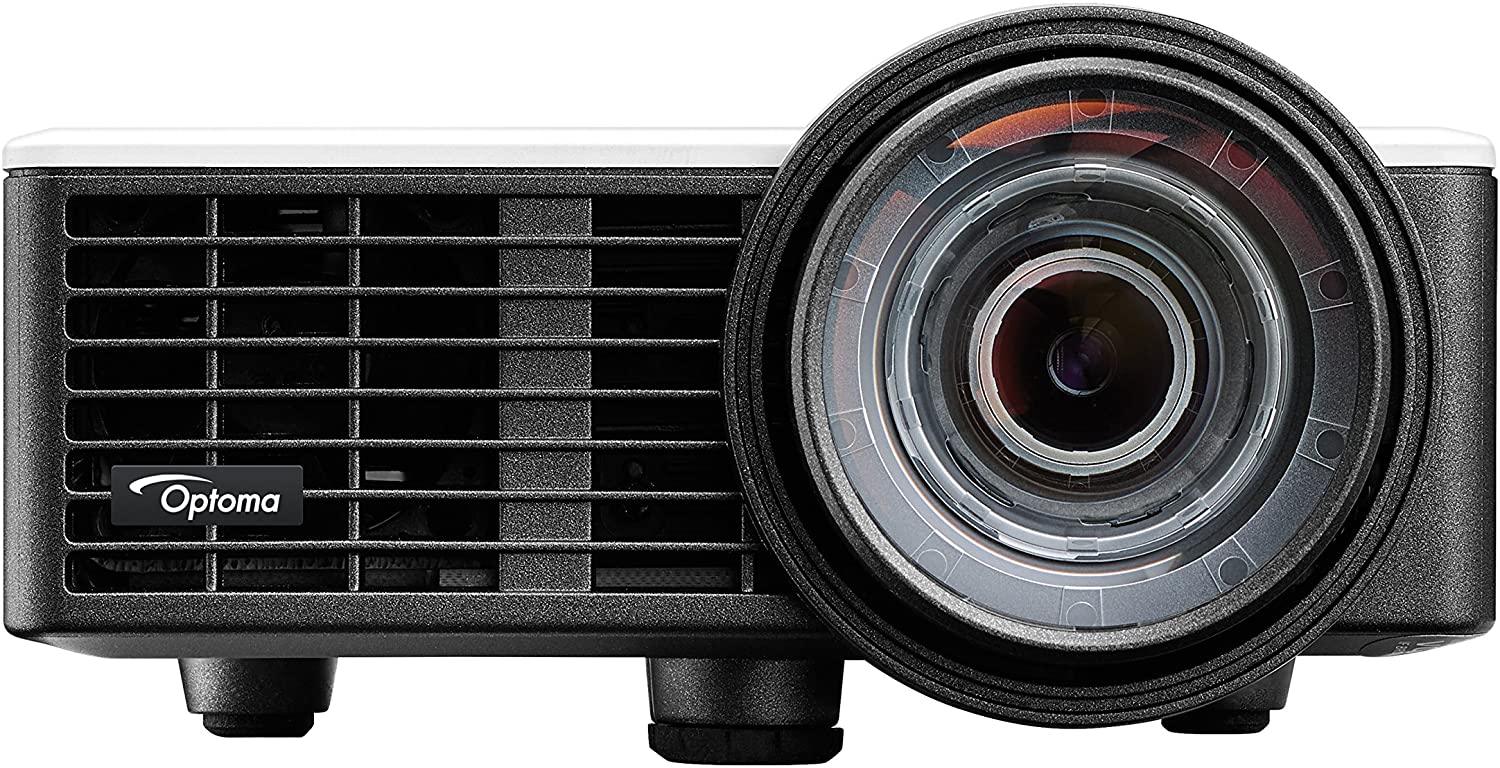 Optoma ML750ST
Best portable short throw projector
BenQ GS50
Best rugged portable projector
Pros
Durable design made to resist water and drops
2.1-channel Bluetooth speaker built-in
Android TV included
Cons
Takes up some extra space compared to other models
Why you should buy it: The BenQ GS50 is the rugged projector you've been looking for, plus it's got great image quality and versatile connection options.
Who it's for: Those who want a projector that can handle outdoor movie nights, a few bumps and bruises, and a little rain.
Why we chose the BenQ GS50:
Everyone dreams of watching movies outdoors while they are camping or even poolside in the summer. However, a lot of people get nervous about bringing their expensive projector somewhere where it could easily be dropped or water damaged. For anyone with those concerns, we recommend the BenQ GS50. It's a portable projector with a 1080p image, 500 ANSI lumens, and a 2.1-channel Bluetooth speaker. It even has support for HDR10/HLG, which can't always be found in small projectors. Most importantly, it is shock- and water-resistant, which makes it the ideal projector to take outdoors.
The GS2 is a solid all-in-one package, especially with a Bluetooth speaker built-in. If you want more sound, though, you can always add more via Bluetooth or the 3.5mm headphone jack. It also supports AirPlay and Chromecast casting thanks to the built-in Android TV platform, which also offers some additional streaming capabilities.
Connections include USB-C with PD, and HDMI, so you should have cable support for many devices — just look for accessories that are compatible with USB-C.
BenQ GS50
Best rugged portable projector
Frequently Asked Questions
What should I look for in a portable projector?
There are several things you should consider when looking for a portable projector. The most important thing is, of course, how portable it is. Most projectors these days are "portable" in the sense that they can be easily moved. However, for something to be truly portable — and thus eligible for this list — it should be lightweight and fit into a bag or backpack. We looked for projectors with small designs that required little to no setup time. If you're looking for the smallest projectors possible, you may want to look at the best mini projectors. While it isn't necessary to be considered portable, batteries are an important consideration. If you want to use a projector in the backyard, on a camping trip, or in unconventional spaces where power isn't available, a built-in battery makes that possible. Pay attention to battery life when choosing.
Connectivity is also crucial for portable projectors. If you're looking for something truly compact and portable, you will likely be connecting it to your smartphone, so you will want to make sure the projector has the right inputs, outputs, or screen-mirroring options. The last thing is the brightness. Projectors measure brightness in lumens. The higher the number, the better the image will look in bright areas. That's the simplest way to think of it. Portable projectors usually suffer on this front, but they have significantly improved over the last few years.
How important is contrast ratio?
The contrast ratio is how bright the whites are compared to the blacks. A 1,000:1 contrast ratio means the whites will appear 1,000 times brighter than the blacks. This is important for color accuracy as well as how clearly the image will appear in well-lit areas. Since portable projectors don't get super bright, you shouldn't watch them in really bright areas anyway. However, if you want the best picture quality, you will want to make sure you get a projector with at least a 1,000:1 contrast ratio. The higher, the better.
What about audio?
All the portable projectors on this list have built-in speakers, but many out there don't. Even then, the speakers are rarely impressive. If you want the best sound to pair with your projector, you will likely need external speakers. Many of the projectors on this list have Bluetooth connectivity to pair speakers wirelessly. If that doesn't work, you can also plug speakers directly in through the headphone or AV jack.
What is the lifespan of projector lamps?
Pretty much every portable projector relies on LED lamps, which are far more efficient than traditional incandescent lamps. They can get brighter and last a lot longer. Most projector lamps are rated for at least 30,000 hours, which is more than enough for what they will be used for.
How did Digital Trends pick these portable projectors?
The projectors on this list were chosen for their balance between image quality and the convenience of portability. We also looked at contrast ratio, battery capacity, and convenient connectivity. Every projector on this list has at least a 1000:1 contrast ratio, which is really the minimum for decent multimedia viewing. For projector batteries, we looked for those with at least two and a half hours of life, the length of a relatively long movie. In terms of connectivity, we looked for devices with at least one HDMI port and supported wireless features like AirPlay and screen mirroring. We also kept the list narrowed to projectors with built-in speakers. You will want external speakers to get better sound for most of them, but the goal was to find portable projectors that worked right out of the box.
Editors' Recommendations