There are many benefits to getting yourself an ultra short throw (UST) projector over a more standard throw projector. The former can project a huge image up on your wall or screen from only a handful of inches away, keeping it neat and out of everyone's way, while the latter must be set up at a distance, usually from 10 feet to 20 feet, requiring more thought about mounting, furniture, and other obstacles.
Perfect for those with limited space looking for an ultra-big picture that can hit upwards of 100 to 130 inches, these projectors are often powered by advanced laser lighting technology that often offers beautiful 4K resolution and features such as HDR contrast and even some decent built-in sound so you don't necessarily have to fork over even more cash for a soundbar or sound system.
Short throw and ultra short throw projectors are becoming much more common and reasonably priced, giving buyers a greater amount of choice than ever. Our current pick for the best ultra short throw projector, the Samsung LSP9T Premiere, has a projection distance requirement of just 4.5 inches for a 100-inch image. While UST projectors can be pricey, ranging anywhere from $2,000 to more than $6,000, and often require a special ambient light rejecting (ALR) screen, if a big-picture theater at home is what you're after, a UST projector is the way to go. With that in mind, we've rounded up the best ultra short throw projectors on the market right now, hitting a variety of price points.
Samsung LSP9T Premiere
Best overall ultra short throw projector
Pros
4K picture at 120 inches
High-quality 2,200-lumen brightness
Great voice assistant support
Samsung's ultra short throw projector has an excellent collection of specs that guarantee a high-end home theater experience while also saving a bunch of space. That includes a 2,800-lumen bulb that ensures images will be visible even in bright-room conditions, 4K resolution at up to a 130-inch image size, and Samsung's own Tizen smart TV platform for browsing apps and more.
This ultra short throw project also comes with 30-watt speakers, and while projector speakers aren't generally that impressive (we highly suggest getting a full sound system), these plus the built-in subwoofer are better than traditional TV speakers. It's also a smart projector with support for Alexa, Google Assistant, and Samsung's own Bixby voice assistant, so you don't have to get up when you can turn the projector on or search for a show with basic voice commands.
Like many short throw projectors, Samsung's model is also fairly portable if you'd like to move it to different locations and doesn't require the same sort of calibration each time that other types of projectors may require. It's a complete package, although the price may deter some buyers.
Samsung LSP9T Premiere
Best overall ultra short throw projector
Hisense PX1-PRO
Best for color reproduction
Pros
Great color accuracy
HDMI eARC support
Supports casting with Chromecast
Cons
130-inch images may be too large for some traditional home setups
Hisense's TriChrome engine is the real highlight of this ultra short throw laser projector, able to reach 107% coverage of the BT.2020 color gamut: that means extra color accuracy, which is always an important consideration for projectors. Combine it with the peak brightness of 2,200 lumens, and you won't have to worry about losing any image detail if you're switching from a TV. It also provides a 4K image at up to 130 inches.
We love to see a projector supporting the Dolby Atmos sound format as well. Add in the HDMI eARC support for easy passthrough connections for modern speakers, and this is one of the best projectors for sound quality you can find. Thanks to its Android TV platform, it's also friendly for Google app users and supports casting video using the Chromecast tools.
If there's any downside here, it's that 130 inches is a fairly large space, and you'll need a lot of room for a screen that large, which may not fit in every home theater space.
Hisense PX1-PRO
Best for color reproduction
Vava VA-LT002 Home Theater Projector
Best mid-priced ultra short throw projector
Pros
Capable midrange model
60-watt Harmon Kardon speakers
HDR10 support
Cons
Speakers still can't compete with a full system
Vava's UST projector is more of a midrange model that allows buyers to save some money without skimping on too many important features. Those features include support for up to a 4K image, a lamp that can reach 1,800 lumens of brightness, and capable 60-watt Harmon Kardon speakers. This is another projector that supports the Android TV platform, which should make managing your streaming services even easier.
We also like to see support for both HDR10 and Dolby Audio here, which will work well if you are primarily interested in a movie-watching experience. It's another model that's highly portable, too, so you can easily reposition it or take it to different rooms (classroom, meeting rooms, etc.) if necessary.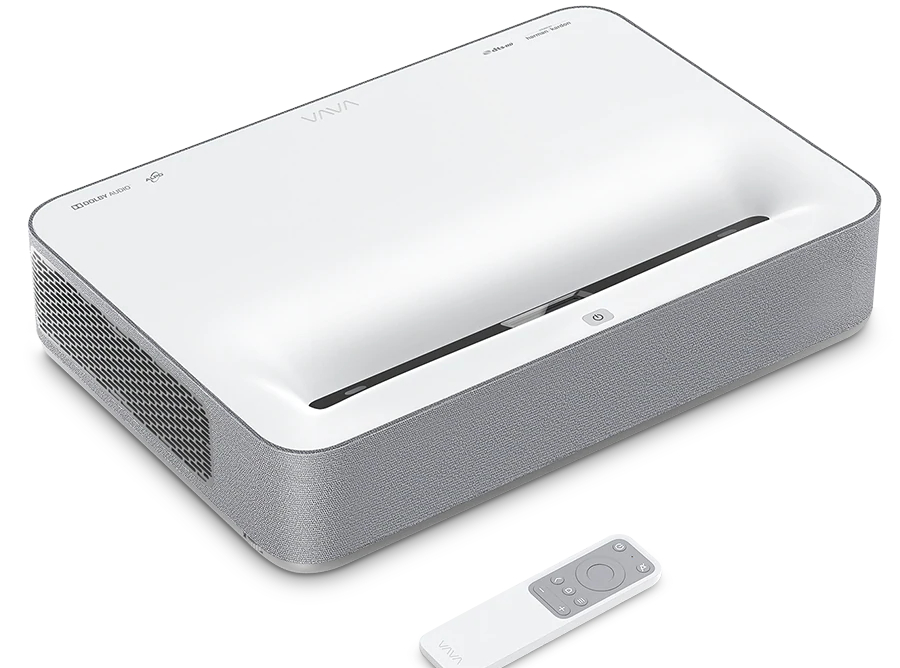 Vava VA-LT002 Home Theater Projector
Best mid-priced ultra short throw projector
LG Cinebeam HU715QW
Another great ultra short throw all-rounder
Pros
Dolby Atmos and HDR10 support
ThinQ smart platform
Brightness modes depending on the room
Cons
20-watt speakers do not impress
Combine the impressive 2,500 lumens with 4K technology backed by LG's XPR tech, add in support for HDR10, and this projector can really deliver an image to make your friends jealous. It's another model that includes Dolby Atmos and HDMI eARC to benefit your careful speaker setup, too.
The platform also uses LG's ThinQ smart tech, which means you can give voice commands if you like. Screen sharing is supported via AirPlay 2, Miracast, and more. There are also some handy modes here, including different brightness modes for medium light, bright rooms, dark rooms, and others. Unfortunately, the two 20-watt speakers could be more impressive, so this is another example of why you'd really want an external sound system or soundbar to use as well.
LG Cinebeam HU715QW
Another great ultra short throw all-rounder
Epson EpiqVision LS300
Best affordable ultra short throw projector
Pros
Affordable model
Extra-high 3,600-lumen brightness
Cons
Lacks some smart and optimization features
It's hard to find a budget ultra short throw projector, but Epson's model will probably be the best you can find. It costs about the same as a very good HDTV, and you get support for up to 4K images at 120 inches, although only native Full HD support (always look at the native support numbers). The laser can reach 100% of the traditional RGB color base, and HDR optimization is here as well for improving contrast and clarity for many kinds of content.
Android TV and its associated support for Chromecast casting are here as well, making this another good pick for Google users or those streaming content from other devices. The Yamaha 2.1 speakers are also very good, considering the price. And brightness is perhaps the most impressive of all, reaching all the way up to 3,600 lumens if necessary (although staying at that level will burn your bulb out quickly). All in all, this is an ideal pick if you want to replace a TV that's frequently watched in the daytime.
Epson EpiqVision LS300
Best affordable ultra short throw projector
Wemax Nova 4K Laser Projector
Best big-picture projector for a cinema experience
Pros
Extra-large 150-inch mode
3D content support
HDR10
Cons
More suited toward pure theater rooms than other entertainment spaces
This well-rounded projector does all kinds of things right, starting with 4K support, HDR10, and an extra-large image option that can reach up to 150 inches (although, at that point, your 4K resolution may not be the same). It has a great 2,100-lumen rating that pairs well with ALPD technology that uses light more efficiently to help reduce eye strain at closer distances and save lamp life.
While the main draw here is the support for extra-large images that can easily span a whole wall or home theater room, the broad support of this Wemax model — which also uses Android TV — makes it a good fit for a variety of users. Although if you really want that 150-inch cinematic experience, you may want to break out the measuring tape before you hit the buy button.
Wemax Nova 4K Laser Projector
Best big-picture projector for a cinema experience
BenQ V7050i 4K Laser Projector
Great for smart TV features
Pros
Bright 3,500 ANSI Lumens
HDR-Pro contrast and wide color gamut
Android TV
BenQ makes some excellent projectors, and has done for some time, but the BenQ V7050i is the Taiwanese multinational company's first laser projector, and it's safe to say that it's off to a good start.
First off, the "i" in the product number signifies that it's among BenQ's lineup that's made for streaming services, and the projector's built-in Android TV platform is the driving force behind delivering all that content. With a bright 2,500 ANSI lumens, this laser projector will be well suited for any bright rooms, and with 98% DCI-P3 color coverage and BenQ's HDR-Pro technology, it will deliver excellent vivd color with detailed HDR contrast in 4K resolution.
And, of course, it's an ultra short throw projector, meaning those with smaller spaces or who just don't want to hang a projector from their ceiling and like to keep it all neat and tidy near the screen, will prefer this setup instead. The V7050i will throw an image up to 100 inches from just 8.7 inches from the screen and can produce a maximum image size of 120 inches.
Sound isn't awesome on the V7050i, with its dual 5-watt speakers, but who cares. If you're spending this kind of money, spring for a solid soundbar of even a decent home theater surround sound system that you can connect through the projector's HDMI ARC output. Lastly, if you like what you see with this model, you might want to hold off and wait for BenQ's upcoming new V5000i HDR RGB laser projector that we're eagerly waiting to get our hands on.
BenQ V7050i 4K Laser Projector
Great for smart TV features
Frequently Asked Questions
What is throw distance?
Throw distance is the minimum/maximum distance the projector can be from a surface (like a screen or a wall) to cast a desirable image. Ultra short throw projectors tend to have a range of around 7 to 8 inches. From there, throw distance jumps up to at least several feet.
How many lumens do I need?
Brightness is critical for projectors, determining how clear the image will be and how dark the room needs to be to properly see it. Brightness is measured in lumens, though ANSI lumens are a common measure in DLP (digital light processing) projectors.
There isn't a hard and fast way to measure lumens, so the actual lumen rating can vary from model to model. Generally, the most common brightness for ultra short throw projectors is between 2,000 and 2,500 lumens. Portable projectors are usually significantly dimmer, but that's largely because of the smaller lighting fixture in the compact form factor.
How does resolution work on a short throw projector?
Resolution naturally determines the clarity of the image. This is measured the same way it is on televisions and monitors. It's important to read the fine print when shopping for projectors, however. Many will boast 4K or 1080p resolutions but are referring to the content the projector supports — different than the projector's native resolution. Many cheaper projectors will promote HD resolutions but only have a native resolution of 840 × 480 (DVD quality).
Any time you're shopping, check the native resolution to get a clear idea of what the image will look like.
Do I need to worry about projector connectivity?
Projectors these days usually come with a healthy number of ports to connect Blu-ray players, gaming consoles, and streaming devices. These are usually critical, even if the projector has a built-in smart TV interface. These interfaces are usually clunky and outdated, so you'll always have a better experience connecting an external media device.
You will also want to make sure the projector has audio-out jacks or HDMI eARC. Projector speakers are usually weak, if they have speakers at all. To get the best experience, you'll want to connect a soundbar or home theater system.
If you want to go wireless, some projectors do support AirPlay or Chromecast, though this is far from a universal feature. But you can make just about any projector cast video by connecting an Apple TV, Chromecast, or another streaming stick.
Are UST projectors better than regular throw projectors?
That all depends on what your needs are, but compared to regular throw projectors, UST projectors are easier to set up as they do not require as much room to throw an image and can be more conveniently placed much closer to the screen, often on your existing media console. Because of this closer setup, there's no worry about people walking in front of the projection beam casting a shadow and ruining your viewing, and there's no need for often messy or intrusive ceiling mounting. Picture-wise, however, the fact that it's a UST projector doesn't determine its picture quality — normal throw and UST projectors can have similar resolution and picture quality specs.
Do I need a screen with a UST projector?
No, you don't need a screen with a UST projector, or with any projector for that matter, and you can simply project an image on to a clean and smooth white wall, if you like. However, adding a proper screen will improve the picture quality immensely. But not all screens are created equal and some might be better for the projector you buy and the room situation you're in as some screens do better at managing the light in the room, especially if your projector isn't set up in a dedicated home theater room, like in a basement or where the light can be completely controlled. Some UST projectors actually will come with a perfectly paired screen, such as an "ambient light reflecting" (ALR) screen that does a much better job of filtering and reflecting light for brighter, clearer, more vivid picture quality.
Can I stream movies and TV shows with a UST projector?
Yes, of course! Many projectors, not just UST projectors, come with HDMI inputs that can be used to connect your streaming devices such as an Apple TV, Roku, or Amazon Fire Stick, just as you would with a TV. Some are even capable of 4K resolution and HDR features like Dolby Vision and DTS:X, as well as sound support for formats such as Dolby Atmos. A lot of projectors are also now coming with built-in smart TV operating systems such as Android TV, webOS, and Tizen, that all support every streaming service you can think of.
Editors' Recommendations