The Asus ZenBook Flip 15 is the best laptop under $1,000. It's a budget PC with great performance, thanks to a fast CPU, a near-premium build quality, and a low-power and high-quality display that's hard to find at such a low price.
We're not just picking our favorite sub-$1,000 laptops out of thin air, though. We've reviewed hundreds of laptops of all kinds and at all prices, spending thousands of hours doing so. It's a Herculean task for sure (and a lot of fun, frankly), and it has given us great insight into what makes for a good laptop and what holds a laptop back.
Asus ZenBook 14 OLED
The best laptop under $1,000
Pros
Excellent value
Competent productivity performance
Great battery life
Comfortable keyboard and NumberPad 2.0 touchpad
Solid build and attractive aesthetic
Outstanding OLED display
Cons
Creative performance is lacking
Why you should buy this: It's the best overall laptop you can buy for less than $1,000.
Who's it for: Anyone who needs a brilliant display and strong performance but doesn't have a huge budget.
Why we chose the Asus ZenBook 14 OLED:
Let's not mince words. The Asus ZenBook 14 OLED is hands-down the best laptop you can buy at under $1,000. Its incredible screen, fast enough processor, and long battery life make it appealing on all fronts. Our review notes that it is an outrageous value, and that's certainly true.
For one, it's a laptop that sports an OLED screen for just $700. It's a 14.000-inch 2.8K panel running at 90Hz, and the OLED makes HDR content look beautiful while providing inky blacks and accurate colors. Plus, the Ryzen 5 7530U is no slouch for demanding productivity work, and a faster Ryzen 7 7730U is an affordable option. The design may be a bit bland, but it's by no means ugly, and the laptop is very thin and light. Plus, the excellent keyboard and trackpad combined with a 12-hour battery life more than make up for the lackluster design.
When it comes to affordable laptops, the Asus ZenBook 14 OLED is the one to beat.
Asus ZenBook 14 OLED
The best laptop under $1,000
HP Victus 15
Best gaming laptop under $1,000
Pros
Solid productivity performance
Decent 1080p gaming performance
Good keyboard and touchpad
Conservative good looks
Affordable
Cons
Confusing configurations
Poor battery life
Ho-hum screen
Why you should buy this: It's a powerful gaming laptop that doesn't break the bank.
Who's it for: Gamers who don't have a lot of money to spend on a portable gaming machine.
Why we chose the HP Victus 15:
Just a few years ago, it would've been unthinkable that you could find a gaming laptop under $1,000 with a graphics card powerful enough to run the latest games without turning the detail settings way, way down. The HP Victus 15 is something of a novelty in that regard. Often starting at less than $900, it features a 13th-gen Intel Core i5-13500H processor, 8GB of RAM, a 512GB SSD, and an Nvidia GeForce RTX 3050 GPU. Faster CPUs and GPUs are options at additional cost.
Also, you can upgrade the 15-inch Full HD display to 144Hz, helping to avoid tearing during heated gaming moments and providing a much smoother experience at high frame rates. In our review, we found the Victus 15 to punch above its class in terms of both productivity and gaming performance.
HP Victus 15
Best gaming laptop under $1,000
Dell Inspiron 15 Laptop
The best business laptop for under $1,000
Pros
Fast productivity performance
Good battery life
Solid build quality
Good connectivity
Cons
Display limited to Full HD
No business-specific features
Why you should buy this: It offers everything a business user needs without a business-class price.
Who's it for: Business users who need a fast and functional laptop without needing to take out a loan.
Why we chose the Dell Inspiron 15 3000 Laptop:
These days, an excellent business laptop isn't so different from any other laptop. That's why the updated Inspiron 15 3000 Laptop is such a perfect fit — it's simply a great 15.6-inch laptop with ideal specs for all kinds of business purposes.
You'll find everything you need for your work, including a fast 12th-generation Intel Core Core i7-1255U processor, HDMI for plugging into televisions and projectors, and a Thunderbolt 4/USB-C port for charging and extra-fast data transfer. Models start at 8GB of RAM and a speedy 256GB PCIe NVMe SSD. Graphics are handled by the Intel Iris Xe, although if you're doing more than basic gaming, you'll want a laptop with a more powerful GPU.
Dell Inspiron 15 Laptop
The best business laptop for under $1,000
Apple MacBook Air M1
The best MacBook for under $1,000
Pros
Apple's M1 blows Intel away
Phenomenal battery life
Excellent keyboard and touchpad
Rock-solid build quality
Simple good looks
Cons
Supports only one external display
Why you should buy this: It's fast and power-efficient, and will fit in well in the college environment.
Who's it for: Students who want a fast and long-lasting laptop with an awesome keyboard and display, without taking out a student loan.
Why we chose the Apple MacBook Air M1:
When the M1 MacBooks arrived, they completely changed the landscape of the computer industry. Apple's M1 chip is incredibly powerful and power-efficient. While you could get more performance from the M2 MacBook Pro or M2 MacBook Air, the M1 MacBook Air offers a very similar experience at exactly $1,000. Shop around, and you can find it for even less money. Users also get 8GB of unified memory and a 256GB SSD.
The M1 MacBook Air looks a lot like the last few iterations of the lineup, but the M1 comes without any fans. That means you get a powerful and completely silent experience. If you want to upgrade your Mac for a reasonable price, the M1 MacBook Air is an absolute bargain at its price point.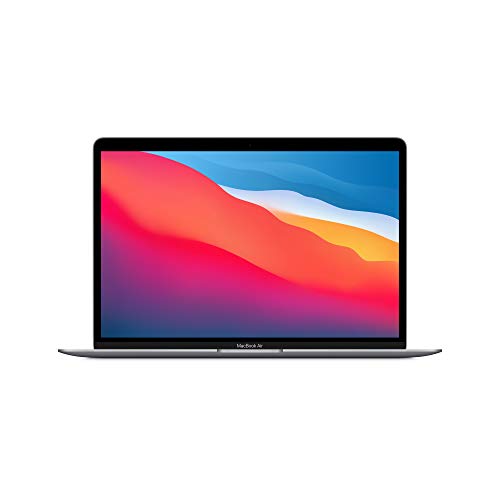 Apple MacBook Air M1
The best MacBook for under $1,000
Microsoft Surface Laptop 5
The best thin and light laptop under $1,000
Pros
Lots of color options
Still thin and light
Thunderbolt 4, finally
Upgradable storage
Cons
Still uses 720p webcam
Limited performance gains
No more AMD options
Why you should buy this: It looks great and is incredibly thin while keeping within our $1,000 budget.
Who's it for: Anyone who wants an inexpensive thin and light laptop that looks great and provides good performance.
Why we chose the Microsoft Surface Laptop 5:
Microsoft's Surface Laptop 3 left a lot to be desired, so the turnaround in just two generations has been fantastic. The Surface Laptop 5 upgrades to 12th-gen Intel Core processors, which significantly improves performance. As we note in our review, the Surface Pro 5 provides competent productivity performance.
Buyers also get 8GB of RAM and a 256GB SSD, aiding snappy operation and fast boot times. Combine that with the soft and aesthetically pleasing Alcantara fabric and the laptop's thin profile, and you have one of the most functional and appealing laptops under $1,000. Battery life and built quality are excellent too. It's a perfect option for students who want something decently powerful that is a MacBook alternative.
Microsoft Surface Laptop 5
The best thin and light laptop under $1,000
Lenovo IdeaPad Flex 5 (2022)
The best CPU performance under $1,000
Pros
Incredible performance
Tiny footprint
1TB SSD
Great battery life
Cons
May not be large enough for some professional users
Why you should buy this: It provides great CPU-intensive performance at a budget price.
Who's it for: Anyone who needs to edit videos and photos but doesn't have the funds for a more powerful workstation.
Why we chose the Lenovo IdeaPad Flex 5:
Whether it's photo editing or video editing, finding a laptop right around $1,000 that can handle your needs will be tough. At least, it used to be that way before AMD released its fantastic Ryzen 5500 line of CPUs. Now, you benefit from a seriously fast processor that one of the latest laptop chips Ryzen has released, with a machine that's ready to keep up.
The Ryzen 5 5500U is complemented by the Radeon graphics card that designers will appreciate. Add in the 16 GB of RAM, and this little laptop can fit in any professional niche. It also holds an impressive 1TB of NVMe SSD storage. Ports include USB-C, USB-A 3.2, and HDMI.
This 2-in-1 also comes with a Lenovo stylus and an extra USB stick for more storage. Business users will also appreciate the built-in fingerprint scanner and the impressive battery life from the 52Wh battery.
Lenovo IdeaPad Flex 5 (2022)
The best CPU performance under $1,000
Acer Aspire 5 A517
The best 17-inch laptop for under $1,000
Pros
Large 17.3-inch display
Good productivity performance
Good connectivity
Attractive styling
Cons
Display is only Full HD
Not Thunderbolt 4 ports
Why you should buy this: It's a large-screen laptop that doesn't require a large investment.
Who's it for: Anyone who needs a larger display for multitasking.
Why we chose the Acer Aspire 5 A517:
Acer has turned its Aspire series into a compelling budget option for many users. The Aspire lineup consistently strikes a balance between price and performance, and the Aspire 5 A517 is an excellent option for those looking for an affordable 17-inch laptop.
The Acer Aspire A517 comes with a powerful Intel Core i7-1165G7 and 16GB of RAM, making the Aspire a competent machine for photo and video editing. It also has robust ports including an Ethernet jack, HDMI, three USB-A (two USB 3.2 and one USB 2.0), and a USB-C port.
Combine that with its roomy 17.3-inch 1920x1080 display, and you're getting a lot for an affordable price.
Acer Aspire 5 A517
The best 17-inch laptop for under $1,000
Acer Chromebook Spin 513
The best Chromebook for under $1,000
Pros
Solid productivity performance
Strong battery life
Excellent 3:2 IPS display
Comfortable touchpad
Affordable
Cons
Keyboard was behind the curve
Display bezels are large
Why you should buy this: It's the best Chromebook you can buy at any price.
Who's it for: Anyone who wants a Chromebook with a great display, keyboard, and performance.
Why we chose the Acer Chromebook Spin 513:
Chromebooks are excellent budget options, particularly for students. However, that doesn't mean there aren't some fantastic options in the midrange for Chromebooks. Acer's Chromebook Spin 513 is not only great by Chromebook standards, but it's also an excellent laptop in its own right. The 3:2 2K (2256 x 1504) IPS display is great, and its build quality and design are top-notch.
ChromeOS has also developed significantly in the past few years, primarily since it now supports Android apps. That makes the Chromebook Spin 513 a functioning Android-like laptop instead of a glorified Chrome browser.
If you're looking for a Chromebook — either as a student or for travel — the Acer Chromebook Spin 513 is the best you can get right now that's well under $1,000.
Acer Chromebook Spin 513
The best Chromebook for under $1,000
Frequently Asked Questions
Is a laptop under $1,000 any good?
Of course! As we said in the introduction, you'll want to be careful when buying a budget laptop to be sure that the manufacturer hasn't cut a corner that you care about. But frankly, the same is true for premium laptops — you can spend over $2,000 and get a laptop that won't meet your needs if you don't carefully identify what's important to you.
In the world of cars, the Honda Civic and Toyota Corolla have been two of the best-selling cars for some time now, and for good reason. They're affordable, safe, provide decent performance, and won't break the bank when it comes to maintenance. If you're looking for basic transportation, then you can't go wrong with either of these options.
The same principle applies to budget laptops. You won't get a new Ferrari at a new Honda Civic price, but if what you need is good performance and reliability at an affordable price, then our list proves that you can get quite a bit of computer for well under $1,000.
Should I buy Windows or Mac, or try a Chromebook?
The choice depends on what kinds of tasks are important to you. We suggest that you check out our Windows, MacOS, and Chrome OS buyer's guide, which goes over the differences between each operating system and some of the advantages and disadvantages of each.
Chances are, if you're looking for a laptop that's less than $1,000, then you won't be looking at a Mac unless you're willing to buy the base MacBook Air model. That leaves a choice between Windows and Chrome OS, which is primarily a question of what software you need to run.
If you want the widest selection of software across most categories, then Windows will be your best bet. If you just need to browse the web, run simple productivity apps, and can get away with Android equivalents, then Chrome OS could work.
What processor should I buy?
There are more choices now than ever. You can stick with Intel and get 13th-generation Core i7 CPUs in laptops that are under our $1,000 threshold. On the flip side, AMD now has a very competitive platform in its Ryzen 6000 series CPUs.
If you want to go well under $1,000, you can get a very fast Ryzen chip or an Intel Core i5, both of which are highly capable processors that will churn through most productivity tasks without hesitation — but the AMD Ryzen will be much faster overall. You can also enjoy good battery life with any of these CPUs.
If you buy a Chromebook, then you can get away with a slower processor, such as an Intel Core i3 or Pentium processor. And, chances are, you won't find many laptops with Core i7 processors in this price range. That leaves the Core i5 and AMD Ryzen 5 as the most logical — and available — processor choices for budget laptops.
How much RAM do I need?
The sweet spot for memory — for any laptop, really, not just budget machines — is 8GB. We answer the question of "how much RAM do I need" in more detail in our buyer's guide, but whether you're running Windows, MacOS, or even the more lightweight Chrome OS, 8GB will provide you with plenty of headroom for multitasking and more complex applications. If you want to do some gaming or video editing in your off-hours, though, 16GB wouldn't hurt.
What graphics hardware should I look for?
Many budget laptops include integrated graphics, traditionally some variation of Intel's Intel Iris Xe Graphics technology built into its Core CPU. This means that even the most basic laptop can run older games, though they'll be low res, while still managing your other daily tasks. However, if you're willing to consider AMD, you'll get improved performance over Intel's integrated options.
We've included budget laptops with acceptable graphics on our list. These will provide a much better gaming and content-creation experience than Intel's integrated graphics can manage. If you're willing to settle for 1080p and lower graphical details, you can get some real gaming done with a few of them.
Can I afford a laptop with a 4K display?
If your budget is less than $1,000, you probably won't be able to buy a laptop with a 4K display. It's worth noting that it was challenging to locate Full HD displays under this price until recently. Your average laptop on a budget won't have the battery strength it needs to support a 4K display. The display would drain your battery immediately, so you'd have to be always charging it, which defeats the purpose of having a laptop.
If you don't want to fork over the money now, wait for a little while. 4K and batteries adequately supporting this resolution will become the baseline specs seen with today's Full HD-based laptops.
Are there budget laptops with touchscreens?
There are, although they may be more difficult to find. Our Surface Laptop 5 is notable exception.
How much storage should a budget laptop have?
This, fortunately, is one of the most flexible laptop specs. You could choose a Chromebook, generally very affordable laptops, that focus on cloud storage, and add an SD card later if you need more space. Or you could choose a laptop with powerful specs and choose one of the lowest storage models to help you save more money. Storage can always be augmented by cloud storage or an external hard drive, so you have room to work here.
Editors' Recommendations