The beautiful thing about Bluetooth speakers is that they allow you to bring music to almost any situation, almost anywhere. If anywhere for you happens to be next to a swimming pool, beach, or bathtub, however, then you're going to want a waterproof Bluetooth speaker for sure.
Now, we're not talking about speakers that can take a few drops of rain or a splash from your nephew's cannonball. Many Bluetooth speakers these days are going the distance and are able to withstand total submersion for several minutes in several feet of water and are sealed up tightly enough to keep pumping or are able to recover quickly without damage. Sand and dust are kept at bay, too.
When choosing a waterproof Bluetooth speaker, the global standard rating system is called Ingress Protection, or IP. These ratings range from 1 to 6 for dust and dirt and 1 to 9 for water, with the number of digits in the rating indicating how well it withstands exposure to dust, dirt, and liquids, respectively. Most commonly these days, we're seeing Bluetooth speakers with an IP rating of around IP67, which means that they can take being submerged in up to 1.5 meters of water for up to 30 minutes. In addition to things like price and battery life, features like voice assistants, size, and multi-speaker pairing are important factors when choosing.
We've considered all of this in our list of the best waterproof Bluetooth speakers.
Anker Soundcore 3
The best overall waterproof Bluetooth speaker
Pros
24-hour battery
IPX7-rated
Great sound
Bluetooth 5.0 connectivity
Cons
May not be loud enough for some
No aux input
The Anker Soundcore 3 has the grand distinction of being our best waterproof Bluetooth speaker, and the accolade wasn't bestowed lightly. When assessing any all waterproof speakers, it's all about nailing a great combination of features, sound, and value, and the Soundcore 3 lands perfectly for all criteria.
With its twin set of titanium diaphragms for accenting treble and reducing distortion, paired with the speaker's dual passive radiators for rich and robust bass, the Soundcore 3 sounds just as excellent outside as it does indoors.
The IPX7 rating means you'll be able to pit this speaker against the wet poolside or a rainy weekend. Traveling with the Soundcore 3? As long as you charge it up before you leave home, you'll get 24 hours of playback once you reach the lakeside. But if you need to quickly refuel the speaker, its USB-C connection will get you charged in no time.
It may not have the most blistering of audio features, but the Anker Soundcore 3 delivers an all-around excellent waterproofed package that we're sure most will love.
Anker Soundcore 3
The best overall waterproof Bluetooth speaker
Sonos Roam
The best Wi-Fi and Bluetooth speaker
Pros
Excellent design
Lightweight and portable
Totally water and dustproof
Very good sound for its size
Choice of smart speaker assistants
Wireless charging
Cons
No Bluetooth stereo pairing
Doesn't work as a speakerphone
Less battery life than some other speakers
Sonos is a go-to name in the world of wireless audio, and the Roam is one of the brand's most versatile speakers, having both Bluetooth and Wi-Fi connectivity, like many of our picks in our best wireless speakers roundup. Designed for both indoor and outdoor usage, the Roam is IP67-rated, meaning it's completely waterproof. While you don't want to go throwing this speaker directly in the pool (like you can with the UE Wonderboom 2), this is one of the best waterproof speakers for keeping just outside the water at your next swimming pool gathering.
The Sonos Roam sounds great, can be controlled with several popular voice assistants (when connected through Wi-Fi, not over Bluetooth), delivers 10 hours of battery life, and is available in several different colors.
While there are no speakerphone capabilities, this is a small add-on that is easily forgotten when you consider all the other powerful capabilities of the Roam, as well as the speaker's competitive $180 price.
Sonos Roam
The best Wi-Fi and Bluetooth speaker
Marshall Middleton
Best sounding waterproof Bluetooth speaker
Pros
Big soundstage for a small package
Bold bass, clear highs
IP67 waterproof and dustproof
AUX input
Stackable
Cons
Picks up dust and fingerprints easily
A bit expensive
Small enough to throw in a backpack but big enough to provide some truly rich and full sound reminiscent of the rock bands its guitar-amp stylings are based on, the Marshall Middleton impressed us so much that it made our list of the best Bluetooth speakers, period, but its IP67 rating means that it can shred poolside, too.
The Marshall Middleton is the midsized range of Marshall's superb Bluetooth speakers. About the size of a lunch box, the 4-pound Middleton somehow packs two 0.6-inch tweeters, two passive radiators, and two side-firing 3-inch woofers inside its sturdy frame that's covered in Marshall's signature Tolex-style silicone coating.
While many Bluetooth speakers are built with mono or sound mono because the drivers are too close together, the positioning of the Middleton's drivers creates one of the most accurate stereo-like sounds of any Bluetooth speakers we've ever tested. And it's powerful, too. With two 20-watt class D amps for the woofers and two 10-watt class D amps for the tweeters, you'll be blown away by how loud it can get and how smooth and room-filling the bass is.
With a well-designed app that you can use to adjust bass and treble (there are physical controls on the speaker for this, too), it can also be used to link the speaker to as many other Middleton speakers as you want for an even bigger sound in what Marshall calls "Stack" mode.
The Marshall Middleton also features an AUX line input, Bluetooth multipoint connectivity so you and a friend can play DJ, has a battery that lasts up to 20 hours on a single charge, and can net two hours of playtime after 20 minutes of charging. It can also be used as a power bank to charge other devices while you tan.
Marshall Middleton
Best sounding waterproof Bluetooth speaker
JBL Charge 5
The most versatile waterproof speaker
Pros
Solid build quality
Can get very loud
Excellent water and dust protection
EQ offers some sound tweaking
Works with JBL Portable app and PartyBoost
Cons
Can't stereo pair with non-Charge 5 JBL speakers
Doesn't work as a speakerphone
Not a big upgrade over the Charge 4
The JBL Charge 5 brings an impressive design to the table. Utilizing dual passive radiators, a dedicated midrange woofer, and a tweeter for the most articulate higher frequencies, the sound is big, loud, and detailed.
The IP67 rating means this speaker will hold up well in most outdoor environments, and the 20 hours of playtime will ensure your next pool party won't come crashing to a close — at least not because of the music.
Available in six colors (black, blue, camouflage, gray, red, and teal), and capable of pairing with another Charge 5 using the wireless PartyBoost feature for enhanced stereo sound, the JBL Charge 5 is not going to let you down.
JBL Charge 5
The most versatile waterproof speaker
Soundboks Go
A big and loud waterproof Bluetooth speaker
Pros
Great sound at loud volumes
Sturdy cabinet and bumpers
Good battery life
Effective app support
Awesome when paired with other speakers
Cons
Not as useful indoors
Limited codec support
Pricey
Our hands-on experience with the Soundboks Go left us speechless. Sure, the price may be a bit up there for some, but if you're looking for earth-shattering sound that can keep pumping for almost two full days straight (at medium volume), the Soundboks Go is the splash-proof speaker for you.
We also love the ability to pair one Go with another, allowing you to expand your soundstaging. The Go can also take a beating or two, thanks to its rugged outer shell and water-resistant housing, keeping this bad boy safe from most liquid situations outside of full submergence.
Soundboks Go
A big and loud waterproof Bluetooth speaker
JBL Pulse 5
Best lightshow waterproof speaker
Pros
Bright, vivid light features
Dustproof, waterproof IP67 rating
Clear, dynamic sound
Feature-rich app
Basic EQing in-app
Cons
A bit lacking in bass
No AUX input
Lacks physical controls
Never have we tested a Bluetooth speaker that could so adeptly tune in to whatever music vibe you're craving but then pair it with a bright and colorful light show to match. JBL has always been a speaker brand that is a pretty solid bet when it comes to sound and portability at a reasonable price and the Pulse 5 toes that line as well.
Similar in size and sound quality to its Charge 5 sibling, the 4.2-inch by 8.5-inch by 5.2-inch Pulse 5 delivers clear and dynamic sound, especially in the mid-to-high frequency ranges. And although the low end is a bit lacking out of the box, with a bit of coaxing from the JBL Portable app, and even from in-app EQing from services like Spotify, the Pulse 5 can sound rich and booming, too — even more so when connecting several of them together with the PartyBoost feature. The Pulse 5 is driven by an upward-firing 0.6-inch tweeter and a bottom, down-firing 2.5-inch 30-watt woofer and gets surprisingly loud.
But let's be real, the Pulse 5 is a showstopper because of its lava-lamp LED lights that, with the help of the app, can chill things out with flowy, slow morphing visuals, or pulse along to the beat of your music with a tin of configurable presets, such as Party, Cocktail, Weather, Canvas, Spiritual, and Nature. It's honestly the best light-show Bluetooth speaker we've ever tested.
The Pulse 5's IP67 rating makes it great for pool or hot tub parties and didn't mind taking a dunk at all in our test. One drawback might be that the Pulse 5 is lacking in physical controls, so you have to use your phone to adjust volume, skip tracks, and other functions. The JBL Pulse 5 has a 7,500 mAh battery that JBL claims can last for up to 12 hours, which is pretty average, but the light show is well worth it.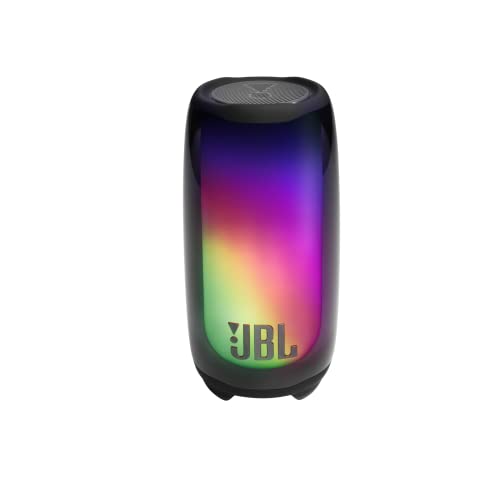 JBL Pulse 5
Best lightshow waterproof speaker
Marshall Emberton II
A small and super stylish Bluetooth speaker
Pros
Excellent sound quality
Rugged IP67 build
Easy portability
Great battery life
Sync with similar speakers
Cons
No AAC or aptX support
No wired playback
Pricey
If it's good enough to top our list of the best Bluetooth speakers for so long, then why not add it here? Well, the previous version of the Emberton wasn't waterproof, but the Emberton II is, and it now more than earns its place here, too.
The 1.5-pound speaker may be diminutive with its handheld 2.7 by 6.3 by 3.0-inch frame, but don't be fooled. Like the Marshall Middleton on our list, the sound of this little thing is surprisingly bold and loud with well-balanced mids and highs that are beautifully clear. And also like the Midleton, stereo separation is excellent here, too, with the front-facing speakers handling the left channel and the back speakers firing the right for what Marshall calls "True Stereophonic" sound, a "unique form of multidirectional stereo sound from Marshall." Blatantly put, it sounds great.
Although the Emberton doesn't support AAC or Bluetooth aptX codec for high-res sound (most Bluetooth speakers don't), you don't need it on a speaker this size. With the Marshall app, though, there are some EQ presets you can use to improve the sound to your liking. You can also use the app to utilize Stack mode here, too, meaning you can sync up additional Emberton II speakers to create as big a sound as you like, and not fear the beach with its IP67 rating.
I know I'm burying the lede here, but the Emberton II just looks cool, too, with its Marshall guitar-amp looks and gold accents. But let's talk battery life: the Emberton II gets a 10-hour improvement from its predecessor with what Marshall claims is 30 hours on one charge, if you don't push the volume past 50%. A quick 20-minute charge will net you four hours of playback, long enough for you to play several games of beach volleyball.
Marshall Emberton II
A small and super stylish Bluetooth speaker
UE Wonderboom 2
The best floatable waterproof speaker
Pros
Impressive 360-degree sound
Easy-to-use controls
Wireless stereo pairing
100-foot Bluetooth connectivity range
Cons
Battery life varies by volume
Looking for 360-degree sound with plenty of bass that can take a dunk with you? The totally-submersible UE Wonderboom 2 is the perfect pool-party Bluetooth speaker, and it's available in numerous color options.
With its 13-hour battery life (more on that below), simple controls, and wireless stereo pairing that allows you to link up multiple Wonderboom 2 speakers for even bigger sound, this is a loud and tough speaker that sends any bit of H20 packing. The 100-foot Bluetooth connectivity range is also beyond convenient, allowing you to use your phone to control the speaker at a safe distance from all water sources — and stays connected even when you head inside to use the bathroom.
While the UE Wonderboom 2 claims you'll get 13 hours of battery, that's at a fairly low volume. If you crank the speaker, you're only going to get about three or four hours of playback time, so just keep in mind that you may need to have a charger on hand if you're hosting an event that requires loud sound from the Wonderboom 2.
UE Wonderboom 2
The best floatable waterproof speaker
Ultimate Ears Megaboom 3
The best for stereo pairing
Pros
Loud, dynamic sound
Easy to use
Waterproof
Great battery life
Cons
Some functionality only supports Apple Music/Deezer
It's not every day that your waterproof Bluetooth speaker will outshine even the most decorated of indoor setups, but such is the case with the top-notch Ultimate Ears Megaboom 3. True to the UE label, this speaker delivers big, booming sound, plentiful battery, and the handy ability to pair up with not just other Megaboom 3 units but older UE hardware as well.
You can expect up to 20 solid hours of battery life with the Megaboom 3, and the IP67 rating ensures you won't have to worry about this titan of sound getting doused.
Ultimate Ears Megaboom 3
The best for stereo pairing
Editors' Recommendations