The best speakers come in all shapes and sizes, but if you're looking for the Goldilocks middle-ground between "bite-sized" and "monolithic," we're betting that a solid set of bookshelf speakers will fit the bill. As the name indicates, these are speakers that are usually no taller than a foot or two, making them ideal for placing on, er, bookshelves, speaker stands, and even certain types of wall mounts.
But like all things audio, not every set of bookshelf speakers is created equal. There are speaker brands and models that sell for less than $150, and flagship brands that will run you over $2,000. There are also some bookshelf speakers that are best used for computer setups, while others are best relegated to the back of a surround sound system.
That's why we've put together this list of the best bookshelf speakers that covers everything from affordable listening to speakers that you can connect your record player to.
Bowers & Wilkins 607 S3
Best overall bookshelf speakers
Pros
Classy design
Rich and balanced B&W sound
Energetic in the mids and highs
Excellent for jazz, classical, and singer-songwriter genres
Cons
A bit pricey
Not ideal for hard rock and metal
When it comes to audio royalty, Bowers & Wilkins is a brand that deserves all the prestige it can get (not that it's wanting for it). From its amazing floor-standing speakers to its subs and satellites, B&W's dedication to quality and performance always shines through. And as far as bookshelf speakers go, we can't think of a better name to call our favorite.
The model of choice is the B&W 607 S3s, and we can't stop talking about how much we love them. With their elegant design and two-way configuration, the 607 S3 look regal no matter where you place them; a visual that perfectly matches up to the pristine and detailed performance you'll get from this stereo setup. Compared to the previous B&W 607 S2s, a new titanium dome tweeter has been implemented, which gives the S3 generation elevated reach in the higher-frequency range.
The overall soundstaging on the S3s is wide and immersive. In execution, the B&W 607 S3s are best used as hi-fi speakers, but with a little finesse, they work pretty well with most home theater setups, too. When it comes to music playback, we would be careful with genre-matching, though. B&W speakers are stellar for jazz, classical, and vocally-driven singer-songwriter tracks.
This isn't to say you can't head-bang to a little Metallica with them, but you may be a bit disappointed by the 607 S3's lack of aggression — adding a subwoofer can help with that. These are exquisite and refined bookshelf speakers that do quite a nice job at shining a light on your music.
Bowers & Wilkins 607 S3
Best overall bookshelf speakers
Audioengine A1-MR
Best budget-friendly powered bookshelf speakers
Pros
Compact size
Great wireless connectivity options
Solid sound quality
Cons
Not ideal for home theater systems
We love Audioengine products here at Digital Trends, so there was no way we weren't going to feature something from the company's catalog in our bookshelf speaker roundup. And what better badge of honor to fly home with than "best budget-friendly powered speakers?"
At only half a foot tall, the Audioengine A1-MR deliver the kind of sound we'd expect from much larger speakers, and that's all thanks to the type of engineering and build that go into these bad boys. In terms of audio, we think you'll be surprised at how much bass and high frequency articulation the A1-MRs can pull off. That's also thanks to the cabinetry and drivers, which include a 3/4-inch tweeter and a 2-3/4-inch aramid woofer for each speaker.
As far as physical connections go, you'll have access to a 3.5mm auxiliary port and an LFE output if you feel like adding a subwoofer. The former is good enough for plugging in a phone or tablet, but where the A1-MR truly shine is in the wireless department. Once you've downloaded the Audioengine Control app (for iOS and Android), you'll be able to add the A1-MR to your Wi-Fi network, which unlocks a bevy of music-streaming options.
This includes AirPlay and Spotify, as well as hi-res audio options via the likes of Tidal, Qobuz, and Amazon Music support, amongst other platforms. When networked, you can also use the Control app to group and change what audio sources are playing on what speakers. Add up to 12 A1-MRs to the same Wi-Fi network, or invest in the Audioengine B-Fi streamer to control up to 12 full audio systems (including non-Audioengine speakers). Small but mighty, all for just over $200.
Audioengine A1-MR
Best budget-friendly powered bookshelf speakers
Wharfedale Diamond 12.1
Best budget-friendly passive bookshelf speakers
Pros
Great way to fill out your surround sound
Refined aesthetic
Great sound
Cons
No Wi-Fi or Bluetooth connectivity
Wharfedale doesn't beat around the bush, and we appreciate all the straight-shooters of the world. This is an audio company that builds and engineers speakers to give you incredible sound, and they're not going to cost you too much either. In the case of the Wharfedale Diamond 12.1 bookshelf speakers, the brand continues to score big in the quality department, while keeping our bank accounts intact.
This time around, Wharfedale is working with mica-infused polypropylene, incorporating the materials into the Diamond 12.1's 5-inch Klarity woofer. This helps the cone to maintain its shape and to respond to audio signals as quickly as possible, meaning you won't have to worry about missing a single detail in your favorite songs.
At only 15 pounds each, these speakers aren't too heavy to move around either. Seeing as we're working with passive wiring though, we assume wherever you first place the Diamond 12.1 is where they'll continue to live for years, as long as you keep them in good condition, which means giving them a cleaning every once in a while. Unlike other items on our list, this also means you won't find features like Wi-Fi and Bluetooth connectivity on these speakers either.
The Diamond 12.1 are best paired with an amplifier that dishes out 20 to 100 watts per channel, and the speakers sound great across a wide range of music genres. But what about home theater usage?
For surround sound configurations, we actually recommend using the Diamond 12.1 as rears (we also recommend installing banana plugs to your speaker wire for easier connecting and disconnecting). While they can hold their own as front stereo channels, the kind of nuance and subtlety that a presence speaker requires is more in-line with the Diamond's capabilities.
Wharfedale Diamond 12.1
Best budget-friendly passive bookshelf speakers
Sonos Era 100
Best Wi-Fi bookshelf speakers
Pros
Big, expansive sound
Bluetooth now built-in
Optional analog line-in
Super-easy room tuning
Cons
No Google Assistant option
Wi-Fi music streaming is a next-level experience. And when it comes to Wi-Fi-equipped bookshelf speakers, Sonos is one of the top names in the game. About as intuitive as plug-and-play operation gets, the Sonos Era 100 is the company's next-gen version of its Sonos One speakers, and they're everything we could want from the brand's latest and greatest.
Considering the Era 100's woofer is 25% larger than the Sonos One's, we expected some fairly big sound from the speaker, but in our testing of the product, we were utterly blown away by its decibel delivery. Listeners can expect well-balanced mids, crystalline treble, and punchy low-end performance. Sure, there's some distortion at extremely high volumes, but considering how much reach the Era is capable of at only 60% or 70% volume, we doubt you'll need to crank it past 11 (if you know, you know).
Like Sonos speakers of years past, the iOS-friendly TruePlay feature is here, but with a new twist for Android devotees. Thanks to some improvements to the calibration tool, Android device owners can now use the Era's built-in mic to calibrate audio to a listening space. Technically though, this is the "quick" version of the function though, and the more advanced version of TruePlay is still an iOS exclusive. We've also got a helpful roundup on how to place and position any Sonos speakers, including the Era 100s, anywhere in your home.
On top of Wi-Fi connectivity, the Era 100 also supports Bluetooth and Apple AirPlay. You'll also be able to control the speaker using both the Sonos S2 app (iOS and Android) and Alexa. Due to an ongoing dispute between Sonos and Google though, you won't be able to interact with the speaker using Google Assistant.
Sonos Era 100
Best Wi-Fi bookshelf speakers
Kanto YU6 powered speakers
Best bookshelf speakers for turntables
Pros
Fun design
Numerous analog and digital ports
Nice sound
Built-in phono preamp
Cons
No Wi-Fi connectivity
Lackluster remote
No app
Hi-fi listening is particularly satisfying when you've got the right speakers working with the right record player or turntable. Finding this ideal matchup can be difficult though, which is why we're glad that the talented minds at Kanto have developed the YU6 model. At first glance, these look like just about every other pair of affordable bookshelf speakers out there, but the YU6 houses an entire hub of inputs and outputs. Oh, and chief amongst these ports is the hard-to-find built-in phono preamp for wiring up your record player.
This means you can interface your turntable directly with the Kanto YU6 bookshelf speakers, so no worrying about integrating a separate amplifier or receiver. Decibel output maxes out at 200 watts and hovers around 100 watts RMS for the average-listening volume, which means these puppies can get plenty loud for whatever listening space you need to fill. We can also thank the YU6's 5.25-inch Kevlar driver, 1-inch silk dome tweeter, and handcrafted MDF cabinetry for giving these speakers extra power and personality.
Even if you don't plan on hooking up a turntable, the Kanto YU6 are also a phenomenal set of bookshelf speakers for Bluetooth. Once paired to your phone, tablet, or computer, the YU6's Qualcomm aptX support guarantees some incredibly detailed sound when streaming music from platforms like Apple Music, Tidal, and Qobuz.
While we do wish there was a companion app to go along with these speakers, the included remote control does let you adjust tone, balance, volume, and playback. The YU6 also come in several different finishes (bamboo, walnut, and white), so you'll be able to snag a pair that best matches your LP lair as you build your record collection to respectable heights.
Kanto YU6 powered speakers
Best bookshelf speakers for turntables
Edifier S1000W Wireless Hi-Fi Bookshelf speakers
Best for connectivity options
Pros
Extremely versatile
Supports hi-res formats
Great Alexa integration
Loud and clear sound
The Edifier S1000W is the type of speaker that houses many amazing capabilities, but without being all in-your-face about it. Seemingly, this is just a beautiful pair of powered bookshelf speakers that happen to sound great, too. What we actually have on our hands though is an excellent set of wireless hi-fi speakers that are built to tackle whatever audio sources you have in mind.
In terms of connectivity options, the usual suspects are all here, including Wi-Fi, Bluetooth, digital optical, coaxial, and analog RCA. But when you consider the fact that the S1000W supports 24-bit/192kHz playback, the $550 price becomes quite the steal. Being able to listen to lossless recordings is a privilege normally reserved for a stellar pair of headphones (that may cost as much as the S1000W), which makes the S1000W even more appealing.
We're also big fans of the Alexa integration. Having a bunch of Echo speakers scattered around your home can start to make one manic, so the fact that the S1000W has its own far-field mic system is a bit of a blessing. This means you'll be able to enjoy the full benefits of your Alexa ecosystem, without adding another Echo Dot to your living room.
While the addition of an LFE output would sweeten the deal even further, we can't fault Edifier for not wanting to introduce the extra signal path. Plus, the company is cool enough to give you access to the Edifier Home app (for iOS and Android), which you can use to stream tunes via AirPlay, Spotify Connect, and Tidal. The best part? There's no paywall to have to break through.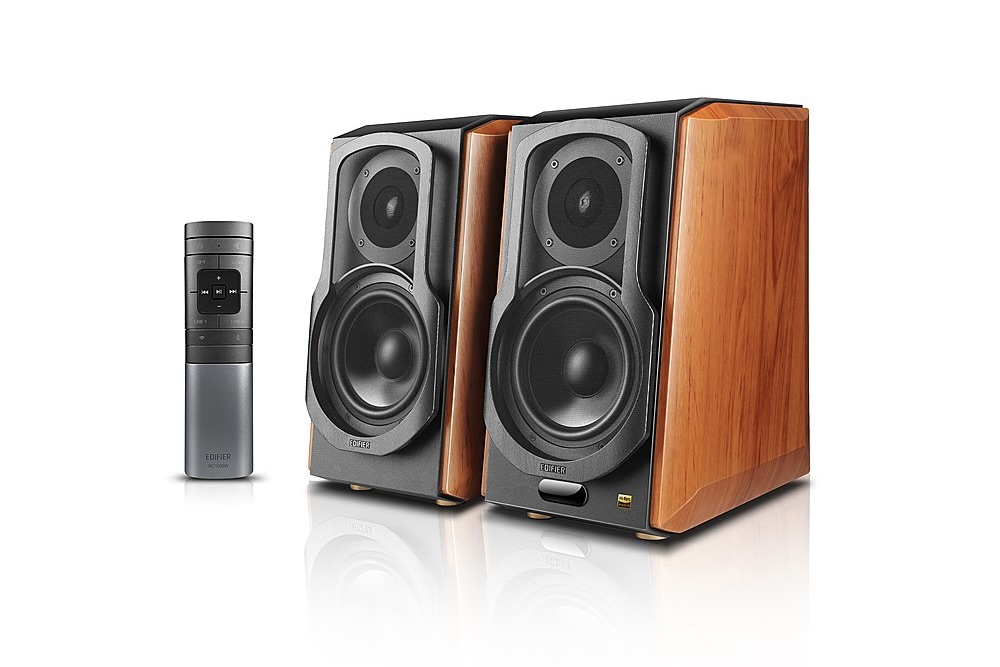 Edifier S1000W Wireless Hi-Fi Bookshelf speakers
Best for connectivity options
Q Acoustics M20 HD Wireless Music System
Excellent for computers and beyond
Pros
Clear, refined sound with any music
Wide soundstage in any room
Versatility of placement
Tons of connectivity options
aptX HD Bluetooth
Cons
A bit big for desktops
Better with a subwoofer
Computer speakers are a dime a dozen, and the reality is that not many of these products are very good. Sure, for as little as $20 or $30, who wouldn't want to invest in a pair of desktop monitors that say they sound great on the box? But if you're the type of person who cares about your PC audio, you should get comfortable with the idea of spending just a little more. And if you really care about your desktop sound, you'll buy the Q Acoustics M20.
Yup, they're going to run you $500 after tax, but bear with us here. These powered bookshelf speakers are incredibly versatile. One look at the back of these will reveal a host of analog and digital ports, but you can also enjoy your music wirelessly, thanks to the M20's Bluetooth 5.0 support. Now throw aptX Bluetooth and hi-res music streaming support on top of it, and you've got yourself one handsome speaker sundae.
With its two Class D amps per speaker and excellent cabinet bracing, these are probably best suited for those of us who want a solid set of PC gaming speakers, or even an alternative set of studio monitors for working with music-editing software. This isn't to say that watching YouTube videos on your MacBook with the M20 won't be amazing; they just may be a bit overqualified for lighter media.
One or two grievances: We don't care for the remote, and we wish the speakers could be connected to Wi-Fi. Neither of these qualms are deal-breaking, but the controller is about as plain as they come, and for $500, we'd like more than just Bluetooth for wireless streaming options.
Q Acoustics M20 HD Wireless Music System
Excellent for computers and beyond
Editors' Recommendations