Tablets can be used for just about anything in 2023: web browsing, productivity, video creation, and more. Tablets are also great for gaming, and these days, they're pretty incredible at it.
What makes a good gaming tablet? You'll want a high-quality display, a fast processor, reliable battery life, and a design that's comfortable to hold during long gaming sessions. A good gaming tablet doesn't guarantee you'll be at the top of the leaderboards in Call of Duty: Mobile and easily defeat opponents in Marvel Snap, but it sure will make your games more enjoyable.
Whether you prefer Android or iPadOS, have a tight budget, or have lots of cash to spend, here are our picks for the best gaming tablets in 2023.
If you're looking for more tablet recommendations, see our choices for the best tablets.
Apple iPad Pro 11-inch (2022)
Best overall gaming tablet
Pros
Smooth 120Hz display
Ultra-powerful M2 processor
Not too bulky or cumbersome
Dependable battery life
Cons
Expensive
Doesn't have a mini-LED screen
There are two things that set the iPad Pro head and shoulders above the crowd when it comes to gaming: the enormous, sharp, and smooth 120Hz display, and the completely unrivaled raw processing power packed into Apple's M2 — the same chip used in Apple's MacBook Air and entry-level MacBook Pro lineup. We think the iPad Pro 11-inch (2022) is the best overall pick as the more affordable price means it delivers great value and it's less unwieldy than its larger 12.9-inch sibling. The crisp 11-inch screen is great for all but the most detailed strategy games, and it's portable enough to take just about anywhere. There's also more than enough battery life to keep you gaming on the go for hours.
There's also the new iPadOS 16, with Metal 3 gaming software, bringing the MetalFX upscaling and quick loading API found in the latest Mac update. This lets you download larger assets in the background without interrupting your gameplay. Apple's Game Center gets an update in iPadOS 16, too, with SharePlay integration for smoother co-op gaming, plus a new Activity screen that makes it easier to see friends' progress and high scores.
Apple's tablets stand apart from the Android crowd because of the level of polish and the optimization of many apps, and nowhere is this difference more apparent than with the wide array of high-end games available on the App Store designed specifically with the iPad Pro in mind. While Apple's flagship tablet doesn't come cheap — it is a "Pro" device, after all — the price tag is easily justified when you consider the sleek design that includes Face ID plus the LiDAR Scanner that powers a host of fun augmented reality apps and games, not to mention great everyday tablet features like Apple Pencil support, the True Tone display, and a front camera with Center Stage for automatically framing your Zoom and FaceTime calls.
Apple iPad Pro 11-inch (2022)
Best overall gaming tablet
Samsung Galaxy Tab S8 Plus
Best Android gaming tablet
Pros
Powerful
Beautiful hardware
Gorgeous display
Great speakers
Productivity powerhouse
Cons
Keyboard case not included
Some software trouble
If you prefer an Android device to an iPad, then you won't do better than the Samsung Galaxy Tab S8 Plus. Packing in a lightning-fast Snapdragon 8 Gen 1 processor backed by 8GB RAM and 128GB expandable storage, every game you play looks amazing on the 12.4-inch Super AMOLED display, which also delivers a 120Hz refresh rate.
Ray tracing support means more realistic lighting effects in compatible games, and you also get a 10,090mAh battery, AKG and Dolby Atmos audio, and a choice of three colors. Samsung's special Game Booster mode promises a lag-free gaming experience, and this time around, there's Game Performance Management Mode to optimize CPU and GPU performance. The Galaxy Tab S8 Plus has S Pen support too, great for sketching or taking notes, and also doubling as a remote control.
There's a reason the Galaxy Tab S8 Plus also made our lists for best Android tablets and best Samsung tablets. It's sleek, powerful, and has everything a gamer could ask for.
Samsung Galaxy Tab S8 Plus
Best Android gaming tablet
Apple iPad Pro 12.9-inch (2022)
Best large gaming tablet
Pros
Sleek and modern design
Bright, vivid, gorgeous display
Wild performance from the M2 chip
Apple Pencil hover feature
iPadOS 16 is super robust
Cons
Stage Manager needs more work
Lackluster, awkward front camera
Prohibitively expensive
Since it packs in the same M2 chip, Apple's iPad Pro 11-inch (2022) is every bit as powerful as its larger sibling, but nothing beats the expansive 12.9-inch screen of the iPad Pro 12.9-inch (2022) if you want to get lost in world-building strategy games like Civilization VI or Rome: Total War. The larger screen provides more than enough room to see even the smallest details, and as a bonus, the 12.9-inch iPad Pro comes with gorgeous mini-LED technology that delivers vibrant colors and deep blacks to rival the best OLED screens out there. It's the best-looking display you'll find on any tablet, so your games will look absolutely stunning. Just remember that the larger display doesn't lend itself nearly as well to fast-paced action games since touchscreen controls may be harder to reach. Of course, you can easily pair up an external game controller if that's a problem.
With a wide range of amazing iPad Pro games, the iPad Pro 12.9-inch (2022) will be enough to keep the most demanding of gamers happy. The trade-off is that this is the most expensive tablet you can buy. Further, it's not especially portable compared to other tablets, although it's still a lot easier to travel with than a console or gaming PC.
Apple iPad Pro 12.9-inch (2022)
Best large gaming tablet
Apple iPad Mini 6
Best small gaming tablet
Pros
Big enough to perform most tasks
Compact enough to travel easily
Powerful performance
Loud speakers
USB-C
Cons
Screen is not bright enough
Too small for content creation
No headphone jack
Many games work just as well on smaller screens, so there's definitely room for a small gaming tablet in many lives. The new iPad Mini (2021) fills that space almost perfectly; it's a big upgrade from the last iPad Mini, with a new bezel-less design to bring the tiny iPad into the modern era. It isn't just more beautiful, though, as the addition of an A15 Bionic processor — the same chip still used in Apple's iPhone 14 and iPhone 14 Plus — means it's nearly as capable as its bigger siblings.
Processing speed is very important in gaming, and this new chip ensures the iPad Mini can hold its own against Apple's flagship iPad Pro models, which are the most powerful tablets on the market. Granted, Apple's M1 and M2 chips are in a class of their own compared to the A15, but you're not going to find too many games that can take advantage of that kind of raw power. The A15 on the iPad Mini is more than enough for even the most demanding games, especially since it only has to power an 8.3-inch LCD.
Of course, the major feature of the iPad Mini is its diminutive size. The smaller Liquid Retina screen is great, but it is small. So this isn't the tablet for folks who want a more expansive gaming canvas. Still, if you need something that can be easily tucked away and carried anywhere, the iPad Mini (2021) is an excellent choice. It's not the cheapest option available, but it's not the most expensive either.
Apple iPad Mini 6
Best small gaming tablet
Samsung Galaxy Tab A8
Best cheap gaming tablet
Pros
Solid performance
Clear, bright screen
Slim and lightweight
Cons
Default internal memory is limited
While it's not the most powerful tablet around, the Samsung Galaxy Tab A8 offers more than enough to enjoy tablet gaming. The Unisoc Tiger T618 at its core can struggle with some of the more demanding games out there but should handle most tablet games without much issue. The 10.5-inch TFT display is clear and crisp, and it's lightweight and slim, so it won't weigh you down during long gaming sessions. 32GB of storage is a little limited for games, so the 64GB model is recommended — though there is room for a microSD card as well, in case you need the extra space.
With a price under $300, this is a great tablet to grab, especially when you can often grab it on a deal. But if your budget can stretch a little further, we recommend the basic iPad (2021) rather than the Galaxy Tab A8. But at this lower price, it's hard to beat the Tab A8.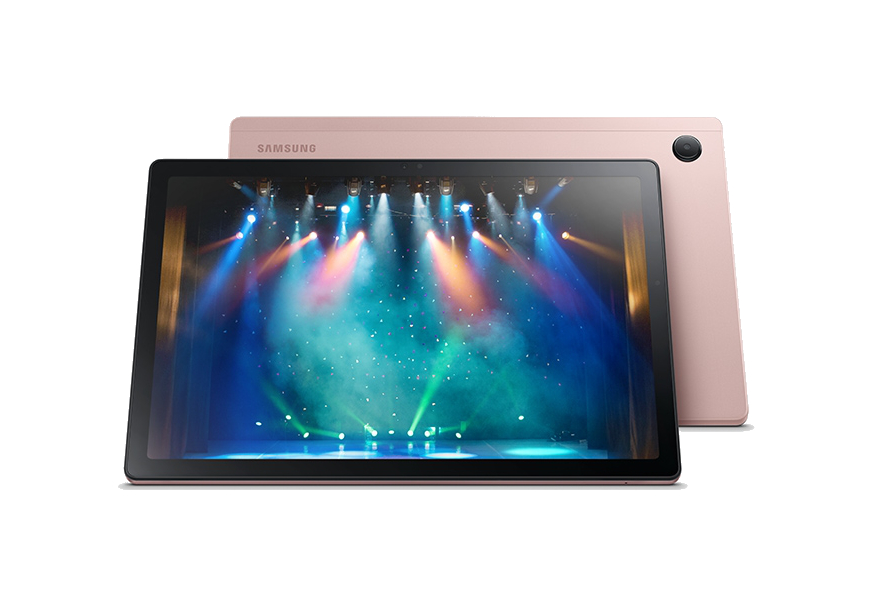 Samsung Galaxy Tab A8
Best cheap gaming tablet
Apple iPad Air 5 (2022)
Best mid-range gaming tablet
Pros
High-performance M1 processor
Slim and light
Software suitable for work or play
Large, colorful, and sharp screen
Wide array of quality accessories
Center Stage works well
Cons
64GB storage isn't enough
Battery life disappoints
If you're looking for a gaming tablet that can deliver most of the gaming capabilities of the iPad Pro without the hefty price tag, the latest iPad Air (2022) is worth a serious look. The compact 10.9-inch screen is basically the same size as the more expensive iPad Pro 11-inch (2022), and it's a comfortable size for quick hand or finger movements during your gameplay. The M1 chip inside offers more than enough power for even the most demanding iPad Pro games, and the 2360 x 1640 display offers the same resolution as the more expensive iPad Pro (2022), so your games will still look great.
Compared to the flagship iPad Pro (2022), you'll miss out on the faster 120Hz refresh rate, plus the LiDAR Scanner that offers more speed and precision for augmented reality games. Nevertheless, that's a fair tradeoff considering that it's up to $200 cheaper, depending on which storage configuration you opt for. Note that the iPad Air (2022) still starts at 64GB, which we definitely wouldn't recommend in a gaming tablet. The kind of advanced games you'll want to enjoy on a tablet like this take up a lot of storage, so it's definitely worth spending the extra $200 for the 256GB version since there's no SD card slot to expand your storage later.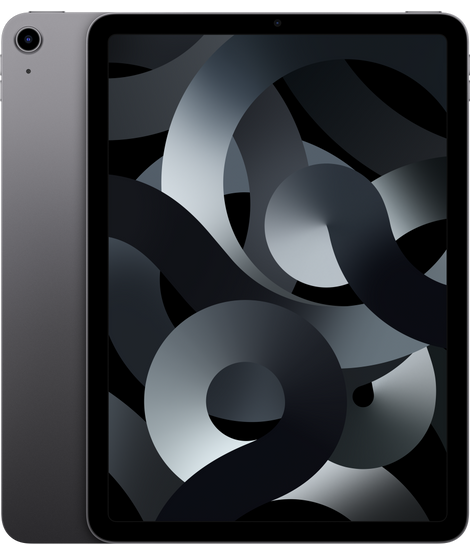 Apple iPad Air 5 (2022)
Best mid-range gaming tablet
Apple iPad (2022)
Best budget iPad gaming tablet
Pros
Updated, modern design
Wonderfully vibrant colors
Larger display is fantastic
A14 chip is plenty powerful
Strong battery life
USB-C is finally here
Cons
The headphone jack is gone
Non-laminated screen
Apple Pencil situation is a mess
Huge price increase
Apple's more wallet-friendly iPad (2022) proves that you don't need to spend a bundle to get a solid gaming tablet. While the iPad Pro (2022) and iPad Air (2022) both deliver more raw processing power, you may be pleasantly surprised to discover that the iPad (2022) easily holds its own against its larger siblings.
With Apple's A14 chip inside — the same chip used in the 2020 iPhone 12 lineup — you may be hard-pressed to notice any difference in performance even against Apple's flagship M2-equipped iPad Pro (2022). Most games simply can't take advantage of the staggering power offered by Apple's silicon.
However, while you won't find the iPad (2022) lacking in gaming performance, the lower price tag does mean you're compromising on the visual side of things. Not only does the iPad (2022) lack the faster 120Hz display of the premium iPad Pro (2022), but you don't get the higher-quality laminated display with the anti-reflective coating found on the iPad Air (2022), either. That could make a big difference depending on the type of games you play — and where you want to play them. On the upside, you can grab the iPad (2022) for only $449 for a 64GB version, and it's a very well-rounded tablet for everyday use, too, with some unique differences from the rest of Apple's iPad family, such as a landscape camera for handling video calls.
Apple iPad (2022)
Best budget iPad gaming tablet
Amazon Fire HD 10 Kids Pro
Best gaming tablet for kids
Pros
One-year access to Amazon Kids+
Kid-friendly design
Colorful kickstand case
Cons
Relatively limited choice of games
Amazon has upgraded its Kids offerings and now offers the Pro model as well. Specifically designed for kids between six to 12 years old, the Fire HD 10 Kids Pro comes with one year of access to Amazon Kids+, a comprehensive warranty, and a colorful (and less cutesy) kickstand case to boot. It has the same 10.1-inch display and hardware as the non-Pro model, and it, unfortunately, doesn't have access to the Google Play Store either, so the number of available games is limited but there are still plenty to choose from on the Amazon App Store.
It's great for books, videos, and apps as well as games, making this a strong choice if you're looking to get a big-screen kids' device for work and play. Kids can even make video and voice calls over Wi-Fi to pre-approved contacts or install apps like Zoom or Minecraft.
Amazon Fire HD 10 Kids Pro
Best gaming tablet for kids
Frequently Asked Questions
How do gaming tablets differ from other tablets?
Most tablets can be used for playing simple games, but if you are an avid gamer who spends long hours playing high-power games like Genshin Impact, you'll need a tablet that can keep up. If you like to keep multiple games installed that take up a lot of storage, look for tablets offering ample capacity. For instance, the Apple iPad Pro offers up to 2TB of storage, which is enough to satisfy even the more prolific gamers with large collections of downloadable assets. Another factor is processing power; today's top games require a powerful processor for seamless play, so if you want the best performance, look to tablets like the iPad Pro (2022) and the Samsung Galaxy Tab S8 for super-fast loading and lag-free gaming.
Does battery capacity matter in a gaming tablet?
Battery life is one of the most underrated features of a gaming tablet. No matter how powerful of a device you buy, if it lacks a good battery life, you can't fully enjoy it. So, if you are looking to play or stream games continuously, look for gaming tablets with at least six to eight hours of battery life. Devices like the Apple iPad Pro (2022), iPad Air (2022), and Amazon HD Fire 10 boast 10-13 hours of performance on a single charge, making them excellent options for uninterrupted heavy gaming.
Editors' Recommendations