Even if you pick up one of the best monitors on the market, that doesn't mean you'll have a great HDR experience. The bar for the best HDR monitors is much higher, with only a few key displays, like the Alienware 34 QD-OLED, hitting the mark. We've made a lot of headway in the past few years, though.
HDR on PC is still embarrassing in a lot of cases, but these HDR monitors prove that there's light at the end of the tunnel. A top-shelf HDR experience is expensive on PC, but our roundup of the best HDR monitors still has a few options regardless of your budget.
Alienware 34 QD-OLED
The best HDR monitor
Pros
QD-OLED contrast is unbeatable
Fantastic HDR performance
Excellent color saturation
Attractive, minimalist design
Surprisingly affordable
Cons
SDR brightness is a bit low
Color accuracy isn't perfect
Why you should buy this: It's the best HDR image on PC right now, and it's not too expensive.
Who it's for: Anyone who wants the most immersive HDR experience on PC.
Why we picked the Alienware 34 QD-OLED:
There's one player in town when it comes to crowning HDR monitors: Alienware. The 34 QD-OLED, as the name implies, stands out as the only QD-OLED monitor you can buy right now. OLED is a pinnacle for HDR quality, and Alienware's use of the display tech means that nothing else even comes close.
It's the best HDR monitor you can buy, but the Alienware 34 QD-OLED goes far beyond dynamic range. It supports Nvidia G-Sync, comes with a 175HZ refresh rate, and it's far cheaper than previous high-end HDR monitors. It's still $1,400, but that's around $1,000 less than previous options like the Acer Predator X35.
Gaming, productivity, and watching movies is a treat on the Alienware 34 QD-OLED due to its 21:9 aspect ratio, too. It's the best ultrawide monitor you can buy, with more screen on the sides for increased immersion or some extra space to slide around your windows.
Alienware 34 QD-OLED
The best HDR monitor
Sony InZone M9
The best HDR monitor for gaming
Pros
Excellent HDR for $900
Auto tone mapping with PS5
Works with G-Sync and FreeSync
Easy to use OSD and software
KVM switch with two USB ports
DisplayPort over USB-C and HDMI 2.1
Cons
Vignetting around the edges
Stand doesn't get high enough
SDR is lacking behind VA panels
Poor color and brightness uniformity
Why you should buy this: It's the best HDR monitor you can find under $1,000.
Who it's for: Gamers who want peak image quality for a reasonable price.
Why we picked the Sony InZone M9:
Sony's InZone M9 is an inflection point for HDR monitors. It's Sony's first gaming monitor, and the company came out with a bang. For $900, you're getting the one of the best HDR experiences available on PC right now, 4K at 144Hz, exclusive features for the PlayStation 5, and full G-Sync/FreeSync support.
The kicker for HDR is that the M9 supports Full Array Local Dimming (FALD). Local dimming is essential on any HDR monitor, allowing the display to individually adjust the brightness of zones on the monitor. Most do this from lights around the edge of the display, however. The M9 has zones all around, even in the center of the monitor, making the zones much more difficult to spot.
In addition to excellent HDR, you have a slew of modern features. Dual HDMI 2.1 ports allow 4K at 120Hz if you're using a console, there's a KVM switch so you can toggle peripherals between several devices, and the monitor even supports DisplayPort over USB-C. That doesn't even touch the PlayStation 5 features, either, like automatic tone mapping.
Sony InZone M9
The best HDR monitor for gaming
LG C2 OLED 42-inch
The best HDR monitor for the living room
Pros
Slick new design
Improved peak brightness
Excellent black levels
Solid color accuracy and gamut
Great for gamers
Cons
Some peak brightness artifacts
Complex smart TV system
Why you should buy this: Showstopping HDR quality in a decently manageable form factor.
Who it's for: Anyone who doesn't mind a large screen with top-shelf HDR quality.
Why we picked the LG C2 OLED:
We're cheating a bit here because the LG C2 OLED isn't a monitor. It's a TV, but we picked it for a good reason. Monitors are behind TVs when it comes to HDR, and although the LG C2 is large, it can still pull double duty as a gaming monitor if you clean off some desk space.
For HDR quality, it all comes down to OLED. This display technology allows each individual pixel to adjust its brightness, as well as turn completely off. Black is true black on an OLED, allowing OLED TVs to achieve contrast and black levels that traditional panel technologies can only dream of.
Outside of cream-of-the-crop HDR performance, you're getting a lot more for your money. Google Assistant and Alexa are built in, the display supports both HDR10 and Dolby Vision, and it tops out at 120Hz for high refresh rate gaming. It also comes with HDMI 2.1, so console gamers can get a full 4K resolution at 120Hz.
LG C2 OLED 42-inch
The best HDR monitor for the living room
Asus ROG Swift PG32UQX
The best 4K HDR monitor
Pros
Mind-blowing HDR performance
Extremely high peak brightness
Excellent colors
Thread built-in for camera mounting
Fast, fluid gaming
Cons
No HDMI 2.1
Has audible cooling fan
Still not a perfect HDR experience
Expensive
Why you should buy this: The Mini-LED technology provides one of the best HDR images available in a PC monitor.
Who it's for: PC gamers who want the best HDR image regardless of price.
Why we picked the Asus ROG Swift PG32UQX:
A year ago, the Asus ROG Swift PG32UQX topped the charts as the best HDR monitor you could buy. It has lost some favor as monitors like the InZone M9 push prices down, but Asus' expensive 4K gaming beast is still a great option (assuming you can afford it).
It's about $3,000 ($2,800 on a good day), which is why the ROG Swift PG32UQX has fallen out of a favor a bit over the last year. You can't argue with the image quality, though. Full Array Local Dimming takes center stage here, with 1,152 dimming zones allowing for minute adjustments to contrast at all points on the screen. That allows the monitor to join a small list of monitors with the coveted DisplayHDR 1400 certification.
We called the monitor "an amazing piece of equipment" in our review, and that stands. The image quality is what stands out, but the ROG Swift PG32UQX includes plenty of premium features as well, including G-Sync, a slew of USB ports, and a 144Hz refresh rate at 4K. Unfortunately, this monitor is only for PC gamers, as it doesn't include HDMI 2.1 to power 4K at 120Hz through the latest consoles.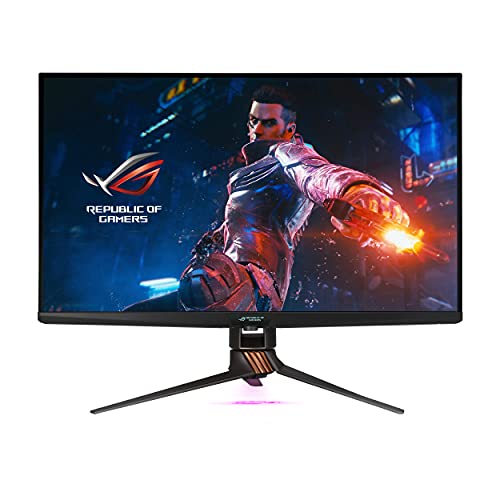 Asus ROG Swift PG32UQX
The best 4K HDR monitor
Apple Pro Display XDR
The best HDR monitor for Mac
Pros
6K resolution
Jaw-dropping HDR and color performance
Several color modes for creative pros
Cons
Very expensive
Doesn't include a monitor stand
Why you should buy this: It easily provides the best image quality you can get on a monitor right now.
Who it's for: Creators and Apple fans who don't mind spending up.
Why we picked the Apple Pro Display XDR:
Apple's new Studio Display XDR is the more sensible choice on your wallet, but it's myriad issues mean that 2019's hyper-expensive Pro Display XDR is still the best choice for Mac users. Why? Well, it's the best of the best.
And it better be for $5,000 at the cheapest (and upwards of $7,000 with some critical accessories). For that price, you get the best of all worlds — 6K resolution, nearly invisible bezels, top-shelf HDR performance, and color accuracy that puts basically the entire monitor market to shame.
Just because you have a Mac Studio or M1 Mac Mini doesn't mean you should pick up the Pro Display XDR. It's specifically targeting creators who need the best image quality and color accuracy you can buy, and you can use any monitor with a USB-C output to hook up to your Mac.
Apple Pro Display XDR
The best HDR monitor for Mac
Gigabyte M27Q
The best budget HDR monitor
Pros
Very inexpensive
Passable HDR performance
Built-in KVM switch
Cons
No HDMI 2.1
The stand isn't the best
Why you should buy this: It's super cheap and meets the bare minimum for HDR.
Who it's for: Anyone on a tight budget who wants HDR but doesn't need the best.
Why we picked the Gigabyte M27Q:
"Budget" and "HDR" don't usually go together because budget HDR monitors may as well not have HDR at all. Gigabyte's M27Q is a rare exception. It doesn't provide the best HDR image, far from it, but the monitor is super cheap and stuffed to the brim with features.
For HDR, the M27Q is certified for DisplayHDR 400, the lowest tier available. The monitor gets bright considering the price, and you can use HDR in games and movies. The quality won't floor you, but HDR at least works.
That's all you can expect for around $300, but the M27Q goes further. It tops out at 170Hz and comes with a 1440p resolution, so it's a sweet spot for gamers. There's no HDMI 2.1, but the monitor still has a built-in KVM switch so you can use your peripherals across several connected devices.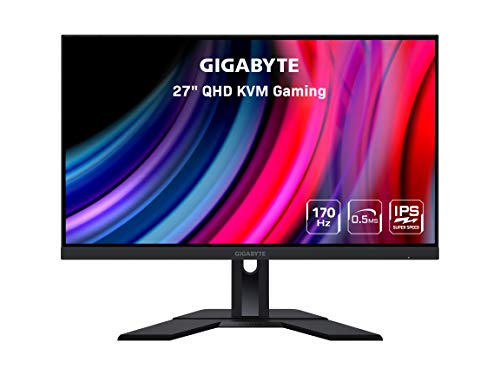 Gigabyte M27Q
The best budget HDR monitor
Frequently Asked Questions
How do I know if my monitor supports HDR?
The manufacturer will tell you, as HDR is a major feature. If it's included in the feature set, you'll see it displayed on the packaging, in the list of specifications, and perhaps even with a sticker somewhere on the monitor itself.
We recommend paying attention to the Vesa DisplayHDR standard. It's currently the only HDR certification process for displays, ranging from DisplayHDR 400 displays, which have a peak luminance of 400 cd/m2 but aren't certified for HDR, to DisplayHDR 1400 displays, which have a peak luminance of 1400 cd/m2 with exceptional local dimming. You won't find a DisplayHDR certification on all displays, but if you do, that's usually a good sign.
Also, pay attention to the different varieties of HDR. Netflix, for example, supports Dolby Vision and HDR10, so if you watch a lot of Netflix, you'll want a display that supports one or both of those standards.
Does HDR improve non-HDR content?
A monitor that supports HDR won't provide the improved colors and greater contrast of HDR content if it's displaying standard dynamic range (SDR) content. That said, HDR monitors do tend to have greater brightness than non-HDR displays, so it's possible that the overall improved quality of the technology inside the screen, outside of its HDR support, will provide a better image. However, that is not guaranteed.
Windows 10's support of HDR has been lackluster in the past, but its approach has grown better recently, with more options for control and better image improvement. Still, it's always smart to experiment with disabling and enabling HDR features for your favorite activities so you can see the difference firsthand and make your decision.
Do you need HDR?
Whether you need HDR depends on what you plan to do with your monitor. For working, managing spreadsheets, writing emails, or taking conference calls, it's probably not worth upgrading. After all, paying more for an invisible difference in quality isn't ideal. But if you like to watch a lot of movies and TV on your display, HDR could be a worthwhile investment. And if you're a gamer, the technology holds much more promise.
There are other features worth considering, like higher resolutions and high refresh rates. If you play games with HDR support or access HDR movies through streaming services or UHD HDR Blu-ray discs, HDR is arguably one of the most critical factors for any new screen upgrade.
What brightness level is best for HDR?
Brightness levels and HDR work hand in hand to deliver the best image results, which means more brightness is better — although that can also raise the cost of your monitor. At the lowest end, at least 300 nits are recommended for proper HDR performance (which also is what Windows 10 currently recommends for base specifications).
However, you are likely to see better results with monitors that can provide 600 nits of brightness or higher. At these levels, the HDR really has room to shine and will be much more noticeable.
Is HDR good for gaming?
Yes. In addition to high refresh rates, HDR can make the most significant impact on your gaming visuals. Then again, it's not supported by all games, making this a hit-or-miss solution. Make sure to verify that the games you want to play do support HDR. Common (and recent) examples include No Man's Sky, Shadow of the Tomb Raider, Days Gone, Mortal Kombat 11, Red Dead Redemption 2, and DMC5. This isn't an exhaustive list, however. For these games (and others), you'll see an impressively dramatic benefit in visual quality with HDR turned on.
HDR monitors provide the best, most up-to-date technology. But it can be a challenge to decide which features you want, depending on your priorities and what you plan on using the monitor for. Whether you play games, stream videos, or do both, one of our favorites might be just the thing you need.
What does HDR mean?
HDR stands for "high dynamic range," and it's an image processing technique that produces a greater range of light values. Basically, it makes the brightest areas of the scene brighter and the darkest areas darker, all without losing detail. Although many monitors claim HDR capabilities, the VESA DisplayHDR standard suggests that a monitor needs a peak luminance of at least 400 nits to be certified for HDR content.
Is HDR better than 4K?
HDR and 4K are different things, so one isn't better than the other. 4K refers to a display's resolution, and 4K displays come with a pixel count of 3840 x 2160 (four times as many pixels as Full HD at 1920 x 1080). HDR is an image-processing technique that makes the brightest areas of a scene brighter and the darkest areas darker. You can find a monitor with 4K, HDR, or both.
How do you pick the best HDR monitor?
There are several factors that go into choosing the best HDR monitor. For the HDR part, look at the contrast ratio and peak luminance. Generally, you're looking for a contrast ratio above 20,000:1 and a peak luminance of at least 300 nits. That said, it's easier to shop for monitors that use the DisplayHDR standard. These monitors have been verified for HDR content and can produce a peak luminance of at least 400 nits. The brighter the monitor, the better for HDR it generally is.
Outside of that, make sure to pay attention to size, aspect ratio, resolution, and refresh rate. For size and aspect ratio, most monitors are under 32 inches with a traditional 16:9 aspect ratio. However, ultrawide displays come with a 21:9 aspect ratio, matching the aspect ratio of movies. For resolution, Full HD (1920 x 1080) is the standard for most. However, 1440p monitors offer a decent step up in resolution, while 4K offers four times the resolution of Full HD.
Refresh rate is how quickly the monitor refreshes the image. Most monitors come with a 60Hz refresh rate, which is great for watching movies, browsing the internet, and using applications. If you play games, we recommend looking for a monitor with a higher refresh rate. Most gamers prefer 144Hz, which makes games that run with a high frame rate look smoother.
Editors' Recommendations