Most web surfers and office workers don't need to spend loads of money on a monitor. In fact, photography, video production, and gaming are likely where you'll see the big investment given the need for higher resolutions, higher refresh rates, and immersive curved screens. If all you need is a decent monitor that gets the job done, you can get a great one for around $100.
We say around $100 and not under $100, because these days, finding a great monitor that ticks all the boxes just really isn't possible anymore in the sub-$100 range (unless you want a portable monitor). The recent silicon shortages and international climate have contributed to a rise in prices in the kinds of monitors most customers would prefer for office work, entertainment, or (entry-level) gaming. That all said, we have compiled a list of great budget-friendly monitors that are all in the $100 - $200 range.
And if budget constraints are less of a concern, these are our favorite monitors overall in 2022, and these are the best curved screens you can buy right now.
Acer SB220Q
Best overall monitor for under $100
Pros
Sleek frame, thin bezels
Supports AMD FreeSync
Has an IPS panel
Cons
No built-in speakers or headphone jack
Acer's SB0 series is a stylish budget line, and the SB220Q is no exception. It looks great in any location thanks to its narrow frame that's just 0.24 inches deep, relatively trim bezels, and an attractive, patterned stand. It's not the biggest display at just 21.5 inches diagonally, but that's still big enough for work and play.
Built with an IPS panel, the SB220Q has a 1920 x 1080 resolution, a maximum 75Hz refresh rate, a 4-millisecond response time, and a 250-nit maximum brightness. There are no built-in speakers, nor will you find a 3.5mm jack for headphones. The outputs are limited to just one HDMI port and a single VGA port. There's also no VESA mounting option.
The Acer SB220Q does support AMD FreeSync, though, making it a decent solution for AMD-powered PC and console gaming.
Acer SB220Q
Best overall monitor for under $100
Asus VS228H-P
Best for an office environment
Pros
Supports VESA mounting
Great port selection
Decent sized screen
Cons
Outdated look with thick bezels
This monitor from Asus features specs similar to Acer's SB220Q, though it's certainly not as attractive. More suited for business environments, the VS228H-P doesn't include sync technology for gaming but does support VESA mounting, so you can more easily affix it to a wall or custom stand. It also has a solid port selection, including HDMI, VGA, DVI-D, and a 3.5mm audio jack, making it a great solution for the office.
The Asus VS228H-P features a 21.5-inch screen with a 1920 x 1080 resolution, a maximum 75Hz refresh rate, and a 5-ms response time. What you won't see here is the rich color palette and wide viewing angles associated with IPS screens, built-in speakers, or thin bezels.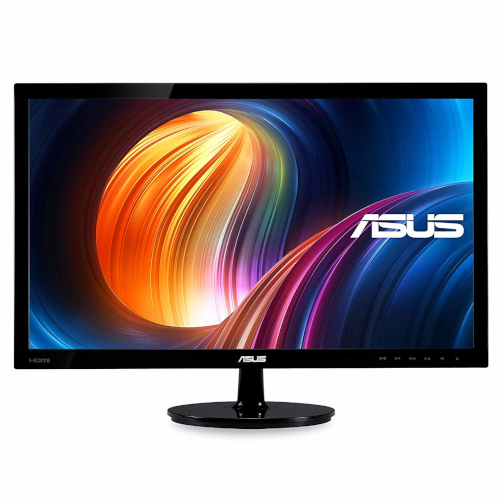 Asus VS228H-P
Best for an office environment
Sceptre Ultra Thin 20-inch
Best space-saver option
Pros
Built-in speakers
Adaptive Sync technology
Up to 75Hz refresh rate
This 20-inch monitor is a bit smaller than many of our picks, but also one of the most affordable, ideal for those who want to save on price and desk space at the same time. It includes Adaptive Sync technology, a 75Hz refresh rate, and built-in speakers.
The Sceptre monitor's resolution, at 1600 x 900, isn't sky-high, but it still gets the job done. There are two HDMI ports for different inputs (and they support DVI conversion) as well as VGA, and the response time is reasonable at 5 ms. It's also VESA wall mount compatible.
Sceptre Ultra Thin 20-inch
Best space-saver option
HP Pavilion 22cwa
Best budget-friendly option
Pros
IPS panel
Stylish, modern design
1080p resolution
HP's Pavilion 22cwa may be the least impressive monitor on our list. It doesn't include built-in speakers, cable management, or sync technology, but what it does offer is a 21.5-inch IPS panel promising rich colors and wide viewing angles. It's somewhat attractive, too, though its bezels appear slightly larger than the BenQ and Acer models elsewhere on this list.
The HP Pavilion 22cwa has a 1920 x 1080 resolution, a 60Hz refresh rate, a 250-nit maximum brightness, and a 7-ms response time. If you're looking for connectivity, it's rather limited, providing one HDMI port and one VGA port.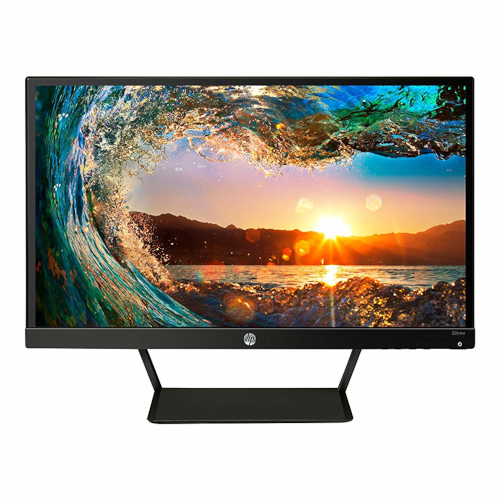 HP Pavilion 22cwa
Best budget-friendly option
LG 22MK430H-B
Best for gamers
Pros
Support for AMD FreeSync
IPS display
Can be mounted to a wall
Cons
5-ms response time may be too slow for some gamers
LG's 22MK430H-B undoubtedly targets gamers with features like Black Stabilizer (which brightens dark scenes) and Dynamic Action Sync that speeds up the image-refresh process. It even includes AMD FreeSync support to reduce visual tearing and stuttering when connected to AMD-based graphics cards and APUs. The 5-ms response time isn't great for gamers, but it's not a deal-breaker, especially at this price.
The LG 22MK430H-B measures 21.5 inches and sports a 1920 x 1080 resolution at a 75Hz refresh rate. It doesn't have the streamlined design that makes many of the models on this list more appealing, but it can be mounted to the wall to look sleek in your office. It includes one HDMI port, one VGA port, and a 3.5mm headphone jack.
LG 22MK430H-B
Best for gamers
Philips 226E9QDSB
Best option for reducing eye strain
Pros
FreeSync technology
IPS panel
Blue light filter mode
This 22-inch monitor from Philips uses FreeSync technology to smoothly stream graphics. The monitor has a sturdy base to stand on and minimal bezels for an immersive user experience. The IPS panel with Full HD resolution and 5-ms response time don't hold many surprises, and the 75Hz refresh rate is expected, but we do appreciate the extra blue light filter mode to keep eyes healthy and set for longer sessions.
There are no built-in speakers on this monitor, but it has ports for HDMI, DVI-D, VGA, and HDMI audio out connections so you can link up your own sound system. Altogether, the Philips 226E9QDSB is a strong pick if you want that dependable Philips design that will last years into the future.
Philips 226E9QDSB
Best option for reducing eye strain
Acer K202HQL Abi
Best budget option for business
Pros
Acer VisionCare software for easing eye strain
Allows tilting to customize its position
Reduces ambient light for enhanced clarity
If you don't need a monitor above 20 inches, this Acer pick is also a great way to save. The LCD offers a 1366 x 768 resolution, along with a 5-ms response time and a refresh rate of 60Hz. You also get the Acer VisionCare software that helps reduce eye strain during long projects. The screen supports tilting to find the right position, and the base includes a small magnetic area to trap paper clips and similar objects so they don't disappear.
Ports for the Acer K202HQL Abi include both HDMI and VGA. The screen is also designed to reduce ambient light reflections so you get a clearer image and less glare. There aren't many features beyond these, but it's has very nice performance for a smaller monitor in the budget-friendly category.
Acer K202HQL Abi
Best budget option for business
Frequently Asked Questions
Why are there no monitors under $100?
First of all, monitors do exist in the sub-$100 price range. They just may not be the ones that have the features you're looking for. If you're OK with portable monitors, you'll probably find one for less than $100. But if you want a monitor that has more features, a larger screen, or a monitor that is more appropriate for a home office setup or gaming, you will likely have to spend more than $100 to get one. This is because while such monitors were less than $100 in the past, recent silicon shortages and other factors have now caused the price to increase beyond $100.
Are $100 monitors any good?
Yes, monitors that are around or above $100 can be pretty good, budget-friendly options. They tend to be bigger than portable monitors and can have premium features like IPS displays, support for FreeSync, built-in speakers, HD resolutions, and even decent refresh rates.
You won't get a 4K screen, high refresh rates, or even particularly accurate colors at this sort of price, but if you need a serviceable screen for work or play, $100 (ish) monitors do just fine.
Editors' Recommendations