If you've never used a curved monitor before, you might not understand the hype. Much like a curved flatscreen, a curved monitor is a popular choice for gamers or anyone who enjoys watching videos on their computer. The unique design can step up your gameplay or make your favorite movie feel that much more immersive.
With so many different brands on the market and a variety of features, pricing, and specs to compare, choosing the right curved monitor might be overwhelming. Fortunately, you don't need to wade through all the information -- we've already reviewed these top picks for you.
BenQ Mobiuz EX3415R
Best all-purpose curved monitor
Pros
HDRi optimization
High brightness levels
FreeSync Premium
Speakers and subwoofer built-in for sound
Why should you buy this: It's an excellent monitor for color and brightness, perfect for viewing images and video.
Who's it for: Everyone, but with a special focus on gamers and those who use their computer monitor for entertainment
Why we picked the BenQ Mobiuz EX3415R:
This 34-inch curved monitor is an excellent pick that doesn't skimp on quality features like light optimization and BenQ's own version of HDR, HDRi, with reactive peak brightness and contrast adjustments. There's also a 1ms response time to keep up with all the action, and a QHD 3440 x 1440 resolution so you don't miss any details.
Curved monitors are already ideal for gamers, and this Mobiuz model expands on that with AMD's FreeSync Premium, scenario mapping for automatically choosing the best settings for your game, and more. You get both HDMI and Display Port for connections, too. This is one of the few monitors that also comes with a built-in 2.1 channel speaker system that includes a 5W subwoofer, so you may be able to skip external speakers if you'd like to save a little money.
BenQ Mobiuz EX3415R
Best all-purpose curved monitor
LG 34WN80C-B
Best curved monitor for multitasking
Pros
Excellent for editing or creative purposes
HDR10 support
USB-C PD port included
Cons
May not be large enough for truly massive projects
Why should you buy this: It's a durable, versatile monitor with an extra-wide screen and great color.
Who's it for: Professionals who want to maximize their screen space.
Why we picked the LG 34WN80C-B:
LG's immensely capable monitor is a boon to professionals of all kinds and anyone who wants to multitask, thanks to its extra-large 34-inch screen. The monitor also supports UHD resolution of 3440 x 1440, which is useful for visual editing projects, and creatives will appreciate the 99% coverage of the sRGB color gamut as well. Those into immersive entertainment will like the HDR 10 compatibility as well, while busy professionals will be pleased to see there's a USB-C port with Power Delivery for their accessories.
The LG 34WN80C-B also includes HDMI and DisplayPort connection options. Just note that ultrawides come with their own aspect ratios (typically written as 21:9) if you want content to cover the whole screen. Fortunately, ultrawides are also easy to use with multiple windows or divided into sections like you are utilizing two different monitors at once, so there are lots of options here.
LG 34WN80C-B
Best curved monitor for multitasking
Samsung CJ791
Best Quantum Dot curved monitor
Pros
Samsung's Quantum Dot tech brings a sharper image
Thunderbolt 3 support
Picture-by-picture modes
Cons
Creatives may want better color accuracy
Why should you buy this: This Samsung monitor combines great color and sharpness features.
Who's it for: People who like big curves and lots of color accuracy.
Why we picked the Samsung CJ791:
Samsung's excellent 34-inch model brings an incredible contrast ratio, 100Hz refresh rate, 4-millisecond response time, and 3440 x 1440 resolution. Samsung's quantum dot technology adds extra sharpness to the display, and color accuracy meets 100% of sRGB and 85% of AdobeRGB gamuts.
We also were fans of the elegant design, easy-access ports, and clear, detailed menu controls for adjusting color and switching between different modes. Ports include two HDMI 2.0 ports, a DisplayPort 1.4, and two USB connections. Recent updates to this model also added Thunderbolt 3 support for one of the USB connections, giving you options for ultrafast data transfer or powering accessories.
If you want one of the best pictures that a curved ultrawide can provide, the Samsung CJ791] is worth saving up for. However, note that it's a bit more friendly with games than with streaming services, which can struggle to fit properly to this Samsung's outsized screen and its somewhat unusual resolution. To help with this, Samsung includes picture-by-picture and picture-in-picture modes that make the display more versatile.
Samsung CJ791
Best Quantum Dot curved monitor
Samsung Odyssey Neo G9
The best ultra-large curved monitor
Pros
Massive ultrawide for the best immersion
240Hz native refresh rate
Quantum Mini-LED panel
Dynamic contrast ratio
Why should you buy this: The extra-large curved screen is perfect for a complete field-of-view experience.
Who's it for: Professionals and gamers with lots of desk space who want a super-ultrawide curved monitor.
Why we picked the Samsung Odyssey Neo G9:
Screens don't come much larger than the 49-inch Neo G9. The Quantum Mini-LED (5120 x 1440) screen offers a native 240Hz refresh rate, plus both G-sync and AMD FreeSync2 compatibility, and HDR 1000 support for a peak brightness rating of 1,000 nits. There's only so much you can do with that much screen real estate thanks to aspect ratios (not many games or movies will be able to fill the entire screen), but it's an excellent pick for multitasking thanks to how many windows and references you can fit across the curved panel -- consulting multiple tables at once, or playing a game with a guide open on the same display.
Ports include HDMI 2.0, two DisplayPort 1.4, and two USB ports (3.0 but sadly no USB-C). There's also support for light filters, picture-in-picture modes, and other options that are useful when dealing with a screen of this size. The screen also uses software to implement dynamic contrast ratio, an excellent pairing with the quantum Mini-LED panel.
However, a 49-inch curved monitor like the Neo G9 Series takes up a lot of room on a desk. It may be a good idea to break out the tape measure before jumping on that Buy button.
Samsung Odyssey Neo G9
The best ultra-large curved monitor
Gigabyte G32QC
Best budget curved monitor
Pros
Excellent affordability
ADM FreeSync Premium Pro
165Hz refresh rate
Cons
May be too small for some users
Why should you buy this: It's an excellent, reasonably-priced gaming monitor that will fit on any desk.
Who's it for: Gamers who want a well-rated monitor that can stand up to lengthy sessions.
Why we picked the Gigabyte G32QC:
Gamers looking for immersion that won't cost too much or take up too much room should check this well-rounded, 32-inch Gigabyte model, an excellent choice for handling gaming and anything else on your favorite PC. With its 2560 x 1440 resolution and 165Hz refresh rate, the monitor's ready for all kinds of gaming. It's also very color accurate, covering 93% of the DCI-P3 cinematic color gamut. It also includes OSD Sidekick software that's a pretty easy way to manage monitor settings for custom tweaking.
The G32QC also comes with an excellent roster of support, including AMD FreeSync Premium Pro for some great optimization, along with HDR400. Ports include two HDMI 2.0 and DisplayPort 1.2. That's a pretty strong combination at this price, as long as you are willing to settle for a smaller screen compared to some of the other picks on our list.
Gigabyte G32QC
Best budget curved monitor
Alienware 34 QD-OLED
Best curved monitor for gaming
Pros
QD-OLED contrast is unbeatable
Fantastic HDR performance
Excellent color saturation
Attractive, minimalist design
Surprisingly affordable
Cons
SDR brightness is a bit low
Color accuracy isn't perfect
Why should you buy this: It offers unparalleled visuals for gaming.
Who's it for: Those who want to game on the bleeding edge of monitor technology.
Why we picked the Alienware 34 QD-OLED:
Gamers won't find anything to complain about with Dell's "first QD-OLED gaming monitor" a stunning display that ramps up visual optimization so the best games will look even better. The model sports a UHD 3440 x 1400 resolution, up to a 175HZ refresh rate thanks to DisplayPort, a 0.1ms responsible time, and it has that dazzling QD-OLED display with its excellent colors and contrast ratio.
The 34-inch monitor supports G-Sync, but that's far from the only optimization tech you'll find here. Notably, there's also low-latency software and full HDR support (with up to 1,000 nits of brightness), plus the ability to manually change the color space if you like tinkering. Ports include two HDMI along with the DisplayPort and several USB 3.2 ports. We're also big fans of the design, a solid yet minimalist style that will look great in your gaming station.
Alienware 34 QD-OLED
Best curved monitor for gaming
Deco Gear Curved Ultrawide DGVIEW201
Most versatile curved monitor
Pros
35 inches at a reasonable price
Multiple modes for gaming genres
100Hz refresh rate
Why should you buy this: It's a useful midrange monitor that's suitable for a lot more than just gaming.
Who's it for: Gamers looking for a reasonably priced curved ultrawide and others interested in task management taken to the next level.
Why we picked the Deco Gear Curved Ultrawide DGVIEW201:
While the Deco Gear monitor is branded as a gaming accessory, this large 35-inch screen is ready for just about anything at a midrange price point that nets important features without getting too hard on the wallet. In addition to that extra-wide size, the monitor offers a 3440 x 1440 resolution and a 100Hz refresh rate, so gamers won't have to give up too much. Various modes include the ability to set user and game profiles, as well as modes for specific gaming genres.
While the Deco Gear Gaming Monitor will need plenty of space, it offers a tilting option so you can get the right angle for serious immersion in your play or work. Unfortunately, FreeSync and G-Sync are not included here. Ports offer connections for HDMI, DVI, and DisplayPort, so you won't need to worry about any of your inputs. There's even some limited accent lighting in the back for effect.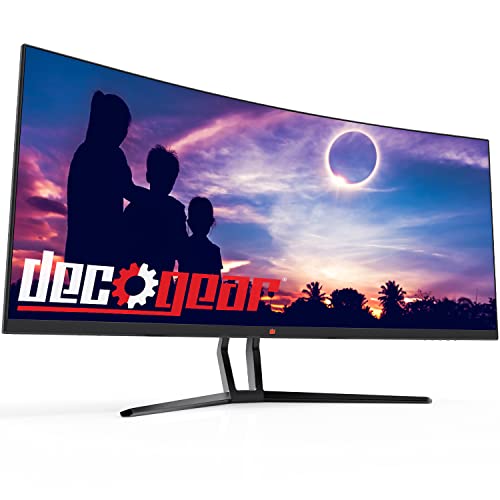 Deco Gear Curved Ultrawide DGVIEW201
Most versatile curved monitor
Frequently Asked Questions
Are curved monitors better?
That depends. Curved monitors are a different experience that could be more useful for a single user. They take up more desk space but also are more immersive and have plenty of display space for multitasking or managing especially complex software. However, they also have pretty poor viewing angles and shouldn't be used in situations where more than one person needs to look at the monitor.
Are curved monitors good for gaming?
Gamers looking for an immersive viewing experience should take a look at curved monitors. That curve makes it easier to feel enveloped in a game and can improve the field of view. It's a frequent recommendation for fans of racing games and similar genres. Since it's uncommon for more than one gamer to be using the screen at a time, curved monitors don't have many disadvantages here — as long as you have the room!
What resolution should I look for in a curved monitor?
Look for QHD (quad high definition) or WQHD (wide quad high definition) for these monitors. Some curved monitors do offer higher UHD numbers, but it isn't quite as important for most uses. If you want to save money, there's nothing wrong with looking for a 1080p model, either.
What kind of ports should I look for in a curved monitor?
Look for DisplayPort 1.4 and HDMI 2.0. Those ports should be enough to get pretty much any video connection that you would want. A few USB ports are also important for accessories, but USB-C ports still aren't quite common in this field, although they are starting to show up on newer models. If you have accessories that need USB-C or Thunderbolt 3, always double-check to make sure they are included.
Do curved monitors have speakers?
It can vary. Some have built-in speakers. Others don't have speakers but do support pass-through audio with an aux port, which means if you hook up headphones or speakers to the monitor, it will pass audio through so you can use them easily. If you need built-in speakers, the Dell and Samsung picks on our list have them!
Are curved monitors better for work?
Most of the immersive benefits from curved monitors are made for gamers … but that doesn't mean they can't help in the professional world. Curved ultrawides, in particular, may be beneficial for making the most of a whole lot of screen space for the most complex, single-person projects. However, note that curved monitors won't save any space, and in some cases may actually need more room, so you may want to measure your office if you're thinking about getting one.
Which is better, curved monitors or flat-screen monitors?
If only one person is going to be using the monitor, there isn't a huge amount of difference. Curved monitors can be better for immersion and help enhance some games, but they don't innately improve image quality, refresh rate, or any other display specs. If more than one person is using the monitor, like while watching a show or sharing a screen, then a flat monitor is a better pick.
Do monitor curves vary?
They can. Monitor curvature is measured with a rating that looks like "1000R" or "1500R," etc. The R stands for radius, the number stands for millimeters, and the rating indicates the arc of the monitor if the center point of its theoretical circle was your eyeballs.
That means that a 1000R monitor is designed to arc more and be closer than, say, a 1500R monitor. You can quickly translate the maximum distance by switching the rating to meters so that 1000R means the monitor shouldn't be farther away than 1 meter, 1500R would be 1.5 meters, and so on.
Why are we just talking about this now? Because it doesn't vary much across monitors and doesn't make as much difference as it might seem. However, a higher R rating and "flatter" curve could make it easier for other people to see the monitor, while a lower rating could make for a more immersive experience. Most consumer curved monitors are around 1000R to 1500R. Our Samsung Odyssey Neo pick has a 1000R rating for an extra-immersive, wrap-around experience. Our Alienware 34 pick has an 1800R rating, one of the flatter options available.
Want to keep up on the latest gaming news to watch for titles that are a perfect fit for your curved screen? Take a look at our gaming section to find the latest.
Editors' Recommendations