With a new batch of GPUs all claiming to be the best graphics card, 4K gaming is becoming a reality for more and more products. It's still an expensive, enthusiast-class resolution, but with the best GPUs for 4K gaming, you can push high frame rates and a high resolution simultaneously.
We've meticulously picked over the dozens of GPUs we've review over the last two years to find which graphics cards are best for 4K. Here are our final picks.
Nvidia RTX 4090
Best GPU for 4K
Pros
Huge leaps in 4K gaming performance
Excellent ray tracing performance
High power and thermals, but manageable
DLSS 3 performance is off the charts
Cons
Very expensive
DLSS 3 image quality needs some work
Why you should buy this: If you want the highest frame rates for 4K gaming and good performance for creative applications, the RTX 4090 is your best bet.
Who it's for: Users with big budgets who want the best performance in games and apps.
What we thought of the RTX 4090:
When it comes to 4K gaming (or any other resolution for that matter), the RTX 4090 is far and away the fastest GPU available. Not only is the 4090 great for gaming at 4K but also for creative applications, thanks to its massive 24GB VRAM and raw power. At $1,600, the 4090 is as expensive as last generation's flagship models but vastly more powerful.
In our review, we found that the 4090 averaged a frame rate of 108 frames per second (fps) across several games tested at 4K and maximum or nearly maximum graphics settings. By contrast, the last-generation RTX 3090 only achieved 57 fps, and the 3090 Ti 64 fps. In select games, you can enable DLSS to get even higher frame rates without sacrificing any visual details. The RTX 4090 also has support for DLSS 3, and it is arguably the first GPU to make ray tracing at 4K truly possible. In Cyberpunk 2077 at 4K with ray tracing turned up to Ultra, the 4090 was able to hit 43 fps, which is much better than the RTX 3090 but still pretty low; however, enabling DLSS and dropping a setting or two could get the 4090 to 60 fps.
It's not cheap, and it's definitely not for everyone, but overall, the RTX 4090 is the best 4K GPU thanks to its excellent 4K gaming performance and great workstation performance.
Nvidia RTX 4090
Best GPU for 4K
AMD Radeon RX 7900 XTX
AMD's best 4K gaming GPU
Pros
Fantastic value for the RX 7900 XTX
Playable ray tracing performance
High refresh rate 4K gaming
Standard 8-pin power
Cons
Disappointing generational improvements
Loud and hot
Why you should buy this: The 7900 XTX is AMD's most powerful graphics card yet, with excellent 4K gaming ability.
Who it's for: Gamers who want near-flagship performance but without paying Nvidia's prices.
What we thought of the AMD Radeon RX 7900 XTX:
The AMD Radeon RX 7900 XTX is the most powerful graphics card team red has ever made. It features more stream processors and higher clock speeds than ever before, but in the same classic AMD size and with a reasonable power demand of 350W at the top end. It features more advanced ray tracing, a new reference cooler design, and new AI accelerators which look set to be very useful when AMD's FSR 3 releases in 2023. In the meantime, though, this is the best AMD GPU in the world, and though it might be expensive, it's almost as good as its gets.
It's relatively quiet, although a card this powerful does kick out some heat, and it's still a far cry from the RTX 4090, especially when it comes to ray tracing — even if this card does a much better job than the 6900 XT. For general 4K gaming rasterization, though, this card is an absolute monster, beating off the RTX 4080 in most games, and offering a solid generational improvement over even the best RX 6000 series cards.
It's still an expensive card, though, with an MSRP of $1,000 at launch. That may come down a little in the months that follow, but with high demand for AMD's latest line of competitive GPUs, expect stock to be in short supply for some time to come.
AMD Radeon RX 7900 XTX
AMD's best 4K gaming GPU
Nvidia RTX 3080 10GB
A more affordable Nvidia 4K GPU
Pros
Fast and fluid 4K gaming
Attractive new design
HDMI 2.1 support
Improved ray tracing and DLSS performance
Cons
Needs awkward adapter
Requires more power
Why you should buy this: The RTX 3080 10GB is the definitive 4K gaming GPU that has performance just shy of the top end while having a more affordable price than the 3090.
Who it's for: Gamers who want to make good use of Nvidia's exclusive features and the 3080's good ray tracing performance.
What we thought of the RTX 3080 10GB:
The RTX 3080 10GB is the iconic 4K GPU of its generation. While it doesn't have the performance of the new-generation RTX 4090 or even the last-gen RTX 3080 Ti, it still does a good job and it's much more affordable. The 3080 10GB starts at around $600 to $700, making it significantly cheaper than the 3090 for a close level of performance. Its lower amount of VRAM makes it less suitable for work, but the 3080 is a GPU focused on 4K gaming first and foremost.
In heavier games like Red Dead Redemption 2 and Assassin's Creed Valhalla, the 3080 10GB just barely surpasses 60 fps in 4K with max settings, which is a fine frame rate but not amazing. Just like with the 3090, however, you can enable DLSS for better performance in certain games, and turning down graphics settings is also an option. In older or less-demanding games, you can definitely expect better frame rates; in Battlefield V, the 3080 10GB hit 103 fps, which is really good.
The 3080 10GB is great for ray tracing too, and you can always improve performance by enabling DLSS as well. While it's nowhere near as capable as the newer RTX 4080 and RTX 4090, the RTX 3080 is far more affordable, making it still an excellent 4K gaming GPU.
Nvidia RTX 3080 10GB
A more affordable Nvidia 4K GPU
AMD RX 6950 XT
Best last-gen 4K GPU
Pros
Relatively low power draw
Outperforms the RTX 3090
Inexpensive compared to Nvidia competition
Cons
Almost identical performance to RX 6900 XT
$100 more expensive than RX 6900 XT
Poor ray tracing performance
Why you should buy this: The RX 6950 XT is a more reasonable alternative to the RTX 3090 that's made for gamers and provides about the same amount of performance at a lower price.
Who it's for: Gamers who want a more affordable 4K GPU and don't need DLSS.
What we thought of the RX 6900 XT:
AMD's RX 6000 GPUs were the first AMD cards to really offer 4K gaming performance, and the RTX 6950 XT is one of the best for the job. Its performance at 4K is excellent, it has plenty of VRAM at 16GB, and its price is relatively low. We would normally recommend the base RX 6900 XT, but the price of the juiced-up RX 6950 XT has come down significantly since launch, and you can find it as low as $600.
It blows through most games at 4K, easily offering above 60 frames per second in demanding titles like Cyberpunk 2077. AMD still takes a backseat to Nvidia when you turn on ray tracing, but the RX 6950 XT manages to outpace Nvidia's RTX 4070 Ti in most games with ray tracing turned off, and it costs $100 less.
The main thing you're giving up is Nvidia's DLSS. AMD has its FSR upscaling, but it's still a measurable distance behind DLSS. Thankfully, the raw power of the RX 6950 XT means you won't have to turn on FSR often.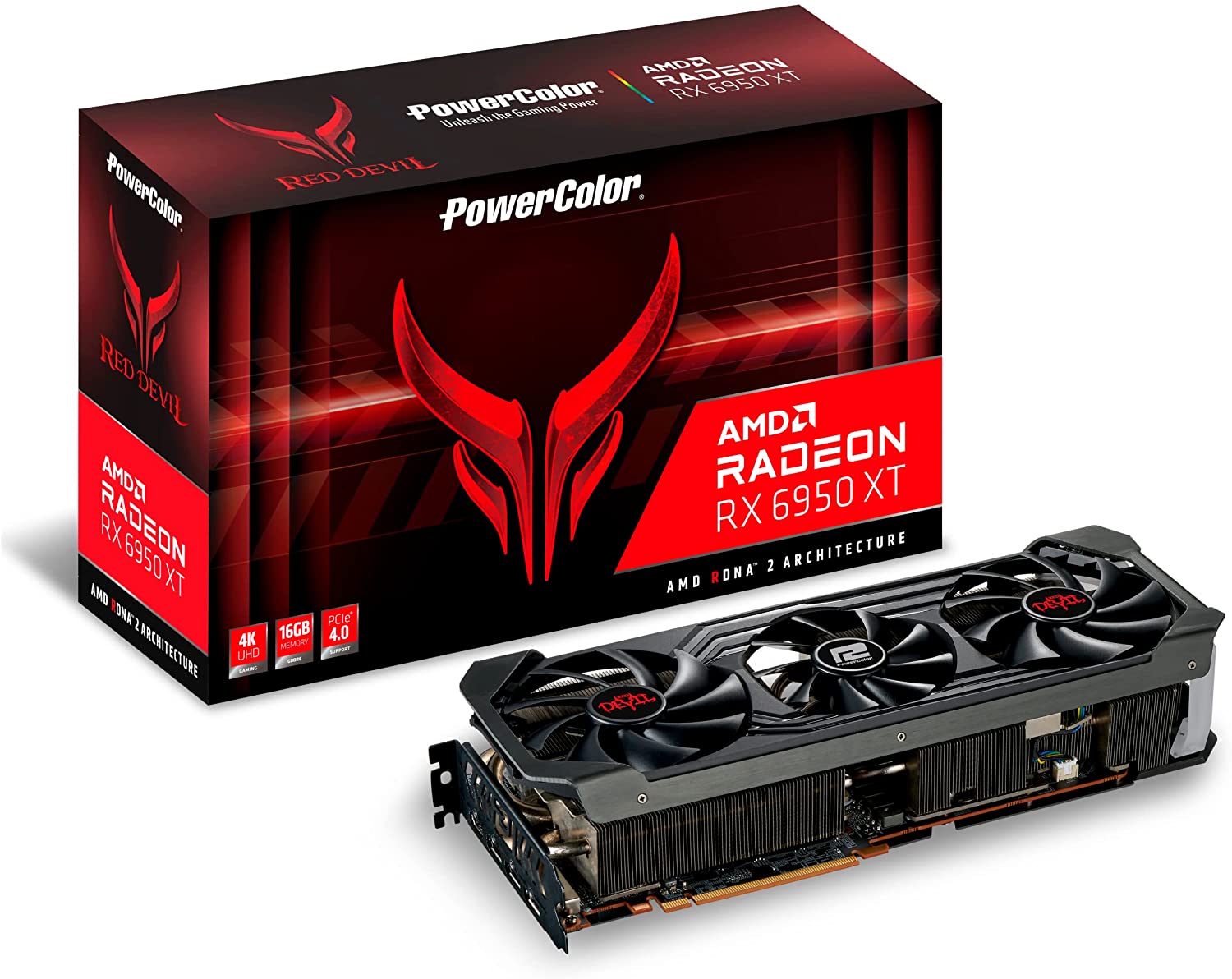 AMD RX 6950 XT
Best last-gen 4K GPU
Nvidia RTX 4070
Best cheap GPU for 4K
Pros
RTX 3080 performance for $100 less
Only two slots
DLSS 3
Remarkable efficiency
1440p gaming at 100+ fps
Cons
Beaten by AMD's RX 6950 XT
Far below RTX 4070 Ti
Why you should buy this: It offers solid performance, and DLSS 3 pushes 4K frame rates with ease.
Who it's for: Gamers are a budget who still want flagship 4K performance.
What we thought of the RTX 4070:
At $600, the RTX 4070 is definitely not cheap. But, if you want the definitive next-gen 4K gaming experience and can't stomach spending more than $1,000 on one of Nvidia's flagships, it's the most reasonable alternative. The overall performance of the RTX 4070 is just decent, not great, but it comes with a trick up its sleeve - DLSS 3.
In the most demanding games, DLSS 3 turns the RTX 4070 into a middling 4K GPU into one of the best graphics cards you can buy. It outpaces the raw performance of the RTX 4090 in Cyberpunk 2077 and Portal RTX with DLSS 3 on, and it makes features like path tracing possible at such a high resolution.
It's the sweet spot of Nvidia's current generation, and if you can find an RTX 4070 on sale, it's the GPU to buy. That said, if you don't care much about ray tracing and just want raw 4K gaming performance, the RX 6950 XT offers better performance for around the same price.
Nvidia RTX 4070
Best cheap GPU for 4K
AMD RX 6800 XT
Best affordable 4K GPU
Pros
Good performance at 4K
Relatively low price
Lots of VRAM
Cons
FSR generally worse and rarer than DLSS
Why you should buy this: The 6800 XT provides good performance at a decent enough price to deliver good frame rates at 4K without needing a top-end GPU like the 3090 or the 6900 XT.
Who it's for: Gamers who would rather have higher frame rates than higher graphical quality.
What we thought of the RX 6800 XT:
If you want to play at 4K with high frame rates, ray tracing is right out the window, which means AMD's last-generation GPUs are a great option thanks to their good performance with ray tracing turned off and the lower price that AMD GPUs tend to have in the current market. The 6800 XT can be found for around $500 to $600, making it relatively cheap for a GPU intended for 4K gaming.
In a recent review, Techspot found that the 6800 XT achieved 70 fps on average across 12 games at 4K and max quality settings, while the 3080 10GB achieved 72 fps, an excellent result for the 6800 XT. That's not 144 fps, which means in many games you will have to turn down some graphics settings to hit 144 fps. But you would have to do that even if you had a 3090 Ti or a 6950 XT, so the 6800 XT isn't alone in this regard.
Just like with the 6900 XT, you can't use DLSS on the 6800 XT and you will have to rely on FSR where it's available. However, since the 6800 XT can be found for at least $100 less than the 3080 10GB, we feel like that's a good trade-off since FSR 2.0 seems to be taking off much quicker than DLSS did.
AMD RX 6800 XT
Best affordable 4K GPU
Nvidia RTX A5000
Best GPU for 4K video editing
Pros
Fastest workstation GPU
Tons of VRAM
Workstation-optimized drivers and full Tensor core performance
Why you should buy this: The A5000 is a super fast workstation-oriented GPU with plenty of VRAM for pretty much any workload.
Who it's for: People who need good performance at 4K in workstation applications.
What we thought of the RTX A5000:
The RTX A5000, by all metrics, is the fastest workstation GPU money can buy. Generally, we'd recommend Nvidia for most users since the software ecosystem for professional applications usually relies on CUDA. The only problem with the A5000 is its price tag, which is usually over $2,000, but if you need to do real work, then it can be worth it. It's also worth noting that the A5000 is basically the RTX 3090 but with no artificial performance limitations thanks to optimized drivers and unlocked Tensor core performance, so if you need better workstation performance more than better gaming performance, the A5000 is the way to go.
If you can't justify spending that kind of money for the A5000, then we recommend the A4000, which is significantly slower and has only 16GB of VRAM but is also much cheaper at about $1,100. There's also the A2000, which is even slower and has even less VRAM at 12GB but retails for around $600 to $700. If you have an even larger budget, you could try the RTX A6000, which is basically an RTX 3090 Ti but with 48GB of VRAM.
AMD does have a competing line of workstation GPUs, but because CUDA is so ingrained into the kind of software you'd want a workstation GPU for, there aren't many applications where AMD is competitive with Nvidia. If you want to use AMD, you'll have to figure out whether or not that's a good idea depending on what applications you use.
Nvidia RTX A5000
Best GPU for 4K video editing
Frequently Asked Questions
What's the fastest 4K GPU?
As long as you have an unlimited budget, the RTX 4090 is the best for 4K gaming, and the RTX A6000 is the best for video editing. However, both GPUs (especially the A6000) are very expensive, so you might want to opt for slightly slower but much cheaper GPUs, like the RX 6900 XT, the RTX 3080 10GB, and the RTX A4000.
Is Nvidia better than AMD?
The RTX 4090 is the fastest GPU you can buy, and Nvidia GPUs tend to perform relatively well at 4K, but that doesn't mean you can't have a good 4K gaming experience on an AMD GPU. In fact, after the 4090, the AMD RX 7900 XTX is the best 4K gaming graphics card — even ahead of Nvidia's still-powerful (but overpriced) RTX 4080. Nvidia is a better bet for video editing and other professionally oriented applications, however.
Editors' Recommendations