Don't want to spend $1,000 or more on a new smartphone? We don't blame you. And the good news is there are plenty of models available for half that price, but the trick is knowing which cheap smartphone is worth buying. After all, just because you're not spending flagship phone money doesn't mean you want to be stuck with a phone that's rubbish. There are plenty of options out there for the best cheap phones!
We've collected the models that still give you great performance, good cameras, the right connectivity, and often a desirable design and brand name too — all for less money than you may expect. Cheap phones in 2023 will surprise you with their strong performance, making them more than capable of playing the latest games; plus they have batteries that will last you at least a day.
If your budget for a new smartphone this year is around $500, then these are the best models you can get.
Samsung Galaxy A54 5G
Best cheap phone overall
Pros
Eye-catching colors
It looks like the Galaxy S23
Colorful screen
Speakers sound good
Long software commitment
Cons
Battery doesn't last two days
No wireless charging
Camera lacks realism
Why you should buy this: It looks like the Galaxy S23, but costs half the price, has a great screen, and a camera perfect for social media.
Who it's for: Anyone who wants the Samsung Galaxy software experience, but doesn't need the flagship power.
Why we picked the Samsung Galaxy A54 5G:
The Galaxy A54 is a design upgrade over the also very tempting Galaxy A53, with a look that replicates the more expensive Samsung Galaxy S23 -- and that makes it really desirable. It's made from glass and plastic, feels really high-quality, and is durable with an IP67 water- and dust-resistance rating. We love it in the vibrant Lime and Violet colors, but you can get safe white and black versions too.
It's not only the colors of the phone that stand out, as the 6.4-inch screen's colors really shine too. It also has a smooth 120Hz refresh rate and good speakers, meaning the Galaxy A54 is a great multimedia phone. The main 50-megapixel camera takes photos that pop off the screen, which may not be to everyone's taste, but anyone who wants to quickly share an eye-catching photo on social media will likely love it.
Samsung has used its own Exynos 1380 processor in the phone with either 128GB or 256GB of storage, plus there's space for a MicroSD card. It's fast enough for games and everyday use, the phone has 5G for a fast connection, and Samsung's One UI software is smooth, easy to use, and will be updated for the next four years. It's built to last, provided you don't expect your use to dramatically change in the near future.
Downsides? Apart from the power only being adequate for normal use, the battery doesn't have the endurance to last for more than about a day-and-a-half, the charging isn't very fast, and there's no wireless charging either. To get a phone that avoids these pitfalls means spending more than the Galaxy A54's $450 starting price, and for a lot of people, it won't really be worth it. The Galaxy A54 is a great choice.
Samsung Galaxy A54 5G
Best cheap phone overall
Google Pixel 7
Best premium cheap phone
Pros
Superb camera
Long battery life
Eye-catching design
Vibrant screen
Years of software updates
Fantastic price
Cons
Slow charging
Software bugs
Poor gaming performance
Why you should buy this: It has a superb camera, great software, and a pretty design.
Who it's for: Anyone who can stretch their $500 budget but still doesn't want to overspend.
Why we picked the Google Pixel 7:
Yes, we know, the Pixel 7 costs $599, and that puts it over our $500 budget. But if you can save a little longer, or find a way to stretch your budget just a tiny bit, this is our recommendation if you don't want to overspend and get a flagship phone.
It has all Google's computational photography expertise fed through a 50-megapixel main camera with optical image stabilization, plus there's a wide-angle camera and a 10.8MP selfie camera. It takes fantastic photos, and the editing suite is extremely powerful. It's versatile and inspiring to use. The same goes for the software, which is slickly designed and super smooth, all powered by the latest Tensor G2 processor.
The battery lasts for a couple of days if you aren't a hardcore gamer, plus there's wireless charging for convenience. The screen has a 90Hz refresh rate and niceties like HDR10+ certification, a fast fingerprint sensor, and a pretty design too. You pay a little more for the Pixel 7 than you will the Pixel 6a or Galaxy A53, but it has more utility and ability. If you can stretch to it, the Pixel 7 is worth it.
That said, we have noticed there is some variation between models that leads to a different, and often a more negative experience. It's worth bearing in mind and brushing up on Google's return policy before buying.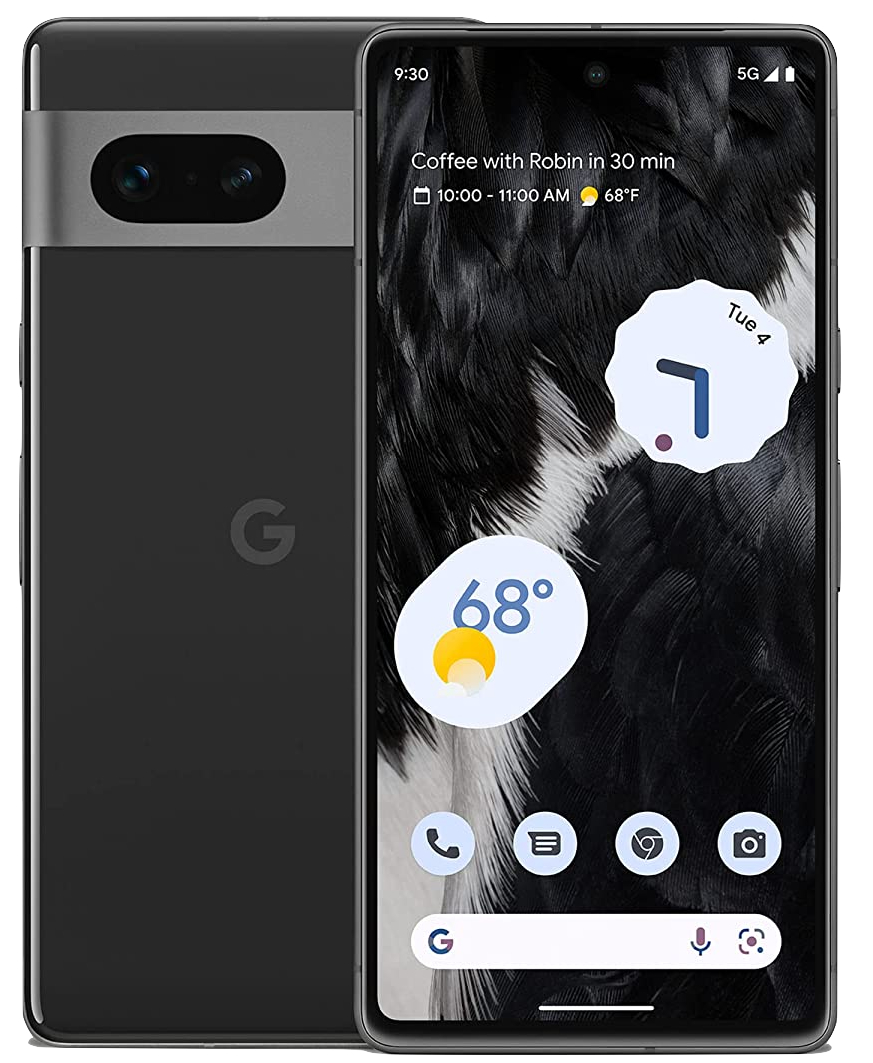 Google Pixel 7
Best premium cheap phone
OnePlus Nord N30 5G
Best cheap OnePlus phone
Pros
Nice in-hand feel
Headphone jack and expandable storage
120Hz display looks great
Good, reliable performance
50W charger in the box
Cons
Bland, smudge-prone design
Very poor camera quality
Only promised a single OS update
Why you should buy this: It has some of OnePlus's best attributes, available for just $300.
Who it's for: Someone who wants a solid cheap OnePlus smartphone, but doesn't mind a sub-standard camera.
Why we picked the OnePlus Nord N30 5G:
OnePlus has crammed a lot of positives into this $300 device, and it's the strength of those positives that have landed the N30 5G on this list — and it needs those positives, because there's a big downside to this device which may be a deal-breaker for you.
We'll start by covering that downside: The camera. Unfortunately, the camera system is poor. It comprises of a 108MP lens with two 2MP lenses (macro and depth), and while that sounds promising, the 108MP main lens is a real letdown. In good conditions it takes bland pictures with no pop, and a lack of optical image stabilization means blurred photos are all too common. Quality drops like a stone when the lights fall, and images are full of noise and smudged details. While the 2MP macro lens is fine, it's not enough to save the camera.
It's a real shame, because the rest of the phone is solid. The 5,000mAh battery easily outlasted Digital Trends' Mobile Editor Joe Maring's iPhone 14 Pro, and it comes with 50W super-fast charging as well. The processor is a Snapdragon 695, and while it won't make the phone a dedicated gaming station, it's no slouch for the $300 price tag.
The design is, unfortunately, boring and attracts fingerprints like you wouldn't believe – but the phone still has a lot going for it on this front. It's extremely comfortable and well weighted, despite the 6.72-inch display. That display is impressive too, as it packs in a 120Hz refresh rate, a very welcome addition on a phone this price. There's a microSD card slot and a headphone jack, and the dual stereo speakers produce startling good sound.
If you can forgive the terrible camera, then the upsides of the OnePlus Nord N30 5G are worth paying for. It has good performance, a great display, and a very good battery life and charging rate — but it's not worth going for if the camera is important to you. Instead, consider the next entry down.
OnePlus Nord N30 5G
Best cheap OnePlus phone
Google Pixel 6a
Best cheap phone camera
Pros
Compact, lightweight design
IP67 water resistance
Flagship-grade performance
Excellent cameras
Clean software
Years of guaranteed updates
Cons
Display is only 60Hz
Tensor chip runs hot
Lacking battery life
Why you should buy this: It has most of what makes the Pixel 7 desirable -- excellent software, a great camera, and a cool design -- for a lower price.
Who it's for: Those who really value camera performance, and want the best Android software experience too.
Why we picked the Google Pixel 6a:
The Pixel 6 and Pixel 6 Pro introduced a cool new design from Google for its smartphone range, and it continues on the Pixel 6a too. Because Google only slightly updated the look for the Pixel 7, the Pixel 6a manages to still look modern and current today. It's a big selling point, but not as much as the camera.
Google is famous for its computational photography expertise, and a great deal of it can be found inside the Pixel 6a, despite it being cheaper than the Pixel 7 and Pixel 7 Pro. The 12.2-megapixel main camera is joined by a 12MP wide-angle camera, plus most of Google's clever and fun camera modes, including Night Sight, Portrait Mode, and Magic Eraser.
Unfortunately, the battery life does let the Pixel 6a down, and you shouldn't expect it to last more than a day without recharging if you use it moderately hard. Charging is slow, and there's no wireless charging either. The other downside is it has a 60Hz screen, which is a disappointment when others provide a 90Hz screen or higher on similarly priced devices.
However, the software around all this is a big bonus, as it's fuss-free, well-designed, and fast. It will also get the latest version of Android before any other phone for the next few years too. The Pixel 6a is one for camera and Android software fans, who don't consider the 60Hz screen a problem. The Pixel 7a is another option to consider, but given how similar it is to the 6a — and that it's more expensive — we still think the Pixel 6a is the better purchase between the two.
Google Pixel 6a
Best cheap phone camera
Apple iPhone SE (2022)
Best cheap iPhone
Pros
Compact and light
Very powerful
Touch ID works really well
Wireless charging
IP67 water resistance
Cons
Poor battery life
60Hz screen
64GB won't be enough
Why you should buy this: It's the smallest iPhone you can buy, yet it's still powerful, plus it has Touch ID and the very latest version of iOS too.
Who it's for: Apple iPhone lovers who miss small phones but don't want to compromise on performance.
Why we picked the iPhone SE (2022):
It's not the biggest smartphone on this list, but it's one of the most powerful. The jewel in the iPhone SE's crown is the A15 Bionic processor powering it. This is the same chip you'll find in the iPhone 14, and it's incredibly powerful. The result is a budget smartphone that can handle the latest and most demanding 3D games, and pretty much anything the latest flagships can do. It's a strong advantage.
However, the iPhone SE looks just like iPhone 8 so it has chunky bezels and a relatively small display. It may perform like a flagship iPhone, but it looks older, especially as it has a Home button and Touch ID fingerprint sensor. However, some may see this as a benefit.
It's made from glass and aluminum, is very compact and lightweight, plus there are various attractive colors available. There's only a single 12MP camera on the back, but it does have some excellent post-processing, thanks to the A15 Bionic processor, and the iPhone SE still takes good shots. Unfortunately, there's no Night mode, which means you'll need to rely a little more on good lighting.
The battery life is a major drawback. We managed a day of use out of the iPhone SE, but it's unlikely to stretch much further than that with even moderately heavy use, and you're going to need to top it up on particularly hectic days.
Prices for the Apple iPhone SE (2022) start from $429 for 64GB of storage and rise up to $579 for 256GB of storage. We recommend buying the $479 to upgrade your storage to 128GB at least, as performance and battery life suffer when the storage gets close to full.
Apple iPhone SE (2022)
Best cheap iPhone
OnePlus Nord N300 5G
Best cheap phone under $250
Pros
Sleek and lightweight design
90Hz refresh rate on a large 6.56-inch display
Nice tactile haptics
Great selfie camera
Expandable storage via microSD
5,000mAh battery with 33W fast charging
Cons
Lower-res screen resolution
2MP depth camera doesn't add much
Won't get updates after Android 13
Only available on T-Mobile
Why you should buy this: It has desirable features like a 90Hz refresh rate screen and 5G, plus long battery life.
Who it's for: If you value screen technology and battery life over the camera.
Why we picked the OnePlus Nord N300:
OnePlus is an established brand with a lot of experience delivering great value phones, and the Nord N300 5G continues this tradition. The Pixel 6a may not have a high refresh rate screen, but the Nord N300 does, and it has a longer lasting battery, plus faster charging too, all for less money. This is what we mean when we say it really pays to shop around for the right low-cost phone.
The OnePlus Nord N300's 6.56-inch screen has a 90Hz refresh rate for smoother scrolling and less eyestrain, plus a big 5,000mAh battery that should last for at least a couple of days (depending on your use). When it comes time to charge it back up, it'll take just 90 minutes with the included charger and cable.
A 48-megapixel camera on the back may sound simple (we're ignoring the 2MP macro camera, and you should, too), but it takes photos that are fine for social media, particularly if you don't mind playing with the editing suite in the Gallery app. The phone's software is a letdown, though, as it runs OxygenOS 12. It's not as fluid or cleanly designed as old OxygenOS, and can be complex and unreliable.
However, for the price, the OnePlus Nord N300 has several standout features: a capable MediaTek processor with 5G, and even a headphone jack and MicroSD card slot. It's a good value blend of desirable modern features and often-forgotten phone staples.
OnePlus Nord N300 5G
Best cheap phone under $250
Samsung Galaxy A14 5G
Best phone under $200
Pros
Only $200
Large display with a 90Hz refresh rate
5,000mAh battery
50MP rear camera, 13MP selfie camera
Respectable performance
Unique, textured back
Cons
Secondary cameras aren't impressive
No water or dust resistance
Fast charging up to 15W only
Why you should buy this: It has a big screen, great software, and a decent camera for a very competitive price.
Who it's for: Anyone who wants the Samsung Galaxy software experience, but wants a bargain at the same time.
Why we picked the Samsung Galaxy A14 5G:
The Samsung Galaxy A14 is cheaper than the Galaxy A54 that tops our list, but it shares many of the same upsides. And if your budget won't stretch to more than $200, it's the phone to buy. The Galaxy A14 is made entirely from plastic, but this will increase durability. It isn't slippery to hold, and a textured finish keeps it mostly fingerprint-free.
Like the Galaxy A54, the Galaxy A14 leans into Samsung's design for the Galaxy S23. The triple-lens camera array on the back contains a 50-megapixel main camera, plus a pair of mostly useless 2MP macro and depth cameras. The main camera still takes attractive photos you'll be happy to share online.
A 6.6-inch AMOLED screen with a 90Hz refresh rate dominates the front of the phone. It runs on Android 13 with One UI, which will be updated until 2027. For a phone at this price, this is a good commitment, and along with 5G connectivity, it means the A14 should last for several years before it needs replacing.
The MediaTek Dimensity 700 processor is great for normal use, but may struggle if you want to play intensive games or multitask, and the 5,000mAh battery has enough power to last two days before it needs recharging. You don't get features like wireless charging, and the phone obviously isn't going to compete with flagships, but it represents excellent value provided your expectations aren't stratospheric.
Samsung Galaxy A14 5G
Best phone under $200
Frequently Asked Questions
Where do I buy cheap phones?
You can always find bargains at online retailers, but be careful to do your research and order the model number you need. In particular, check that the model you are buying supports the bands your carrier operates on. The major carriers sometimes run good promotions, but if you find a phone you like in-store it's worth doing a quick search online to see if you can find it for less. You'll often find cheaper options at MVNOs (Mobile Virtual Network Operators) and we have a list of the best MVNOs to check out.
Who has cheap phone plans?
There are lots of different cell phone plans out there, so take your time and do some research before picking a plan. We have a breakdown of the best cell phone plans to help you get started. If you go for a family plan, then you can often secure good deals on additional lines. Consider the coverage in your area before deciding on a carrier.
How do you get a new phone for cheap?
The most obvious way to score a bargain is to buy second-hand. If that appeals to you, then we have a guide on how to buy used smartphones that you'll want to read. You may also consider online retailers, just make sure that you check the model of the phone you are buying supports the bands your carrier operates on.
Should you buy a cheap phone or wait for last year's flagship to get cheaper?
Flagships have been climbing in price recently, but if you're willing to wait and look at flagship phones from a year or two ago, then you can get them much cheaper. Almost all Android phone manufacturers offer discounts on older flagships and those discounts get deeper the older the phone gets. On the other hand, the general quality of budget phones has improved greatly in recent years and phone design moves very quickly, so a midrange device today will likely match a two-year-old flagship on performance and may boast a more modern design.
Editors' Recommendations