The best camera phone is the Google Pixel 6 Pro. It's definitely a close call, but Google's latest phone tops Apple's iPhone 13 Pro in our head-to-head contest. The Pixel 6 Pro's pictures are eye-poppingly attractive, colorful, and instantly shareable, making it one of the best camera phones around. But if you're not a fan of Google's Pixel, there are other choices, including the best Apple phone, best value phone, and the best cheap phone you can buy.
We're photography enthusiasts at Digital Trends, snapping thousands of photos every month, and we love to compare how different phone cameras perform. We push the cameras to the limit and do direct camera shootout comparisons with different phones, because we know it's an important feature for most buyers.
Have different priorities? We offer guides for the best overall smartphones, the best cheap smartphones, and the best small smartphones, so you can find the right phone for you.
Samsung Galaxy S21 Ultra
The best feature-rich camera phone
Google Pixel 6 Pro
Best camera phone
Pros
Incredible camera
Fun camera features and editing tools
Vibrant, colorful screen
Android 12
Long software support
Cons
Unreliable in-display fingerprint sensor
Flaky cellular connection in some situations
120Hz screen can jitter
Why should you buy this?: The Pixel 6 Pro is ready to take on the iPhone 13 Pro and the Galaxy S21 Ultra.
Who's it for?: Anyone who wants a reliable camera phone with excellent editing features and the functionality of Android.
Why we picked the Google Pixel 6 Pro:
Google reinvented smartphone photography with the first Pixel smartphones several years ago. Today, the Google Pixel 6 Pro comes with a new linear triple camera bay which features a 50-megapixel primary camera, a 12MP ultrawide-angle camera, and a 48MP periscope camera with 4x optical zoom. The primary 50MP camera uses a Samsung ISOCELL GN1 sensor measuring 1/1.31 inches. Pair that with Google's exceptional computational photography, the new main sensor can yield striking colors in nearly all lighting conditions.
Along with the primary camera, there's a 12MP ultrawide angle camera with a 115-degree wide span of view. Besides wider images, the ultrawide angle camera can be used alongside the primary camera to correct blurred images using a Pixel 6 range-exclusive feature called Face Unblur. The Pixel 6 Pro also has a 4x periscope camera featuring a 48MP sensor. The 4x periscope has an edge over the 3x telephoto on the iPhone 13 Pro but you can expect a somewhat sluggish performance when compared to the Galaxy S21 Ultra's 10x periscope.
Besides improvements to the camera hardware, the Pixel 6 Pro brings a variety of new software enhancements and features, powered by Google's in-house Tensor chipset. The Tensor is specifically designed for on-device A.I. processing and it powers features such as Face Unblur, Magic Eraser, Action Pan, and realistic facial color tone mapping. These features ensure some breathtaking images.
For photography features, the Pixel 6 Pro is more than comparable to the iPhone 13 Pro and if you have an eye for detail, you might be able to pick one winner easily. When it comes to video, the Pixel range catches up by, once again, using A.I. features including HDRNet for vivid and punchy colors in videos. Overall, if you aspire for an ultimate camera experience with cutting-edge A.I. and camera features, the Google Pixel 6 Pro barely has any competition.
Google Pixel 6 Pro
Best camera phone
Apple iPhone 13 Pro
The best Apple camera phone
Pros
Packs lots of power into its size
Incredible camera and video performance
Very long-lasting battery
Smooth and responsive 120Hz screen
Comes with 1TB storage option
Cons
No fast charging
No USB-C
Why should you buy this?: The Apple iPhone 13 Pro is not only one of the most powerful phones on the market, but its photo and video capabilities are amongst the best for a phone.
Who's it for?: For those who don't want to miss the right moment grappling with different camera modes and desire the best performance that a phone can offer.
Why we picked the iPhone 13 Pro:
The iPhone has always been a frontrunner for the best smartphone camera despite not sporting the most highly specced camera hardware. The iPhone 13 Pro's 12MP primary shooter dominates the space with excellent image processing and software features. The iPhone 13 Pro's primary camera features the Sony IMX703 sensor, a 1/1.65-inch sensor, which makes it about 25% bigger than the primary sensor on the iPhone 12 Pro Max, and about 85% bigger than the iPhone 12 Pro. The lens used in the camera setup also has a bigger (f/1.5) aperture. Both result in more light and clearer images.
The iPhone 13 Pro's camera captures plenty of details and a rich flurry of colors and it captures shots against direct sunlight quite well. The lens on the camera moves in response to movement, making the optical image stabilization more effective. The phone's other two cameras include an upgraded 12MP ultrawide-angle and a 12MP telephoto. The sensor now offers phase-detection autofocus (PDAF), which adds another benefit to the ultrawide-angle camera. The iPhone 13 Pro's ultrawide-angle camera doubles as a macro camera that can capture images from a minimum distance of 2cm. If you have installed iOS 15.2 or later, you can control Macro Mode precisely.
Like the ultrawide camera, the telephoto also got upgraded with a 3x optical zoom setup, which is still admittedly a laggard as compared to the Samsung Galaxy S21 Ultra's 10x periscope lens setup (which repeats on the upcoming Galaxy S22 Ultra). But, tests during our comparison with the Samsung Galaxy S21 Ultra's secondary 3x telephoto camera indicate the iPhone 13 Pro focuses more accurately.
In low light, the iPhone 13 Pro's automatic night mode is impressive, even if there is some visible lack of detail compared to shots taken in the day. For videos, Apple has introduced the Cinematic mode --essentially a portrait mode but for video -- which can be used with both the front and back cameras. Following the iOS 15.1 update, the iPhone 13 supported ProRes recording that allows for lower compression and better image quality than standards codecs like H.264 and H.265.
Apple iPhone 13 Pro
The best Apple camera phone
Samsung Galaxy S22 Ultra
The best feature-rich camera phone
Pros
S Pen is convenient and highly accurate
Versatile camera takes great photos
The latest processor for power
Long software support
Beautiful high refresh rate screen
Cons
Not very fast battery charging
Large and heavy
Why should you buy this?: This powerful smartphone will last you for years.
Who's it for?: If you seek a phone that produces shareable photos quickly, the S22 Ultra is excellent.
Why we picked the Samsung Galaxy S22 Ultra: The Samsung Galaxy S22 Ultra is one of the very best camera phones you can get, even though spec-wise, it's not a huge advance from its predecessor, the Galaxy S21 Ultra, or the Galaxy Note 20 Ultra. Upgraded 3x, 10x, and 30x zoom levels provide greater detail and more natural and accurate colors, but the main and wide-angle cameras offer similar results to earlier Samsung smartphone cameras.
The S22 Ultra's variety of high-quality optical zoom modes makes it hugely versatile, the main and wide cameras take beautiful photos with vibrant colors and excellent balance, and the newly updated portrait mode is stunning. The Camera app is simple and customizable, letting you quickly access the features you use most.
Single Take mode lets you concentrate on shooting the scene, not on what mode to use. You can shoot a video up to 15 seconds long, which can be extended by another five seconds if needed, and the phone's A.I. generates multiple images and videos from it, which can be edited and shared. Samsung has consulted with Snapchat and Instagram to include its camera tools in their apps, so you can directly use the different cameras and modes without shooting in the S22 Ultra's camera app.
Samsung's Pro mode for stills and video and a new Expert RAW app available for download provide control over the telephoto cameras, support HDR capture, and allow for lossless data files, ready for apps like Adobe Lightroom. The 108MP mode has gained some functionality with the Detail Enhancer, using A.I. to boost detail, sharpness, and color. The 108MP photos are huge at 12000 x 9000 pixels and 25MB, but the Detail Enhancer makes cropping easy.
Want a big smartphone with a brilliant camera? If you're sticking with Android, the Google Pixel 6 Pro is also a great choice, or have a look at Apple's iPhone 13 Pro Max. The basic version of the Galaxy S22 Ultra sets you back $1,200. If that price almost stops your heart, below are two much cheaper options that also offer comparatively good cameras.
Samsung Galaxy S22 Ultra
The best feature-rich camera phone
Google Pixel 5a 5G
The best value camera phone
Pros
Excellent camera performance
Smooth, clean software
IP67 water and dust resistance
Affordable price for its capabilities
Cons
Standard, somewhat boring design
No high-refresh display
Why should you buy this?: It's the king of budget camera phones with flagship-grade cameras.
Who's it for?: Anyone who wants one of the best camera phones but doesn't care about other blingy features.
Why we picked the Google Pixel 5a 5G:
Google's mid-range A-series phones -- starting with the Pixel 3a in 2019 -- are among the company's best sellers. The newest Pixel 5a 5G uses the same 12.2MP primary camera since the first generation of Pixel phones. Despite the static hardware, Google adds new software features and improvements every year. Because the Pixel 5a benefits from the same camera software Google uses on its flagship smartphones, it offers accurate and vivid colors. The images are very sharp and portraits are on par with the more expensive Pixel 5.
The Pixel 5a sports a secondary 16MP ultrawide-angle lens with a fixed focus that may mean details are not as fine as we see on the primary camera, but Google's photography algorithms patch up for most insufficiencies. Another major advantage with the Pixel 5a 5G is its support for low-light photography features including Night Sight and Astrophotography. Besides that, you also get access to several premium Google Photos features that are otherwise available only to users with paid Google One subscriptions.
It is priced at $499 in the U.S. or 51,700 yen in Japan, the only two countries where you can buy this phone. For other regions, you can check out our list of Pixel 5a alternatives.
Google Pixel 5a 5G
The best value camera phone
Nokia 5.3
Best cheap camera phone
Pros
Two-day battery life
Large screen size
Two years of software updates
NFC for Google Pay
Cons
Camera disappoints
Screen lacks brightness
Why should you buy this?: It's a versatile, but limited camera phone for just $200.
Who's it for?: People who want to play with a versatile camera, but don't want to spend a lot of money.
Why we picked the Nokia 5.3: While the Nokia 5.3's camera is a disappointment compared to most of the phones on this list, your options are limited in the sub-$200 price range. The Nokia 5.3 has a quad-lens setup with a 13MP main lens, a 5MP ultrawide lens, a 2MP depth lens, and a 2MP macro lens. It's versatile and functional, but not inspirational. The low megapixel count depresses the macro and ultrawide sensor and the Night Mode. Still, it's hard to find a good camera at this price, and we've allowed the versatility of the quad-lens camera to place it on this list. If you're snap-happy and love to use your phone to the fullest, consider spending more money for something like the Google Pixel 4a, definitely a stronger pick. But if you're sticking below $200, the Nokia 5.3 will do just fine.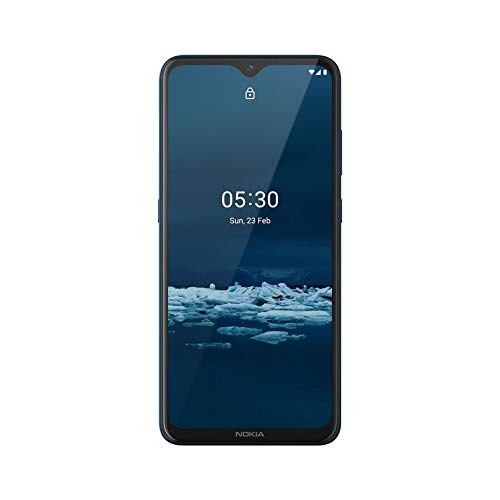 Nokia 5.3
Best cheap camera phone
Frequently Asked Questions
How to decipher camera phone specs
There are a lot of technical specifications related to the cameras in our smartphones, so here's a quick crash course to explain the basics.
Megapixels
The megapixel rating relates to detail. In simple terms: The higher the megapixel count, the more detail you'll see in the picture. For a long time, the smartphone camera specs race focused on megapixel count, but there's more to capturing a great photo than detail. It's also worth noting that many cameras do not capture at the maximum megapixel settings by default, because it's often more detail than you need. Most manufacturers are now working to improve other aspects of their cameras.
Sensor size
Sensor size is another thing to consider, as it turns out that all megapixels are not created equal. HTC coined the term "ultrapixel" to draw attention to the fact that it had bigger megapixels than some competing camera phones, so even with a 4-megapixel camera, it could potentially get better results than an 8-megapixel camera with smaller pixels. They're measured in micrometers and bigger is theoretically better at capturing light. For example, the iPhone 12 Pro Max's main lens has a 1.7 µm pixel size.
Aperture
The aperture is the hole that light travels through to hit the sensor and it's important for low-light performance. The smaller the number is, the larger the aperture. So, the f/1.7 aperture in the Pixel 5's camera is slightly bigger than the f/1.8 aperture in the Samsung Galaxy S21 Ultra's main lens. Changing the amount of light that gets in by fiddling with the aperture also enables photographers to tweak the depth of field. It helps you to capture shots where the subject is in focus and the background is blurred.
Optical image stabilization (OIS)
Optical image stabilization (OIS) helps to keep the camera steady, so if your hands are shaking, it will be less noticeable on a camera phone that has OIS support. It's compensating for the movement in your hands.
High dynamic range (HDR)
High dynamic range (HDR) is a technique whereby the camera takes multiple shots of the same subject in different exposures and then combines them in post-processing to create one single shot, which is usually brighter and more detailed than a non-HDR shot. It requires some processing power, so you'll find it might be a bit slow on budget devices like the Pixel 4a, but it's always desirable if you want the best possible photos.
Video recording
For video recording, you want to look at two things: Resolution and the frames per second (fps).
Resolution
The resolution is simply how much detail is captured. For 4K video, it's 3840 x 2160 pixels. For Full HD it's 1920 x 1080 pixels. Bigger is often better, but keep in mind you need a 4K TV or monitor to see the benefit, and 4K and 8K videos take up a lot of space on your phone's hard drive, so it's good to not keep it on 4K by default.
Frames per second (fps)
When you see a high frame rate, such as the iPhone X's ability to shoot Full HD at 120 fps, that means you can create slow-motion movies. You can slow the footage down to show detailed moments that would be a blur at a lower frame rate.
How have camera phones changed photography?
The fact that we all have smartphones in our pockets, all day, every day, has led to an explosion in photography. We snap and share more photos than ever before and the smartphone has played a major role in the reinvention of digital photography.
How many lenses should a camera phone have?
It used to be that you'd expect two lenses on your phone — one at the front, and one at the back. However, now it's not uncommon to come across phones with multiple lenses on either side.
Are camera phones better than DSLRs?
The truth is that the best smartphone cameras still fall way short of the best DSLR cameras when it comes to most shots.
What is a good megapixel count for a camera phone?
However, a high megapixel count isn't the only determiner for a good camera, and that's shown to great effect by several of our picks. If you had a 48-megapixel camera with pixel binning, for example, your output would be a 12-megapixel photo, but it would be far better than anything a regular 12-megapixel camera could produce.
Can people hack your smartphone camera?
It is technically possible, but it's not very likely. While people occasionally find ways to exploit vulnerabilities in phone software, it's usually necessary to trick you into downloading malware or to physically get a hold of your phone and install malware on it to access your phone's camera. The best way to reduce the threat is to stick to the official app stores for app downloads and secure your phone with other measures, such as your fingerprint or a PIN. If your phone is acting strangely and you see activity in the call log or camera gallery that wasn't you, then you may have a malware problem. Check out our guide on how to remove malware from an Android phone.
How we test
Here at Digital Trends, we're always holding a game controller, camera, smartphone, or some other tech device for the majority of our workday. Not having something in our hands is an infrequent occurrence. When we experiment with smartphones, it usually takes us about a week to complete.
We view this amount of time as an appropriate duration that's long enough to allow for proper testing. We examine each phone's endurance and performance in typical conditions.
It's not a secret that we are constantly using our smartphones. They are always a hand's reach away. We love using the camera, whether for recreational use, artistic hobbies, or professional business purposes. A surefire way to assess these cameras is to travel to as many locations as possible and take as many pictures, and record as many videos as you can.
You won't get an accurate idea of how quality varies between different models unless you test them out and compare them with each other. It's hard to determine our favorite camera, so sometimes we simply leave it up for discussion. Many times these discussions lead to intense photo shooting competitions and more observation.
Editors' Recommendations