When the first folding smartphones arrived, they looked and felt like something from the future. Now, just a few years after those early models were made available in limited quantities, these exciting devices have been steadily refined and improved so they're ready for everyday use. While prices are dropping as the technology matures, they're still expensive purchases, so making the right buying decision is imperative.
At the moment, there are two distinct types of folding smartphones. The first is one that resembles a regular non-folding phone that unfolds out into a larger, tablet-like device. The second is one that recalls clamshell phones like the classic Motorola Razr, where a normal-sized phone folds in half to become more compact and pocketable. They both use basically the same screen and hinge technology, but serve different needs.
In the future, other styles will likely arrive, but for now you must choose which of these two designs best suits your lifestyle. Whichever you choose, those first few weeks and months with your new folding smartphone are exciting, fun, and genuinely transformative. Now, let's get you to that stage with our list of the best folding phones you can buy in 2023.
Samsung Galaxy Z Fold 4
Best folding phone overall
Pros
Usable cover screen
Excellent multitasking features
Inner screen is great for games and video
Reliable and fun camera
Water resistant and durable materials
Cons
Heavy use kills the battery
Slow charging
The fourth generation of Samsung's flagship foldable is here, and it's everything we hoped for and more.
Available in Phantom Black, beige, Greygreen, or a Samsung-exclusive burgundy, the Z Fold 4 boasts a 6.2-inch Dynamic AMOLED 120Hz cover screen and a 7.6-inch Dynamic AMOLED 120Hz main screen. There's even a camera on the unfolded screen too, as the Z Fold 4 uses a clever, hidden under-display camera. See if you can spot it.
As you'd expect for such a versatile device, the Z Fold 4 is heavy at 263 grams, and at 15.8mm thick when closed, it is thick too. But it's not as hefty as the Z Fold 3, showing how fast the technology is moving. Samsung has also refined the screen, hinge, and chassis from the old model, so the Z Fold 4 isn't quite as tall, nor as slim as its predecessor. The Cover Screen now almost feels like you're using a non-folding phone.
Multitasking is where this foldable shines. You can split the screen into four apps at once, and the new Taskbar shows multiple quick-access icons along the bottom of the screen, just like Windows Taskbar or the dock in macOS. There's masses of power too, thanks to the fast and efficient Qualcomm Snapdragon 8+ Gen 1 processor, 12GB of RAM, and up to 1TB of storage.
The Z Fold 4 takes great photos. It has a 50-megapixel main camera, a 12MP wide-angle, and a 10MP telephoto with 3x optical zoom and 30x max digital zoom lenses. Anyone who takes video will love that it maxes out at a whopping 8K resolution at 24frames per second (fps).
If there's one thing that lets down this productivity powerhouse, it's the slightly weak 4,400mAh battery and slow 25-watt wired charging speeds. But if you're a serious multitasker looking for a stunning, powerful phone, this is the foldable to get.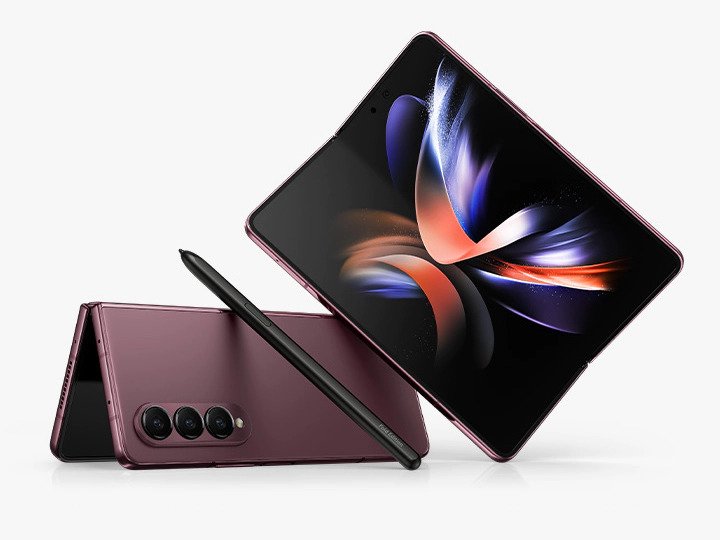 Samsung Galaxy Z Fold 4
Best folding phone overall
Samsung Galaxy Z Flip 4
Best folding phone runner-up
Pros
Flatter design looks and feels fantastic
Bespoke customization is unmatched
Excellent main display
Blazing fast performance
Good, fun cameras
Cons
Battery still only lasts a day
Limited cover screen functionality
The Z Flip 4 takes everything we loved about the Z Flip 3 and improves on it. In our review, we go so far as to say this is an almost perfect foldable flip phone, and we've even questioned if it's a better buy than the Galaxy Z Fold 4.
The Galaxy Z Flip 4 boasts the same cute clamshell design as its predecessor, but this time around, there's a flatter frame with a slightly smaller hinge — giving the phone a more compact, pocket-friendly footprint. The frosted matte glass panel on the rear hides fingerprints and feels luxe, while the slimmer hinge should still survive over 200,000 folds, according to Samsung. The Z Flip 4 comes in Bora Purple, blue, Pink Gold, Graphite, or a range of Bespoke Studio colors.
With its 6.7-inch Dynamic AMOLED 2x display with 120Hz variable refresh rate and 1.9-inch Super AMOLED cover screen, things don't look that different from the Z Flip 3. But this time around, you get Qualcomm's latest Snapdragon 8+ Gen 1 chip with 8GB of RAM, and a beefier 3,700mAh battery with faster 25W wired charging.
Samsung's also packed 12MP primary, 12MP ultrawide, and 10MP selfie cameras on board the Z Flip 4, with a 65% brighter sensor that should mean better lowlight photography.
The Z Flip 3 was a bestseller for Samsung, and with these small but important upgrades, the Z Flip 4 looks set to follow hot on its heels. However, despite better battery life, you're only going to get a full day out of this phone, and the 8GB of RAM may be limiting if you're a serious multitasker, in which case the Z Fold 4 is likely a better choice for you.
Samsung Galaxy Z Flip 4
Best folding phone runner-up
Motorola Razr (2020)
Best folding phone from Motorola
Pros
Water-repellent design
Smaller chin than 2019 Razr
Improved hinge
Cons
No microSD card slot
Small 2,800mAh battery
Motorola's successor to the Razr 2019 addresses many of the complaints about the older phone, including a lack of splash resistance.
However, it has also been replaced by the Moto Razr (2022), which unfortunately is not available in the U.S. yet. It has been released in China and the U.K., so we're still hopeful it'll arrive in the near future. Just be aware of this before snapping up a Razr (2020), and understand that when you see it available for a bargain price, this is the reason why.
The Razr 2020 has a 6.2-inch 21:9 foldable display and an external 2.7-inch Quick View display. The outer screen can run any app you want, so you can accomplish quick tasks and reply to messages. The design is notable for its 3D curved glass and an aluminum frame, and you have a choice of black, Blush Gold, and gray colors. The chin at the bottom is smoother and smaller than the 2019 version, and there's a fingerprint sensor on the back of the phone.
Motorola Razr (2020)
Best folding phone from Motorola
Samsung Galaxy Z Flip 3
Best folding phone on a budget
Pros
Truly compact
Water resistance increases durability
Beautiful screen
Cutting-edge, eye-catching design
Cons
One-day battery life
Cover Screen lacks features
Released in 2021, the Galaxy Z Flip 3 is still available to buy new from Samsung, and it costs less than the 2022 Galaxy Z Flip 4. You get a 6.7-inch dynamic AMOLED, 120Hz display when it's unfolded, and a mini 1.9-inch cover screen when it's closed up, plus an IPX8 water-resistance rating, and a dual rear camera.
It doesn't have Qualcomm's latest chip, but the Snapdragon 888 paired with 8GB of RAM and up to 256GB of onboard storage packs plenty of processing power. The biggest reason to upgrade to the Z Flip 4 is that the Z Flip 3's tiny 3,300mAh battery is unlikely to see you through a full day of heavy usage, and with 15W wired charging, it's not the fastest getting back up and running, either.
That said, the Galaxy Z Flip 3 is an excellent introduction to the world of foldables and will save you some money too. It comes in green, cream, lavender, or Phantom Black, plus a range of Bespoke Edition colors. It is still a bestseller for a reason.
Samsung Galaxy Z Flip 3
Best folding phone on a budget
Samsung Galaxy Z Fold 3
Best folding phone for productivity
Pros
Improved screen durability and IPX8 waterproofing
Powerful hardware and capabilities
Solid rear cameras
Great for multitasking and productivity
Cons
Still expensive
Lackluster battery life
The Galaxy Z Fold 3 was a revelation: a genuine step forward over the Z Fold 2, with greatly increased power, an expansive folding screen, marvelous multitasking capabilities, S Pen support, and an IPX8 water-resistance rating. It was the first time a big-screen folding phone truly impressed.
Despite the release of the Z Fold 4, the Z Fold 3 remains an excellent buy. Put the two side-by-side and the headline specs haven't changed much. You're still getting a 7.6-inch AMOLED main screen and a 6.2-inch cover display, plus there's an under-display camera hidden beneath the main screen, a 120Hz refresh rate across both displays, and stereo speakers.
One of the main differences between the two phones is the camera: Here you're getting a12MP telephoto, 12MP wide-angle, and 12MP ultra-wide cameras packed into an Armor Aluminum frame, missing out on the 50MP main camera the Z Fold 4 offers.
Inside is a Snapdragon 888 with 12GB of RAM, capable of handling everything including the latest games, but only up to 512GB of storage. Most people will never need the 1TB of storage offered by the Z Fold 4, but it's definitely something to consider, as there's no expandable storage on offer here. There's also the same 4,400mAh battery and 25W wired charging.
The final deciding factor here may be the phone's size and weight. The Z Fold 3 is less suitable for one-handed use when closed than the Z Fold 4, which boasts a shorter, broader profile and refined hinge. So if you use your phone one-handed or have smaller hands, the newer Z Fold 4 might be a better choice.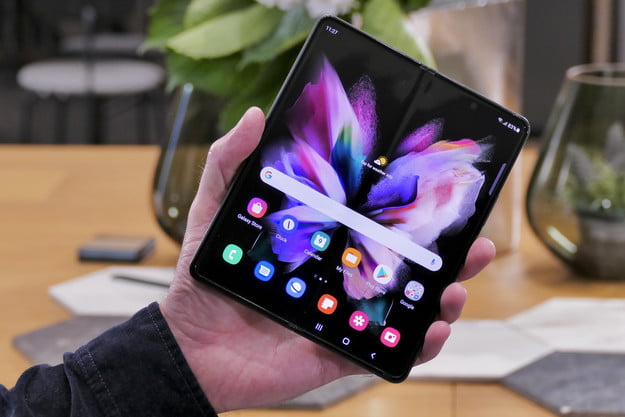 Samsung Galaxy Z Fold 3
Best folding phone for productivity
Microsoft Surface Duo 2
Best folding phone with two screens
Pros
Marked camera upgrade over predecessor
Large aspect ratio for reading and multitasking
Software is largely fixed
Top-tier flagship specifications
Superior multitasking capabilities
Cons
Poor lowlight camera performance
Awkward to hold for camera use
Still a few software bugs to work out
In October 2021, Microsoft released the Surface Duo 2, the follow-up to the original Surface Duo. This dual-screen phone ships with Android 11 and, when unfolded, has a larger 8.3-inch display than its predecessor. It measures 5.8 inches while folded. The PixelSense AMOLED display has a resolution of 2688 x 1892 while open and 1344 x 1892 when closed. There's also a bump to a 90Hz refresh rate. The phone can fold completely closed, open like a book, or fold back on itself for single-screen use.
The Surface Duo 2 packs a Snapdragon 888 processor, 8GB of RAM, and up to 512GB of onboard storage. Strong battery life, a triple camera array, 5G for future-proofing, and NFC round out the package. Uunlike Samsung's foldables, there's no IP rating here.
Microsoft Surface Duo 2
Best folding phone with two screens
Frequently Asked Questions
What makes a foldable phone different from a normal phone?
Foldable smartphones are more versatile than non-folding phones. If you choose a large folding smartphone like the Samsung Galaxy Z Fold 4, the open screen's size makes it great for watching videos, playing games, reading, and multitasking — just like on a tablet. Once you're done, you can close the phone so it's a "normal" size and easier to carry around than a tablet, yet still usable like a non-folding phone.
Models like the Galaxy Z Flip 4 are also versatile, just in a different way. Open, the screen is the same size as a large non-folding smartphone, but you can fold the phone in half when it's not in use. It's the perfect phone for anyone who values convenience but doesn't want to sacrifice a useful, modern, big screen in their quest for a more pocketable device. Non-folding smartphones can't match this level of versatility.
It's surprisingly difficult to imagine how transformative owning a folding smartphone can be, so we really recommend trying one out in a shop before buying. Often, just the action of folding and unfolding the phone is often enough to fire your imagination, and you'll start to understand how helpful this new wave of smartphones can be. Not everyone will benefit from the technology, but don't dismiss them until you've held one in your hands.
Who should buy a foldable phone?
Anyone with a strong interest in mobile technology will appreciate owning a folding smartphone, as it really does feel completely different from a non-folding phone. If you're always keen to try out the latest tech, then definitely consider making a foldable your next phone.
If you use your phone for a lot of different things, from reading and watching videos to work and endless messaging, a big-screen foldable may save you time and increase your enjoyment. Think of it as a phone and a tablet, all in one. Perhaps your phone is your only device. If so, a Galaxy Z Fold 4 may also be worth the investment due to its versatility.
Small foldable phones like the Z Flip 4 don't allow you to do anything more than a big non-folding phone, but they do conveniently fold up for easy storage in a bag or pocket. If your current big-screen phone often gets in the way or frustrates due to its size, then a small foldable may be what you need.
Which type of foldable phone should I pick?
When deciding which foldable phone you want, first decide what functions are most important to you. Are you looking for productivity? Or are you looking for the most convenient small device that fits in your pants pocket? Sometimes it's not an either/or question. If you want to use your mobile device for reading, either size makes for a great reader, but for larger-format documents, a fold-out phone makes more sense. While it may seem like a larger screen is best for video watching, a clamshell is both lighter and more widescreen compatible. Depending on your favorite games, you may pick the size based on your gameplay preferences.
What can you expect to pay for a foldable phone?
Folding smartphones are "flagship" devices, with the latest screen and design technology, plus the best processors and very capable cameras. This makes them expensive, and you should expect to pay at least the same for one as you would one of the best non-folding smartphones. If you want a big-screen foldable, then expect to pay more.
For example, the Galaxy Z Flip 4 starts at $1,000, which is what you would pay for the Apple iPhone 14 Pro. The Galaxy Z Fold 4 starts at $1,800, making it even more expensive than the very top-priced iPhone 14 Pro Max. There are ways to reduce the initial cost of the device though, outside of choosing a lengthy contract with a carrier, as Samsung and other retailers often provide generous trade-in offers.
Does only Samsung make foldable smartphones?
Folding smartphones are still very new, and they represent big investments for manufacturers. Even now, several years after they first hit the scene, only a few phone makers produce them. In the U.S., it's Samsung that most people associate with foldables, but in other countries, it's a different story.
Oppo has the Find N and Find N2, Honor has the Magic Vs, and Xiaomi has the Mix Fold 2, but none of these have received a wide release yet. This is slowly starting to change, as Honor will release the Magic Vs globally in 2023, and Oppo will bring its Find N2 Flip to global markets too. Huawei also sells the Mate Xs 2 and the P50 Pocket in regions other than China.
Google may be preparing to release its own foldable smartphone, possibly called the Pixel Fold or Pixel Notepad, if rumors are accurate. If it does, then it's almost certain it will be available in the U.S., giving Samsung some competition. The folding smartphone battle is only just getting started.
Editors' Recommendations