Folding smartphones have taken the world by storm. Initially, they appeared futuristic and exciting. However, with time, they have been refined and improved to cater to everyday use. Their prices are gradually decreasing as the technology advances, but they still remain expensive purchases, making it crucial to make the right buying decision.
Currently, there are two types of folding smartphones available in the market. The first type resembles a regular non-folding phone, which can be unfolded into a larger tablet-like device. The second type is similar to the classic Motorola Razr clamshell phones, where a normal-sized phone can be folded in half to become more compact and pocketable. Although both use the same screen and hinge technology, they cater to different needs.
In the future, other styles will likely arrive, but for now you must choose which of these two designs best suits your lifestyle. Whichever you choose, those first few weeks and months with your new folding smartphone are exciting, fun, and genuinely transformative. Now, let's get you to that stage with our list of the best folding phones you can buy in 2023.
Samsung Galaxy Z Fold 5
The best folding phone
Pros
Thinner and lighter than ever
Silent, high-quality hinge
Strong multitasking tools
Fun, social media-friendly camera
Inner screen is perfect for games and video
IPX8 and durable chassis
Cons
Battery life hasn't dramatically improved
Slow charging
Why you should buy this: It's big and powerful, and has some slight improvements that really elevate its performance.
Who's it for: Anyone who wants a tablet and smartphone in their pocket.
Why we picked the Samsung Galaxy Z Fold 5:
Samsung has been in the foldable game longer than almost everyone else, and it's easily made the most folding devices so far, with each iteration adding something new. The Samsung Galaxy Z Fold 5 isn't the biggest leap in foldable tech, but it does introduce some major changes that make it even better than ever before.
The design isn't a huge change from the Galaxy Z Fold 4, with the displays and specs being largely the same, But there are some key differences: the Z Fold 5 is significantly lighter and thinner than its predecessor, and Samsung has finally created a hinge design that folds completely flat. Yes, there's no more gap between the displays at the hinge, and that makes the phone's design so much more polished and finished. The thinner and lighter design also makes the phone much less unwieldy, which is a big bonus when handling a phone this expensive. There's a 6.2-inch display on the cover, and a huge 7.6-inch display on the inside, both with Samsung's Dynamic AMOLED 2X tech and 120Hz refresh rates.
Flagship smartphones have long since reached the point where processors are simply stupendously powerful and capable of running almost everything, but that hasn't stopped Samsung from shoving a Qualcomm Snapdragon 8 Gen 2 for Galaxy in this phone. In fairness, upgrades make more sense in the Z Fold 5, which is capable of running multiple apps at once, and needs a lot of grunt to display everything on the big inner screen. It's a powerhouse, whether you use it for work or play. It starts at 256GB of storage, and goes all the way up to 1TB if you really need the space.
The camera isn't quite a match for the one on the Samsung Galaxy S23 Ultra, but it's still more than acceptable. It has a 50-megapixel main camera, a 12MP wide-angle camera, and a 10MP telephoto with a 3x optical zoom, the same as the Z Fold 4. It's a good set of cameras, and while it suffers from Samsung's usual oversaturation, it's unlikely to let you down. There's a 10MP selfie camera on the front cover, and a 4MP Under Display Camera (UDC) is still experimental tech, but it's acceptable for video calls, even if it's not the best selfie snapper. Our Galaxy Z Fold 5 versus Fold 4 camera comparison goes into a lot more detail on the Fold 5's imaging capabilities.
The 4,400mAh battery will give you a full day and some change on a single charge, and the 25-watt fast charging is good, even if you won't get that speed with the charger in the box. The phone is fully compatible with the S Pen stylus (though it doesn't come with one), making it a good choice for sketching when combined with the larger inner screen.
Samsung Galaxy Z Fold 5
The best folding phone
OnePlus Open
The best folding phone runner-up
Pros
Great compact and lightweight size
Powerful cameras
Beautiful screens
Anti-glare inner display
Opens flat easily
67W fast charging
Intuitive multitasking
Cons
Hinge isn't firm enough
Large camera bump
Macro and 120x Super Res are not great
Why you should buy this: For a company just getting into the folding device business, OnePlus has hit a home run. The OnePlus is innovative and fun to use.
Who's it for: Anyone who wants a unique phone experience.
Why we picked the OnePlus Open:
The OnePlus Open is a remarkable device that has managed to capture the attention of many people. It is the company's first-ever foldable device and it has been built with meticulous attention to detail. The use of titanium and other materials has made it lightweight and compact when folded, making it a great choice for those who are looking for a more portable and user-friendly device.
One of the standout features of the OnePlus Open is its high-quality cover and inner display. The cover display is about the size of a typical smartphone, making it very easy to use. The anti-reflective layer on the inner display is a great addition, making it more comfortable to use than other foldable devices like the Google Pixel Fold, which has a highly reflective inner display. The overall design of the OnePlus Open is quite attractive too, and it has been well-received by those who value aesthetics and design.
In terms of performance, the OnePlus Open is a top-notch device that is capable of handling even the most demanding tasks with ease — thanks to its Snapdragon 8 Gen 2 processor. It comes equipped with the latest hardware and software, and the user interface is intuitive and easy to navigate. The battery life is also impressive, lasting for hours on a single charge. And when you need to recharge, the 67W wired charging is among the fastest you'll find on a folding phone today.
Overall, the OnePlus Open is a great choice for those who are looking for a high-quality, well-built, and user-friendly foldable device. Its lightweight and compact design, combined with its high-quality display and impressive performance, make it a great investment for anyone who values quality and innovation.
OnePlus Open
The best folding phone runner-up
Motorola Razr (2023)
The best cheap folding phone
Pros
Lightweight and compact
Camera is great for social media
Fast battery charging
Cute Moo character brightens up the cover screen
Dust and water resistance
Cons
No always-on screen
Slow wireless charging
Can get warm when pushed hard
Why you should buy this: Not everyone wants everything you could possibly get on a foldable phone. If you're one of these people, this is the one for you.
Who's it for: Anyone who wants a no-hassle foldable smartphone experience.
Why we picked the Motorola Razr (2023):
The latest Motorola Razr has turned heads with its unique and compact flip design and minimalistic features. The phone's simple yet reliable design has helped Motorola keep the price low and make it perfect for everyday use. You don't have to worry about learning how to use numerous features that you may never need. It's a folding flip phone that runs Android, and it's a lovely one at that. The vegan leather back is a great touch, the hinge feels reliable, and Motorola's Moo character is a pure joy.
There are a couple of downsides to the phone as well. The cover screen does not have an always-on option, which can be a little inconvenient for some users. Additionally, the wireless charging feature is not very efficient, and the phone's processor may struggle when overloaded.
Despite these minor drawbacks, the Motorola Razr is an excellent purchase for anyone looking for a budget folding phone or for a fantastic buy. It's currently one of the cheapest ways to get into foldable smartphones, which makes it an excellent option for those who want to experience this new technology without breaking the bank. So, if you're looking for a sleek and unique smartphone that's easy to use and affordable, the Motorola Razr could be the perfect choice for you.
Motorola Razr (2023)
The best cheap folding phone
Google Pixel Fold
The best compact folding phone
Pros
Solid build quality
Great cover display size
Barely any gap when closed
Beautiful displays
Fantastic cameras
Fast performance
Cons
Cover display scratches easily
One-day battery life
Poor wireless charging options
Why you should buy this: It's a powerful folding phone with a clean stock Android experience and multitasking capabilities. It's also noted for having a short and wide cover screen, which some might be seeking.
Who's it for: Anyone who wants a foldable phone with a normal-feeling cover display.
Why we picked the Google Pixel Fold:
Google entered the foldable smartphone market with a strong contender in the form of the Pixel Fold. If you don't appreciate the Z Fold 5's narrow cover display or prefer a cleaner, more stock Android experience, then the Pixel Fold could be a good option for you. It boasts a short and wide cover screen, which sets it apart from similar handsets on the market.
The Pixel Fold's 5.8-inch OLED cover display looks stunning and is similar to most smartphones, so it's comfortable to use and type on. Due to its size, it is also easy to use one-handed, and there is no gap when the device is closed, as seen on the Z Fold 5. On the inside, the device features a 7.6-inch inner OLED display that is positioned in landscape orientation by default, but can be rotated to portrait orientation. Both screens have a 120Hz refresh rate and are sufficiently bright for outdoor use. However, the inner display can be quite reflective due to the built-in plastic screen protector.
The Pixel Fold is powered by the Tensor G2 chip and features 12GB of RAM. It comes in two storage capacities - 256GB or 512GB. Thanks to the G2 chip, the device is powerful enough to handle everyday tasks with ease and is highly responsive. Google's cutting-edge AI and computational photography processing techniques ensure that you get excellent results with photos. As for the camera, the Pixel Fold boasts a 48MP main camera, a 10.8MP ultrawide camera, and a 10.8MP telephoto camera with 5x optical zoom. The cover display has a 9.5MP selfie camera, while the inner display has an 8MP selfie camera. You can also use the rear camera in Rear Camera Selfie mode to take high-quality selfies when the device is unfolded.
The Pixel Fold comes with a 4,821mAh battery that lasts for about a full day with moderate to heavy use. Charging speeds can reach up to 30W, but Google does not provide a power adapter, so you will need to use your own. While wireless charging is supported, its max speeds of 7.5W are a little underwhelming, and there is no reverse wireless charging feature.
Google Pixel Fold
The best compact folding phone
Samsung Galaxy Z Flip 5
The best folding flip phone
Pros
No more gap when folded shut
Extremely well-built
Hinge feels outstanding
Much more useful cover screen
Fantastic performance
Good and dependable cameras
5 years of updates
Cons
The crease is still there
Mediocre battery life
Cover screen requires lots of tweaking
Why you should buy this: Samsung's best flip phone just got even better.
Who's it for: People who miss the clamshell fold, but don't want to sacrifice the "smart" part of their phones.
Why we picked the Samsung Galaxy Z Flip 5:
I's not perfect, but it's a lot closer to perfect than Samsung has managed before. Samsung has taken everything we loved about the Motorola Razr Plus and added it to the already excellent Z Flip 4, making the Samsung Galaxy Z Flip 5 a truly excellent flip/foldable smartphone.
As with the Z Fold 5, Samsung has eradicated the gap where the displays meet at the hinge, so the Z Flip 5 now sits completely flat when folded shut. This also means the phone is slightly thinner than before, which helps it to sit better in pockets. There's also a stronger sense of quality in the Z Flip 5, with parts just feeling more solid than before, and even more so than the Motorola Razr Plus.
The other big change is the new cover screen. The Z Flip 5's cover screen stretches to 3.4-inches (up from 1.9-inches), and can do much more than before with a big selection of useful widgets. Apps are a bit more of a challenge though, and it's here you'll find one of the Z Flip 5's few problems. Getting most apps to run involves some workarounds using apps from the Galaxy Store, which is never really explained on the device, so it's a bit fiddly. However, it's still a big improvement from the Z Flip 4's small display.
The cameras are largely unchanged from the Z Flip 4, and that's not a bad thing. The image signal processor has been upgraded for the Snapdragon 8 Gen 2 and there's a new clear lens coating, but otherwise, it's as good as the camera on last year's device. Yes, some images are oversaturated and not true to life, but it's also a lot more reliable than the Motorola Razr Plus.
The battery life isn't hugely positive. Like last year's model, the Z Flip 5 is a one day-only affair, and heavy users may find themselves needing to top up before the day is over. It recharges at 25W, though, so it won't spend too long on the charger for top-ups, though you don't get a 25W charger in the box.
Samsung Galaxy Z Flip 5
The best folding flip phone
Motorola Razr Plus
The best folding flip phone runner-up
Pros
Viva Magenta color looks incredible
Water and dust resistance
Game-changing cover screen
Super-minimal display crease
Excellent performance
Lovely software experience
Cons
Mediocre cameras
One-day battery life
Wired charging capped at 30W
Why you should buy this: Motorola's Razr Plus is one of the few competitors for Samsung in the flip smartphone market, and it's a great phone in its own right.
Who's it for: Anyone who wants a powerful phone in a compact and small package that's also fun to use.
Why we picked the Motorola Razr Plus:
The Samsung Galaxy Z Flip 5 may have taken its throne, but the Motorola Razr Plus is one of the best compact flip phones we've used this year. It has a solid hinge, though it's not as stiff as that of the Z Flip 5, so you can't keep it propped up at any angle like the competition, but it's still easy to open and it can still hold the phone upright when you need it to. The Viva Magenta color is bright and eye-catching, and also has a unique leather back that adds grip. The other two colors, Infinite Black and Glacier Blue, look nice as well, but don't come with the leather backing. Instead, those two have frosted glass. The Motorola Razr Plus also has impressive IP52 dust and water resistance.
The screens on the Razr Plus are impressive. The exterior has a 3.6-inch pOLED display that is HDR10+ certified. Ithas a 1066 x 1056 resolution at 413 pixels per inch (ppi) and a 144Hz refresh rate. Plus, it can do so much more than just show you notifications and simple widgets. You can access Quick Settings and have a cover display "home screen" with panels. But the best feature is that you can run any Android app on the cover screen. Sure, it may not be the most optimized way to use some apps, but being able to access them on a 3.6-inch display without having to open up the phone is a feat in itself and makes the cover screen vastly more usable.
When you open up the Razr Plus, you get a 6.9-inch pOLED display with a 2640 x 1080 resolution, 1,400 nits of peak brightness, HDR10+ support, and a 165Hz refresh rate. In other words, it's lovely. Colors are bright and vivid, text is crisp and sharp, and it's bright enough to use outdoors in direct sunlight without issue. And if you're worried about the crease, don't be! It's very minimal compared to other foldables on the market, including the Z Flip 5.
The cameras aren't super great, as you only get a 12MP main camera, a 13MP ultrawide camera, and a 32MP selfie camera. Pictures will come out fine for the most part, but the colors may be slightly off from what you see in reality, and the phone may not capture motion shots very well.
On the inside, the Razr Plus has a Qualcomm Snapdragon 8+ Gen 1, which packs in plenty of power despite coming out last year. It also has 8GB of RAM, so the Razr Plus should handle pretty much any task with ease. But be warned — it does tend to get warm after prolonged use.
The 3,800mAh battery lasts around one full day. It reaches charging speeds of up to 30W through wired charging and 5W wireless charging. There is no reverse wireless charging, however.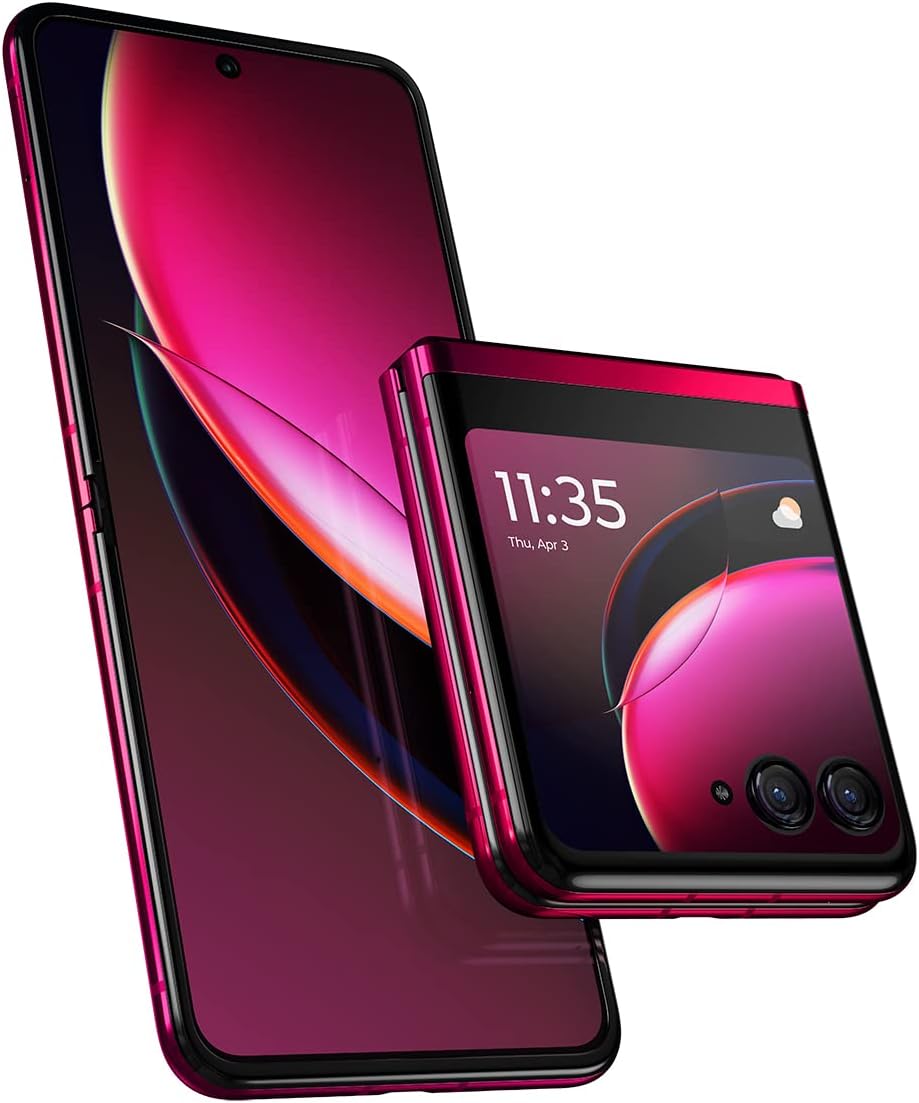 Motorola Razr Plus
The best folding flip phone runner-up
Frequently Asked Questions
What makes a foldable phone different from a normal phone?
Foldable smartphones are more versatile than non-folding phones. If you choose a large folding smartphone like the Samsung Galaxy Z Fold 5, the open screen's size makes it great for watching videos, playing games, reading, and multitasking — just like on a tablet. Once you're done, you can close the phone so it's a "normal" size and easier to carry around than a tablet, yet still usable like a non-folding phone.
Models like the Galaxy Z Flip 5 are also versatile, just in a different way. Open, the screen is the same size as a large non-folding smartphone, but you can fold the phone in half when it's not in use. It's the perfect phone for anyone who values convenience but doesn't want to sacrifice a useful, modern, big screen in their quest for a more pocketable device. Non-folding smartphones can't match this level of versatility.
It's surprisingly difficult to imagine how transformative owning a folding smartphone can be, so we really recommend trying one out in a shop before buying. Often, just the action of folding and unfolding the phone is often enough to fire your imagination, and you'll start to understand how helpful this new wave of smartphones can be. Not everyone will benefit from the technology, but don't dismiss them until you've held one in your hands.
Who should buy a foldable phone?
Anyone with a strong interest in mobile technology will appreciate owning a folding smartphone, as it really does feel completely different from a non-folding phone. If you're always keen to try out the latest tech, then definitely consider making a foldable your next phone.
If you use your phone for a lot of different things, from reading and watching videos to work and endless messaging, a big-screen foldable may save you time and increase your enjoyment. Think of it as a phone and a tablet, all in one. Perhaps your phone is your only device. If so, a Galaxy Z Fold 5 may also be worth the investment due to its versatility.
Small foldable phones like the Z Flip 5 don't allow you to do anything more than a big non-folding phone, but they do conveniently fold up for easy storage in a bag or pocket. If your current big-screen phone often gets in the way or frustrates due to its size, then a small foldable may be what you need.
Which type of foldable phone should I pick?
When deciding which foldable phone you want, first decide what functions are most important to you. Are you looking for productivity? Or are you looking for the most convenient small device that fits in your pants pocket? Sometimes it's not an either/or question. If you want to use your mobile device for reading, either size makes for a great reader, but for larger-format documents, a fold-out phone makes more sense. While it may seem like a larger screen is best for video watching, a clamshell is both lighter and more widescreen compatible. Depending on your favorite games, you may pick the size based on your gameplay preferences.
What can you expect to pay for a foldable phone?
Folding smartphones are "flagship" devices, with the latest screen and design technology, plus the best processors and very capable cameras. This makes them expensive, and you should expect to pay at least the same for one as you would one of the best non-folding smartphones. If you want a big-screen foldable, then expect to pay more.
For example, the Galaxy Z Flip 5 starts at $1,000, which is what you would pay for the Apple iPhone 14 Pro. The Galaxy Z Fold 5 starts at $1,800, making it even more expensive than the very top-priced iPhone 14 Pro Max. There are ways to reduce the initial cost of the device though, outside of choosing a lengthy contract with a carrier, as Samsung and other retailers often provide generous trade-in offers.
Does only Samsung make foldable smartphones?
Folding smartphones are still very new, and they represent big investments for manufacturers. Even now, several years after they first hit the scene, only a few phone makers produce them. In the U.S., it's Samsung that most people associate with foldables, but in other countries, it's a different story.
Oppo has the Find N and Find N2, Honor has the Magic Vs, and Xiaomi has the Mix Fold 2, but these suffered from a lack of availability in wider markets. This is slowly starting to change, as Honor released the Magic Vs globally in May 2023, while Oppo launched its Find N2 Flip to global markets too. Huawei also sells the Mate Xs 2 and the P50 Pocket in regions other than China.
Editors' Recommendations