Tablets have traditionally been among the more pricey items in the gadget market, and until recently, they've been perceived as a luxury item for consuming entertaining content as well as performing light chores like web browsing, shopping, and email. No longer. Tablets have entered into the hardcore productivity and artistic arena in a big way, often substituting for and ultimately replacing laptops for some users, especially students, teens, remote workers, retirees, and others who don't always need the horsepower of a laptop or desktop computer. Affordable tablets have improved over time as their prices dropped and huge smartphones started entering into the tablet space. If you're on a limited budget, here are the best affordable tablets that $500 or less will buy you.
If money is no object, have a look at our listing of the best tablets money can buy.
Apple iPad (2021)
Pros
Great battery life
Powerful internals
Big upgrade to the front-facing camera
Amazing software support
Base storage more acceptable at 64GB
Cons
Display doesn't get bright enough
Lightning port in 2021
Slow Touch ID sensor
This consumer base model iPad is the best tablet you can buy if you're on a budget. It's not just about the money. For everyday tasks, the 10.2-inch tablet with a Retina display is Digital Trends' only recommendation if you don't need professional features and functionality. This iPad lets you view content, facilitates video and photo editing, and helps get simple work tasks accomplished. It supports multitasking, gameplay, and works as a second screen for advanced M-chip MacBooks.
The latest iPad model runs on a A13 Bionic chip, augmented by a neural engine. It supports Touch ID and Apple Pay. For photos and video, it features an 8MP wide camera with HDR and 1080p HD video and a 12MP ultrawide front camera. The tablet comes in three storage options ranging from 64GB to 256GB. It's compatible with Apple's Smart Keyboard, a range of third-party Bluetooth keyboards, and the first-generation Apple Pencil.
Apple iPad Mini 6 (2021)
Pros
Big enough to perform most tasks
Compact enough to travel easily
Powerful performance
Loud speakers
USB-C
Cons
Screen is not bright enough
Too small for content creation
No headphone jack
If you seek a smaller size but a hugely powerful tablet, prepare to spend up to our dollar limit of $500 for Apple's newest and most advanced iPad Mini with an 8.3-inch LCD Liquid Retina Display. It features 2266 x 1488 resolution totaling 326 pixels per inch (ppi) with TureTone. The design is ultra high-end with slim bezels, a USB-C port, and a fingerprint-sensitive power button. Camera specs include a 12MP wide camera, Smart HDR 3, 4K video up to 60 frames per second, and a 12MP ultrawide front camera. It works with the second-generation Apple Pencil and a variety of Bluetooth keyboards.
The iPad Mini runs the A15 bionic processor, the same one that powers the iPhone 13. Battery life with general use gives you around a day and a half for reading, watching videos, and some gaming. The iPad Mini is fast, features a multitude of apps and multitasking capabilities, and is a stellar tablet for just about everyone.
Amazon Fire 7 (2022)
Pros
Excellent battery life
Runs simple tasks efficiently
Low cost
Portable
Optimized for streaming
Cons
Fire OS software
Long charge times
Poor display and cameras
The Amazon Fire 7 (2022) is a solid tablet choice offering a 7-inch LCD display that is more than respectable for a low-priced tablet. Its 1024 x 600 resolution is equivalent to 171 ppi.
The Fire 7 is best for basic, non-complex apps. While the MediaTek MT8168V chip, alongside Amazon's Fire OS 8 interface (based on Android 11), can tackle most simple writing, email, or social media tasks, it's not considered a gaming or productivity tablet. With its portable design, excellent battery life, and respectable performance for simple tasks, you're getting your money's worth for this extremely affordable tablet.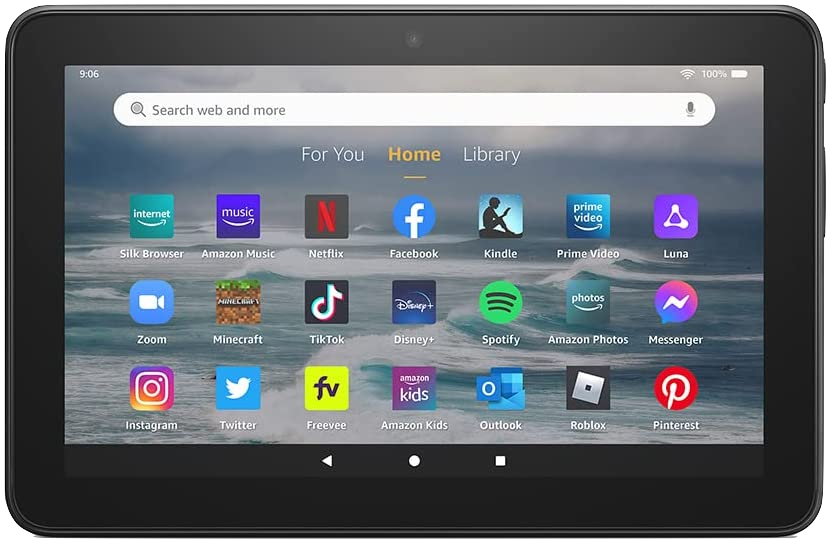 Amazon Fire HD 10 2021
Pros
Bright, beautiful display
Stereo speakers with Dolby Atmos
Supports multitasking
Cons
Does not work with Google Play Store
Inferior camera specs
The Amazon Fire HD 10 has a lovely display with a resolution of 1920 x 1200 pixels at 224 ppi, includes Dolby Atmos support, and provides enough processing and staying power to satisfy most users while working seamlessly within Amazon's ecosystem. It comes with 3GB of RAM and a quad-core processor with split-screen multitasking. There's also a 2MP front-facing and 5MP rear camera with 720p HD video recording and dual-band Wi-Fi.
The Fire HD 10 is available with 32GB or 64GB of storage, but it also supports separate microSD cards. It should last a respectable 12 hours on a single charge. This tablet runs Amazon's Fire OS, and future software and security updates are guaranteed for four years. Alexa is built-in to this tablet for voice operation, but because there's no Google Play Store, you must download apps from Amazon's App Store.
Samsung Galaxy Tab A8
Pros
Solid performance
Clear, bright screen
Slim and lightweight
Cons
Default internal memory is limited
The Samsung Galaxy Tab A8 offers decent processing power combined with a light, slim, modern design — all for a moderate price. This is a respectable tablet for those engaged primarily in simple tasks like web browsing, email, and social media and like to tote their tablet around town. It offers excellent battery life and has a beautiful, high-resolution screen.
The Unisoc Tiger T618 processor can handle most tasks, so the tablet offers more than enough power to accomplish basic work and play. The lower-end model comes with 32GB of storage, though most buyers will likely do better with the 64GB model. It also accommodates a microSD card if extra space is needed.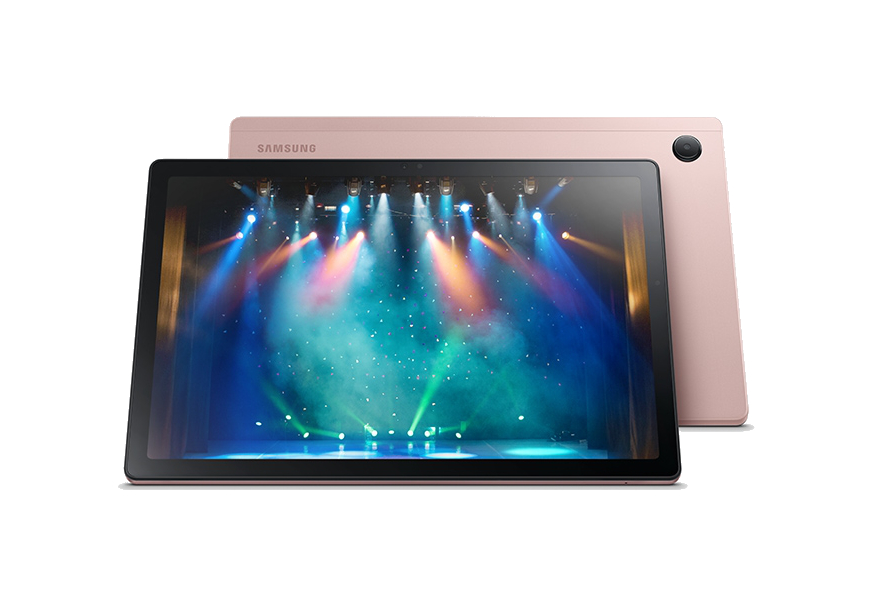 Lenovo Yoga Smart Tab
Pros
Built-in kickstand
You can hang it
Works as smart home hub
Google Assistant built in
Cons
YouTube dashboard is glitchy
Unbalanced weight
The Lenovo Yoga Smart Tab offers a 10.1-inch HD IPS display for a clear, all-angle, vibrant view. It also acts to diminish harmful eye-straining blue light. This tablet has a refined look and feel derived from its aluminum construction and soft back finish. Sound quality gets an assist with dual JBL Hi-Fi speakers and the tablet's Dolby Atmos smart amplifier.
In addition to its viewing qualities, the Yoga Smart Tab is powered by the Qualcomm Snapdragon 439 Processor, which facilitates some high-end features. It offers Google Assistant's Ambient Mode and a 60-degree voice recognition feature that detects voices throughout the room.
Amazon Fire HD 8 2020
Pros
Amazon integration
Ultra-affordable
Good battery life
Alexa
Cons
Software can feel like an advertisement
Sluggish performance
Under-par display
The Amazon Fire HD 8's most compelling advantage is that it's the ultimate in affordability and Amazon services integration. You get a small, portable design that comes in a range of colors, and it features a fast processor and a USB-C port. The display's 1280 x 800 pixel resolution and Dolby Atmos speakers work fine for watching movies.
Battery life is impressive, with up to 12 hours of use for reading, gaming, and streaming. The Fire HD 8's Fire OS software — a customized Android version — works best for users who prefer the Amazon ecosystem and is particularly beneficial for its For You interface, which suggests videos, apps, games, and movies from Amazon's own library.
Lenovo Tab M10 Plus
Pros
Great for multitasking
Large 10.3-inch screen
Accommodates a microSD card
Cons
Durability issues reported
If you're looking for a powerful but simple and affordable all-around tablet, the Lenovo Tab M10 Plus may be the ticket. It's ideal for casual multitaskers who seek routine services like email, web browsing, and music. The tablet features a 10.3-inch screen with 1280 x 1920 pixel resolution plus high-quality stereo speakers that emit a pleasing, clear sound.
This tablet runs on an octa-core processor with 2GB of RAM and 32GB of storage, and it can accommodate a microSD card slot. It also features an 8MP main camera and a 5MP front-facing camera. The powerful 7,000mAh battery guarantees 10 hours of use on a single charge.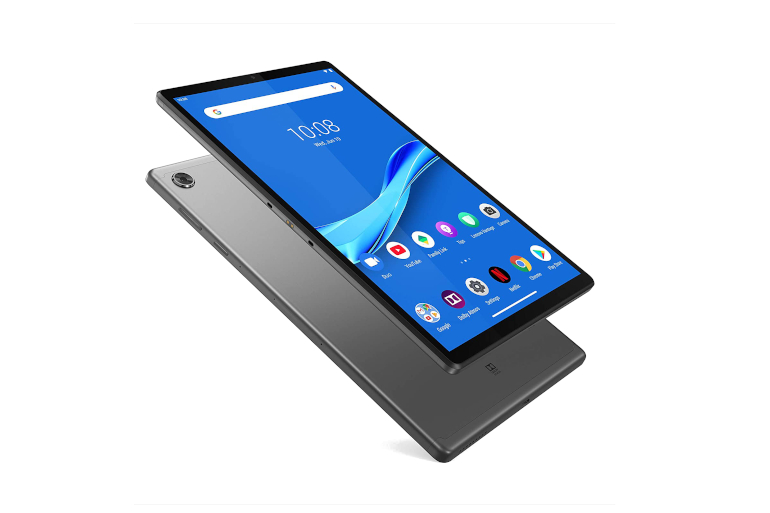 Lenovo IdeaPad Duet
Pros
Excellent build quality
Lighter than the iPad
Tremendous value
Long battery life
Cons
Cramped keyboard layout
Entire package is a bit chunky
Mediocre performance
The Lenovo IdeaPad Duet is a fine alternate choice for a 2-in-1 tablet for those seeking great performance at an affordable price. The tablet is detachable, with a separate screen and keyboard, and features 4GB of RAM, 64GB of storage, and a 7,000mAh battery lasting around 10 hours. It features an 8MP rear camera and a 2MP front-facing camera on a 10.1-inch, 1920 x 1200 pixel display — ideal for video calls. The two-tone design has a pleasing fabric texture with a keyboard that's quite comfortable.
With its MediaTek Helio P60T processor, the Duet won't run super high-end software, but there's more than enough horsepower to get everyday tasks done without having to hunt down a charger.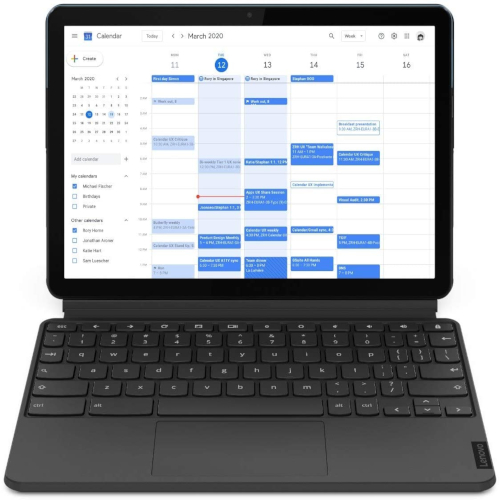 Frequently Asked Questions
Which OS is best for you?
It depends on your initial outlay. Apple's moderately priced iPads offer excellent value, last for many years, and are supported with system and security updates for as long as eight years. Android is your operating system of choice for tablets in the low-budget price range, and the Google Play Store offers a large selection of free apps and games. Things get a little complex where Amazon tablets are concerned, which run a forked version of Android — a version of Android called Fire OS. Amazon-branded tablets have access to only a limited subset of apps and games that are available in the Amazon Appstore, not the full roster available in Google's Play Store.
Can you make phone calls on a tablet?
Yes, you can make phone calls on a tablet. There are lots of high-quality video chat apps available that work with Android tablets, and many of them allow for audio calls as well. Ideally, your contact should also have the same app installed on their end. Some apps, like Skype, also allow you to call landline or mobile phone numbers, but you'll need to pay per minute or subscribe. Google Voice, which only works in the U.S., is a good app that will work on Android tablets and gives you a free number for calling, text messages, and voicemail.
Can you text on a tablet?
Yes, you can send text messages from a tablet. There are lots of great text messaging apps that work on both Android or iOS. Or, keep your life simple by using Google Voice if you are based in the U.S., as it gives you a free phone number for calls and text messages.
How do we test?
To test our tablets, we use them extensively and at every opportunity to judge their performance for a variety of tasks. We mirror our readers in using the tablets to watch movies, play games, and engage lots of different kinds of apps, as well as read, work, and shoot photos and videos. We're constantly on the lookout for new, innovative features, but we also appreciate well-executed classic design and simple operation. We judge how well the tablets we review fulfill the various needs of most users.
Editors' Recommendations