If your PC doesn't have enough ports, or if you rely on a portable device like an iPad or Surface tablet, a wireless keyboard is ideal. After all, with wireless keyboards, there are no fussy cables dangling around your feet that can get in the way. Yet performance and connectivity range/types with a keyboard are vital, so finding the best wireless model is a must — especially if you're looking for a new gaming keyboard.
If you need a wireless keyboard for your desktop or tablet, here are some that we highly recommend.
SteelSeries Apex Pro Mini Wireless
Best wireless keyboard for gaming
Pros
Unique Omnipoint 2.0 switches
Dual actuation inputs
Perfect size for gamers
Satisfying typing and gaming experience
Bluetooth and 2.4GHz connections
Cons
Unnecessarily expensive
SteelSeries GG is a bit confusing
60% form factor limits use cases
Why you should buy this: It's a versatile gaming keyboard with adjustable pre-travel distance, dual wireless connectivity, and more.
Who it's for: Pro gamers and enthusiasts looking for precise control and a premium wireless keyboard experience.
Why we picked the SteelSeries Apex Pro Mini Wireless:
The SteelSeries Apex Pro Mini Wireless does everything the best keyboards can do and more. It's a 60% keyboard that has a unique trick up its sleeves. The Omnipoint 2.0 switches on the keyboard allow adjusting of the actuation point of each key from 0.2mm going up to 3.8mm and additionally program two inputs to one key press.
Other than that, you get multi-device pairing and wireless connectivity via Bluetooth or the bundled 2.4GHz adapter for a latency-free experience. It also comes with a detachable USB Type-C cable for charging and wired connectivity while the battery lasts up to 30 hours on wireless dongle mode and 40 hours on Bluetooth with default lighting.
SteelSeries Apex Pro Mini Wireless
Best wireless keyboard for gaming
Logitech G915 Lightspeed
Best wireless gaming keyboard with low-profile switches
Pros
Excellent mechanical design
Low latency for gamers
Onboard media controls
Why you should buy this: It's our pick for best wireless keyboard.
Who it's for: Anyone that needs a long-lasting backlit mechanical wireless keyboard.
Why we picked the Logitech G915 Lightspeed:
The G915 is not aware that it is a wireless keyboard: It has a great mechanical design, RGB backlighting, a numeric keypad, and a low profile for comfortable positioning. The indicator lights up top are excellent for monitoring what mode you are in, battery life, and other key settings, while the aluminum top plate is great for durability. The keyboard is specifically designed so that it won't slow down gamers who may need a wireless solution — as long as they can afford it.
One three-hour charge can provide up to 30 hours of performance for the G915 Lightspeed. Logitech also made sure that it provides great feedback at the point of actuation if you've become used to mechanical keyboards. Onboard memory also is included, so you'll always have your customized settings with you. There's even a handy little side roller for instantly controlling volume, plus other onboard media controls.
Logitech G915 Lightspeed
Best wireless gaming keyboard with low-profile switches
Microsoft Surface Keyboard
Best slim wireless keyboard for Windows users
Pros
Great for Windows users
Excellent battery
Matches Surface products
Cons
No backlit keys
No software customization options
Why you should buy this: It's the best wireless keyboard for Surface devices and other Windows PCs.
Who it's for: Anyone who wants a clean-looking keyboard for a PC or Surface device.
Why we picked the Microsoft Surface Keyboard:
Microsoft's Surface-branded product line includes several killer convertible tablets. There are high-end solutions like the Surface Book 23 with its fantastic battery life and the extremely portable Surface Go at the entry level. Whether you have one of those or a laptop or desktop from another manufacturer, Microsoft's Surface Keyboard is a great accessory to consider.
This portable, lightweight keyboard has a fantastic battery life lasting up to 12 months on just two AAA batteries (included). The keys rate up to 500,000 actuations, making it less durable than a mechanical keyboard, but it should last for years of remote typing. The Bluetooth 4.0 connection offers quite the range, too, with up to 50 feet in the open air or up to 23 feet in an office environment.
The Microsoft Surface Keyboard is compatible with Windows, MacOS, iOS, and Android.
Microsoft Surface Keyboard
Best slim wireless keyboard for Windows users
Apple Magic Keyboard
Best wireless keyboard for Mac users
Pros
Perfect for Mac and iPad users
Upgraded key design
Bluetooth connections
Cons
Not ideal outside of Apple computers
Why you should buy this: It's the best keyboard for Apple devices.
Who it's for: Anyone who has an Apple device like a Macbook or iPad.
Why we picked the Apple Magic Keyboard:
Apple's redesigned Magic Keyboard is everything Apple fans (and others) could want from a minimal Bluetooth keyboard design. Older Magic Keyboards had a rolled base that propped the keyboard's backside up to make room for AA batteries. This latest model has a rechargeable battery, so the keyboard lies flatter than previous versions.
Apple's upgraded keys now have slightly more weight when typing, which is an improvement. The arrow key redesign is somewhat less welcome, but the overall advantages of this new design are hard to deny. The Bluetooth battery claims a one-month charge, too, so you can carry this keyboard around without worrying about its longevity.
Overall, the Apple Magic Keyboard may be slightly larger than other options on our list, but it works well with both iOS and MacOS products. For Apple loyalists, this is the keyboard for iMac to buy.
Apple Magic Keyboard
Best wireless keyboard for Mac users
Logitech K400 Plus
Best wireless keyboard with built-in trackpad
Pros
Keyboard and trackpad combo
Portable
Made of lightweight plastic
Cons
Not as useful if you already have a wireless mouse
Why you should buy this: It's a super-compact all-in-one keyboard and touchpad.
Who it's for: People who don't have a lot of space on a desk, or need a keyboard for a media center.
Why we picked the Logitech K400 Plus:
Many people have exalted the Logitech K400 Wireless Keyboard as one of the most convenient mobile keyboards on the market. The Plus version is a slightly updated model that delivers the same experience with additional media keys. With its minimal size and lightweight design, you can easily transport this keyboard anywhere you like. It also boasts a variety of cool features that make it incredibly easy to use.
For example, many of us use our devices while relaxing at home. If we don't want to sit at a desk or table and push a mouse, the K400 Plus alleviates this problem by integrating a 3.5-inch touchpad, allowing you to type and search the internet right from your favorite spot on the couch.
The Logitech K400 Plus also makes for a fantastic web browsing experience, with its 10m range, 18-month battery life, and wide-ranging computer compatibility (using a USB dongle).
Logitech K400 Plus
Best wireless keyboard with built-in trackpad
Logitech MX Keys
Best wireless keyboard with scissor-style switches
Pros
Backlit
Works with up to 3 devices
USB-C charging
PC and Mac layouts
Why you should buy this: The keyboard is backlit, works with different devices, and is PC- and Mac-friendly.
Who it's for: Anyone with a PC or a Mac or Android or iOS device.
Why we picked the Logitech MX Keys:
Logitech is known for good keyboards and the MX Keys is no exception. This keyboard has some good key travel despite having scissor-style switches and works with both PCs and Macs thanks to a layout that's friendly to both operating systems. USB-C connectivity also means you can charge it up quickly without worrying about batteries and overall the keyboard is built very well.
The keyboard also offers smart backlighting where inbuilt proximity sensors light up the keys as soon as your fingers approach them. This means that no matter what the time of day, you'll be comfortable typing. It also has the ability to connect to multiple devices at once, so you can easily switch between them if working on different desktops, laptops, or even tablets.
Logitech MX Keys
Best wireless keyboard with scissor-style switches
Logitech MX Mechnical
Best wireless mechanical keyboard for office productivity
Pros
Excellent typing experience
Works with Windows and MacOS
Pairs with up to three devices at once
Adaptive, useful backlight
Pairing is a breeze
Cons
A bit expensive
Limited key remapping options
No hot-swappable switches
Why you should buy this: The keyboard is designed like a gaming keyboard, but is more catered for productivity.
Who it's for: Anyone who wants the feel of a gaming keyboard, but uses it for office or school work
Why we picked the Logitech MX Keys:
We're already a big fans of Logitech's gaming keyboards and productivity-focused MX lineup. The new MX Mechanical takes everything from the Logitech G-series lineup and the MX lineup and blends it into a near-perfect mechanical wireless keyboard.
Along with options for three different switches, the ability to work with both Mac and Windows systems, and pairing with three devices, this keyboard will help you type up a storm. It is also backlit, but in a plain white pattern, without distracting RGB lights. Not to mention that you can pair it with up to three different devices.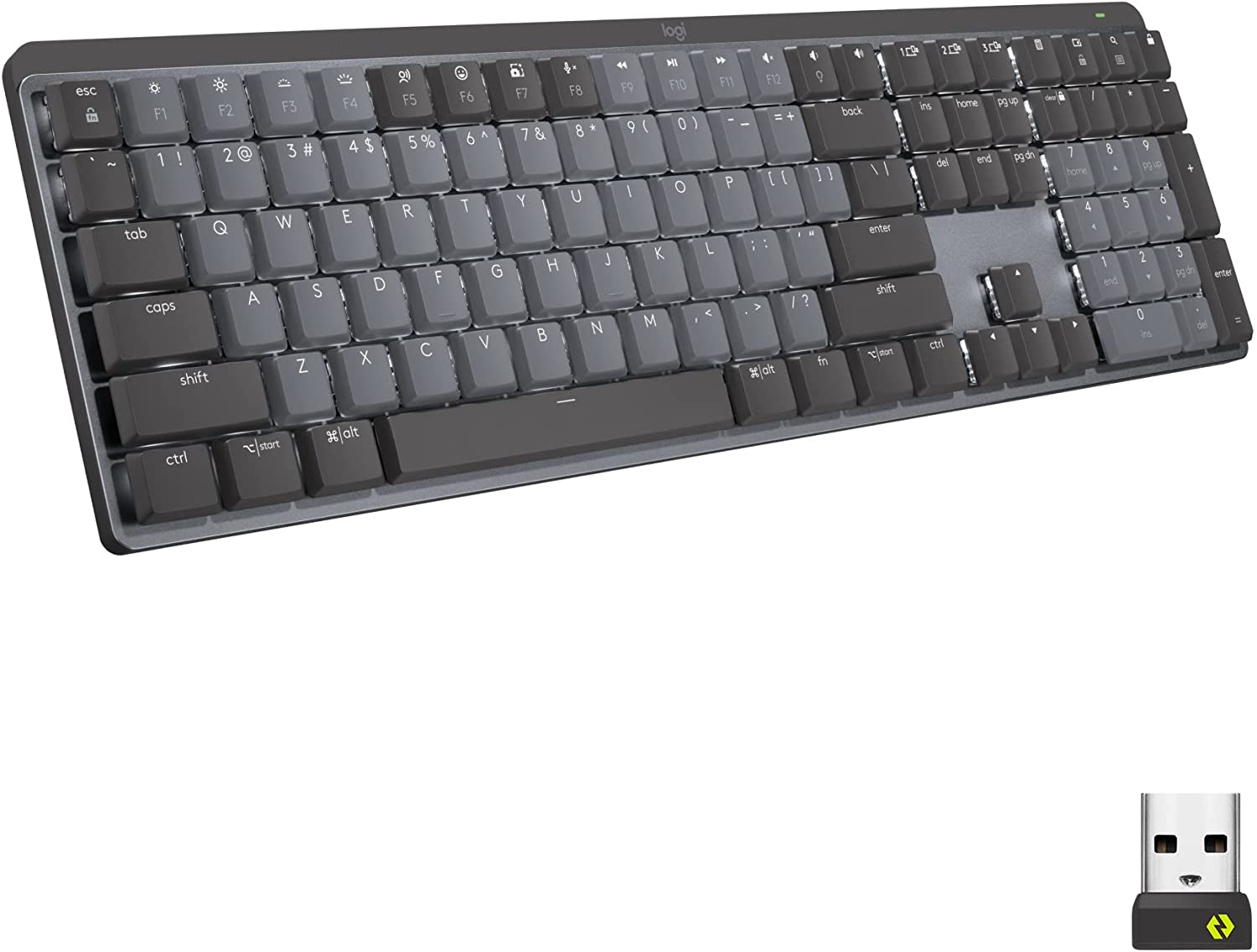 Logitech MX Mechnical
Best wireless mechanical keyboard for office productivity
Frequently Asked Questions
Are wireless keyboards any good?
That depends on what you buy. Generally, they work well at all price ranges, but you won't get a premium experience from a $20 product (although you will save money).
Wireless keyboards are better now than in years past, especially from companies like Logitech and Razer, which use proprietary, fine-tuned wireless connections. Wireless aims to remove the cords, after all, and that means continuous refinements so you can't tell the difference between wired and wireless response.
Companies like Logitech and Razer also develop proprietary keyboard switches for better accuracy and longevity. But again, if you buy a cheap product, you get cheap components. The switch in a budget model won't have the same lifespan as one installed in a premium model.
Which brand makes the best wireless keyboards?
Some of our favorites include Cooler Master, Corsair, Logitech, Ducky, Steelseries, and Razer. Not every keyboard they make is great, but they make some of the best. Which one is right for you will depend on your personal preferences and budget.
Bluetooth vs. RF: What's the difference?
Short for Radio Frequency, RF consists of electromagnetic radio waves with frequencies ranging from 20KHz to 300GHz. RF has a range of up to 30 yards.
Bluetooth is an RF protocol that transmits data at a specific frequency of 2.4GHz. The range depends on the Bluetooth class: 3.3 feet, 33 feet, and 328 feet.
Some manufacturers create wireless keyboards that support both Bluetooth and RF. While Bluetooth offers greater compatibility with most modern PCs, RF should be used if latency and speed are of concern. Additionally, some proprietary RF specifications, like Logitech's enterprise-ready Logi Bolt, are designed to reduce noise and work in congested wireless environments to deliver a more reliable and secure connection.
How long do wireless keyboards last?
That depends on the model. Generally, you get what you pay for. The more expensive models tend to outlast the cheaper units that have cheaper components.
In terms of battery life, that will depend on the keyboard's use, the model, and the type of battery. Some units have rechargeable batteries that wear down over the years. Meanwhile, budget batteries won't outlast a Duracell or Energizer battery. Turning off the backlighting can substantially extend battery life, too.
Overall, battery duration could span from hours to years.
Can you use a wireless keyboard with a laptop?
Yes. A computer is a computer, whether it's a desktop or a laptop model.
Generally, wireless keyboards connect in one of two ways: Through Bluetooth, or through a USB dongle. Typically there isn't a component within a computer that can connect to a wireless keyboard outside Bluetooth connectivity. That's why some models ship with a USB dongle — they don't use Bluetooth. As previously stated, some manufacturers use a proprietary 2.4GHz connection instead.
Do all wireless keyboards work with Mac?
Yes, and you can even use a Windows-based keyboard with a Mac. However, there are some differences:
Windows key — This doesn't work on MacOS.

Ctrl key — This is the equivalent of the Command key in MacOS.

Alt key — This is the equivalent of the Option key in MacOS.

Backspace key — This is the equivalent of the Delete key in MacOS.

Delete key — This forward-deletes in Windows. On Mac, the equivalent key typically reads Del with a crossed-out right arrow symbol. On MacBooks, this command requires the Fn + Delete key combo.
Finally, Apple's platform relies on a Control key, which serves as a right-click function. There is no equivalent on a Windows keyboard.
What should I look for in a wireless keyboard?
What exactly do you need?
If you're sitting on the couch and need to control media, a wireless keyboard with a built-in touchpad would be ideal. It doesn't need to be expensive, but it should be durable and include backlighting you can toggle on and off as needed.
If you're a gamer, programmable mechanical keys would be preferable, although stay away from gratuitous lighting if you never plan to connect it with a USB cable, as it can really drain the battery. Corsair and Razer make solid wireless keyboards that are ideal for LAN parties and tournaments.
For laptops and tablets, look for units that are just as portable, but don't get a keyboard so small that you feel like you're typing on a toddler's toy. For desktops, go with full-sized ergonomic models with backlighting so you can type in the dark.
Going with Bluetooth or a proprietary wireless connection really doesn't matter so long as you don't need extremely low latency. Gamers, however, need that instant response whereas loading media on the couch doesn't require twitchy finger action.
If you enjoy the clicky feeling of old-school typewriters, then you may prefer mechanical keyboards (specifically with Cherry MX Blue-style switches) over membrane models. The difference between the two is in the switches and keycaps: Mechanical has an encased stem and spring mechanism under a tall cap, whereas membrane presses two contacts together to make the key actuation. The latter typically has a "scissor" mechanism that allows the flat keycap to pop back up into place.
If you're looking for a new wireless keyboard, be sure to get one that matches your operating system. If you plan to buy one for multiple devices, determine which keyset you plan to use most: Windows or MacOS. Units that can connect to multiple devices with just a tap of a button are great for switching between PCs, smartphones, and tablets.
Do pro gamers use wireless keyboards?
Sometimes, yes. Concerns about latency or interference with wireless keyboards aren't nearly as high today as they were in the past when wireless technology was much newer. While some latency still exists, it's so low that even professional gamers can't notice it on the right keyboards.
How do you clean wireless keyboards?
The same way you clean any keyboard. Actually, since the keyboard is more maneuverable, it's usually an easier job.
What batteries do wireless keyboards use?
That depends. Most wireless keyboards are trending hard toward internal lithium-ion batteries that can be recharged by plugging a USB-C cable or similar connection into the keyboard. Some models may still use the classic two AA batteries, though. Lithium-ion batteries may not be replaceable, but they last for months at a time, and recharging is painless as it simply turns your keyboard into a wired model for a brief time.
Editors' Recommendations