One of the best parts of the summer is getting to show off your barbecuing skills. And like every good cowboy needs their trusty steed, every decorated outdoor chef needs their grill. 
These days, outdoor grills come in all shapes and sizes, with plenty of features to set each unit apart from the next. But with all the grilling tech to consider and head-spinning prices to contend with, it can be difficult to actually choose a grill for your patio. Fortunately, we've been keeping tabs on all the latest and greatest breakthroughs in the world of porch-bound appliances (including the best smart grills and smokers), and are pleased to bring you this roundup of the best outdoor grills you can buy right now.
Weber E310 Outdoor Gas Grill
The best gas grill
Pros
Porcelain cooking surfaces evenly distribute heat
529 square feet of cooking space
Heavy-duty caster wheels
Lid-mounted temperature gauge
Cons
May be too small for some
Knobs and buttons are a little on the cheap side
Weber has long been a dominating and trustworthy name in home grilling, and the Spirit E310 is a perfect summation of their years of innovation and experience. Whether you're grilling steaks for two or grilling burgers for the whole crew, the Spirit is built for reliable performance for any sized meal.
Most of the magic is achieved through a fine working of grilling fundamentals, specifically, Weber's porcelain engineering. The Spirit's cooking grates, lid, and internal flavoring tray are all porcelain-enameled. The porcelain surfaces all work in unison to retain and evenly distribute heat throughout the grill body, ensuring your food is well-cooked and loaded with flavor.
The Weber Spirit E310's 529 square feet of cooking space means you'll have plenty of room for any food you can think of. Char some watermelon slices and chocolate treats on the stainless steel grill while letting your burgers simmer on the top rack of the cook-box.
The heavy-duty caster wheels make it easy to push the Spirit around your property or to load it onto the bed of a pickup or into a van to go grill at your buddy's place. The lid-placed temperature gauge lets you monitor how warm things are when the lid is closed, and the fuel gauge (located near the tank) keeps a constant eye on how much propane you've got to work with.
Weber E310 Outdoor Gas Grill
The best gas grill
Weber E210 Outdoor Gas Grill
The best grill for beginners
Pros
450 inches of cooking space
Heavy-duty caster wheels
Great for couples and small families
Cheaper than the E310 model
Cons
Not as powerful as the E310 model
One less burner than the E310 model
If this is the first summer that you've considered getting into grilling and investing in a model for your patio, consider the Weber E210 Outdoor Grill. Beginners will relish the simplistic design and easy-cook features of the Weber E210 Outdoor Grill, a single step down from our go-to E310 option.
Built to accommodate real-estate-starved patios and porches, the two-burner E210 touts 450 inches of cooking space, in addition to two foldable side tables, a convenient warming rack, and rugged caster wheels for simple mobility.
While you're not getting as much cook-space as you do with the E310 model — and you'll have to contend with one less burner and a little less cooking power overall — the Weber E210 delivers a level-headed grilling experience for newbies at a reasonable cost.
Weber E210 Outdoor Gas Grill
The best grill for beginners
Traeger Grills Pro Series 575
The best smart grill
Pros
Traeger app allows you to remotely cook and monitor food
Works with Alexa
Wood-pellet design
When it comes to web connectivity, a great smart grill should be able to prepare foods like a champ, while delivering a rich assortment of in-app features to take your grilling to the next level.
For new grillers and vetted chefs alike, the Traeger Pro Series 575 is one of our favorite smart options on the market. Designed for the ultimate in wood-pellet cooking, the 575 touts 575 inches of cooking space, a maximum grill temperature of 500 degrees, and best of all, Wi-Fi connectivity to deliver a unique assortment of in-app features.
Once paired to your Wi-Fi, you can use the Traeger app to monitor cooking temperatures, turn the grill on and off, set schedules, and more. You can even use Alexa to communicate with the 575. Available voice commands control everything from cooking temps to schedules, timers, and more.
Traeger Grills Pro Series 575
The best smart grill
Royal Gourmet GB8000 Event Grill
The best for large gatherings
Pros
Eight 13,000 BTU stainless-steel burners
950 square foot cooktop
Convenient electronic ignition system
Nonstick cooking surface
Cons
Needs a significant amount of space
Here's one for the household that throws all the shindigs. This mighty 104,000 BTU gas grill by Royal Gourmet features eight stainless steel tube burners, each firing at 13,000 BTUs over a 950-square-foot cooktop. That's enough room for 60 burgers or 120 hot dogs all sizzling at the same time.
An electronic ignition ensures fast startup when it's time to start grilling, and the two bottom-mounted grease cups keep the liquid gristle away from your meats. Four-inch locking wheels make it simple to move the Royal Gourmet GB8000 around, and the entire cooking surface is non-stick, so cleanup is a breeze.
Royal Gourmet GB8000 Event Grill
The best for large gatherings
Char-Broil Classic 360 Gas Grill
The best budget grill
Pros
Three stainless-steel burners
Pieze ignition system
Two foldable shelves
Great price
Cons
Lacks more advanced grilling features
Char-Broil gets a second mention with the no-frills Classic 360, a 360-square-foot cooktop with porcelain-coated grates. This gas grill uses three stainless steel in-line burners for all of your cooking. A Piezo ignition system means fast fire-ups with the single push of a button, and the grill sits on two 6-inch wheels for easy movement. There are also two foldable side shelves if you need a nearby place to keep utensils and ingredients.
While the Classic 360 may not come loaded with the bells and whistles of more higher-end offerings, it nails all the must-haves for any backyard grill and does so at a price most folks can wrap their heads (and stomachs) around. Many customers are also fans of the simple assembly and overall ease of use when it comes time to do some actual grilling.
Char-Broil Classic 360 Gas Grill
The best budget grill
Traeger Ironwood 885
The best pellet grill
Pros
885 inches of cooking space
Wi-Fi features and Alexa controls
Wood pellet design
Gas grills have the convenience of being quick to start and reliable, but sometimes you get a different kind of flavor out of your grills when you use different materials, like wooden pellets. If you've ever had barbecue ribs from a pellet smoker, you'll know there's simply no other way to eat ribs. When it comes to a modern outdoor grill, the Traeger Ironwood 885 is filled to the brim with everything a grill master needs to impress friends and family.
Of course, you can bake, roast, braise, and grill all of your foods with this grill, but you can also smoke them to draw out flavors you won't get with traditional gas grilling. You also get consistency thanks to temperature control, even out of a wood pellet grill, so that your foods always come out the right way each and every time. There's plenty of room, too, because it features a generous 885 square inches of capacity — more than enough to cook all your favorite barbecue dishes.
Over on the tech side, the Traeger Ironwood 885 features a WiFIRE controller, which allows you to set, monitor, and adjust the temperature all through your mobile device using the Traeger app.  This allows you to relax in peace knowing that you'll be kept in the loop when it's all done cooking through alerts that come to your phone.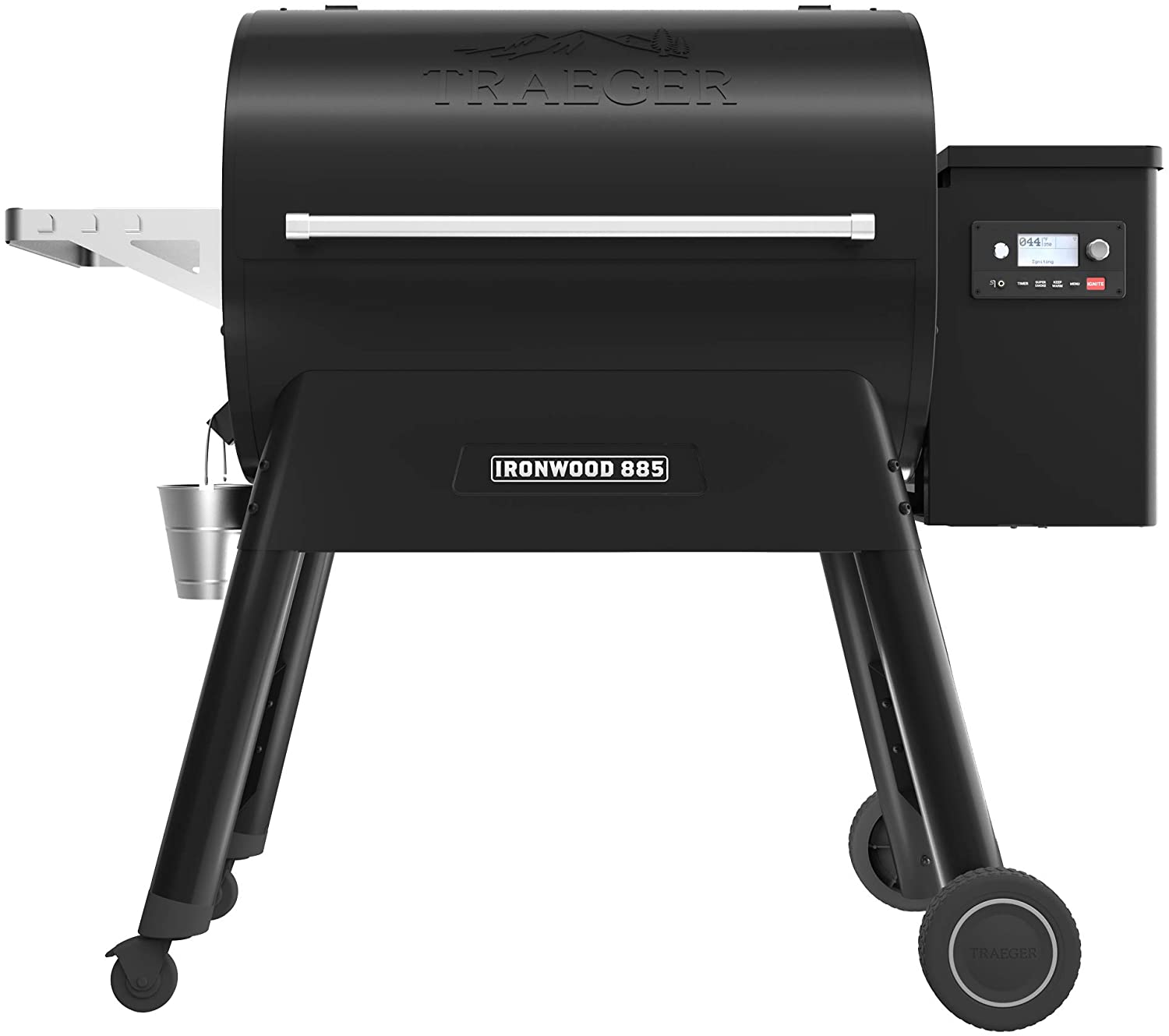 Traeger Ironwood 885
The best pellet grill
Kamado Joe Classic II
The best charcoal grill
Pros
18-inch grill top
Double-tiered grill gate
Can grill at temps from 250 to 750 degrees
Cons
Charcoal grilling may not be for everyone
A bit expensive
Kamado-style grilling can be traced back over 3,000 years to parts of China, where primitive kamados were fashioned from earthen resources, particularly clay. Today, smokers like the Kamado Joe Classic II showcase a number of key elements from the traditional kamado design, along with a few modern touches.
For starters, the ceramic-shelled Classic II boasts an 18-inch grill top for all your smoking/searing/baking needs. Easily whip up entire entrees with roasted sides, or make a lot of one kind of food, like steak tips or charred veggies. If you'd rather keep your food separated, the Classic II's double-tiered grill grate allows you to cook different foods at different temperatures, but at the same time.
For smoking precision, the Kamado Joe Classic II features a Kontrol Tower Top Vent that maintains a perfect airflow for the kamado while allowing you to grill at temperatures ranging from 225 up to 750 degrees. This is also an easy grill to drag in and out of the garage, thanks to the rugged wheels and locking casters. Cook, eat, then easily store away until your next meal.
While this is one of the more expensive offerings on our list, the Classic II is a well-armored grilling stalwart that offers up the best of kamado cooking. In terms of charcoal grilling, it doesn't get much better than Joe.
Kamado Joe Classic II
The best charcoal grill
Nomadiq Portable Propane Gas Grill
The best portable grill
Pros
Convenient folding design
Only weighs 12.3 pounds
Dual temperature controls
226 inches of cooking space
Cons
Lacks the real estate of larger grills
Are you a regular camper? Sick of relying on those old rusted campsite grills? Stop with all of the hassles and go with the convenient Nomadiq Portable Propane Gas Grill. It's so portable, in fact, that you can strap it around your shoulder for true on-the-go grilling whenever and wherever.
Its folding design makes it a snap for setup and pack-up, while its 12.3-pound weight isn't a burden at all to truck around. Powered by portable propane gas tanks, the Nomadiq Portable Propane Gas Grill offers dual temperature control to get the right amount of heat to cook your foods. With 226 square inches of grilling space, it's enough to cook a main serving — as well as a side dish.
Whether you're hiking over the weekend, having a get-together at the park, or simply having a small shindig in your backyard, its design makes it convenient for all special occasions. Best of all, it's simple to clean and barely takes up any space at all when it's not being used.
Nomadiq Portable Propane Gas Grill
The best portable grill
Editors' Recommendations