Smart home devices have come a long way over the past few years. Walk into any home improvement store or supermarket, and you're bound to find a wide variety of smart lights, smart locks, smart thermostats, and an assortment of other "smart" gadgets. But one often overlooked category is smart plugs – tiny devices that plug into your electrical outlet and give your "dumb" electronics the versatility of a modern smart home device.
Beyond giving you remote control of your outlets, many smart plugs allow you to set timers or monitor your electricity usage. This makes them surprisingly versatile while still carrying an affordable price tag. Plenty of big names (like Amazon and Wyze) are producing smart plugs, but they're far from your only option. Here's a closer look at the best smart plugs of 2023.
Amazon Smart Plug
Best smart plug for Alexa
Pros
Easy setup
Supports routines and schedule
Energy saving tips
Cons
No support for HomeKit or Google Assistant
Amazon's very own smart plug seamlessly works with Alexa, and its Certified for Humans ranking means setup is as simple as plugging it in and following a few basic directions. Its design is narrow, so it leaves the other outlet free for use. You can set up routines and schedules through the Alexa app, while the Alexa energy dashboard provides recommendations on how to save energy.
Amazon Smart Plug
Best smart plug for Alexa
Wemo Smart Plug with Thread
Most compact smart plug
Pros
Monitors and reports on electricity usage
Doesn't require a hub to work
Includes Thread support
Belkin's latest smart plug is a big improvement from its last version. It's a compact option that can fit nearly anywhere and sports built-in compatibility with Siri. Made with the Apple HomeKit in mind, this plug is a great pick for Apple fans and those who are already using the Apple Home app.
This smart plug also includes support for Thread, part of the smart home Matter standard, which helps establish a more secure connection. That feature is useful for those who may be worried about hacking or who want the most reliable connection.
Wemo Smart Plug with Thread
Most compact smart plug
TP-Link — Kasa Smart Wi-Fi Plug Mini
Best budget smart plug
Pros
Affordable
Supports Alexa and Google Assistant
Use the app to create weekly schedules
Cons
Not compatible with Apple HomeKit
At about half the price of some of the other smart plugs on this list, the TP-Link Kasa Smart Wi-Fi Plug is a solid choice if you're on a budget. It's compatible with Amazon Alexa and Google Assistant, or you can just use the app. Use the app to create schedules for powering your devices on and off for up to a full week.
TP-Link — Kasa Smart Wi-Fi Plug Mini
Best budget smart plug
Wyze Smart Plug
Best smart plug ecosystem
Pros
Supports Alexa and Google Assistant
Vacation Mode
You can use IFTTT to link up the Wyze Smart Plug to other devices
Cons
Not compatible with Apple HomeKit
The Wyze Smart Plug is just slightly more expensive than the TP-Link WiFi Smart Plug, with a two-pack for just $20. On its own, the plug is just $12. It works with Amazon Alexa and Google Assistant, allows custom scheduling, and offers a Vacation Mode that imitates the presence of people in the home by randomly turning lights on and off. The Wyze Sense feature means you can control appliances based on motion, and you can link up the Wyze Smart Plug to other devices through IFTTT.
Wyze Smart Plug
Best smart plug ecosystem
Lutron Caseta Plug-In Lamp Dimmer Switch
Best smart plug for lamps
Pros
Supports Serena shades, Sonos, Alexa, and Google Assistant
Set schedules and create routines
Adjusts to seasonal changes
Cons
Little bulky
Lacks Apple HomeKit support
The Lutron Caseta Plug-In Lamp Switch is great for keeping your electric bill low and home security high. Controllable with Alexa, Google Assistant, Serena shades, and Sonos, you can dim lights, set schedules, and create lighting routines with voice commands or the Lutron app. The switch is also seasonally savvy, meaning as the days grow shorter or longer, the switch adjusts lamp light based on how much sun a room is getting. The unit itself is a little bulky, so you'll want to make sure it's not going to interfere with power brick items.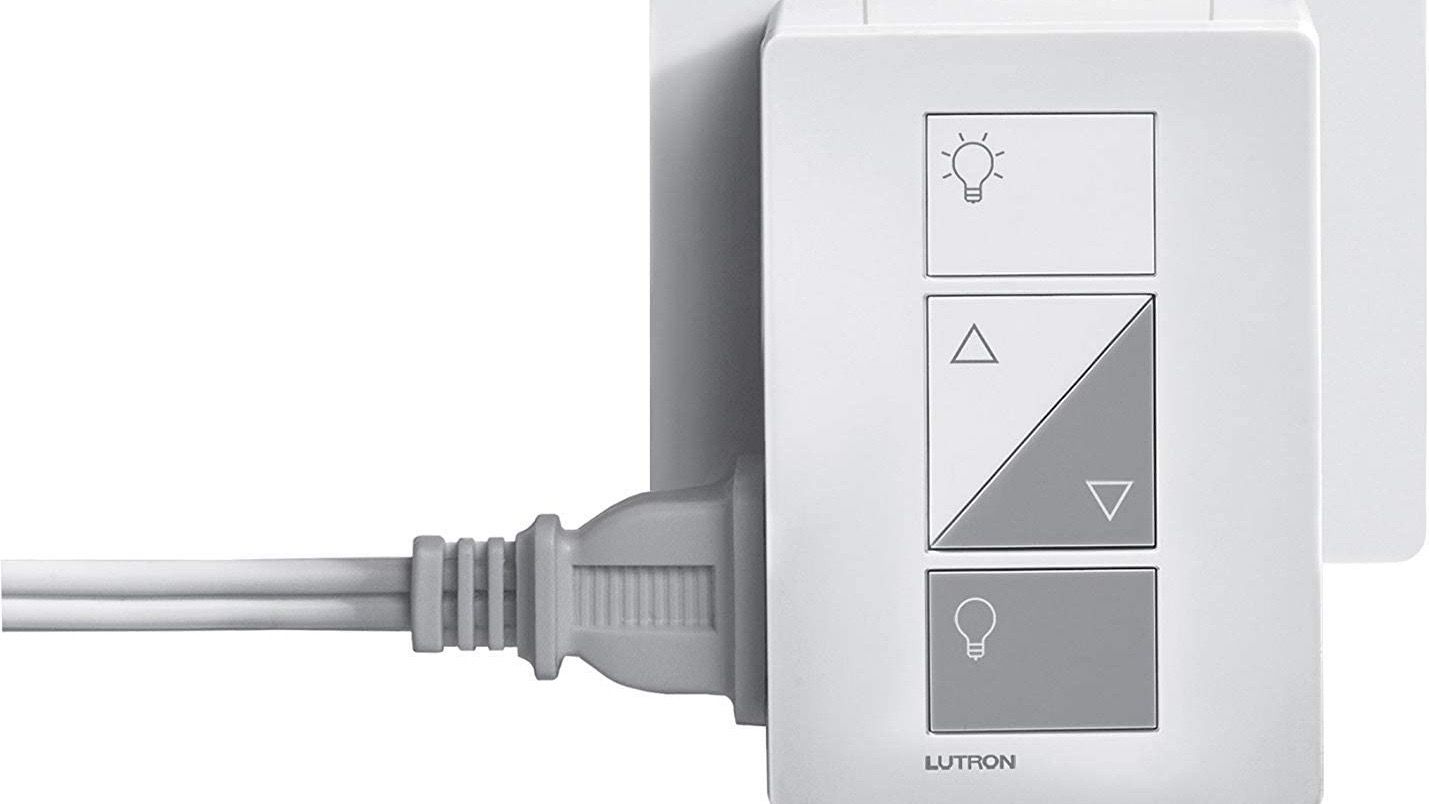 Lutron Caseta Plug-In Lamp Dimmer Switch
Best smart plug for lamps
Frequently Asked Questions
What is a smart plug?
There are plenty of exciting innovations in the world of home automation, between virtual assistants that can control your smart devices, connected appliances, or smart thermostats. You can also upgrade a regular appliance and add it to your smart home system by using a smart plug.
Smart Plugs take a wired home to a new level. They plug into your outlets and let you run small home appliances through Alexa, another intelligent home device, or the sound of your voice. A smart plug turns a "dumb" device, like a coffee maker, room fan, or table lamp, into a smart device. 
Exactly how a smart plug communicates will vary by brand. Wi-Fi is common enough, but you'll also see Bluetooth, Zigbee, and Z-wave used to let smart plugs connect to the internet and your phone. Of course, you'll need to ensure the router or other required hub is within range of the smart plugs that you're connecting. Placement can be a challenge in bigger houses, but it's nothing a Wi-Fi extender can't fix.
How do smart plugs work?
Using smart plugs is super simple. First, you plug a smart plug into an outlet. Then you plug something else (like a lamp or appliance) into it. Finally, you connect the plug to your favorite home assistant, such as Amazon Alexa or Google Assistant, or the smart plug's app. From there the smart plug turns the power supply to the item you plugged into it on and off using commands sent from an app or smart home hub and your Wi-Fi network.
What are smart plugs used for?
There are dozens of uses for smart plugs. Here are just a few to get your imagination turned on to all of the possibilities:
Turn on your coffee pot while you're still in bed.
Control your window unit air conditioner or space heater without getting out of your chair.
Turn on lamps while you're away to deter would-be burglars.
Turn off the oven, curling iron, or hair straightener you left on from your desk at work.
Turn on your holiday lights using a voice command.
Can smart plugs save you money?
Smart plugs can potentially save you money. By being able to keep tabs on exactly how much power any given appliance is slurping up, you can identify the products in your home that are the biggest problem areas.
Smart plugs can also help save you power by turning off the power supply to devices that use it up even when they're off. This will ultimately help to cut down on phantom power drain and save you a few bucks on your electrical bill. Over time, smart plugs can pay for themselves, provided you enact sufficient use of their features.
How to Choose a Smart Plug
There are several things to consider before getting a smart plug.
Voice assistant compatibility: First, make sure that the plug incorporates the type of command system you are more likely to use. For example, you shouldn't get a plug that uses only its own app for commands if you strictly use Alexa. Not all plugs will be compatible with both Alexa and Google Assistant either, so make sure it supports your voice command preference. Note that voice assistants and other platforms that support multiple smart devices can create "scenes" that
Energy monitoring: By plugging an appliance into this type of smart plug, you can learn just how much electricity your appliance uses, which can be particularly useful if you're trying to decide on upgrading to a more energy-efficient model. The plug monitors how much electricity is routed through it to your appliance. Then, it sends a report to the plug's app. Reports vary from app to app, but many let you see peak energy use hours and energy used over time. Quite a few smart plugs also give you the option to automatically turn on and off an appliance on a schedule so you can save electricity. Some good energy monitoring smart plugs include the WeMo Insight Switch, Elgato Eve and D-Link Wi-Fi Smart Plug.
Scheduling ahead of time: Most smart plugs have options to set schedules for turning devices on or off at certain times. It's a common feature, but you should still make sure your plug has it for convenience.
Surge protection: At a desk or entertainment center, a smart power strip with surge protection may be a better choice for you. Check out our list of the best surge protectors for a few great smart power strips that you can use here.
Additional outlets: If you're short on outlets around the house, a smart plug with the ability to expand the number of ports on your outlet is a helpful choice.
Outdoor vs. indoor use: For outdoor use, some of our favorites include Maxcio, Kasa, and Meross (we have a list of the best outdoor smart plugs here). For indoor use, the ConnectSense Smart Outlet 2 provides the most flexibility in the smart plug world. It is compatible with Amazon Alexa, Apple's HomeKit and Siri, and Google Assistant. If none of those options suit you, it can work without any smart hub at all.
Dimming: You can use voice commands or your smartphone to get precise with your dimming. It's just a matter of pairing a dimmable lamp with a smart plug that supports dimming, like this Leviton model.
Editors' Recommendations