Smart displays sit at the very center of most smart homes. With the ability to sync with other gadgets to issue commands, give you daily updates, or serve as a second screen to binge your favorite shows, smart displays are remarkably versatile devices.
The smart display market is more saturated today than ever before, with products from Amazon, Google, Facebook, and more vying for your attention. Google has even revealed that the upcoming Pixel Tablet will double as a smart display, and Apple might be throwing its hat into the ring sooner than expected.
There's clearly a lot of options on the market, but figuring out which is best for your home isn't always easy. If you need some help with your search, here's a look at the best smart displays of 2023. Whether you're working with Google Home, Amazon Alexa, or just want something with Matter support, there's bound to be something that catches your eye.
Echo Show 15
The best smart display
Pros
Huge 15.6-inch screen
Widget functionality makes it easy to see tasks, smart home, and more at a glance
Different orientation options
Visual ID swaps between users
Cons
Lacks customization and personalization options
Software crashes without explanation
Many smart displays are a little on the small side and that can make them difficult to watch from across the room, limiting their range. The Echo Show 15 removes this concern with the largest smart display yet, a 15.6-inch touchscreen that you can mount on the wall like a picture frame or use with a countertop base, getting it right where you want. That also solves the problem of the Echo Show 10's swiveling design that felt awkward or needed too much space in many setups.
Of course, you also get all the Alexa benefits here, including the ability to stream video (Alexa supports streaming apps like Netflix and Hulu), control your smart home, video chat with friends, or look through devices like the Ring Doorbell. It's one of the most user-friendly models we've seen.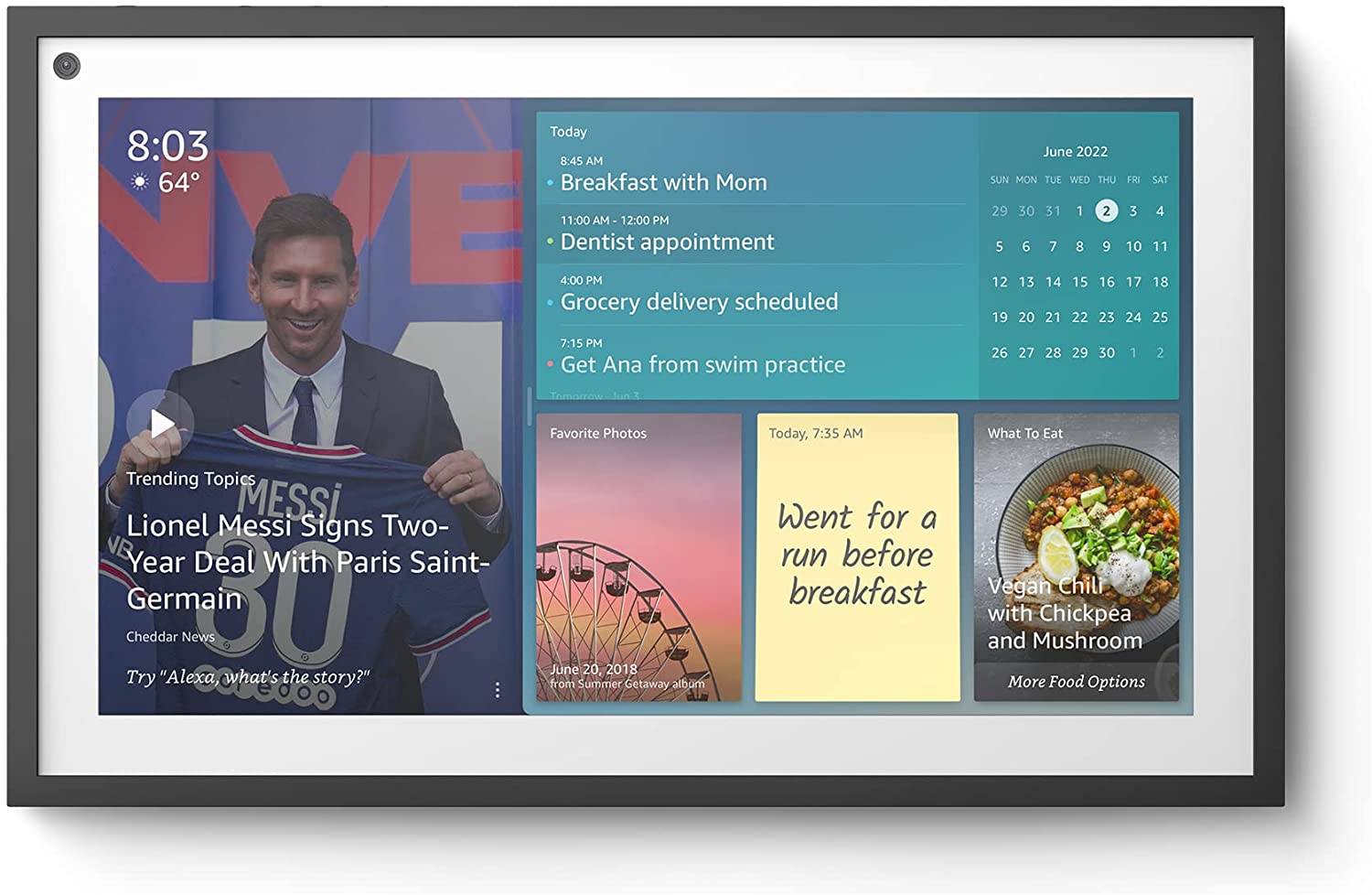 Echo Show 15
The best smart display
Google Nest Hub Max
The best Google Assistant display
Pros
Dazzling display, perfect for picture sharing
Camera adds a layer of home security
Auto-framing keeps us in view with video calls
Tailored experience thanks to Face Match
Cons
Audio quality is strained at louder volumes
Sure, the Nest Hub Max has a larger screen than the original Nest Hub, but it also offers a lot more features and functionality in addition to its brilliant HD screen. It has a 6.5-inch megapixel camera with auto-framing so you can make video calls, and the camera will even follow you as you move around the room.
Face-match technology allows for a more personalized experience. When the Hub recognizes your face, it can show you content specific to you (video messages, reminders, upcoming calendar events, etc.). Up to six users can save a face-match profile. The Nest Hub Max also allows for quick gesture control, so you can use hand gestures to control certain functions (like pausing or playing a music track).
The Hub Max has a Nest Cam built-in. You can use the Nest Cam to check on your home while you're away, although some of the more advanced features require a Nest Aware subscription.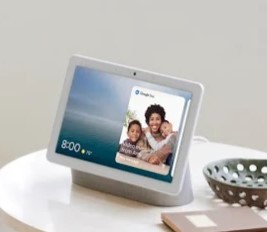 Google Nest Hub Max
The best Google Assistant display
Google Nest Hub (2nd Gen)
The best no-camera display
Pros
Accurate sleep tracking
Tons of data about your sleep
$100 starting price
Cons
Few new features over previous model
Google's Nest Hub smart display is one of the few that lacks a camera for video chatting, so you can only make voice calls using the device. Just like the original Nest Hub, the Nest Hub 2 doesn't have a camera, but it has a 7-inch touchscreen that lets you better interact with Google Assistant. You can view recipes, watch shows, see song lyrics, see the devices in your smart home, and more.
The 2nd-generation model added in Soli radar for motion sensing, which allows the Hub to perform a feature called "Sleep Sensing." This means the Hub can gather sleep data and provide tips on how to sleep better. Our review found this feature to be surprisingly accurate, with a dashboard that displays accurate data on how long it takes to fall asleep, respiratory rate info, and how long it takes to get out of bed.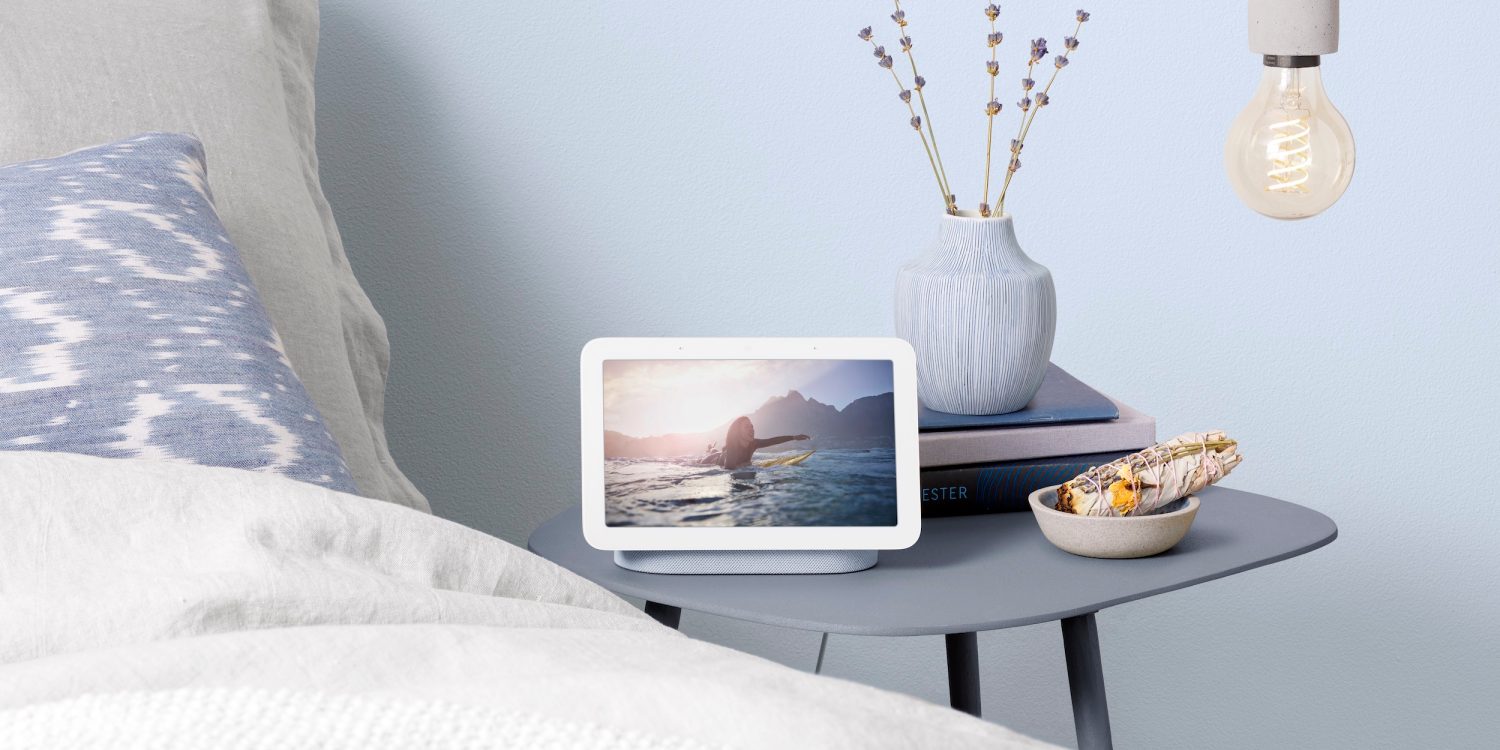 Google Nest Hub (2nd Gen)
The best no-camera display
Echo Show 5 (3rd gen)
The best budget smart display
Pros
Decent price, especially once sales hit
Good screen
Does all the Alexa stuff
Loads of Amazon goodies at hand
Cons
Browser experience is bad
Screen a tad laggy
The Echo Show 5 is pretty small, with only a 5.5-inch screen. The Show 5 does, however, have a lot to offer in a tiny package. It supports the basic functions you can perform with most smart displays — make video calls, control your smart home devices, watch videos, and ask the assistant questions. But the Show 5 is a budget display, so it only has a 2-megapixel camera and a single 1.75-inch speaker.
The Show 5 thrives in terms of its privacy features. It has a slider you can use to physically block the camera. You can also take advantage of newer Alexa Privacy features, like the ability to erase your recordings for the day. It may not offer the biggest screen on the market, but it's a great choice for homes with a cramped kitchen or if you're looking for a display for your nightstand or office.
Echo Show 5 (3rd gen)
The best budget smart display
Meta Portal
The best video call smart display
Pros
Affordable
AR filters for fun video chats with Meta apps like Messenger and WhatsApp
Built-in Alexa
Cons
Screen is a bit small for video chats
Once known as Facebook Portal, the revised Meta Portal is a picture frame-like smart display made to be Facebook-friendly. The 10-inch display includes a Smart Camera that can track your location when moving, and there's an easy-access augmented reality (AR) library to add effects and filters to your video chats, so it's ideal for casual video calls with friends.
The Portal works with expected apps like Messenger, WhatsApp, Zoom, and more, so you probably won't have to learn a new video platform. There's also support for common music services like Spotify, Pandora, and Tidal. While Meta doesn't have its own voice assistant (yet), the Portal fortunately comes with Alexa built-in, so it can do many of the things an Echo Show can.
Meta Portal
The best video call smart display
Echo Show 8 (3rd Gen)
Pros
Shockingly great sound
Convenient size and form factor
Sharp, bright screen
Support for common streaming apps
High-quality camera
Cons
Dated design
Teeming with Amazon bloatware
Poor video chat software support
No Z-Wave, Eero mesh, line-out jack
Sitting nicely between the Show 5 and Show 15 is the Echo Show 8. Its design is finally starting to show its age (it looks eerily similar to its predecessors despite being newly refreshed for 2023), but it's packed full of useful features. This includes a vibrant screen, a camera for video chats, and support for spatial audio. Its audio quality is a particular standout, with dual two-inch drivers punching well above their weight.
It's a similar result for its 1280 x 800 resolution screen – which may sound lackluster, but when you consider the screen is just 8 inches, that's more than enough pixels to get the job done. Not only does it look great, but it's incredibly responsive as a touchscreen. Flipping through all your apps is a breeze, though some big apps (such as YouTube and Teams) are absent.
Aside from those quirks, the Echo Show 8 is a well-rounded smart display. It may not be perfect if you're hoping to use it for frequent video chats, but if you need something with a great display and audio, the Echo Show 8 deserves a closer look.
Frequently Asked Questions
What is a smart display?
Think of a smart display as a Google Home or Amazon Echo speaker with a screen. This allows the voice assistant (Alexa or Google Home, for instance) to show you information instead of only telling you vocally.
What's the difference between a smart display and a tablet?
Although tablets and smart displays have some similarities — they both have a display screen, they both play music, and they often both have an assistant (Siri, Google Assistant, Cortana, etc.) — the two devices have different primary functions.
A tablet is a portable computing device that's primary functions are internet searches, social media, app games, email, etc. It's a personal device that's not meant to fill a room with sound. A smart display typically stays stationary and has large speakers for playing music out loud. Its primary functions include things like controlling smart devices and answering questions as well as streaming video or enabling video chats.
What can a smart display do?
Your smart display works with a smart assistant (like Alexa or Google Assistant) to read you the news, play music, play movies and TV, show you a feed of your security camera or video doorbell, show you a morning traffic or weather report, help you in the kitchen with conversions and recipes, set reminders and alarms for you, and so much more.
If I have a smart display, do I still need a smart home hub?
Not really. Some older devices that need Zigbee support won't always work with a smart display, but this isn't a common issue.
Most modern smart home products operate without the need for a hub, so you can control most smart devices with just your smart display (as long as they're compatible). However, having a smart home hub can make your smart home more efficient.
Sometimes hubs will be required for specific devices, like certain Philips Hue bulbs or security systems you purchase from a professional provider.
What should I look for when buying a smart display?
Your top preferences will strongly influence which smart display is best for you. The Echo Show 5 and Nest Hub are excellent products if privacy and reasonable prices are your biggest priorities. If the top of your preference list is a bigger screen and superior audio quality, and you can swing a higher price, then you should check out the Echo Show 15 or the Google Nest Hub Max instead.
Which voice assistant is better: Alexa or Google Assistant?
We don't have a definitive answer here. Alexa and Google Assistant often outperform each other in different categories. Alexa is compatible with a broader range of products than Google Assistant, for example. On the other hand, Google Assistant is superior when it comes to overall intelligence and responding to questions. 
Editors' Recommendations