Instead of gently placing your phone down on the table when not in use, you can stow it with a bit more care by storing it in a dock. Docks are great places to let your smartphone rest, and they have an extra added advantage in letting you view an iPhone's screen hands-free. It's perfect for reading a recipe in the kitchen or following an advanced YouTube knitting tutorial.
So which one should you buy? There are diverse options at every price point. Some have built-in Qi wireless charging for added convenience, keeping your nightstand, desk, or counter organized. Others are just stylish bits of metal or plastic that hold your phone really well. Here are some of the best iPhone docks available right now.
Oakywood Triple Dock
Pros
Charges all Apple devices at once
Lovely wood design
Solid and sturdy
The Oakywood Triple Dock holds an iPhone, Apple Watch, and Airpods Charger within a wooden tech gadget, handcrafted to make your life easier, and your desk, nightstand, or living room end table more beautiful and functional. The charging dock lets you charge and display all your Apple devices at once. It's made of solid wood and finished with ecological oils, which makes the item unique, stylish, and convenient to enhance any room or office.
Lamicall Foldable Phone Stand
Pros
Adjustable viewing angle
Weighted metal base
Easy to transport
Cons
Not great for larger phones
Lamicall's compact foldable phone stand is the ideal desktop accessory that frees your hands for watching videos, taking calls, receiving alerts, and doing anything you need to do with your phone. It's adjustable for a comfortable viewing angle and height with a weighted metal base that ensures stability. It's compatible with cases up to 0.71 inches thick, and its anti-slip, anti-scratch silicone mats on the backrest, hooks, and feet protect your phone from scratches. It's portable and easy to carry with a bi-folding pocket-sized design.
Lamicall Foldable Phone Stand
Hercules Tuff Charging Station
Pros
Great for charging multiple devices at once
Offers a variety of connectors
Delivers to specific power needs
Cons
Durability issues reported
If you have multiple iOS devices, this tough guy is for you. The Hercules Charging Station is compatible with your iPhone as well as other mobile devices. It features six-port fast charging and recognizes your devices to deliver the specific power needed. Use at home on kitchen counters, desks, tables, or nightstands as well as at work. The charging station includes ETL, FCC, CE, and RoHS certifications. Its USB ports are compatible with USB Type-A plugs up to USB 3. It comes in six color varieties to match your space.
Hercules Tuff Charging Station
Twelve South HiRise Duet
Pros
Charges both iPhone and Apple Watch
Attractive minimalist design
Elevated phone view
Cons
Dock must be assembled with screws
The iPhone dock may be something of a dying breed now that MagSafe exists, but that doesn't mean they're extinct, and many people prefer them for their functionality. Twelve South's HiRise Duet is one of those functional combos that offers a great-looking iPhone dock and a companion Apple Watch dock. Here, the iPhone is elevated and easily visible, making it a great desk stand. It also comes with a wireless charging pad for your Apple Watch, letting you get double the use of the same space.
Grovemade Wood MagSafe Stand
Pros
Charming wood design
MagSafe compatible
Can view phone from different orientations
The Grovemade Wood MagSafe Stand is both sturdy and convenient. The charming wooden look goes well with any desktop setup, so it doubles as a decor piece as well as a phone stand. It is MagSafe compatible and works well with all iPhone 13 and iPhone 12 models. Using it, you can set your phone both vertically and horizontally, so whether you are reading a book or watching a movie, the Grovemade Wood Magsafe Stand will serve you through it all.
Grovemade Wood MagSafe Stand
Apple MagSafe Duo Charger
Pros
MagSafe compatible
Can charge both phone and watch
Easy to transport
Cons
Reliability issues reported
This MagSafe charger is a perfect pick if you have an Apple iPhone with MagSafe compatibility — but it also offers a lot more. It's perfect if you need an Apple Watch dock alongside your usual wireless charging spot. On one side is the MagSafe charger that can easily lock onto your late model iPhone (make sure you have a compatible phone case), and on the other side is a small Qi wireless charger that can work with all sorts of devices, but is especially well-designed for something like the Apple Watch or an AirPods case. When you're done using it, the two chargers snap together for easy transport.
Apple MagSafe Duo Charger
Spigen S370 Wooden Phone Stand
Pros
Holds phone and watch together
Lovely bamboo design
Sturdy and solid
Cons
Does not act as a charger
Spigen is best known for its cases and screen protectors, but don't overlook its other excellent accessories. Spigen's S370 might not have the most memorable name, but with its bamboo wooden build and space for an Apple Watch charger, it's an aesthetic choice for your desk or bedside table. It's deeper than most other wooden stands of this type, which stops it from toppling over if you use your phone, and there's even handy extra storage space behind your phone.
Spigen S370 Wooden Phone Stand
Belkin PowerHouse Charge Dock
Pros
Charges both phone and watch
Allows charging intensity adjustments
solid and sturdy
Cons
Reliability issues reported
This dock is for people with an iPhone and an Apple Watch. The magnetic charging module for your Apple Watch and the Lightning connector for your iPhone are both built into the dock, so you can charge them via a single wall outlet. The dial on the back lets you make fine adjustments to the Lightning connector, so you can position it perfectly to fit your iPhone model and whatever case it's wearing. The base is weighted, so it's sturdy and won't fall over or slide around on your nightstand. It also features a simple design that will fit easily with most décor.
Belkin PowerHouse Charge Dock
Archeer Bamboo iPhone Dock
Pros
Unobtrusive design
Offers built-in sound amplification
Pleasing bamboo construction
A lot of iPhone docks stand out a little too much, but this smart bamboo dock is unobtrusive. Archeer talks up the unit's built-in amplification, but don't expect to hear a major difference as it only makes your iPhone sound slightly louder. The main attractions are the simple design, bamboo construction, and low price. This also won't serve you if you seek a charging dock, as there is no space for a cable, it's really just a handy stand for your desktop.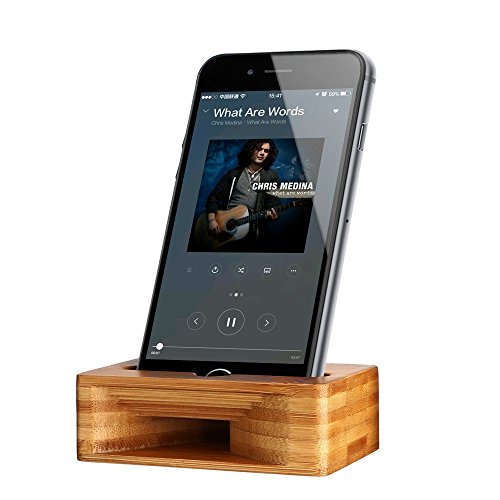 Archeer Bamboo iPhone Dock
Kenu Stance Tripod
Pros
Allows for landscape and portrait views
Small and compact
Easily transportable
If you crave a change, then this compact tripod may tempt you. It lets you prop up your iPhone in both landscape and portrait views. It's also a prime option for taking pictures, hands-free reading, or film viewing. Small enough to fit neatly into your pocket or bag, you can also adjust the three legs to find just the right angle for viewing. Kenu changed the original design for this version, so it features a robust lightning port connector. There's also a keyring attachment. It can even serve as a bottle opener.
Frequently Asked Questions
Do I need an iPhone dock?
You will need some kind of charger for your iPhone — and that's particularly true of the iPhone 12 and later iPhones, which now ship without a power adapter. A dock is designed to be a largely stationary (although we do include some more portable picks) charger that you set your iPhone on or plug into it. It's not absolutely necessary, but it makes an excellent companion for your bedside table, desk, and similar areas.
What does a dock do?
A dock is designed to charge your iPhone in an easy manner, in the places where your phone can spend some time while you work, sleep, study, or cook. Many docks allow the iPhone to stand or angle upward, so you can watch for notifications or start up a video while it's charging. Because the Apple ecosystem is so interconnected, iPhone docks also often include additional stands or spots for charging things like your Apple Watch and your AirPods case.
What ports does my dock need?
Your dock will need a Lightning cable port to charge iPhones, which is why you should always look for ports that are specifically designed to work with iPhones (or simply use wireless charging, which makes the issue moot). For plugging into a power adapter, look for USB-C connections — they aren't absolutely necessary, but you should try to avoid anything older these days. Docks may also have additional ports to support other accessories, but this is not a requirement.
Editors' Recommendations