If you work outdoors or enjoy sports and hiking, you will need a smartphone that can live up to your energy level and climate requirements. A durable and rugged smartphone that can withstand more extreme conditions may be the answer to your lifestyle. Most modern phones are not built to be rugged but can withstand some exposure to dirt, dust, water, or extreme temperatures with a proper durable case. However, to really stand up to daily abuse, a rugged phone is your best bet. There are plenty of phones out there fitting that description. These phones are sturdy, reliable, and adapted to extreme conditions, thanks to features like waterproof designs and long-lasting batteries. We've selected some of the best rugged smartphones for your consideration.
Cat S62 Pro
Pros
Rated at IP68 and Mil-Spec 810H
Includes Flir thermal camera
Tolerates a very wide temperature range
Cons
Durability issues reported
Cat's updated S62 Pro is all the rugged phone you could ever need. The phone's rugged features include an IP68 rating for water and dust resistance, Mil-Spec 810H drop ratings, the ability to survive in temperatures from -20 degrees to 400 degrees centigrade, and a high-grade aluminum body for extra protection. Despite all of this, it's fairly small in the hand, and the display is just 5.7 inches. That screen is an IPS LCD with a 1080 x 2160 pixel resolution. It's not likely to be the best display you've ever seen, but it will be more than satisfactory for a rugged phone and is covered in Corning Gorilla Glass 6 for extra security and peace of mind.
The S62 Pro is powered by a Qualcomm Snapdragon 660 Octo Core 2.0GHz processor with 128GB of storage and 6GB of RAM and runs Android 11, which isn't the latest version of Android ... and a bit of a disappointment. However, it has a microSD card slot with support for up to 256GB of extra storage, and it packs in a 4,000mAh battery. It also supports NFC, fingerprint ID, and Bluetooth 5.0.
The main camera is a Sony at 12-megapixel lens, coupled with a Flir thermal camera with thermal imaging capabilities, and the front cam is 8MP. This international version is compatible with GSM carriers like AT&T and T-Mobile as well as with GSM SIM cards (for Straight Talk and various prepaid carriers) but not CDMA carriers such as Verizon, Boost, or Virgin. A 9H Tempered Glass Screen protector is included in the package.
Samsung Galaxy XCover Pro
Pros
MIL-STD-810G certified and IP68 rated
Works while you're wearing gloves
Replacable battery
Cons
Networking issues reported
We told you about the Samsung Galaxy XCover Pro when it debuted a couple of years back. It's still much the same as it was back then, i.e., it's still built like a tank, making it a great choice for a rugged phone.
The XCover Pro is MIL-STD-810G certified for drops up to 5 feet and IP68 rated for dust and water resistance. It's rugged but still elegantly designed, and the XCover Pro features a 6.3-inch edge-to-edge display with Corning Gorilla Glass 5 and two programmable buttons for functions like push-to-talk and scanning. It's made for the outdoors — whether work or play — and is compatible with Verizon's and AT&T's networks. For work, it lets you capture workplace comments, shoot high-resolution images, and use business applications, and you can keep your gloves on using the phone's enhanced touch and glove capability. Its replaceable, long-lasting, fast-charging battery keeps pace with your daily tasks, and you can quickly swap out the battery to keep going even longer.
Of course, there are going to be downsides. Networking issues have been reported, and the camera is, like most rugged phones, likely to not be great. But it will still hold up well if your primary motivation is finding a tough phone.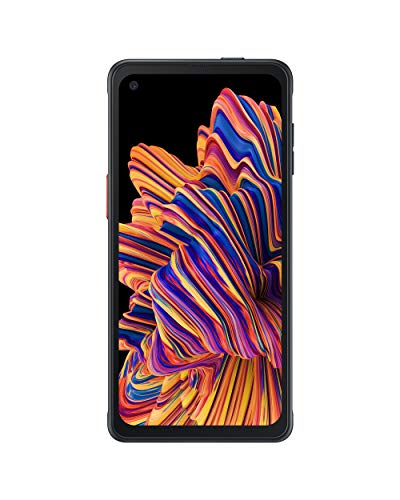 Samsung Galaxy XCover Pro
Doogee S61 Rugged Phone
Pros
IP68 and IP69K ratings
Sony IMX350 20MP night vision camera
Two-year warranty
Cons
Connectivity issues reported with Straight Talk
The Doogee S61 is a tough little smartphone made for harsh environments. It has IP68 and IP69K ratings for dust and water resistance, coupled with a military standard MIL-STD-810H drop rating. This pairing should mean it's protected against 6-foot drops onto the ground, and a full dunk into 4 feet of water for up to 30 minutes, not to mention repelling dust and sand.
A 5,180 mAh battery should give it all-day power for outdoor adventures or long work shifts. Doogee claims the battery will last up to 15 days on standby or two to three days on normal use, though we can't corroborate this. It's not the most powerful phone around, but the eight-core CPU and 6GB of RAM should be powerful enough for everyday tasks, and 64GB of storage will give you enough for basic apps and images. It's not going to be the phone for media lovers, though.
The waterproof exterior, coupled with a double AI camera (two 20MP lenses) and an 8MP front camera, lets you shoot high-resolution images in any climate or weather. One lens is a Sony IMX350 20MP night vision camera, giving you the ability to see, even in low light. The 6-inch screen is made of scratch-resistant Corning Gorilla Glass, offering great outdoor visibility. It ships with a two-year warranty, giving you even more peace of mind.
Unihertz Atom XL
Pros
Tiny 4-inch screen is pocketable
Removable antenna for walkie talkie use
IP68 rating
Cons
Touchscreen issues reported
If you're on the T-Mobile/Verizon axis, the exceedingly durable UniHertz Atom XL may be the right fit for your active lifestyle. We've previously reviewed the Unihertz Atom, and its predecessor is every bit as good as a small, rugged phone. It has a rubberized grip around the top and bottom, accompanied by a grippy backplate and aluminum side rails, complete with exposed screw heads for style. The big draw here is the teensy 4-inch screen, which makes this a certified small phone but also one that's exceedingly rugged.
It has a 48MP camera, which may be best not to expect too much of, despite the high numbers. Rugged phones often have disappointing cameras, so try not to build up your expectations here. The Helio P60 processor isn't going to set the world on fire, but with 6GB of RAM, it should be handy enough to hold down everyday tasks easily enough. Storage starting at 128GB is also a welcome surprise, as that's a good amount of storage, and the 4,300mAh battery is generous for the size of the device. It ships with Android 11, but don't expect to see many, or any, updates after this.
Its most unique feature is a removable antenna that transforms your smartphone into a walkie-talkie, so you don't have to rely on a mobile connection. That's a strong feature for anyone who likes to adventure into the backcountry. With its IP68 rating, you can count on it being water-resistant and dustproof, and it supports fingerprint and face unlock, dual SIM cards, and NFC. This is a tiny titan that's a great choice if you want something small but rugged.
Blackview BV8800 Cell Phone
Pros
Massive 8,380 mAh battery
Supports reverse charging
Four rear cameras
Cons
Problems reported using Straight Talk
When it comes to rugged, the Blackview BV8800 is nothing short of fully loaded. Its biggest draw is probably the massive 8,380mAh battery, which Blackview claims will provide 720 hours of standby time, 32 hours of calling, or 10 hours of gaming. It charges fast, too, thanks to support for 33W fast charging, which means it only takes 90 minutes for a complete recharge.
It has a 4G octa-core MediaTek G96 processor, 8GB RAM, and 128GB of storage. Don't expect the world from this configuration, but it should be good enough as long as you're not firing up the newest 3D games. It's powered by Android 11, which is outdated but should be sufficient to keep it running well.
The Blackview BV8800 features four rear cameras: a 50MP Super HD main camera, 20MP IR Night Vision Camera (with two IR LEDs) an 8MP 117-degree ultrawide camera, and a 2MP depth camera. Those are accompanied by a 16MP HD selfie camera cam, all of which can work on land or underwater. The Blackview BV8800 phone also has IP68 and IP69K ratings, so it's waterproof, dustproof, and shockproof, with a temperature range from -4 degrees to 131 degrees Fahrenheit. It tolerates drops of 6.5 feet and can resist water ingress up to 4.92 feet for up to an hour. If all of that wasn't enough, all Blackview cell phones are guaranteed for two years, so you have a great safety net even if something does go wrong.
Blackview BV8800 Cell Phone
Kyocera DuraSport
Pros
Can survive drops up to 5 feet
IP68 and MIL-STD-810H rated
5G support
Kyocera is a venerable name in the cell phone arena, and its DuraSport is a brawny specimen engineered to withstand drops, dirt, water, and inclement weather. The MIL-STD-810H rating means it can survive drops up to 5 feet onto concrete, and it's a surprisingly lightweight 6.52 ounces (185g). It also has a IP68 rating, which makes it dust- and water-resistant, plus lets you clean and disinfect the phone with mild soap, disinfectant wipes, or 70% alcohol.
The phone's touchscreen stays operational, even with wet hands or gloves. It has a 5G, Kyocera claims the 4,500mAh battery offers a standby time of up to 336 hours, and it supports Qi wireless charging and USB-C with Quick Charge 4.0. The DuraSport 5G is loaded with camera, sport, and fitness features for athletes, adventurers, or travelers, and it includes a fingerprint scanner and face recognition.
You also get great recording options with the DuraSport's 48MP camera system, though it's best to temper your expectations where the quality is concerned. It works with a single 4FF nano SIM and has a microSDXC card slot, so you can expand the available storage with a microSD card.
Editors' Recommendations