These days, it seems that smartphones are just getting bigger and bigger each year, with all manufacturers trying to one-up each other in terms of who has the biggest screen. But not everyone wants an enormous phone, because some of us value having something compact enough that can easily fit into pockets and want a phone that can be used with one hand only. Believe it or not, there are options out there if you want something small.
While many people want to "go big or go home," there are still some of us out here who prefer something smaller. Of course, we aren't talking about going back to the original iPhone size, but just having a small and compact phone that doesn't have a gigantic footprint is nice, you know? And remember what it's like to use a phone with one hand easily? Those were the days!
Whether you're interested in the iPhone 13 mini or something else on this list, here are our picks for the best small phones in 2023.
Apple iPhone 13 mini
The best small phone
Pros
Small, compact design
Just as powerful as the larger iPhones
Excellent camera
Strong battery life
Cons
No telephoto lens
No higher refresh rate
Why we picked the iPhone 13 mini: Apple's iPhone 12 mini rocked our world, so it makes sense to put its successor — the iPhone 13 mini — at the top of this list. The iPhone mini is crammed with the same power as the bigger iPhones but in a compact form. The iPhone 13 mini shares many of the key specs with its bigger siblings, including the powerful A15 Bionic processor, which pits it against the heavyweights in the smartphone industry. It is our pick for the best small phone.
The iPhone 13 mini continues to use pretty much the same design as the iPhone 12 mini, although with a tweaked camera module. There are, however, several upgrades in the package other than just the A15 Bionic chip. The 5.4-inch display remains the same, but the notch on the iPhone 13 mini is narrower than its predecessor. The Super Retina XDR OLED display is also much brighter, with 800 nits of claimed maximum brightness measured using the High Brightness Mode (HBM) method.
The iPhone 13 mini removes the 64GB storage option, so the minimum storage is now 128GB. In addition, the highest storage option has also been increased from 256GB to 512GB. Like the regular iPhone 13, the mini also features a larger primary camera sensor than the previous generation, along with sensor-shift optical image stabilization (OIS) in which the sensor moves to compensate for any changes in the phone's orientation, to avoid shakes and blurs while taking photos or videos.
The iPhone 12 mini had a weaker battery than most of its larger siblings, which put it to a disadvantage against other flagship phones. The iPhone 13 mini slightly improved this rand now features a 2,438mAh battery, which is about 10% bigger than the previous generation. For most casual users, this battery should be enough to last about a day if not more. The small battery, however, does allow for faster charging with claims of 50% charge in just 30 minutes of being plugged into a Lightning connector using an 18W (or higher) power brick. The smartphone also supports fast wireless charging at 15W using MagSafe and at 7.5W using other regular wireless chargers.
Apple killed the mini line with the iPhone 14 last year, but even in 2023, the iPhone 13 mini remains an incredible small phone. It's powerful, a joy to use, and actually small. It's just wonderful.
Apple iPhone 13 mini
The best small phone
Apple iPhone SE (2022)
The best small phone runner-up
Pros
Compact and light
Very powerful
Touch ID works really well
Wireless charging
IP67 water resistance
Cons
Poor battery life
60Hz screen
64GB won't be enough
Why we picked the iPhone SE (2022) The iPhone SE (2022) is a powerful, pocket-friendly handset that's excellent value for money.
There's no denying the iPhone SE (2022) has a small screen. Coming in at just 4.7 inches, the Liquid Retina display has a 1334 x 750 resolution (326 ppi) with a 60Hz refresh rate. The phone looks good, though its traditional style, reminiscent of the iPhone 8, might not be to all tastes. That diminutive screen makes it easy to operate the phone one-handed, though, and you get Touch ID integrated into the Home button rather than the now-more-common Face ID.
Under the hood, you'll find Apple's A15 Bionic chip, with 4GB of RAM and 64GB, 128GB, or 256GB of non-expandable storage. The iPhone SE's battery lasts up to two hours longer thanits predecessor, which gave us a solid eight hours of video streaming. You also get 18W fast charging to get you juiced up again pretty quickly, plus Qi wireless charging too — but there's no charger in the box.
Though the iPhone SE (2022) has just a single rear 12MP camera and 7MP front camera, Apple's software ensures this phone takes excellent, well-balanced photos in most lighting. Features like Smart HDR 4, Deep Fusion technology, and Photographic Styles make shooting with the new iPhone SE a lot of fun, though bear in mind there's no Night mode, something to consider if you take a lot of low-light or after-dark shots.
Throw in sub-6GHz 5G connectivity and Apple's usual five to six years of updates, and it's easy to see why the iPhone SE (2022) is so appealing. Plus, with Apple likely not rleasing a new iPhone SE in 2023 or 2024, you can buy with confidence that it won't be replaced any time soon.
Apple iPhone SE (2022)
The best small phone runner-up
Asus Zenfone 9
The best small Android phone
Pros
Compact and easy to handle
Powerful processor
Neat, lightweight design
Strong audio features
Main cameras take good photos
Cons
Gimbal disappoints
Screen doesn't get bright enough
No wireless charging
Why we picked the Asus Zenfone 9: The Zenfone 9 truly delivers flagship smartphone performance, visuals, and audio — in a compact package. The Asus Zenfone 9's size adheres to Asus's rule of making a smartphone that's less than 70mm wide and under 150mm tall, making it perfect for one-handed use. This phone's squared-off shape and right-angled corners ensure it can pack as much inside the phone as possible, and the aluminum frame and a polymer material rather than glass on the rear panel reduce weight. The screen is smaller than the iPhone 13 and S22 at 5.9-inches, so it's convenient, pretty, durable, and suitable for everyone, regardless of hand size.
The 5.9-inch AMOLED screen has a 2400 x 1080 pixel resolution, a 120Hz refresh rate, a 240Hz touch sampling rate, plus Gorilla Glass Victus over it. Inside is a Qualcomm Snapdragon 8+ Gen 1 processor and either 8GB or 16GB of RAM. The basic version comes with 128GB of storage space, but a 256GB model is also available. With its flat sides, the polymer rear panel curves at the edge, so the phone never digs into your hand. The material has a textile-like texture and does not show fingerprints or smudges.
There are two cameras on the phone, set inside metal rings. The main 50MP Sony IMX766, with the gimbal attached, and a 12MP Sony IMX363 113-degree wide-angle camera, have autofocus. There's 8K video recording, a macro mode built into the wide-angle camera, and a 12MP selfie camera with autofocus inside a hole-punch cutout in the screen. The Zenfone 9 camera typically sharpens scenes with extra contrast and saturation.
Asus's ZenUI is based on Android 12, and most of Google's main design elements remain, so it's suitably customizable. A 4,300mAh capacity battery may not sound like much, so be prepared to charge the phone each day. A 30W charger is included in the box, and the phone supports Power Delivery 3.0 and Quick Charge 4.0, but it does not have wireless charging. You'll need more than an hour to fully charge the battery using the Asus charger.
Asus Zenfone 9
The best small Android phone
Samsung Galaxy Z Flip 4
The best small folding phone
Pros
Flatter design looks and feels fantastic
Bespoke customization is unmatched
Excellent main display
Blazing fast performance
Good, fun cameras
Cons
Battery still only lasts a day
Limited cover screen functionality
Why we picked the Samsung Galaxy Z Flip 4: The Samsung Galaxy Z Flip 4 is one of the best folding smartphones available in 2023 — and one of the best phones overall. Is the Galaxy Z Flip 4 a substantial improvement over the Z Flip 3? No, but it is one of the best foldable phones you can buy today.
When it's open, the Flip 4 looks like any other smartphone, with a large display, centered hole-punch camera cutout, and slim bezels. But snap the phone shut, and its hinge transforms it into a compact square you can slide into small spaces. The rear glass panels have a frosty matte finish, the frame is flatter, and the hinge is smaller. Samsung says the Z Flip 4 should survive over 200,000 folds during its lifetime.
The Z Flip 4 features a 6.7-inch Dynamic AMOLED 2X panel with a 2640 x 1080 resolution, HDR10+ support, 1,200 nits of peak brightness, and a variable refresh rate up to 120Hz. Colors are vibrant with wide viewing angles. The Flip 4's cover screen is the same 1.9-inch Super AMOLED 512 x 260 resolution screen that's on the Flip 3. Like its predecessors, the Z Flip 4 ships with top-of-the-line Qualcomm chips, in this case, Qualcomm's latest Snapdragon 8+ Gen 1. The only potential irritant is the Z Flip 4's available RAM — 8GB for all storage models, enough to juggle a handful of apps at a time, but not a multitasking champ.
The Galaxy Z Flip 4 has a basic camera setup that includes a 12MP primary camera, a 12MP ultrawide camera, and a 10MP selfie camera. Battery life is markedly better than its predecessor, but it's still only enough for one full day. Also improved on the Galaxy Z Flip 4 is wired charging, now cranked up to 25W.
And if you're skeptical about folding phones, the Galaxy Z Flip 4 is a really solid one that may finally convince you about folding phones in general.
Samsung Galaxy Z Flip 4
The best small folding phone
Unihertz Atom
The best small rugged phone
Pros
Excellent battery
Solid performance
Simple software, useful tools
Compact and portable size
Rugged, durable, and water resistant
Cons
Subpar screen
Mediocre camera
Difficult to type on small screen
Why we picked the Unihertz Atom: This is an older phone, but rather unique and still on the market, so we include it here. The Unihertz Atom is small enough to fit comfortably in one hand, yet tough enough to bounce down a flight of stairs without damage. We know because we tested it. The Unihertz Atom is the small phone to get if you need something a little more solid than your average phone.
As a rugged phone, it's wrapped in protective materials. Rubber covers the tough polycarbonate body, and it's reinforced at the corners. The 2.4-inch LCD is disappointing, with washed-out colors and faded blacks. It's surrounded by chunky bezels, and you'll find a fingerprint scanner beneath the screen, flanked by a pair of capacitive buttons. It's not fashionable, but it is functional, and because of its size, somewhat cute.
Performance is smooth thanks to an octa-core ARM Cortex-A53 processor, 4GB of RAM, and 64GB of internal storage. The single 16MP camera around the back isn't as good, and while we got some decent shots, the image quality went down with the lights. There's only a 2,000mAh battery, but due to the energy-sipping hardware and tiny display, this is enough to power the Atom through two days in one charge. It also has IP68 Waterproof capability and is resistant to dust, vibration, extreme hot or cold temperatures, and shock.
For the Unihertz Atom, the downside is that it only runs Android 8.1 Oreo, which hasn't had any updates — security or otherwise — since April of 2018. It's not the phone for you if you care about having the latest and greatest OS.
Additionally, while this phone doubles down its small form factor, that same small size makes it harder to use. It has decent keyboard tracking, but it can still be a struggle to do specific tasks on the tiny 2.4-inch display. At that size, it's no surprise that the colors and graphics aren't crystal clear, so if you need an impressive display, you won't find it here.
If you're looking for a small phone to tote around, it's worth looking past those negative factors to get a perfect size for an active individual who wants a small, compact smartphone on a budget and doesn't use it for much during the day. For such a small device, it certainly packs a punch, too.
Unihertz Atom
The best small rugged phone
Google Pixel 6a
Best small Google phone
Pros
Compact, lightweight design
IP67 water resistance
Flagship-grade performance
Excellent cameras
Clean software
Years of guaranteed updates
Cons
Display is only 60Hz
Tensor chip runs hot
Lacking battery life
Why we picked the Google Pixel 6a: It's the smallest, lightest, and most affordable Google Pixel you can get right now, bringing great performance in a small package.
If you want the Google Pixel experience, then you can't go wrong with the Google Pixel 6a. Even though it'll be replaced by the Pixel 7a in the coming months, it's still available for sale and it's still one of the best from Google. It's the smallest Pixel (6.1-inch display) that you can buy, and on top of that, the phone is lightweight, making it comfortable to use for longer periods of time.
Even though the Pixel 6a has a smaller 6.1-inch display compared to the other Pixel models, the display is still OLED with Full HD+ resolution at 1080 x 2400 pixels. You also get the Tensor chip, which powers Android 12. It's fast and will keep up with any tasks that you throw at it reasonably well, including gaming. There's also an in-screen fingerprint sensor on the Pixel 6a; surprisingly, it works well compared to other devices.
Google's Pixel phones have been known for good camera performance, and that includes the Pixel 6a. Though you don't get a 50MP camera like the Pixel 7 and Pixel 7 Pro, the Pixel 6a has the reliable 12.2MP camera with f/1.7 aperture, optical image stabilization (OIS), and phase detection autofocus. You also have a 12MP ultra wide camera with 114-degree field of view, as well as 8MP for the front-facing selfie camera. With decent lighting, the Pixel 6a captures impressive photos with ease. It may struggle a bit in lowlight environments, but it does decently enough with passable photos if you're just posting on social media. The real fun though, is in the software, as you get cool features like Magic Eraser and Camouflage.
Google Pixel 6a
Best small Google phone
Samsung Galaxy S22
The best small Samsung phone
Pros
Pleasingly compact and sturdy build
A gorgeous flat OLED screen
Best-in-class Android OS upgrade policy
Reliable cameras
Fluid performance
Cons
Small battery that drains quickly
Charging speeds really need a boost
Ultrawide camera has a distortion quirk
Runs hot quickly under load
Why we picked the Samsung Galaxy S22: The smallest, non-folding Galaxy phone comes packed with powerful and fluid performance, great cameras, and a solid build.
The Samsung Galaxy S22 is the smallest of the S22 lineup, but it packs a big punch. On top of its compact size, the Galaxy S22 is also the most affordable, so you don't need to shell out a ton for a powerful phone.
With the Samsung Galaxy S22, you get a 6.1-inch HDR10+ Super AMOLED display with FHD+ at a 2340 x 1080 resolution, as well as a smooth 120Hz refresh rate. If you care at all about screen quality, then the Galaxy S22 is the way to go as far as small phones go. And think about it — this is an entry-level phone in the S22 lineup, and it has 120Hz refresh rate. Pretty impressive!
The Galaxy S22 is also equipped with the powerful Snapdragon 8 Gen 1 chip, so you get blazing-fast performance, even in 2023. It should come with Android 12 with One UI out of the box, but Samsung has been rolling out the Android 13 update to S22 devices in recent months. Over the long run, users should expect to get a few years of updates out of the Galaxy S22, so there is longevity involved.
The camera system on the Galaxy S22 is very capable as well, as it has a 50MP main camera, 12MP ultrawide, and 10MP telephoto camera with 3x optical zoom. The front-facing selfie camera is a 10MP lens. You also get access to all of Samsung's impressive photo and video tools, like portrait mode, night mode, and more.
The only real negative with the Galaxy S22 is the fact that the battery is actually smaller than its predecessor's, coming in at only 3,700mAh. It supports fast charging only up to 25W, unfortunately, and you have to buy a charger separately since it doesn't come with the phone. It also supports wireless charging up to 15W.
Something else to consider is that we expect Samsung to launch the Galaxy S23 on February 1. The S22 is still a great buy if you need a small phone right now, but if you can wait a little longer, it may be worth seeing what the S23 has to offer.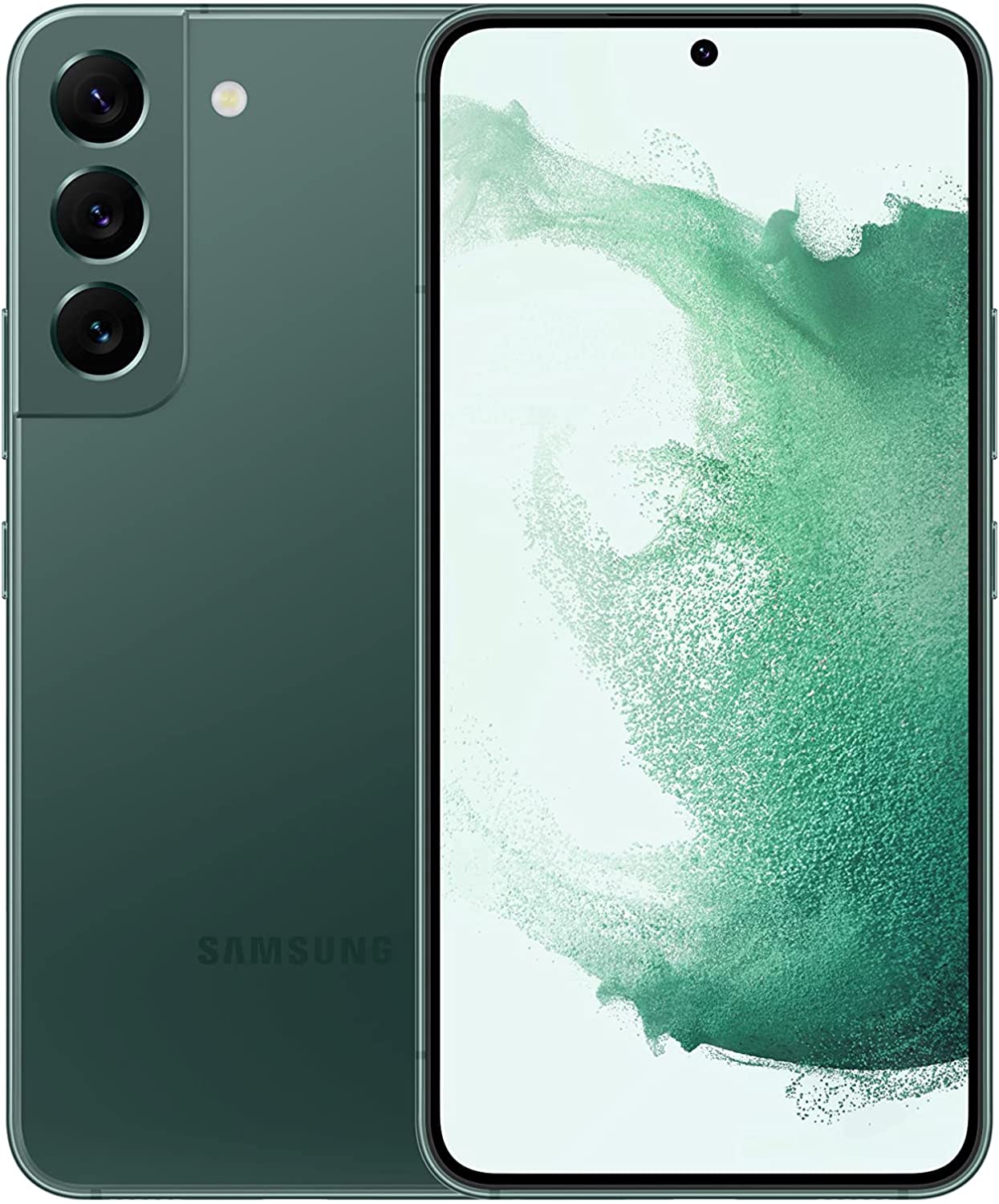 Samsung Galaxy S22
The best small Samsung phone
Frequently Asked Questions
Why should you consider getting a smaller smartphone?
Smartphones started growing larger when user preferences turned to all content all the time, especially in the form of reading, watching video, and playing games. These activities benefit from increased screen real estate. The problem is that larger phones are heavier, harder to carry and use with one hand, and more expensive. Large phones are inconvenient for people with small hands or with those who do not have 100% use of both hands. If you prefer to stash your phone in a shirt or pants pocket, want to or must use your phone with one hand, do not mind watching videos on a slightly smaller screen, and appreciate a more compact, lightweight unit, a small phone may be the optimal choice for you.
How do I choose the best small smartphone for me?
The immediate impact of a small smartphone is the size of the screen, but secondary attributes like smaller batteries, less powerful processors, inferior cameras, and less storage space will likely factor into how small you want to go. Notice we said nothing about the price. While large phones are more expensive, choosing a small phone may not save you significant money, and the price may even be on par with some of the larger models. That's because a high-quality small smartphone cleverly packs high-end features into a small package, and you are still paying for that high quality. Thus our favorite iPhone mini or SE or the Google Pixel are great choices for a small size phone that do not skimp on features or materials.
Who should not consider getting a smaller smartphone?
Smartphone sizes are a matter of personal style and necessity. If you appreciate having a phablet that fits into your backpack or purse for cinematic video, conference calls, report reading, art creation, gaming, or any other work or entertainment-related activities that are better suited to a spacious canvas, then stick with a larger smartphone. If you are a traveler who is not toting around a full laptop array of tech gear, a large phone will serve many purposes exceptionally well. You'll benefit not only from a large bright screen, but likely a larger, long-lasting battery, and even extra RAM built in.
Editors' Recommendations