Touchscreens are a central part of our lives, and we've all become intimately familiar with them thanks to our smart devices. But even with all this practice, sometimes you want a little more precision than a finger can allow. The handy stylus has never really gone away, and now, they're the perfect way to interact with your phone or tablet if you're looking to jot down notes or sketch to your heart's content. Heck, they're even useful to have in case you need to sign something on a digital device.
The stylus you're going to want to buy is going to depend entirely on what you're going to be using it for. A stylus for digital art and one for note-taking are similar but different enough that you're going to want a slightly different style for each. Also, keep in mind that many of these stylus options have pretty stringent compatibility lists. For instance, you can pair the Apple Pencil 2 with some of the best iPads, but if you want to draw on a Samsung Galaxy Tab S9, then the Apple stylus won't work for you at all.
Thankfully, we've done the hard work for you. Here's a list of the best stylus pens for tablets and smartphones.
Apple Pencil (2nd generation)
Best for iPad artists
Pros
Classy, comfortable design
Magnetic charging is cool
Works great with iPadOS 14
Useful for more than art now
Cons
Expensive
Not compatible with base iPad
The original Apple Pencil debuted toward the end of 2015, and it set a new stylus standard. Not content to rest on its laurels, Apple launched a new generation of the Pencil in 2018 alongside an updated iPad Pro. The most recent incarnation of the Apple Pencil is similar to the previous generation, using the iPad Pro's pressure-sensitive screen to produce incredibly fine lines with pressure-based variations. The side of the tip creates wider strokes, which is great for shading, and the tip can also offer a fine point when you need it. The stylus now clips magnetically to the side of the iPad Pro and iPad Air to charge wirelessly, eschewing the awkward charging method of the original Pencil.
Before you jump in to buy it, make sure you have the correct iPad to use with the Apple Pencil. The Apple Pencil 2 only works with certain iPads — which includes newer models of the iPad Pro and iPad Air. If you own an older Pencil-compatible iPad (including older generations of the iPad Pro, the sixth-generation iPad, the iPad Mini 5, or the Apple iPad 10.2-inch 2019), then you'll have to stick with the original Apple Pencil, which is still a great product.
Apple Pencil (2nd generation)
Best for iPad artists
Microsoft Surface Slim Pen 2
Best for Microsoft Surface artists
Pros
Best stylus for the Microsoft Surface series
Excellent precision
Tilt-to-shade for realistic sketching and shading
Cons
Not compatible with other tablets and touchscreen devices
Microsoft's Surface Pens have been, on the whole, very good, and the Surface Slim Pen 2 continues that tradition. Unlike the original Surface Pen, the Slim Pen 2 is, unsurprisingly, much slimmer and less intimidating than the large stick, which was the Surface Pen. But it's not just the design that has changed — Microsoft has also added a great new feature: haptic feedback. Use the Pen lightly, and you won't feel a thing, but push a bit harder, and the Pen will vibrate slightly — creating the sensation of friction. It's subtle, and it mimics the feeling of writing on paper very well. It has 4,096 pressure points and attaches to compatible devices with magnets.
Aside from that, it's quite similar to previous Surface Pens, except for compatibility. Unfortunately, the Slim Pen 2 isn't compatible with as many devices as the previous Surface Pen, and it largely only works with the most recent Surface devices, such as the Surface Pro 8, Surface Pro X, Surface Laptop Studio, and Surface Duo 2. You can find the full compatibility list on Microsoft's website.
Microsoft Surface Slim Pen 2
Best for Microsoft Surface artists
Renaisser Stylus
Best for Microsoft Surface artists on a budget
Pros
Great budget choice for Microsoft Surface Series
Excellent precision
Tilt-to-shade function for realistic sketching
Lightweight and streamlined
Attaches magnetically to Surface tablet
Cons
May not be compatible with other devices
If you're an owner of a Microsoft Surface series tablet but don't want to spend over $50 on a new stylus, the Renaisser Stylus is an excellent buy for under $35. Using it feels like drawing on real paper, with 4,096 pressure points, a tilt-to-shade function, and MPP 2.0 technology for precise shading and sketching.
The Renaisser Stylus weighs just 40 grams and has an aluminum alloy body and streamlined design, measuring just 9.2mm in diameter. It features erase and right-click hotkeys and attaches magnetically to the left side of your Microsoft Surface tablet. It's compatible with nearly all Microsoft Surface series devices including the latest Surface Pro 9. It's the perfect choice for Microsoft users looking for a more affordable alternative to the Surface Pen.
Renaisser Stylus
Best for Microsoft Surface artists on a budget
Meko Universal Stylus
Best all-purpose artists' stylus
Pros
Wide range of compatible devices
Replaceable tips
Replacement tips and discs included
Cons
Doesn't offer as many advanced features as some more expensive options
The Meko Universal Stylus is an all-purpose tool made of stainless steel and aluminum that has a genuine pen-like feeling. It is compatible with a wide range of touchscreen devices, including Apple iPhones and iPads, Kindles, Samsung Galaxy smartphones, and more. At 5.5 inches long, the tube is about 9mm across for a comfortable in-hand grip. A clear disc lets you see exactly where your markings go and also gives you the precise point tip that's perfect for taking notes and drawing. The disc diameter is about 6.8mm, which includes a 2mm rubber point, while the fiber tip diameter is 6mm. Tips are replaceable, and the package includes replacements for both the tip and the disc. It comes in various color combinations of black, blue, purple, pink, and gold.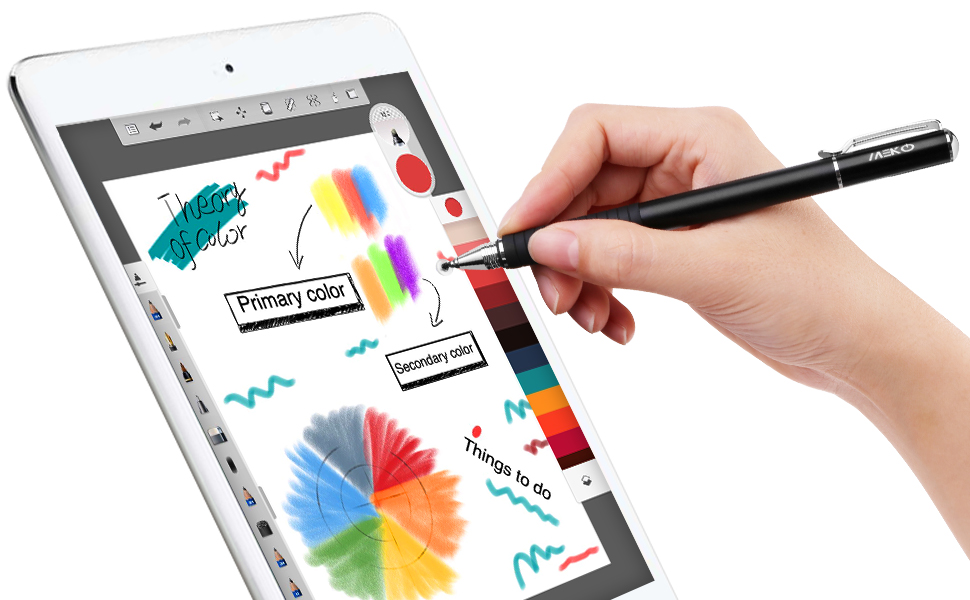 Meko Universal Stylus
Best all-purpose artists' stylus
Adonit Note Plus
Best for iPad artists on a budget
Pros
Designed specifically for iPads
2,048 levels of pressure sensitivity
Programmable shortcut buttons
Palm rejection
Cons
May not be compatible with other tablets and touchscreen devices
Digital artists who draw and paint on their iPads have a welcome choice with the Adonit Note Plus. Made specifically for iPad models, including the most recent generation iPad Pro, 6th- to 9th-generation iPads, 3rd- and 4th-generation iPad Airs, and 5th- and 6th-generation iPad Mini, the Note Plus will work pretty much every modern iPad (including the most recent generation), and has critical features such as palm rejection and 2,048 levels of pressure sensitivity to facilitate art creation with apps like Concepts, Zen Brush 2, Noteledge, and ProCreate. You can program shortcut buttons for your individual painting habits, like an eraser, and tilt your stylus against the screen to create a shaded effect in a drawing with specific brushes. Charge it up with a USB-C connector.
Adonit Note Plus
Best for iPad artists on a budget
Adobe Ink & Slide
Best for Adobe Creative Cloud users
Pros
Pixelpoint Adobe tech for enhanced accuracy
Syncs with Creative Cloud
Slide ruler for straight edges
If you're invested in Adobe's Creative Cloud, the company's Ink & Slide stylus and ruler combo may make the perfect tool for you. The Ink & Slide connects to any iPad 4 or later, iPad Air, or iPad Mini via Bluetooth LE. It's also synced with Creative Cloud, so every drawing or preference gets stored in the cloud for you to access on your computer or other devices later. The Ink & Slide also works with Adobe's Photoshop Sketch apps.
The Adobe Ink & Slide stylus has a fine-tip, pressure-sensitive point and feels like a normal pen in your hand. The Ink uses Pixelpoint technology from Adonit for enhanced accuracy. A status LED on the stylus even shows you what color you chose so you don't make any mistakes. The Slide ruler can be used to make perfectly straight lines, circles, and other shapes. The Ink & Slide comes with a USB charger and carrying case.
Adobe Ink & Slide
Best for Adobe Creative Cloud users
Adonit Mark
Best all-purpose drawing stylus
Pros
Compatible with a wide range of devices
Triangular shape prevents rolling
Smooth anodized aluminum construction
Cons
Not precise enough for note taking or drawing finer details
Adonit has been offering affordable and well-built styluses for quite a while, and the Mark is no different. It lets anyone with a smartphone, tablet, or touchscreen laptop have access to a solid, all-purpose stylus. The best thing about the Mark is how the stylus feels in the hand — it's made of anodized aluminum and is smooth but has a good grip. It also has a triangular shape, so it doesn't roll, which feels convenient.
The Adonit Mark is a decent, cheaper alternative for drawing, but we wouldn't recommend it for note-taking, as it's not precise, being tipped with mesh. Even when drawing, don't expect to get accurate strokes while you're working on the finer details.
Adonit Mark
Best all-purpose drawing stylus
Logitech Crayon Digital Pencil
Best Apple Pencil alternative for note-taking
Pros
Feels like natural pen and paper
Smart tip auto-adjusts line weight
Built-in palm rejection
Four feet of drop protection
Cons
Not as durable as Apple Pencil
The Logitech Crayon is a versatile digital pencil for iPads from 2018 and later, designed for users who want a great stylus but prefer something less expensive than the Apple Pencil. This stylus uses Apple Pencil tech to make the experience precise and responsive, with a natural pen and paper feel. Just turn it on and start using it — no pairing needed. A smart tip adjusts line weight automatically so you can tilt for thicker or thinner lines. Built-in palm rejection lets you rest your hand on the screen while you write. The Crayon can withstand travel and commutes with four feet of drop protection, a tethered cap, and a flat shape that feels comfortable in the hand and prevents rolling off your desk. It can run for 7.5 hours of active writing time on a full charge, while a quick two-minute charge gives you 30 minutes of active writing time.
Logitech Crayon Digital Pencil
Best Apple Pencil alternative for note-taking
Adonit Switch
Best budget all-in-one stylus and pen for note-taking
Pros
Stylus and pen in one
Disc for more precise marks
Weighs about the same as a normal pen
While the Adonit Switch may have a low price tag, that certainly doesn't mean it lacks style or usefulness. That's right, the Switch doubles as a stylus and an actual pen. Roll the striped grip-end, and a ballpoint pen slips out. Rotate to take off the cap on the other side, and voilà, you have a precision stylus, complete with a disk at the end, allowing for more precise marks on your tablet. It feels and weighs about the same as a normal pen and can easily be mistaken for one. It can be used to draw, but you're better off sticking with writing notes with the Adonit Switch. The ballpoint pen writes fairly well and adds an immensely useful function if you happen to always carry a stylus around.
Adonit Switch
Best budget all-in-one stylus and pen for note-taking
Adonit Pro 4
Best versatile fine point stylus for note-taking
Pros
Compatible with most touchscreen devices
Very fine point for precise notes
Looks and feels like a regular ballpoint pen
Choice of three colors
Cons
Cap isn't the most secure
Adonit offers the most precise and fine stylus tips of any manufacturer. Although the Jot Script is well-liked for its extra-fine tip, it only works with iOS devices. The benefit of the Adonit Pro 4 is that it works on most touchscreen devices, including iPads, Android tablets, and Windows tablets. The Adonit Pro 4 has a very fine point, which makes it perfect for taking notes. It has a solid, well-built 9.25mm aluminum body and feels smooth and sleek. It offers a pen-like experience, with equal distribution of weight throughout the device's body. The Pro 4 looks and feels like a regular ballpoint pen, with the addition of the PET Precision Disc, a polycarbonate disc tip to protect the screen. The stylus comes in three color schemes: Black, silver, or gold.
Adonit Pro 4
Best versatile fine point stylus for note-taking
Elzo 3-in-1 Stylus
Best budget note-taking stylus for iOS and Android
Pros
Affordable price
Three tips in one
Works with most iOS and Android devices
If you're looking for an affordable alternative to some of the premium offerings, then look no further than the Elzo 3-in-1 Stylus. It's the perfect low-cost option, as it provides three tips in one slim body. There's a soft nanofiber tip for general stylus use, but there's also a precision disc tip for more accurate work and a gel pen tip for writing on real paper. It has a solid aluminum body and comes with a soft grip for writing comfort. One of its best features is its compatibility. It works with a multitude of iOS and Android devices, including iPads, iPhones, Samsung devices, HTC devices, Motorola devices, and pretty much anything with a capacitive touchscreen.
Elzo 3-in-1 Stylus
Best budget note-taking stylus for iOS and Android
Frequently Asked Questions
What are the best tablets for styluses?
As the numbers for both the iPad Pro and Microsoft's Surface lineup attest, laptop-tablet hybrids are growing increasingly popular, as are styluses as accessories. Take, for instance, Samsung's tablet laptop, the Galaxy Tab S8 Plus, which boasts powerful performance, the versatility of Android, and a 2800 x 1752 (WQXGA) Super AMOLED display with a 120Hz refresh rate. The big, clear screen provides an exceptional portable canvas — especially if you have a stylus to work with. Samsung's S Pen isn't revolutionary, but it does provide outstanding performance for taking notes or even some sketching.
Microsoft's Surface Pro 9 is another hybrid example that supports an official stylus. The Surface Pro 9 uses Windows, so it can use the same programs as your desktop PC, though the applications might look a little different on the tablet. It also comes with support for Microsoft's Type Cover. The Surface Pen is powerful, too, with excellent pressure sensitivity and a built-in eraser. The Surface Pen is something you'll want to get, but it doesn't come with the Surface Pro 9, so you'll have to buy it separately. Or you could pick up a Surface Pro-compatible stylus like the Renaisser Raphael 520.
Our last recommendation includes the iPad Pro range, which needs little introduction. The massive display gives you some expansive space to draw on. The iPad Pro is a favorite of many artists since it's compatible with the famed Procreate app. Apple also updated the Pencil to use it for note-taking with your natural handwriting, or use the art studio tool for drawing. Budding artists who can't afford the iPad Pro still have options. The 9th-gen iPad (2021), as well as the iPad Mini (2021) and the iPad Air models, offer that Apple experience with a more affordable price tag. Though some older iPads support only the first-generation Apple Pencil, they'll still give you various applications you can use for productivity and creativity.
What makes a good stylus?
Stylus nibs — the part that touches the glass — come in a number of materials, including rubber, mesh, or even plastic discs. They can be retractable or covered by a cap, with or without an attached clasp, or not protected at all. Some are powered by batteries or Bluetooth, sometimes offering additional pressure sensitivity and palm-rejection features. Apps can be used in conjunction with some styluses if your device does not support all of its features.
A stylus case must feel comfortable in the hand for as long as you need to use it — smooth and grippy but not so slick, stubby, or long that you lose control. Watch out for styluses that quickly cramp your fingers or tire out your hand or arm. The tool should be of medium height so that it is easy to handle and doesn't wobble, with evenly distributed weight.
You should be able to draw and write easily, without lag, ghosting, or overlap. Look for moderate friction between the nib and the glass so that your stylus moves naturally, like a pencil or pen on paper; it should not drag or move too quickly. You don't want to press down too much.
Now that you know what to look for, we've rounded up some of the best styluses available.
Does anything work as a stylus?
Theoretically, you could build a makeshift stylus if you are a do-it-yourself (DIY) enthusiast, but it's not a good idea if you want to preserve the quality and functioning of your touchscreen device. If something goes wrong, you risk ruining your screen and potentially harming yourself, so it's a much better idea to buy one of the styluses available on the market. In fact, if you're concerned about the price, consider options like the Adonit Mark, which costs less than $15. If you want something more luxurious yet affordable, consider the Adonit Pro 4, which offers brilliant features for under $30.
How long does a stylus last?
How long a stylus will last depends on the quality of the tool and the frequency of your use. The more frequent and rugged your use, the fewer hours it'll last. Generally speaking, most stylus pens will last four months to one year before breaking down. Some premium options may last longer, but it's recommended to buy a new one to maintain quality and precision, especially if you are using it for art or note-taking.
Do stylus pens work on all devices?
Some stylus pens like the Microsoft Surface Pen are specifically designed to work with the Surface series devices. Such stylus options won't work well with other devices. However, options like the Meko Universal Stylus are built to work with a large variety of devices and will function well on most screens. General-use stylus pens may be cheaper and offer more versatility, but we recommend using device-specific stylus pens for better precision.
Editors' Recommendations