To earn the crown as the best laptop in 2023, it needs to have it all: gorgeous design, killer performance, a productive keyboard, long-lasting battery life, and much more.
Each of the laptops below has been vetted thoroughly by us here at Digital Trends. Whether it's an affordable Chromebook or a top-of-the-line gaming laptop, they've all been subjected to real-world testing, as well as benchmark and battery tests, to collect data to objectively pit them against each other.
Quick Overview
Apple MacBook Air M2: a fast, efficient, and portable laptop for everyone
Dell XPS 13: an affordable and well-built mainstream option
Razer Blade 14: a fast yet mobile gaming workstation
Asus ZenBook 14 OLED: the best laptop you can buy under $1,000
Lenovo ThinkPad Z13: a modern gem with excellent performance and design
Microsoft Surface Pro 9: the best touchscreen laptop just keeps getting better
HP Spectre x360 13.5: HP's loveliest and most useful convertible 2-in-1
Dell XPS 15: the company's most versatile laptop
Lenovo Yoga 9i Gen 8: a fast, solidly built convertible 2-in-1 that looks great
Lenovo Chromebook Duet 3: a usable and flexible Chromebook 2-in-1 for less than $300
Why you should trust us
Our expert laptop reviewers have tested and reviewed more than 500 laptops over the years, searching for the best of the best. We've reviewed every kind of laptop available, from traditional clamshell laptops to a variety of 2-in-1s to gaming laptops to unusual and innovative machines. We've applied a consistent and reliable formula to each of our reviews, pulling from a massive database of performance testing to make it possible for you to compare laptops with confidence.
Key considerations when selecting the best laptop
Laptops are complex machines, so there are a few key considerations we focus on when evaluating them.
Performance
You'll want a laptop that's fast enough for your needs, but you don't want to overspend for performance you don't need. So don't buy a gaming laptop with a super-fast CPU and a powerful discrete GPU if you'll just be surfing the web and answering email. Pay close attention to the processor choice, regardless if it's Intel, AMD, or Apple. And in the end, it's key to be honest with yourself and the kind of performance you actually need.
Portability
If you need a large display for tasks like video and photo editing, then by all means, choose a 15-inch or larger laptop. You'll also be able to get more powerful components. But if you need something you can easily slip inside a backpack without weighing yourself down, then you'll want to pick a laptop that's smaller and lighter. It's also important to consider battery life here to ensure you have what suits your lifestyle.
Build quality
You'll be handling your laptop and carrying it around into all kinds of environments. Some laptops are built better than others, so make sure you pick a machine that will stand up to your typical abuse. No matter the price, you want something that feels sturdy and robust. It's not worth saving a couple hundred bucks if the thing is falling apart one year later.
Price
You probably have a budget to work with, which can range from a few hundred dollars up to many thousands. If you're using your laptop to drive a business, then you'll probably be more inclined to make a significant investment, whereas if you're a hungry college student, you might be willing to compromise in a few areas to make it fit your budget.
And more
Beyond those listed above, you should also consider the display quality, the webcam, port selection, design, keyboard, touchpad, and speakers. That's a lot, but don't be overwhelmed! These are all factors we consider when reviewing and recommending laptops.
Apple MacBook Air M2
The best laptop
Pros
Incredibly thin
Upgraded webcam and speakers
Shockingly good performance
Battery life stomps the competition
Screen and keyboard are world-class
Cons
Worryingly hot internal temperatures
Still only supports one monitor
| Specifications | |
| --- | --- |
| CPU: | Apple M2 8-core |
| RAM: | 8GB, 16GB, 24GB |
| GPU: | Apple M2 8-core, 10-core |
| Screen: | 13.3-inch Retina |
| Storage: | 256GB, 512GB, 1TB, 2TB SSD |
| Dimensions: | 11.97 x 8.46 x 0.44 inches |
When Apple updated the MacBook Air to its latest M2 processor, it didn't stop there. Instead, the laptop was completely redesigned, starting with the chassis which took on the same general design as the larger MacBook Pro. The iconic MacBook taper was dropped and the chassis was trimmed, resulting in a minimalist and elegant laptop that's among the thinnest ever made at just 0.44 inches thick.
The M2 is an incremental improvement over the M1, slightly faster and more efficient but not a game-changer. It provides outstanding productivity performance and excellent battery life, making it one of the more balanced laptops you can buy today. The Liquid Retina IPS display is as good as always, and the keyboard (making it among the best laptops for writers) and Force Touch touchpad are the best available.
A recent price drop to $1,099 makes the MacBook Air M2 the second-most affordable MacBook, behind only the MacBook Air M1 that's $100 cheaper. There's even a larger 15-inch model that's also excellent.
Apple MacBook Air M2
The best laptop
Dell XPS 13 (9315)
The best Windows laptop
Pros
Aggressive price
Very compact design
Great battery life
Comfortable keyboard
Display is bright and high quality
Cons
No headphone jack
Performance is lacking
| Specifications | |
| --- | --- |
| CPU: | Intel Core i5-1230U, Core i7-1250U |
| RAM: | 8GB, 16GB, 32GB |
| GPU: | Intel Xe Graphics |
| Screen: | 13.4-inch 1920 x 1200 IPS |
| Storage: | 256GB, 1TB, 2TB SSD |
| Dimensions: | 11.63 x 7.85 x 0.55 inches |
There are two things you need to know about the Dell XPS 13 before buying one. First, it doesn't have a headphone jack. Second, its performance is a bit lackluster compared to many of the 12th-generation Intel-powered laptops.
With those downsides in mind, you might wonder why a laptop like this is still showing up on this list. Well, it all comes down to value. If you can set those two negatives aside, you'll find a gorgeous little laptop priced like none other. The base configuration tends to fluctuate in price, but it ranges between $749 and $1,099, making it the cheapest the XPS laptops have ever sold for. Keep in mind, you're getting 512GB of storage in that model, too. That makes a lot of laptops on this list seem overpriced, especially considering how good the battery life and display are. That's even true sitting next to the M1 MacBook Air. It's a fantastic value — so long as you can accept the lack of a headphone jack.
Of course, you'll also find a laptop here with premium features, such as a comfortable keyboard, a great touchpad, and a killer IPS screen. And, of course, the design is stellar. The compact little machine that's one of the best 13-inch laptops continues to have remarkably thin bezels, and the new color options are both unique and tasteful. It's very hard to find a laptop under $1,000 that hits all those marks, especially without sacrificing anything major.
You might wonder why we've included the XPS 13 on the list rather than the XPS 13 Plus. After all, the Plus model is more powerful and has some really excellent features, such as the seamless haptic feedback trackpad and the larger, edge-to-edge keyboard. Those features are all neat and certainly make it a futuristic-feeling laptop, but we're not sure they're worth the extra cost over the standard XPS 13, which comes in at hundreds of dollars cheaper.
Dell XPS 13 (9315)
The best Windows laptop
Razer Blade 14
The best gaming laptop
Pros
Fantastic gaming performance
Relatively cool and quiet
Solid IPS screen
Great battery life and portability
Cons
Bulky charger
More expensive than the previous model
| Specifications | |
| --- | --- |
| CPU: | AMD Ryzen 9 7940HS |
| RAM: | 16GB, 32GB |
| GPU: | Nvidia RTX 4060, RTX 4070 |
| Screen: | 14-inch QHD+ 240Hz refresh rate |
| Storage: | 1TB SSD |
| Dimensions: | 12.23 x 8.97 x 0.70 inches |
Gaming laptops are their own class of laptop that demand their own list, but we wanted to include some here that could easily double as your standard laptop – of course, with the added benefit that these can do some serious gaming after work.
The Razer Blade 14 might be the best example of such a premise. In many ways, it doesn't feel like it shouldn't be possible. Up to an RTX 4070 in a thin, 14-inch laptop? Yep, that's right. And it does it with some pretty impressive performance, too. It comes with a 2160p screen with a 240Hz refresh rate, ensuring that you're never bottlenecked by the display. Then again, the previous model, that's still available to purchase, has an optional 1080p 144Hz panel that can be configured with up to an RTX 3060 and a Ryzen 9 6900HX CPU and manages to land well under $2,000, which is a rare feat for a Razer laptop.
Yes, this bad boy's expensive. But what you're paying for is the ability to switch between work and play without batting an eye. The Razer logo on the lid and the per-key RGB backlighting might catch some attention at the office, but hey, this is a gaming laptop through and through.
There will always be room for larger gaming laptops like the Razer Blade 15 or Lenovo Legion 5 Pro, but the Razer Blade 14 still feels like a miracle. Amazingly, the Razer Blade 14 does all this at a few hundred dollars cheaper than the Razer Blade 15.
But no, it's not the cheapest gaming laptop. Nor is it the most powerful. It is, however, the best overall gaming laptop you can buy, especially if you want something small and portable.
Razer Blade 14
The best gaming laptop
Asus ZenBook 14 OLED
The best affordable laptop
Pros
Excellent value
Competent productivity performance
Great battery life
Comfortable keyboard and NumberPad 2.0 touchpad
Solid build and attractive aesthetic
Outstanding OLED display
Cons
Creative performance is lacking
| Specifications | |
| --- | --- |
| CPU: | AMD Ryzen 5 7530U, Ryzen 7 7730U |
| RAM: | 8GB, 16GB |
| GPU: | AMD Radeon graphics |
| Screen: | 14.0-inch OLED |
| Storage: | 256GB, 512GB, 1TB SSD |
| Dimensions: | 12.34 x 8.68 x 0.67 inches |
Sometimes, a laptop comes along that offers surprisingly good value with impressive features, placing it at the top of our list of best budget laptops. The Asus ZenBook 14 OLED is one such laptop, coming in at $700 for the base model with a Ryzen 5 CPU, 8GB of RAM, and a 256GB SSD, and costing just $870 for a more powerful configuration with a Ryzen 7, 16GB of RAM, and a 512GB SSD. Most impressive, though, is getting an excellent OLED display at these prices. In fact, it's one of the best OLED laptops you can buy today.
As with all OLED panels, the one on the ZenBook 14 OLED is bright, colorful, and displays inky blacks. It's great for productivity, creative work, and streaming HDR media, and it's rare to get this kind of display quality at such a low price. But the ZenBook 14 OLED isn't just cheap. It also performs well and gets great battery life.
Toss in a solid build, excellent keyboard and touchpad, and you have the best option currently available for under $1,000. It's not exactly a budget laptop, if you define that as one that costs $500 or less, but it's certainly an excellent value.
Asus ZenBook 14 OLED
The best affordable laptop
Lenovo ThinkPad Z13
Best laptop for work
Pros
Excellent battery life
Performance is impressive
Small footprint
Webcam is solid
Unique design
| Specifications | |
| --- | --- |
| CPU: | AMD Ryzen 5 Pro 6650U, Ryzen 7 Pro 6850U |
| RAM: | 16GB, 32GB |
| GPU: | Integrated AMD Radeon 660M |
| Screen: | 13.3-inch IPS |
| Storage: | 512GB SSD, 1TB |
| Dimensions: | 11.59 x 7.85 x 0.55 inches |
Business laptops don't have to be boring, and the ThinkPad Z13 proves it. Its faux-leather lid looks unique while still feeling classy, with just enough touches across the chassis to feel modern. Not that you need to work for a big company to love what the ThinkPad Z13 has to offer. The ThinkPad Z13 is the kind of business laptop that the average person would likely be delighted to use — so long as you appreciate the ThinkPad brand and buttoned-up aesthetic.
Of course, the ThinkPad Z13 is more than just an interesting-looking new laptop. It's one of the best laptops to run on AMD's new Ryzen 6000 chips, which provide excellent performance and long-lasting battery life. Yes, the security features come baked-in too, but it's the battery life that really sold us on these chips. With MacBooks leading the charge in battery life, it's great to see a Windows option that lasts almost as long and doesn't have an Apple logo plastered to the lid.
The ThinkPad Z13 also includes a 1080p webcam that produces some solid results for videoconferencing. That's as important as ever, and Lenovo's design even highlights the feature with its brushed metal Communication Bar. It's a significant jump up in clarity and sharpness over older laptops with 720p and follows the trend of improving image quality for remote work. There's even an OLED model if you really want to take the screen to the next level, though we found the cheaper IPS display to be solid on its own.
All of it comes together in a package that feels both unique and appropriate for the office, which is especially hard to pull off at this price. Unlike many high-end business laptops and ThinkPads in general, the ThinkPad Z13 isn't extravagantly overpriced, which makes the excellent performance, battery life, and features even more noteworthy.
Lenovo ThinkPad Z13
Best laptop for work
Microsoft Surface Pro 9
Best touchscreen laptop
Pros
New colors look great
Design and build quality are top notch
SQ3 is a solid alternative
Type Cover keyboard is excellent
High resolution webcam
Cons
No headphone jack
Upgrades still too expensive
Limited performance improvements
| Specifications | |
| --- | --- |
| CPU: | Intel Core i5-1245U, Core i7-1255U |
| RAM: | 8GB, 16GB |
| GPU: | Integrated Intel Xe graphics |
| Screen: | 13-inch PixelSense Flow |
| Storage: | 128GB, 256GB, 512GB, 1TB SSD |
| Dimensions: | 11.3 x 8.2 x 0.37 inches |
For many years, the Surface Pro was all on its own. Other manufacturers had given up on the 2-in-1 form factor, and Windows wasn't doing much to improve touch interfaces. But that changed this year when multiple new Surface Pro-like devices were released, no doubt thanks to the momentum Microsoft is building with Windows 11.
That means the Surface Pro 9, the latest model in the line, has some serious competition. But even with challengers like the Dell XPS 13 2-in-1 available, the Surface Pro 9 remains on top. Microsoft has been perfecting this hardware for years now, and it shows. The buttery smooth 120Hz display is a highlight, especially with the thin bezels introduced in last year's model. Microsoft has a more polished product, and even though it asks for more money, the product experience is totally worth it.
Interestingly, though, the Surface Pro 9 is also the first to offer both an Intel model and an ARM configuration. The ARM model uses the Microsoft SQ3, the company's latest collaboration with Qualcomm, and you might be wondering if it's finally become a better option than the more conventional Intel model. It certainly gets more battery life, and the addition of 5G connectivity is a bonus. But if performance is what you're looking for, the Intel model is still the way to go, especially since the 12th-gen chips bring quite a performance jump over the previous generation.
As it stands, that's the way most people should go, though we wouldn't blame you for wanting to try something new with the SQ3 model. It seems like many companies want ARM to be the future of Windows PCs, and portable 2-in-1 devices seem like a category ripe for more efficient chips. The Surface Pro 10 was not announced in 2023, so we're still waiting on that in 2024.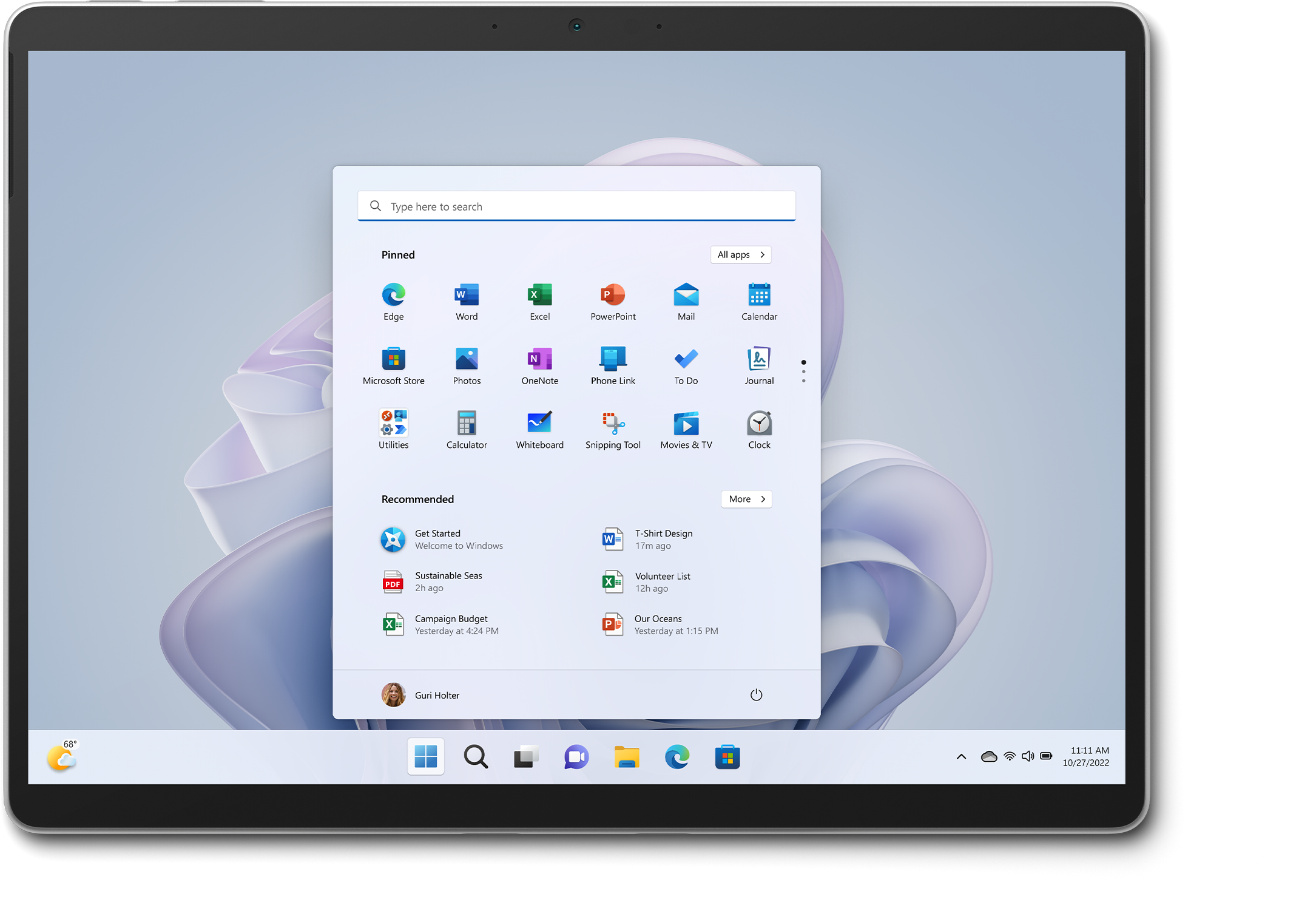 Microsoft Surface Pro 9
Best touchscreen laptop
HP Spectre x360 13.5
Best HP laptop
Pros
Elegant aesthetic
Excellent productivity performance
Rock-solid build
Superior keyboard and touchpad
Stunning OLED display
Surprisingly good battery life
Cons
Creativity performance is lacking
Slightly expensive
| Specifications | |
| --- | --- |
| CPU: | Intel Core i7-1355U |
| RAM: | 16GB |
| GPU: | Intel Iris Xe |
| Screen: | 13.5-inch touchscreen |
| Storage: | 512GB SSD |
| Dimensions: | 14.21 x 9.84 x 0.76 inches |
Competition for thin and light laptops with 13-inch screens has never been tighter. But that's a great thing for laptop buyers, now with so many excellent choices such as the HP Spectre x360 13.5.
The HP Spectre x360 series of convertible laptops has long been among our favorites. But the Spectre x360 13.5 is the best of the line in a very long time. It brings together a unique yet elegant sense of style with high-end components such as its stunning OLED display and great battery life. It doesn't have the same weaknesses in ports (it has a headphone jack!) and performance as the XPS 13, either. This is a plenty-fast machine for your work needs, even when using it as a dock to connect to multiple external monitors — though, if it's discrete graphics you want, you'll want to opt for the Spectre x360 14.
The only complaint is that it's a bit more expensive than we'd like, especially compared to new options like the Dell XPS 13 or the M1 MacBook Air. HP prices the Spectre x360 quite high, and in a world where Apple's MacBooks continue to push the boundary of what's possible in terms of battery life and performance, it's been increasingly hard for Windows laptops to compete — especially if they're not being priced down appropriately.
Fortunately, HP does have a cheaper option in the Envy x360 13, which uses the same form factor but comes in well under $1,000. Like the XPS 13, the Envy x360 does a fantastic job undercutting the M1 MacBook Air in terms of the value it offers.
But if the premium look is what you want, the Spectre 360 x360 13.5 delivers in a big way. It's the complete package — and sometimes, that's worth paying for.
HP Spectre x360 13.5
Best HP laptop
Dell XPS 15
Best Dell laptop
Pros
Rock-solid construction and attractive aesthetic
Strong productivity and creativity performance
Decent 1080p gaming
Excellent keyboard and touchpad
Spectacular OLED display and outstanding audio
Good battery life
Cons
Gaming performance held back by underpowered GPU
Overall performance is limited by thin chassis
720p webcam and Wi-Fi 6 are outdated technology
Expensive
| Specifications | |
| --- | --- |
| CPU: | Intel Core i5-13500H |
| RAM: | 16GB |
| GPU: | Intel Iris Xe |
| Screen: | 15.6-inch full HD |
| Storage: | 512GB SSD |
| Dimensions: | 13.56 x 9.06 x 0.73 inches |
Truthfully, it's hard for a laptop like the Dell XPS 15 to compete with the MacBook Pro 16-inch. Performance is similar, but the MacBook Pro wins in almost every other category, from the port selection to the screen, even with more minor features like the speakers or webcam. And that's not to mention battery life, where the MacBook Pro is in another league.
But Macs aren't for everyone. Many applications or organizations require Windows — and hey, many of us just straight-up prefer it. Content creators need a solid option that is as premium as the MacBook Pro while still providing excellent performance. And that's where the Dell XPS 15 comes into play, as one of the best laptops for video editing.
This is a gorgeous laptop, still using the carbon-fiber weave texture across the keyboard deck and palm rests even in its latest iteration. That may change in the coming years to align with the XPS 13 and XPS 13 Plus, but for now, we love the look and design. And despite having a 15-inch screen, the overall size of the XPS 15 is far smaller than some of the other best 15-inch laptops. That's thanks to the tiny bezels, of course.
It even comes with four powerful Thunderbolt ports and a full-size SD card slot for convenient transfers directly from your camera. But the performance is what really counts for video-editing laptops. Between the 12th-generation Core i9 processor and a Nvidia RTX 3050 Ti, the Dell XPS 15 is one of the most powerful consumer-class content-creation laptops we've ever tested.
If you don't need all that extra performance, Dell even offers cheaper versions of the XPS 15 that don't come with discrete graphics, though you may want to consider thinner and cheaper devices that aren't meant for heavy loads, such as the LG Gram 16, Surface Laptop 5 15, or even Dell's own Inspiron 16. In addition, the XPS 15 9530 updated the CPU and GPU but kept everything else exactly the same as the XPS 15 9520. You can buy the previous model for hundreds less and get most of the same performance, with the biggest difference coming in gaming.
Dell XPS 15
Best Dell laptop
Lenovo Yoga 9i Gen 8
Best Lenovo laptop
Pros
Fast productivity performance
Spectacular OLED display
Solid build quality
Good keyboard and touchpad
Elegant good looks
Cons
Battery life is below average
Slightly expensive
| Specifications | |
| --- | --- |
| CPU: | Intel Core i7-1360P |
| RAM: | 16GB |
| GPU: | Intel Iris Xe |
| Screen: | 14.0-inch OLED |
| Storage: | 512GB SSD |
| Dimensions: | 12.52 x 9.06 x 0.60 inches |
The Lenovo Yoga 9i Gen 8 inherits the gorgeous, rounded design of some other recent Lenovo laptops, giving it both an elegant look and a comfortable feel. The latter is particularly nice when you're using this 360-degree convertible 2-in-1 in tablet mode, where the lack of sharp edges are welcome.
The laptop is thin and light enough to be useful in this mode as well, thanks to minimal bezels and the increasingly iconic Lenovo reverse notch at the top of the display that houses a 1080p webcam. Even given its relatively svelte frame, it provides solid performance thanks to 28-watt Intel 13th-gen CPUs, plenty of RAM, and fast storage. Toss in excellent active pen support and you have a laptop that can tackle any task.
And you'll particularly enjoy the 2.8K or 4K OLED display, either of which will provide incredibly wide and accurate colors, plenty of brightness, and the kind of inky blacks that only OLED can provide. If you're a creator, either makes for the perfect display, and if you consume a lot of high dynamic range (HDR) video then you'll be pleasantly surprised at the image quality.
Battery life isn't the best, but that's a small price to pay for such a flexible and powerful machine that's one of the best 14-inch laptops. This is Lenovo's best all-around machine, making its place on this list a natural one.
Lenovo Yoga 9i Gen 8
Best Lenovo laptop
Lenovo Chromebook Duet 3
Best Chromebook
Pros
Good enough productivity performance
Excellent battery life
Surprisingly good display
Folio kickstand and keyboard included
Strong value
Cons
Keyboard is too cramped
Limited to Wi-Fi 5
| Specifications | |
| --- | --- |
| CPU: | Snapdragon 7cG2 |
| RAM: | 4GB, 8GB |
| GPU: | N/A |
| Screen: | 11-inch 2000 x 1200 |
| Storage: | 128GB eMMC |
| Dimensions: | 10.16 x 6.57 x 0.3 inches |
Laptops that cost $300 shouldn't be this good. Seriously. Most laptops you can buy at that price have serious deficiencies, like pitiful performance or awful 720p screens. That's often true, even on Chromebooks.
But the Lenovo Chromebook Duet 3 manages to deliver a great laptop experience, albeit on a very small device. But this little 10.9-inch is perfect for students or anyone who just needs a compact device to take on the go. The screen resolution is even better than 1080p, reaching up to 2000 x 1200. That's very sharp for a screen of this size, making it excellent for writing and reading text. It even gets up to 400 nits of brightness, meaning working near windows isn't an issue. Again, this is unheard of for a laptop of this price.
Surprisingly, the Lenovo Chromebook Duel 3 also comes with a 5-megapixel camera for solid videoconferencing. It has just about everything it needs to compete with the iPad (especially with the recent price jump). The iPad is undoubtedly a better tablet. It's lighter and has a wide range of gestures and apps to support touch-only controls. The Lenovo Chromebook Duet 3 will disappoint you in that regard, even with support for Android apps. But that's nothing new for ChromeOS tablets.
The Lenovo Chromebook Duet 3 excels, though, as a work or school device and is one of the best laptops for college. As good as iPads have become at doing work, if you're needing to do actual work or school work, having a normal desktop browser and a full keyboard goes a long way toward being more efficient. The magnetic back cover also gives the tablet a kickstand for lots of angles, and you can even bundle in the Lenovo Digital Pen for stylus use.
Lenovo Chromebook Duet 3
Best Chromebook
How we test laptops
Hands-on experience
We extensively handle every laptop we review and use them in a variety of real-world conditions. We're looking for how well a laptop is built, how it feels in hand, and hold it generally holds up to the uses for which it's designed. We describe our experiences and discuss the materials and concepts used in a laptop's design to provide an informative hands-on impression.
Interface interaction
On all laptops, we test the keyboard and touchpad to make sure that both are comfortable to use for extended periods of time. For keyboards, we consider the key spacing, keycap size, and switch performance to determine how precise and comfortable it is to use. For touchpads, we test for how smooth the surface is and how responsive it is to taps and clicks. If the buttons are too loud, we'll tell you. If a laptop has a touch display and supports an active pen, we'll tell you how those work, as well.
Display and audio impressions
We give the display both an objective test with a professional colorimeter, judging it based on color width and accuracy, brightness, and contrast. We also provide our subjective viewpoint – is the display pleasant to use, is it sharp enough, and does it support advanced capabilities like high dynamic range (HDR) video. We also listen to the audio, giving an impression of its volume and clarity and its suitability for more than just playing system sounds.
Performance
We run every laptop through a suite of benchmarks, both synthetic and real-world, to provide an indication of how it performs relative to other similar machines. We test both the CPU and the GPU, and during testing we provide an idea of how loud and hot a laptop gets while performing typical productivity tasks as well as more demanding uses like video editing and gaming.
Editors' Recommendations