These days, it seems like everyone is sporting a pair of AirPods, Galaxy Buds, Sony WH-1000XM5s, or the latest headphone technology. When it comes to audio gear for your ears, one thing is for sure — premium headphones usually mean premium prices. While we all want the best earbuds and headphones money can buy, the reality is that not everyone has the budget to spend hundreds of dollars to listen to tunes and podcasts. 
If you fall into that category, the good news is that we've compiled a list of the most affordable earbuds and headphones that can also provide great value and quality ... without going beyond $100.
If true wireless earbuds is your specific jam, check out our roundup of the best budget true wireless earbuds.
1More Triple Driver
Best headphones under $100
Pros
Great sound for the price
High quality materials and design
Huge variety of eartip size and styles
Cons
Large size may not fit all ears
Why you should buy them: They offer outrageously good performance for the money in a small and stylish package.
Who they're for: The serious listener who wants incredible sound in a hyper-portable package.
Why we picked the 1More Triple Driver:
Chinese company 1More's Triple Driver earbuds manage to deliver all the features of a high-end set of in-ear headphones at an affordable price and in a package that looks and feels premium. Frankly, they make other headphones seem outrageously overpriced.
The Triple Drivers deliver clear, quality high frequencies, with 1More claiming a 40kHz maximum range on these puppies, as well as balanced-yet-weighty bass that is comfortably present and never overwhelms the rest of the mix. That also lets you enjoy the sweet performance of the midrange and treble drivers above for a one-two-three punch of excellent sound.
The build quality is another noteworthy aspect of these headphones. The Triple Drivers have durable aluminum alloy casings that gleam with a coppery, sandblasted finish, while the cable is wrapped in triple-braided Kevlar — seriously high-class materials for headphones in this price range. You'll also get a snazzy carrying case with your purchase, too. These headphones also feature an in-line mic and triple button controls, letting you take phone calls and control playback without needing to take your phone out of your pocket. There's really no excuse for these to not be your mainstay earbuds.
For such a high-quality listening experience, it's almost a shock that these earbuds are often offered well under the $100 price range. The 1More Triple Driver boast both material and performance benchmarks we'd expect from headphones that cost twice as much or more. For those with a shiny new iPhone, there's even a Lightning version available for a slightly higher price and a wireless version as well. There are very few ways to get better sound at this price point anywhere on the market, period.
1More Triple Driver
Best headphones under $100
Beats Flex
Best cheap earbuds for Apple fans
Pros
Comfortable
Very good sound quality
Very good call quality
Easy pairing with Apple products
Cons
Controls can be a bit finicky to use
No official IPX rating
Why you should buy them: They sound great, they play nicely with Apple devices, and they're a bargain at just $70.
Who they're for: Those who don't want to worry about lost earbuds while still enjoying wireless convenience.
Why we picked the Beats Flex:
Not long ago, the only way you were going to find a set of Beats headphones for less than $100 would be if you found them on sale. That's why we're big fans of the Beats Flex. Apple took what was essentially a $100 set of behind-the-neck wireless earbuds (the BeatsX) and cut the price in half.
And as far as we can tell, Apple managed to do it without sacrificing any quality at all. That might say something about the value of the BeatsX, but let's not dwell on the past. The Beats Flex not only preserve the BeatsX sound quality, with authoritative bass and an excellent balance of mids and highs, but they also improve in a few areas.
Battery life has been extended from eight hours to 12, which makes them much more of an all-day companion. Charging is now done via USB-C (instead of Apple Lightning) — something of an acknowledgment that Android users like Beats products, too.
The magnetically-latching earbuds can now automatically pause your tunes when they snap together and resume them when they're pulled apart.
Meanwhile, call quality (which was always a high point on the BeatsX) has only been reduced fractionally, mostly because the microphone has moved further away from your mouth.
As a Class-1 Bluetooth device, you can walk an impressively long distance from your phone and still stay connected (up to 300 feet when outside), which makes the Beats Flex a good option for those who want to move a bit more freely.
As long as you don't mind the tangle-free wires that come along with the Beats Flex, they're an amazing value.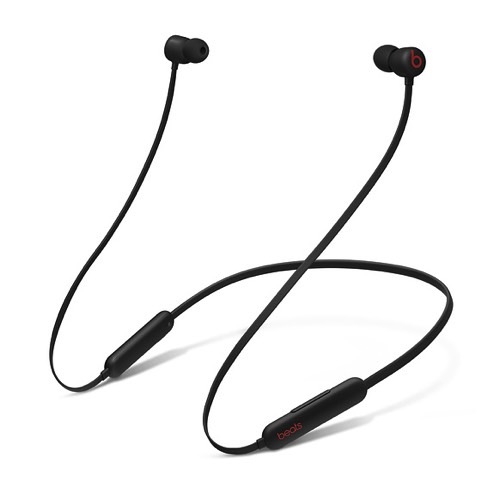 Beats Flex
Best cheap earbuds for Apple fans
1More SonoFlow
Best cheap wireless headphones
Pros
Great sound quality
Very comfortable for long periods
Ridiculous battery life
Solid ANC performance
Great app support
Affordable price
Cons
No wear sensors
Wired mode disables extra features
Why you should buy them: These wireless headphones are packed with features, including ANC and LDAC support.
Who they're for: Those who want the best sound quality in a set of $100 wireless headphones.
Why we picked the 1More SonoFlow:
Getting decent sound from a set of $100 wireless headphones is easier than ever, and we've featured several models in this category over time. But it's incredible just how much 1More manages to pack into these headphones while still keeping the price so low. That includes features that were relegated to high-end models just a few years ago, such as a solid ANC and transparency mode, plus a wide range of app capabilities from presets and EQ customization to features like connecting two devices wirelessly at the same time. 
Of course, sound quality also impresses here, thanks to some 40mm drivers that are competitive with significantly more expensive headphones like the Anker Soundcore Space Q45. There's also support for Sony's hi-res LDAC, although access to it may be limited for some (such as iPhone users). 
Then there's the battery life, which clocks in at an amazing 50 hours with ANC on, and up to 70 hours with it turned off. That's very impressive for wireless headphones, well-suited for multiple days of playback without needing to worry about finding time to recharge.
Note that our previous pick here was the Jabra Elite 45H, a similarly impressive budget pair of headphones that can't quite match up to the SonoFlow. However, if you prefer smaller earcups, you may enjoy the on-ear design of the Elite 45H more than the over-ear SonoFlow. It's not often a high priority for buyers, but some of you may already know you like the on-ear models more.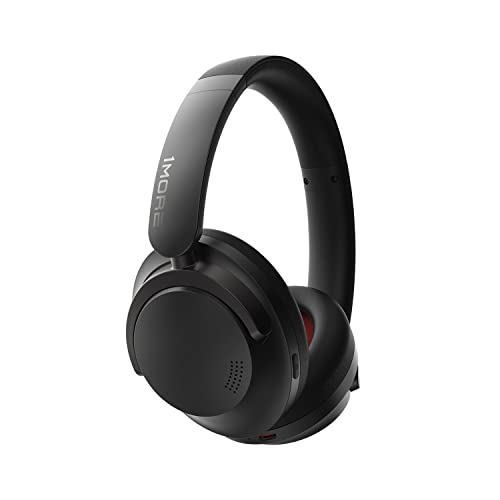 1More SonoFlow
Best cheap wireless headphones
SoundCore Space A40
Best cheap true wireless earbuds
Pros
Compact and comfortable
Good sound quality
Very good ANC/transparency
Good call quality
Excellent battery life
Wireless charging
Bluetooth multipoint
Cons
No wear sensors
So-so wireless range
Why you should buy them: They're loaded with features, sound great, and even offer impressive noise cancellation.
Who they're for: Those who want an affordable alternative to the AirPods Pro 2.
Why we picked the SoundCore Space A40:
Budget true wireless earbuds typically have to sacrifice something to get the price under $100, often sound quality, noise cancellation, or battery life. The SpaceA40 is impressive because of just how little it gives up, making it the perfect choice for those who love true wireless but would like to save some money when they buy. And unlike some true wireless buds, this pair is particularly comfortable and likely to fit well in all kinds of ears.
You won't be sacrificing much sound, either: SoundCore's earbuds have a full-frequency response with a HearID tuning process that helps tweak the EQ (which comes with an impressive number of presets on its own). The result isn't perfect, but it's deeply impressive at this price range, and Android users will appreciate the LDAC support, too.
Plus, the Space A40 offers more effective ANC than our previous pick, the JLaB Epic Air (one of our only complaints about those buds), with easy mode-switching using the touch controls and a surprisingly good transparency mode. Unfortunately, there's no wear sensor here, that handy feature that automatically pauses music when you pop off one of the earbuds.
While we praised the remarkable battery life of the Epic Air, the Space A40 once again goes above and beyond, sporting up to 10 hours of playtime for a single charge, making a total of 50 hours with the charging case (with ANC off). Even when powering ANC and other features, they still grind out around five hours per charge, which is what the AirPods Pro top out at.
SoundCore Space A40
Best cheap true wireless earbuds
HyperX Cloud Stinger 2
Best cheap headphones for gaming
Pros
Supremely comfortable
Solid microphone quality
Great audio quality and positioning
Inexpensive
Cons
The wire locks out some devices
Why you should buy them: This single headset can easily cover all your gaming needs on any platform.
Who they're for: Gamers who want an affordable option that will work across every platform.
Why we picked the HyperX Cloud Stinger 2:
We're still fans of the highly durable Turtle Beach Recon 200 pick we previously had for gaming, but the Cloud Stinger 2 is even more affordable and doesn't skimp on impressive game-ready features. That includes a surprisingly comfortable, lightweight design that feels anything but cheap (ideal for lengthy gaming sessions) and excellent sound powered by 50mm drivers plus support for DTS Headphone:X for a more environmental sound that can be helpful in competitive or team play.
HyperX's Cloud Stinger 2 offers broad platform compatibility for PC, Xbox, and PlayStation (including the latest console generations), plus Nintendo Switch, so you won't need to worry about lack of support. And if you prefer team play, you'll find a solid noise-canceling condenser microphone with a flexible design and flip-to-mute functionality.
Gamers may feel the loss of some features for the sake of affordability. There's no wireless mode, for example, which can be tricky in some console setups, and no RGB effects to play with. Some gamers may want to pay a bit more and get a different budget version like the Razer BlackShark V2. But those who want to save as much as possible will be very pleased with what they find here.
HyperX Cloud Stinger 2
Best cheap headphones for gaming
Sennheiser HD 280 Pro
The best cheap headphones for mixing
Pros
Rugged, studio-ready design
Crystal-clear sound for the price
Comfortable for long sessions
Cons
Closed-back design, which may be a dealbreaker for some
Why you should buy them: They offer great durability and excellently balanced sound at a great price.
Who they're for: The podcaster, musician, or video editor who needs a pair of workhorse headphones.
Why we picked the Sennheiser HD 280 Pro:
There are plenty of options from Sennheiser under 100 clams that could pull mixing duty, but the HD 280's design and feature set make them the best choice. The Sennheiser HD 280 Pro are the rugged mainstays you'll see in the background of many radio stations, recording studios, and video-editing rooms for a reason: They sound great, take a beating, and their simple black aesthetic keeps them from nabbing too much attention.
These cans won't fail you even in the most challenging studio conditions; Sennheiser has designed the HD 280 Pros with a rugged frame, and the coiled, one-sided cable mitigates wear and tear from everyday use. While they look like bruisers, they aren't heavy, and the generous ear padding and rotating earcups make them comfortable for prolonged mix sessions. They're even collapsible for easier storage, too.
Most importantly, the HD 280 Pro's sound quality is excellent for the price. Their crystal-clear sound digs up subtle moments from deeper layers of the music, with a frequency response of 8-25,000Hz. They are closed-back, however, which is important to note in case you absolutely require an open-back option, but we're still confident the HD 280 Pro will fulfill your editing needs — not to mention they sound excellent for casual listening, too.
The Sennheiser HD 280 Pro may not wow with style, but if you're looking for some affordable over-ears that will last you many years of solid use, in or out of the studio, we suggest you start with these.
Sennheiser HD 280 Pro
The best cheap headphones for mixing
Frequently Asked Questions
Are headphones or earbuds under $100 any good?
Yes. Especially for wired models, they can offer impressive sound quality from the right brands.
Do budget headphones or earbuds have Bluetooth?
Yes, many types of headphones or earbuds have Bluetooth, and with the proliferation of affordable true wireless earbuds, there are tons of choices. Also, check out our Bluetooth guide for an explanation of the tech and general tips for using wireless devices.
Do budget headphones have noise-canceling?
Yes, some do, but it typically isn't very good. Our picks favor some of the best we've found at this price level. If noise canceling is what you're after specifically, our list of the best noise-canceling headphones is a great place to start your search.
Should I buy over-ear, on-ear, or in-ear headphones?
That depends on how you will use them. If you're planning to be out and about with your headphones, we generally recommend in-ear models. If you plan on using them at home or at work primarily, on-ear or over-ear models are generally better options.
Is spending more than $100 on headphones worth it?
We believe it can be if you're someone who appreciates quality sound and superior features. If you have a little more money to spend and you thoroughly enjoy beautiful sound, headphones generally provide some of the best value in the realm of audio, period. Keep in mind that stepping up in price may be worth it, but we caution you: High-priced headphones aren't always the best quality. 
How do you test headphones?
We review our headphones by using (and abusing) them the way many active people do. 
Instead of examining headphones in a restricted environment, we test them in brutal, real-life situations. We test by playing content from a variety of sources in many different environments, from a bus, listening room, office, and everything in between. We acknowledge that many headphone listeners use them with their smartphones and listen to lower-quality audio tracks and streaming services. So, we do the same. 
Our team also tests various high-res audio files spanning different hardware. We plug headphones into PCs and Macs, try out USB DACs (digital-to-analog converters) and turntables, and use the finest portable players and amps. When that's all said and done, we make a final comparison to observe the differences between the headphones we're testing and our favorites. We compare these based on class and price and push them a grade or two higher to see if they can still offer good quality when pushed past their limits. 
Editors' Recommendations