Finding the time to trim the grass can be a royal pain, especially when the workweek is loaded and you'd rather spend the weekend watching Netflix. Fortunately, if you're willing to invest in some smart hardware, there's a solution. Robotic lawn mowers take the time and pain out of seasonal lawn care. Battery-operated, a solid robot mower can learn your lawn inside and out, cutting quickly, quietly, and on a schedule that you create. But which one should you buy? Find out here in our definitive list of the best robot lawn mowers for 2023.
Worx WR155 Landroid
Best all-around robot mower
Pros
Well-designed wheels with extra traction
Cut to edge design for accurate mowing
Several cutting height options
Cons
Does require extensive ground wire installation
This Worx model shows a strong understanding of what a buyer needs from a reliable robot mower. It's easy to use, includes an updated design with new traction wheels, and can handle up to one-half acre, perfect for mowing any sized suburban lawn or smaller commercial lawns (smaller models are available for less, but the half-acre capability guarantees this model is ready for a wider range of properties).
This lawn robot is designed to follow a schedule based on the information you provide about your lawn on the app, cutting in light layers that don't need to be emptied out or collected — and you can still adjust the cutting height if necessary. The "cut to edge" design helps the blades mow as close to the lawn edges as possible, so you don't get those annoying stragglers by the flowerbeds, and there's a handy alert feature that sends you a notification if your mower leaves the lawn space, which indicates a performance issue or that someone is tampering with the unit (every good mower bot should have this feature).
The model also uses a brushless motor with a floating blade disc that can automatically lift the blades when dealing with uneven terrain. The Worx WR155 Landroid offers an 8-inch cutting width, a 6.0mAh battery designed to last longer than previous options, and a charging base station. You will have to lay down ground wire boundaries around your lawn, as the Worx — along with most models — needs these barriers.
Worx WR155 Landroid
Best all-around robot mower
Gardena Sileno City 250
Best robot mower for small lawns
Pros
Great app controls
PIN protection for unauthorized access
Works in the rain
Cons
Rated up to 2,700 feet of lawn, which may be too small for certain yards
Gardena's line of mowers is both robust and affordable, making them ideal choices for smaller lawns. This model can tackle up to 2,700 square feet of lawn, and operates via a well-designed app that's easy to set up and offers multiple scheduling options, as well as a security PIN to prevent unauthorized access. The mower is also ready to keep mowing in the rain (although, as we discuss below, this can have an impact on your lawn cut quality), and can handle steeper slopes up to 35%.
The Gardena Sileno City 205 is also made to be quiet, with decibel levels under 60. The normal running time is around 65 minutes — although this can vary a lot depending on the lawn — and charging time takes around 75 minutes. Like our top Worx pick, this model also uses A.I.-powered cutting power, and it can fit in narrow spots down to 24 inches wide for cutting lawn strips.
Gardena Sileno City 250
Best robot mower for small lawns
Robomow RK4000
Best high-end robot mower
Pros
Handles up to 1 acre
Deals with 45 degree slopes
Lots of height options
Obstacle sensor
Robomow reliably makes some of the best premier robotic lawn mowers, although the price is a bit steep. However, for larger and more complex yards, you're going to need a bit more lawn mower than the Worx above. The Robomow RK4000 handles up to an acre of lawn, far more than the average robot mower, and can handle steep slopes of up to 45 degrees, something few models can. There's also a very wide range of height cutting options from 0.75 inches to four inches.
This model is also equipped with a color touchscreen for easy programming, and an obstacle sensor to help it avoid things like trees and berms in a lawn.
Robomow RK4000
Best high-end robot mower
Husqvarna Automower 430XH
Best robot mower for larger lawns
Pros
Handles up to 0.8 acres
Lift and tilt sensors for safety
145-minute battery charge
Those looking for a powerful robot mower that can handle larger lawn spaces than most will be delighted by the Automower 430XH, which can handle up to 0.8 acres. The mower is also well-equipped to avoid damaging your landscapes, with lift and tilt sensors to prevent collisions (or running over toys left on the lawn), as well as a rubber front bumper to protect from unexpected bumps. There are also LED headlights, which the mower doesn't technically need but are useful for keeping people from tripping over it at night.
The app controls for the Automower 430XH are also advanced. You can create schedules and track the precise location of the mower, as well as give it voice commands via Alexa or Google Assistant. There's also a PIN-secured alarm to help prevent theft and a total of 145 minutes of cutting time per charge. Like most other models, you will have to set up a boundary wire, but with this in place, the mower can handle more complex lawns with ease.
Husqvarna Automower 430XH
Best robot mower for larger lawns
Husqvarna 115H Connect
Best mid-range robot mower
Pros
Suitable for up to 0.5 acres
Solid battery life
Great voice assistant compatibility
Cons
A step down compared to more expensive Husqvarna models
Husqvarna's 115H is easily controlled and customized — and it's a more affordable Husqvarna option than some of our other picks for those who would like to save some money. This reliable device can handle lawn care for yards roughly half an acre or smaller, with slopes of 22 degrees or less and grass height of 2.4 inches or less. You can control this lawn care device through your smartphone and its LCD panel, where you can customize controls. Its battery will last for just over an hour on each use. 
The Husqvarna 115H Connect is one of the premier robotic lawn mowers in terms of voice-command technologies. This mower easily connects with Google Assistant and Alexa. You can set specific commands to start, stop, pause, or park your mower, set the timing for your lawn care, and more. 
Husqvarna 115H Connect
Best mid-range robot mower
MowRo RM24
Best for the budget
Pros
More affordable than many options
Can handle 30-degree angles
Designed to be safe around pets
Useful sensors
Cons
Not great for larger yards
MowRo's robot mower is a more affordable option designed to deal with up to a quarter of an acre. It offers a cutting width of 0.5 inches and can handle slopes up to 30 degrees. Cutting height options range from one inch to 2.5 inches. Like other advanced models, its sensors allow it to return to the docking station to automatically recharge its battery, or hold off on mowing if the grass appears to be too wet.
At 65dB, it's also quieter than most vacuum cleaners and comes with protection to keep the mower safe around kids and pets. While it may not be suitable for larger lawns, it's an excellent mower for small projects.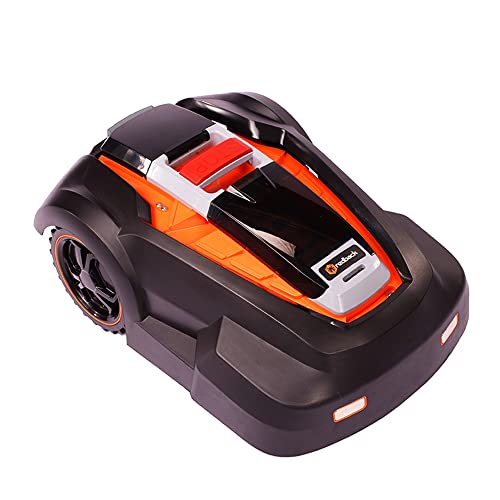 MowRo RM24
Best for the budget
Frequently Asked Questions
Do robot lawn mowers really work?
Yes. Keep in mind that a robotic mower may not offer the same power and features as a traditional push mower, gas- or electric-start-powered. The cutting blade and cutting width will also impact performance (more on this below). That being said, the results are clear as day. A robot mower will definitely give your lawn the clean-cut it deserves, with end results just as good as a traditional mowing job — as long as you use it regularly, once every day or two, and keep the blades sharpened.
Note that robotic lawn mowers are not designed for large lawns, and generally focus on yards that are one-quarter acre or smaller. There are exceptions, such as our Robomow pick that can handle up to three-quarters of an acre, but this is pushing the limit and will cause increased wear and tear on the device (as well as taking a long time to complete a session). Robot mowers also have limitations when it comes to lawn slopes. Generally, anything above a 20- to 25-degree slant will start causing problems.
How much does a robot lawn mower cost?
On average you can expect to spend about $1,500 for an electric mower. Basic models can go for anywhere from $200 to $600, while premium mowers can go for as much as $5,000 (or more).
How do robot lawn mowers work?
Most robot mowers run off a rechargeable battery pack that keeps the mower cutting for a few hours at a time. Equipped with adjustable cutting blades and features like rain sensors and anti-theft pins, a robot mower can typically be controlled by a keypad on the mower, with many brands offering remote control via the app.
These mowers use a combination of sensors and border wiring that buyers manually plant around their yard to create zones where the mower travels. Today's robot mowers are generally intelligent enough to return to their charging stations when their batteries run low (and, with certain models, when they detect rain).
Do robotic lawn mowers have bags?
No. Robot mowers don't need bags because they mulch the grass while cutting. The clippings are deposited back on your lawn to work as fertilizer. This is another reason it's important to use a robot mower very frequently, so there's no danger of unsightly clippings or internal blockages developing.
Does iRobot make a lawn mower?
Not right now. It has announced the "Terra" model robot mower with some seriously neat features, like wireless boundary detection and smart mapping for lawns. However, the project has been delayed due to a variety of factors, so it's not available yet. You can sign up for iRobot's newsletter to get more updates about it, but we don't have a release date at this time.
Should I buy a robot mower?
That depends. On average, you're looking at a lofty expense for a bot that may not cut the grass as fast as you and your Toro. But if you don't mind forking over the dough, the capabilities more than match the price point (for most models). If you hate sweating buckets while you mow in the hot summer sun, a robot mower will save you that pain while delivering fantastic results.
Robot mowers are especially suited for smaller patches of lawn in front- or back-yards where a full-sized mower may be a pain to use — or if it's just become annoying to mow the lawn every week. It's even better if there's an out-of-the-way spot where you can hide the station. Businesses may also like the idea of a robot mower for patches of grass if that means they don't have to hire a landscaping crew to take care of it.
Still not sure? Check out our deeper dive into whether robot lawn mowers are worth it.
Why is a rain sensor important on a robot lawn mower?
Many automated lawn mowers can work in the rain, but it's not as good for the mower, and grass doesn't cut as well when it's wet. Rain sensors on the top of the mower can detect water and send the mower back to its (presumably covered) charging station. This reduces the risk of a short or malfunction due to rain. It's also a good idea to schedule your mowing sessions far away from irrigation sessions.
How often do the blades of a robot lawn mower need sharpening?
Robot mowers use smaller blades, which work harder than larger mower blades and will dull faster. You can sharpen these blades with something like a kitchen knife sharpener, but the common approach is to replace the blades entirely. A compromise is to keep a couple of sets of blades and switch them back and forth, sharpening the extra set each time. It's recommended you replace the blades every two months or so during cutting season.
Why is it important to create a cutting schedule for your robot lawn mower?
Robot mowers don't work well with high grass. They are designed to make very frequent, short cuts to a lawn. It's important to schedule your mower to work every day or every other day so the grass doesn't get too long for the mower to handle.
Editors' Recommendations