Apple's iPad Mini 6 (2021) is a much-awaited update in almost every way, from the gorgeous new screen and touch controls to the slim design. However, those differences also mean older Mini cases won't work with the Mini 6. You'll have to get a new case if you want to add more protection. Fortunately, we've gone through the available cases and found some of the best iPad Mini 6 (2021) cases to suit all tastes and budgets — let's take a look!
Ringke Fusion Clear Case
Pros
Clear to show off your Mini's design
Apple Pencil holder
Military-grade drop protection
Cons
Lacking if you want really strong protection
A good clear case is a must if you want to protect your tablet while also showing it off, and Ringke's Fusion really is a good clear case. It's made from completely clear TPU combined with a durable polycarbonate back panel and has a dedicated slot for your Apple Pencil, too. Raised edges keep your display from resting on surfaces, and there's also a QuikCatch hole for attaching lanyards, meaning it's also perfect if you intend to use a shoulder or wrist strap. The price is reasonable for the protection offered, though you can definitely get more protective cases if you need something more heavy-duty.
Torro Magnetic Leather Case
Pros
Premium leather
Magnetic hold
Trifold cover works as kickstand
There's no shortage of beautiful leather cases for the iPad Mini 6, but this one really stands apart. It's made from premium cowhide leather that looks and feels incredible and works well to protect your device against a range of hazards. But the really interesting part of this case is how it attaches to your iPad. Rather than using a case to grip your device, Torro's case uses magnets. The strong magnets give it security, but it also means you can quickly and easily remove it from the case if you don't need it. The trifold cover protects your display when it's not in use and can be folded into a kickstand as well. It's expensive, for sure, but it's worth it if you love the style, want genuine leather, and want the convenience of a magnetic case.
Torro Magnetic Leather Case
UAG Lucent Case
Pros
Lightweight and slim
Unique style
Strong, rugged protection
UAG, or Urban Armor Gear, is well-known for its rugged cases that have a unique style. While we don't often claim its cases look "good" in the traditional sense, we do tend to make an exception for the Lucent case. There's a certain stylish elegance to the UAG Lucent case, and while it's certainly unlike anything else, we think it's still a good-looking case that you won't be afraid to show off. But enough about its looks; let's talk about its strength. It's super-strong, meeting military-grade standards for drop protection, and has a folding folio cover that doubles as an adjustable stand. A raised edge keeps your tablet from resting on surfaces, and it even has a built-in holder for the Apple Pencil.
Otterbox Trusty Kids Case
Pros
Colorful, fun design for kids
Easy-grab handle/stand combo
Tough and rugged
Antimicrobial coating
Otterbox's skill with tough cases is very well-known, but its kids' cases aren't as well-known. Which is a shame, because the Otterbox Trusty case is an excellent case if your iPad Mini 6 is intended for a child. The rear of the case features a stand/handle hybrid — a "standle," if you will — which is easy to grab and use when needed, and Otterbox's usual protection is included too, thanks to a strong multilayer build that protects against bumps, scratches, and other dangers. The only downside is that it's quite expensive. But you're going to need something special to protect an expensive iPad from children, so it's a good idea to invest in a case rather than a new iPad.
Otterbox Trusty Kids Case
Vaja Nouva Pelle Leather Case
Pros
Very high-quality build
Case-less design
Built-in stand
Cons
Extremely expensive
Does not protect edges of device
Looking for the highest-quality, most luxurious case you could possibly find? Then look no further, as you've found it. Vaja's Nuova Pelle case is made from soft, handcrafted Vaja leather that feels incredible and somehow looks even better. The folding cover turns into a stand when needed, and the hard polycarbonate backbone helps to prevent damage to your device. There's no case included in the design, though, which means your iPad Mini's strong design shows through. A reuseable adhesive means this is possible — but it does mean the edges of the device are exposed and vulnerable. It also won't be as strong against drops as other cases might be, and when you're paying such a premium, it does make this case a hard sell. Still, it's utterly gorgeous and worth your attention.
Vaja Nouva Pelle Leather Case
Speck Balance Folio Case
Pros
4 feet of drop protection
Sleek, minimalist style
Apple Pencil holder
Speck is a name you trust for iPhone cases, and its tablet cases are every bit as durable and protective. This hardshell folio protects against bumps and features a soft interior liner to keep your screen safe from scratches and scuffs. Offering up to 4 feet of drop protection, it also has a secure latch with built-in magnets for auto sleep/wake, helping save battery life.
There's a holder for the Apple Pencil, plus a built-in Microban antimicrobial treatment, which reduces stain- and odor-causing bacteria on the case surface by up to 99%. This case also folds back into a multi-angle viewing stand, and it comes in classic black, Very Berry Red, or Velvet Green.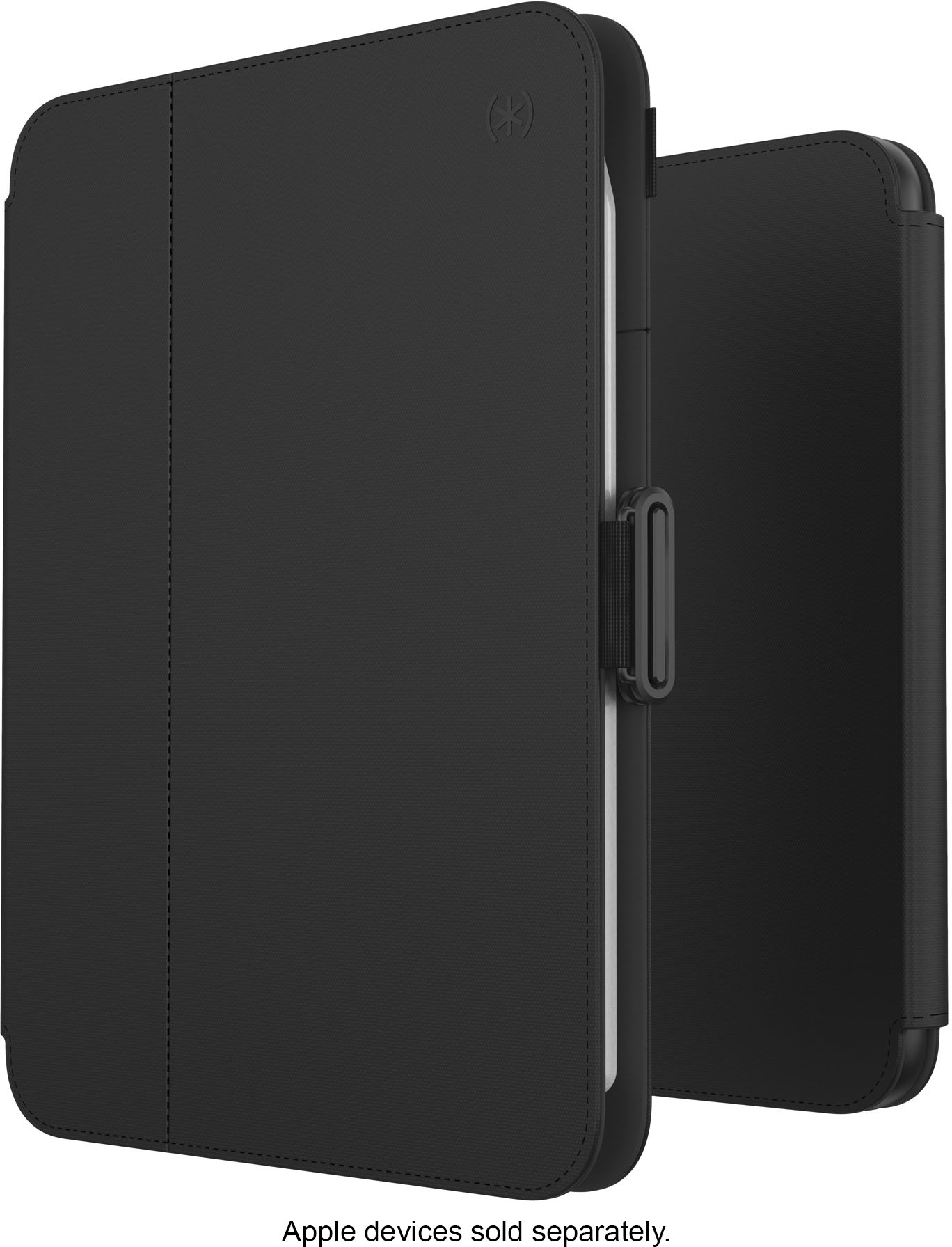 LoveCases Gel Case
Pros
Fun, whimsical design
Clear gel case
Lightweight
Cons
Lacks strong protective qualities
If you love clear cases but want one that's a bit more, well, fun, this gel case from LoveCases ticks the right boxes. Crystal clear, ultra-slim, and form-fitting, it hugs the iPad Mini tightly, providing snug protection against life's inevitable mishaps. The flexible gel is surprisingly tough and won't yellow over time like some clear cases.
There's a non-slip coating to keep your iPad in your hand — or wherever you happen to place it down — and a subtle white moon and stars design that lets the color of your tablet shine through. Raised bezels run around the entire case to add an additional layer of protection against drops and dust or dirt for your iPad Mini's screen.
Apple Smart Folio
Pros
Official Apple product
Built-in kickstand
Cover protects screen
Apple's own folios are always a great place to start with iPad products, as they're specifically designed to be durable companions that work flawlessly with the iPad Mini's magnet arrays. As with other Smart Folio products in the past, this cover includes a soft felt back to protect the screen, and connecting with the front-side magnets will automatically put the iPad Mini 6 to sleep.
You can flip the Smart Folio for the iPad Mini 6 into three sections, allowing you to prop up the Mini 6 landscape style while you work. It doesn't provide the most complete protection, but it's an excellent cover when paired with a bag or carrying case, and you can choose from five eye-catching colors.
Spigen Rugged Armor Case
Pros
Strong and durable
Carbon fiber-style design
Good drop protection and additional grip
If you've had problems dropping iPads in the past or want to avoid any catastrophic damage to the iPad Mini (2021) no matter what you're doing, Spigen's armored case is ready for you. It uses air cushions and a durable thermoplastic polyurethane design to help keep the iPad Mini from cracking after a fall or suffering similar damage. There are also excellent carbon fiber-styled grips on either side to discourage slipping, and it also makes room for attaching the Apple Pencil 2 as well.
ProCase Keyboard Case
Pros
Slot for Apple Pencil
Cover for protecting screen
Sleek executive style
If you don't have a separate wireless keyboard to type on your Mini 6, you may find it difficult to create longer documents or messages. This ProCase offers a solution with a durable shell case that also includes a mini keyboard for quick typing tasks. The composite leather exterior looks and feels great, while the soft anti-slip interior helps protect the screen from damage.
The ProCase Keyboard Case supports magnetic attachments and multi-angle stand options as well. Don't worry if you don't want to use the keyboard sometimes — it detaches easily and can be stored away when you don't need it.
Editors' Recommendations