With so many options, it can be hard to nail down the best monitor for your desk. We've reviewed dozens of computer displays over the years, and only a select few displays are worth paying attention to.
For our money, it's tough beating the Dell UltraSharp 32 4K. It's a big 4K monitor with a ton of features, but it isn't the right pick for everyone. Read on to see what other monitors we recommend for gaming, home use, esports, and more.
Dell UltraSharp 32 4K
The best monitor you can buy
Pros
Large, sharp 4K IPS panel
Excellent image quality
Truly useful USB-C hub and KVM switch
Outstanding build quality and design
Standout warranty and support
Cons
Expensive
HDR support is so-so
Why you should buy this: It's a gorgeous screen with thin bezels and deep blacks.
Who it's for: Anyone who wants a premium monitor that will last years.
Why we picked the Dell UltraSharp 32 4K:
Dell's UItraSharp 32 4K isn't the cheapest monitor out there, but it's the best. It offers a balance of beautiful image quality and features that few monitors can nail, and does so at a reasonable price.
We specifically reviewed the 32-inch model, which is more expensive than the 27-inch version (the U2723QE). Most people are fine with the 27-inch version, though the 4K resolution looks its best on a 32-inch panel. Regardless of the size, both monitors use an IPS Black panel, which provides wide color coverage and excellent color accuracy. It's also significantly brighter than a standard IPS panel, offering up about twice the contrast you'd normally find.
Outside of image quality, Dell's UltraSharp 4K displays feature an integrated USB-C hub that's surprisingly useful. It sports up to 90 watts of power delivery, and it gives you a one-cable solution for connecting a laptop to the display. With the single USB-C cord, you can daisy-chain a second monitor, connect to the Ethernet port, and access both DisplayPort and HDMI connections. The monitor even comes with a KVM switch, allowing you to quickly swap your peripherals between devices.
Dell UltraSharp 32 4K
The best monitor you can buy
Alienware 34 QD-OLED
The best monitor for gaming
Pros
QD-OLED contrast is unbeatable
Fantastic HDR performance
Excellent color saturation
Attractive, minimalist design
Surprisingly affordable
Cons
SDR brightness is a bit low
Color accuracy isn't perfect
Why you should buy this: It provides an unmatched gaming experience with HDR.
Who it's for: Gamers who want an immersive gaming experience.
What we thought of the Alienware 34 QD-OLED:
You can't get a better gaming experience than the Alienware 34 QD-OLED. It's the best gaming monitor you can buy. This monitor was the first QD-OLED gaming display we saw, and even close to two years after releasing and countless competitors, it remains the best gaming monitor you can buy. The QD-OLED panel provides one of the best images you can get out of a monitor, along with some of the lowest response times.
The main draw is that image. QD-OLED is capable of producing perfect black levels, making cinematic games like Cyberpunk 2077 and Elden Ring look fantastic with HDR turned on. The addition of Quantum Dots elevates the color of the OLED panel, too, with vibrant saturation and great color accuracy based on our testing.
The monitor is also very fast. QD-OLED provides response times below 1 millisecond, and when combined with the display's 165Hz refresh rate, make it feel very responsive. On top of that, you're getting an ultrawide 21:9 aspect ratio that's great for productivity and even better for immersive gaming.
Alienware 34 QD-OLED
The best monitor for gaming
MSI Modern MD271UL
The best cheap 4K monitor
Pros
Excellent colors
Good brightness and contrast
Affordable price
Solid build
Attractive design
Cons
Confusing buttons
Limited flexibility
Ugly marketing label
Why you should buy this: It's a 4K monitor with premium features under $300.
Who it's for: Those who want a high-resolution display without spending too much.
Why we picked the MSI Modern MD271UL:
In years past, 4K monitors were pricey luxuries, but that's quickly changed. A perfect showcase of that is MSI's Modern MD271UL, which is a 27-inch 4K display that you can find for around $250. There isn't special here, but that's what makes the Modern MD271UL so special. It's a workhorse 4K monitor that comes in at a bargain bin price.
The 4K IPS panel is set with thin bezels, which is set against a stark silver frame. For connectivity, you get two HDMI 2.0b ports, a single DisplayPort 1.2a connection, and a 3.5mm headphone jack. The MD271UL also includes a USB-C input with 65 watts of power delivery, which is a nice bonus on a monitor at this price.
But the MD271UL really earns its stripes in image quality. Based on our testing, the monitor is well-calibrated from the factory, arriving with excellent color accuracy and coverage. It also managed to exceed our typical brightness and contrast thresholds for IPS panels. On cheaper monitors, we typically expect brightness or color to suffer, but the MD271UL manages to miraculously do both.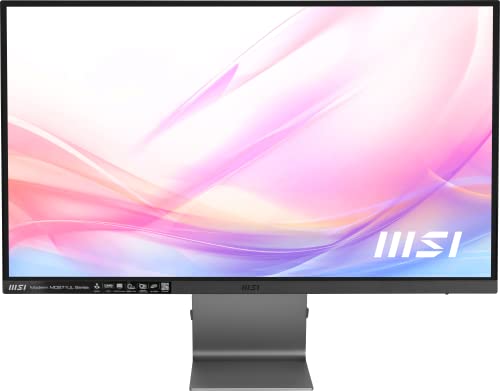 MSI Modern MD271UL
The best cheap 4K monitor
LG UltraGear OLED 27
The best OLED monitor
Pros
Vibrant colors and HDR
Excellent motion clarity
Fantastic matte finish
Generous port selection
Sturdy stand with plenty of adjustments
Cons
Low SDR brightness
Some text clarity issues
Remote is necessary to control the display
Why you should buy this: It's the best OLED monitor you can buy right now.
Who it's for: Users who primarily use their PC to consume media.
Why we picked the LG UltraGear OLED 27:
OLED monitors have become increasingly popular of the past year, but none of them can top LG's UltraGear OLED 27. It's a 27-inch monitor with a 1440p resolution and a 240Hz refresh rate, but the real draw is OLED. And compared to other OLED monitors, LG's is often available sale for around $850.
This is technically a gaming monitor, and it definitely shines there. The responsiveness of OLED combined with the 240Hz refresh rate makes the monitor feel smooth during gameplay. That's great for competitive games, but the OLED panel also shines in immersive, cinematic games with some of the best HDR money can buy.
Its a great media consumption overall, though. Inky blacks and infinite contrast provide the best image for games, movies, and shows. It's not a great choice for extensive desktop use, however, as any OLED panel carries a minor risk of burn-in from static elements.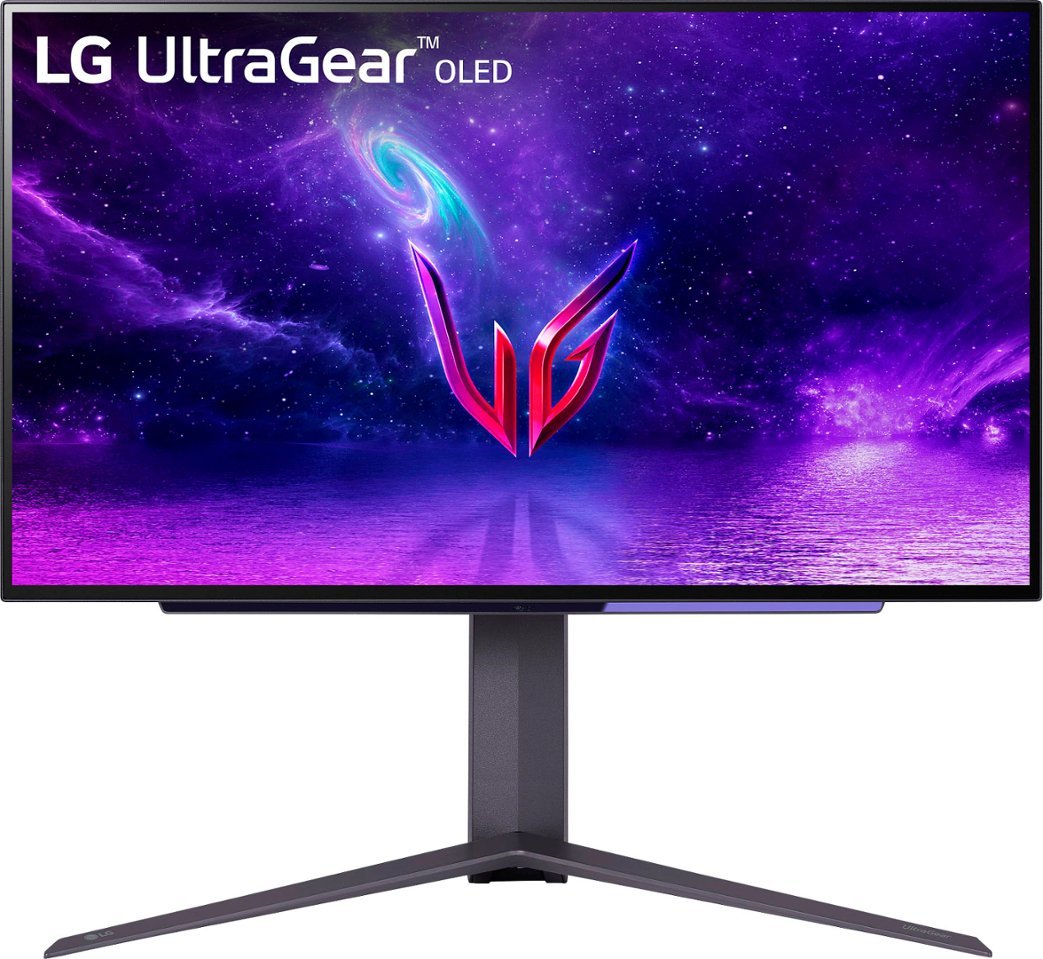 LG UltraGear OLED 27
The best OLED monitor
LG DualUp
The best dual-screen monitor
Pros
Unique shape
Great for multitasking
Wide color space
Excellent color calibration
Comes with an arm desk mount
Cons
Mediocre contrast and black levels
Windows 11 Snap Layouts support could be better
Why you should buy this: It offers a form factor no other monitor does for productivity.
Who it's for:  Users who need a secondary monitor for productivity.
Why we picked the LG DualUp:
The LG DualUp is one of the weirdest monitors we've ever seen, but it serves a useful purpose. As a secondary monitor, it's great for offering you the most screen real estate possible, avoiding one of the common problems with multi-monitor setups.
It features the very unique 16:18 aspect ratio, essentially stacking two 16:9 displays on top of each other. The benefit of the DualUp is that it isn't massive, clocking in at 27.6 inches diagonally, and it doesn't have any bezels like you'd have with two 16:9 monitors actually stacked on top of each other. LG also includes an integrated desk mount, making setup easy.
Image quality is great, too, thanks to the Nano IPS panel, offering decent brightness and good color coverage. The main downside of the DualUp is its price. At $700, it's more expensive than it should be, and it's clear some of the premium is going toward the monitor's unique form factor.
LG DualUp
The best dual-screen monitor
Alienware AW2524H
The best monitor for esports
Pros
Extremely fast refresh rate
Great motion clarity
Nvidia Reflex analyzer built into the display
Handy headphone stand
Sturdy, low-profile base
Cons
Very expensive
Limited adjustments
Lacking image quality
Why you should buy this: It's one of the fastest monitors on the market, giving you a competitive edge in games.
Who it's for: Esports players who need the most out of their monitor.
Why we picked the Alienware AW2524H:
The Alienware AW2524H, otherwise known as the Alienware 500Hz gaming monitor, isn't for most people. For a select crowd of highly competitive esports players, though, there's nothing better. You can see why right in the name. This is a 1080p display that boasts an extremely fast 500Hz refresh rate.
Most gamers don't need that high of a refresh rate. You're not going to play most games at 500 frames per second (fps). However, for players who gravitate toward titles like Overwatch 2, Counter-Strike 2, and Rainbow Six: Siege, The Alienware AW2524H can give you a competitive edge in these games.
The monitor isn't too impressive otherwise. Color accuracy and coverage is decent but unremarkable, and the brightness and contrast is low. It's clear Alienware went all-in on competitive gaming with this display, both with the 500Hz refresh rate and the built-in Nvidia Reflex module. Image quality suffers as a result.
Alienware AW2524H
The best monitor for esports
Dell UltraSharp U4021QW
The best 5K monitor
Pros
Massive ultrawide screen
High pixel density
Great image quality
Cons
Expensive
Ultrawide isn't for everyone
Why you should buy this: It's a high resolution monitor with one of the most unique form factors we've seen.
Who it's for: Those looking for a premium, high resolution display.
Why we picked the Dell UltraSharp U4021QW:
The Dell UltraSharp U4021QW remains one of the most unique monitors on the market, even two years after launching. It's a 5K2K monitor, according to Dell, which equals out to a resolution of 5,120 x 2,160. If you're quick at math, you can spot that resolution comes out to a 21:9 aspect ratio.
At 40 inches with the 21:9 aspect ratio, the UltraSharp U4021QW doesn't have many direct rivals. It's a large screen, but it's perfectly balanced by the resolution, offering a pixel density of 140 pixels per inch. In addition to being sharp, the display comes with excellent color coverage and accuracy.
It's packed with a slew of features, too. Similar to the UltraSharp monitor we recommended above, the integrated USB-C hub delivers 90 watts of power, as well as opens up a host of addition connections like Ethernet, a 3.5mm headphone jack, and a Thunderbolt 3 port.
Dell UltraSharp U4021QW
The best 5K monitor
Apple Studio Display
The best monitor for Mac
Pros
Beautiful 5K panel
Built-in webcam and microphone
Siri support
Cons
Expensive
Limited port selection
Why you should buy this: It's a stunning 5K monitor that pairs perfectly with Macs.
Who it's for: Apple users who want a premium display.
Why we picked the Apple Studio Display:
Apple's Studio Display was a controversial monitor when it first launched, but there's no denying that it's a perfect pairing with any Mac. The 5K Retina display is stunning, offering up 218 pixels per inch on the 27-inch monitor. It also comes with wide color coverage and boasts up to 600 nits of peak brightness.
The display itself is stunning, but the integration with Macs is why the Studio Display topped our list of the best monitors for the Mac Mini. The built-in camera and microphone array are tuned for FaceTime calls, and the display even supports Siri commands. The camera also supports Apple's Center Stage to automatically frame you.
For connectivity, you get a Thunderbolt 3 input that provides up to 96 watts of power delivery, along with three downstream USB-C ports. The monitor is built for Macs, but due to the Thunderbolt 3 connection, you can also connect an iPad Pro or iPad Air.
Apple Studio Display
The best monitor for Mac
Asus VG246H
Best 1080p monitor
Pros
Inexpensive
Decent image quality
Solid stand
Why you should buy this: It's a solid 1080p monitor at a very low price.
Who it's for: Users on a tight budget that just need a display that works.
Why we picked the Asus VG246H:
If you want a monitor that just works, the Asus VG246H is for you. It's a 1080p display that's 24 inches big. It packs a 75Hz refresh rate and an IPS panel, offering decent color coverage and accuracy. Peak image quality isn't the main reason to choose this monitor, though; it's the price.
The monitor commonly sells for $190, and if you can find it on sale, you can pick one up for $120. For that, you're getting a solid 1080p resolution, along with a decent stand. That's all you can ask for at this price, but most monitors fall surprisingly short of that mark. The Asus VG246H doesn't, making it a great workhorse display.
Asus VG246H
Best 1080p monitor
Frequently Asked Questions
What brand monitor is the best?
No one monitor brand makes all the best monitors in the world — that's why this list is populated by a number of different manufacturers. That said, there are some that you can rely on more than most to produce great screens. Dell is a longstanding favorite of ours with years of fantastic displays under its belt. It also tends to cater well to the professional crowd just as much as gamers, so you know there will be something you like in its lineup.
Other noteworthy brands worth considering include Acer, which tends to produce some of the world's best gaming screens; Samsung, which offers some of the best ultrawide screens and large-size monitors we've ever seen; and LG, which has a good all-around catalog of displays.
What size computer monitor is the best?
This very much depends on the resolution you're targeting and how much desk space you have. While bigger does tend to look better, giving you more screen space for work and larger images for games and movies, they can stretch entry-level resolutions like 1080p to the limits of their clarity. Big screens also require more room on your desk, so we'd caution buying a massive ultrawide like the Samsung Odyssey series if you're working or playing on a small desk.
As a quick rule of thumb, 1080p looks great up to about 24 inches, while 1440p looks good up to and beyond 30 inches. We wouldn't recommend a 4K screen any smaller than 27 inches as you aren't going to see the real benefit of those extra pixels in what is a relatively small space by that resolution.
Are 4K monitors good for gaming?
They can be. 4K offers the pinnacle of gaming detail and, in atmospheric games, can give you a whole new level of immersion, especially on larger displays that can fully display that mass of those pixels in all their glory. These high-res displays really excel in games where frame rates are not as important as visual clarity. That said, we feel that high refresh rate monitors can deliver a better experience (especially in fast-paced games like shooters), and unless you have the deep pockets to splash out on a powerful graphics card or two as well, you aren't going to get those frame rates at 4K. A 27-inch, 1440p display is still the sweet spot.
Also, keep in mind monitor performance is now often linked to framerate management technologies like FreeSync and G-Sync, so watch for these technologies and compatible graphics cards when making gaming monitor decisions. FreeSync is for AMD graphics cards, while G-Sync only works with Nvidia's GPUs.
Which is better: LCD or LED?
The short answer is they're both the same. The longer answer is that this is a failure of company marketing in properly conveying what its products are. Today most monitors that use LCD technology are backlit with LEDs, so typically if you're buying a monitor it's both an LCD and LED display. For more of an explanation on LCD and LED technologies, we have a whole guide dedicated to it.
That said, there are OLED displays to consider, although these panels haven't made an impact on the desktop market yet. OLED screens combine color and light into a single panel, famed for their vibrant colors and contrast ratio. While that technology has been making waves in televisions for a few years now, they're only just starting to make a tentative step into the world of desktop monitors, from Samsung's QD-OLED tech to LG's extra-bright G2 monitors.
What kind of monitor is best for your eyes?
If you suffer from eye strain, look for monitors that have built-in light filter software, especially filters that are specifically designed for easing eye problems. These filters are designed to block more blue light, which is the part of the spectrum that affects our eyes the most and is responsible for most eye strain problems. However, you can also download eye filter software apps for any type of monitor you get.
Why is refresh rate important on a monitor?
Refresh rate shows how many times per second the display can update an image with new visual information — the higher the refresh rate, the smoother transitions will look and the more information will be displayed. Refresh rates start at 60Hz but many monitors go higher, with refresh rates of 240Hz, 360Hz, and some even as high as 500Hz! This specification helps games and movies look better, and lowers input lag, making a high refresh rate popular for gaming machines and similar setups.
What makes a monitor ultrawide?
Ultrawide monitors use a 21:9 aspect ratio and have elongated displays to accommodate it. This not only allows users to play compatible games and movies in a larger aspect ratio, but the extra space also makes it easier to multitask or work with more complex software.
Do monitors have built-in speakers?
Many do, but not all. If you want internal speakers, always check to see if a monitor comes with them. Higher-wattage speakers will generally produce louder, clearer sound. Or you could pair a monitor with a set of external speakers.
**Get More Specific ** * Best Curved Monitors * Best Gaming Monitors * * Best Ultrawide Monitors
Editors' Recommendations