The DualSense wireless controller that arrives with your PS5 is by no means an inferior gaming product. However, it does fall short for players who want to do a little more with their control methods.
Sony has acknowledged some shortcomings with its release of the new DualSense Edge, as well as the upcoming project Leonardo that caters to gamers with disabilities, but there are some third-party options that can fit your needs just as well.
Further reading
Important note: Sony has strict compatibility guidelines for the PS5 controller. That means that an official PS4 controller from a third-party will work with the PS4 games that you play on your PS5 console, and Sony has assured players that fighting sticks and other accessories will be similarly supported. However, brand-new PS5 games are generally off-limits to PS4 controllers.
Scuf Reflex Pro
Pros
Enhanced grip
Interchangeable thumbsticks
Various profile settings
Scuf fans won't be surprised that the controller brand was the first to announce an official third-party PS5 controller with all the bells and whistles, making it one of the most suitable replacements for Sony's own DualSense - especially for those looking for something a bit extra.
The base design of the controller is excellent, with adaptive triggers, a performance coating for an easy grip, textured thumbsticks for precision, and an overall solid design that's why we expected from an experienced company like Scuf. But that's just the beginning: This controller is also packed with extras, including interchangeable thumbsticks and four removable, remappable rear paddle buttons that you can customize with whatever options you want. Since you'll probably want different configurations with different games, there are also three different profile settings you can save and switch between whenever you want.
The Reflex Pro also comes in a variety of colors, designed to match the colors that the PS5 is finally available in as well, so you don't have to worry about your controllers clashing if you plan ahead!
Note: The Reflex Pro is the first of its kind and is in high demand, so supplies are limited. If you want one, you'll have to get on the waiting list ASAP and watch for updates.
DualSense Edge
Pros
Back paddles
Easy to program
Cons
Short-lasting battery
Very expensive
For the first time, Sony is offering its own official "pro"-style controller for its console. The DualSense Edge is a step up from the default controller in nearly every way, with customizable components, back paddles, and the ability to set control scheme profiles. Where the controller falls short is an unfortunate drop in battery life compared to the base controller, as well as the very high cost at $200. While this certainly is a premium controller, that price point alone may outweigh the positives for some.

PS5 RIVAL Premium
Pros
Rear button paddles
Slim triggers
Adjustable thumbsticks
HexGaming starts with a basic DualSense PS5 controller and then upgrades into an esports-ready beast of a pro controller that's superior in almost every way. The rear button paddles include remapping software that allows you to change them on the fly for each game, programming them with any other button activation you need. The top shoulder/trigger buttons have also been redesigned with a slimmer profile that allows for faster activation that may help gamers work on their reaction times. The controller also comes with "six-in-one" thumbsticks that allow you to adjust the height, pick a thumbstick grip that feels more comfortable (and prevents slipping), and more.
Finally, HexGaming offers a wide variety of themes so you can pick a visual design that you like the most without sacrificing quality. It should also work with the DualSense charging station. The only real downside of this Rival Premium Edition controller is that it's far more expensive than the original DualSense, so you will have to pay for what you get. It's hands down one of the best PS5 controllers on the market though.
Nacon Esports Revolution Unlimited Pro V3
Pros
Customizable sticks
Button mapping
Various profile settings
Nacon's controller means business when it comes to thumbstick customization. The sticks are highly customizable, allowing you to adjust amplitude to exactly what suits the game you are playing, plus interchangeable heads to get exactly the feel that you want. You can also map buttons to specific actions and create several different profiles to switch between as needed. It supports both wired and wireless connections, depending on what you prefer and find the most reliable. The overall design is both comfortable and high-quality, making it a great pick for long sessions of serious gaming on the PS5 console.
Nacon Esports Revolution Unlimited Pro V3
Scuf Impact
Pros
Removable paddles
Traditional design
Lots of customization
Cons
As always, customizable controllers like these are expensive
Scuf's Impact controller has a bit more of a traditional shape and comes with a whole kit of customization options to get things just right. Along with the customizable controller faceplate, you get four removable paddles that fit into the back for some extra button mapping, electro-magnetic remapping options for easy swaps, adjustable hair-trigger, quick shift trigger stops, and interchangeable thumbsticks to find the best options. It's the perfect choice if you love tons of personalization and tweaking the controller to find just the right setup. It also supports both wired and wireless modes.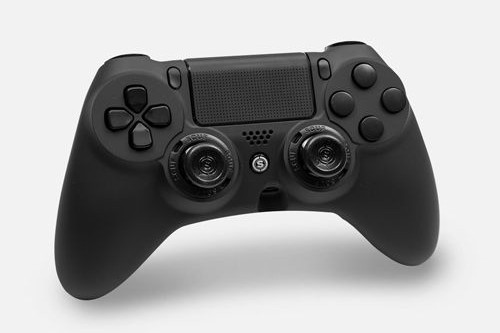 AIM PS5 Controller
Pros
Complete customization
Surprisingly affordable
Works with PS5 charging dock
Cons
Doesn't impact performance
Aim takes a different approach to customizing the PS5 DualSense controller: Their system allows you to pick each part of the controller and specify a different look so you get the precise appearance you want, right down to what each thumbstick looks like and the color of the touchpad. Each option gives at least a few primary colors to choose from, allowing gamers to tinker until they've replicated their favorite theme or invoked the color pattern of any character in media.
The advantage of this approach — in addition to the customization — is that it's still very affordable since the changes are all visual. The downside is that, unlike the HexGaming optimization, the Aim Controller won't actually change how the DualSense performs. The official DualSense controller is great, but the customization options here make it one of the best PS5 controllers. And it will still work perfectly with a default PS5 charging station.
Thrustmaster T248, Racing Wheel and Magnetic Pedals Brand: THRUSTMASTER
Pros
Feels realistic
Lots of customization
Leather wrap grip
Cons
Expensive, but you get what you pay for
If you're a huge fan of racing games, there's nothing like a realistic wheel and pedal set to really get in the zone — and this is one of the best models out there. You can order it now to ensure you get this wheel, which features leather wrapping for a luxurious grip and a built-in screen that can provide more than 20 different display options depending on the sort of data you want to see. The wheel houses 25 action buttons you can use and program, including dual-position encoders. There are also three preset modes you can switch between to adjust the advanced force feedback level. And don't forget the excellent magnetic pedal set, which sports four spring configurations for the brake pedal alone. If you want to race in style, nothing else can beat this Thrustmaster!
Thrustmaster T248, Racing Wheel and Magnetic Pedals Brand: THRUSTMASTER
Editors' Recommendations