The Beats Powerbeats Pro true wireless earbuds have long been admired by athletic types and beyond for their comfort, power, and performance. They're perfect for long runs, last longer than most other buds in this price tier, and the sound is unbeatable. But not everyone has $250 to drop on premium name-brand audio — although, as of this writing, they're on sale for $200.
Fear not, friends. One of the benefits of getting to try the latest wireless earbuds from competitive major brands is that we know a good deal when we see one. The Jabra Elite 7 Pro is one of our favorite recent earbud reviews, and they will meet or exceed the aging Powerbeats Pro for less money. With that in mind, here's our roundup of fantastic alternatives to the Powerbeats Pro that will keep your heart beating to the music and your next credit card bill from causing cardiac arrest.
Jabra Elite 7 Pro
The best overall Powerbeats Pro alternative
Pros
Super comfortable
Great sound quality
Excellent call quality
Very good ANC and transparency
Good battery life
Wireless charging
Tons of customization options
Excellent water/dust protection
Why you should buy them: They've got most of the features we love about the Powerbeats Pro and more for roughly the same price or less.
Who they're for: Workout and fitness junkies who want all the best features without compromise.
Why we picked the Jabra Elite 7 Pro:
The Jabra Elite 7 Pro prove that you can have it all and still afford to pay your rent. There wasn't much wrong with the Elite line before, but this latest model is one of the most perfect pairs of wireless earbuds that we've seen, with secure comfort, audio quality, noise cancellation, a long-lasting battery, and water/dust resistance all in one package.
The wireless design offers a svelte charging case with built-in wireless support, while the earbuds themselves are an excellent fit for comfort even if you plan on being active. On-board controls are also easier to use, allowing you to quickly switch to a call, pause music, and move between active noise cancellation and transparency modes. They're super customizable, too, if you want to remap what the button presses do.
This type of versatility is great to see in any earbuds, but the Elite 7 Pro backs it up with truly impressive sound. It combines powerful bass and clarity without the need to make too many EQ adjustments (although that's still an option with the Sound+ app and more).
Overall, it's been a long time since we've come across a pair of sports-friendly earbuds like the Elite 7 Pro, and if you're looking for a set that will make you forget entirely about the Powerbeats Pro, this is your best bet.
Jabra Elite 7 Pro
The best overall Powerbeats Pro alternative
JBL Reflect Flow Pro
The best waterproof Powerbeats Pro alternative
Pros
Solid, secure fit
Excellent noise-canceling
Choice of hands-free voice A.I.s
Completely waterproof
Wireless charging
Cons
Limited control options
No quick-charge option
Why you should buy them: They offer the highest level of water resistance in a set of true wireless earbuds.
Who they're for: Those who want real protection from water, a secure fit, and great battery life.
Why we picked the JBL Reflect Flow Pro:
Although technically speaking, no product is genuinely waterproof — here are the reasons why — JBL nonetheless refers to its Reflect Flow Pro true wireless earbuds as waterproof, and we think it's a reasonable claim. All of the earbuds on this list can stand up to your rainiest and/or sweatiest encounters, but the Reflect Flow Pro's IPX7 rating is the highest we've yet to see in any true wireless products. These buds should be able to handle almost any water scenario short of snorkeling.
That's a big deal, especially for folks who want a set of true wireless earbuds they can use while swimming (we also love the fit on this Pro model). JBL doesn't specifically call out swimming as an activity in its marketing language, but that IPX7 means protection in 1 meter of water for up to 30 minutes, so we think most swimming sessions won't hurt the Reflect Flow Pros.
Even if you're not swimming, the Reflect Flow Pros are super comfortable and secure thanks to the use of high-quality silicone eartips and wingtips. Unlike some earbuds that come with thin, barely-there eartips, these are dense and durable. Sound has also been improved compared to the original Flows, and a new EQ tool allows you to tweak settings, too.
They can be relied on to last a long time, with 10 hours per charge in the earbuds and 20 hours in the charging case, which we wish more true wireless buds would offer — to note, that's better than both the Beats Fit Pro and the Beats Powerbeats Pro. Of course, it comes at the cost of size — the Reflect Flow Pros protrude from your ears more than other designs, something to keep in mind if you intend on wearing them under cycling, skiing, or motorcycle helmets.
The Pros have also updated the Flow's design to be more user-friendly and add voice assistant compatibility and an ANC mode (not as useful while swimming, but handy in other situations). All this, and at a price significantly lower than Powerbeats models.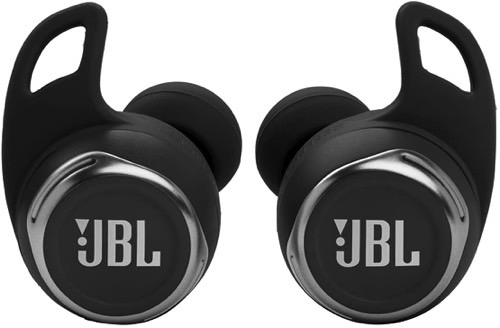 JBL Reflect Flow Pro
The best waterproof Powerbeats Pro alternative
Jabra Elite 75t
The best Powerbeats Pro alternative for all-day comfort
Pros
Secure and comfortable fit
Great sound quality
Waterproof
Good call quality
Very good noise cancellation
Cons
No wireless charging
Average battery life
Why you should buy them: They've got a great mix of battery life, sound quality, comfort, and durability.
Who they're for: Those who want one set of true wireless earbuds that can tackle travel, the office, and the gym.
Why we picked the Jabra Elite 75t:
Jabra's Elite series of true wireless earbuds have always been among our favorites for overall performance, and that's still true of the Elite 75t. With these buds, you'll get top-notch sound quality that even manages to deliver bigger, bolder bass than the Powerbeats Pro — something we never thought we'd say about any Beats product — and superb comfort and fit.
The Elite 75t are smaller than their predecessors, the Elite 65t, and we think even those with hard-to-fit ears will find that they go in and stay in. Once they're securely seated in your ear, you barely notice them.
That secure fit provides an amazing amount of noise isolation. It's not quite as silky-silent as buds with active noise cancellation, but when you trigger the Elite 75t's passthrough mode, you become instantly aware of how much sound they block.
Battery life at just above seven hours is good but not stellar by today's standards, but considering the tiny size of the Elite 75t, perhaps they deserve more credit — after all, they're still way better than the AirPods Pro, which top out at five hours.
You get IP55 protection with the Elite 75t, so they're slightly more water-resistant than the IP4X Powerbeats Pro, making them more than ready to tackle heavy sweat or the occasional water spray.
Jabra's Sound+ app offers plenty of customization, from setting the amount of passthrough sound to picking the perfect EQ. You can also adjust what each button controls. Speaking of the buttons, they're amazing: They require just enough pressure that you won't click them by mistake but not so much that it's hard to do, and they work really well with gloved hands, too.
Jabra Elite 75t
The best Powerbeats Pro alternative for all-day comfort
JLab JBuds Air Sport
The best durable Powerbeats Pro alternative
Pros
Excellent IP66 water and dust resistance
More affordable than the JLab Epic Air Sport ANC
Solid noise cancellation and transparency modes
Cons
Battery life could be longer
Why you should buy them: They're tough as nails and incredibly affordable.
Who they're for: Those who need a set of workout-friendly true wireless earbuds that can withstand the outdoors.
Why we picked the JLab JBuds Air Sport:
If you're more interested in earbuds that can weather anything the outdoors throws at you, you'll want a pair with excellent resistance ratings ... and if you can save some money, so much the better. That's exactly why we like the JBuds Air Sport. Think of them as a slightly more affordable set of JLab Epic Air Sport ANC — they may not sound quite as good, but they deliver on most of the things that matter in a set of wireless buds designed for sports.
You get thorough IP66 water and dust resistance, plus the same comfortable and secure ear hook design that will keep them in place no matter what you do. JLab's excellent two-year warranty is also in effect, which is especially commendable at this price.
Also on tap is the Be Aware passthrough mode and the same three-mode built-in EQ settings that we enjoyed so much on the Epic Air Sport ANC. But there's a slight catch: Their battery life is very good but still isn't in the same league. You get six hours on the earbuds and 34 hours in the charging case.
Otherwise, the JLab JBuds are a really solid value in a set of workout-ready true wireless earbuds, both affordable and with excellent resistance options.
JLab JBuds Air Sport
The best durable Powerbeats Pro alternative
1More PistonBuds Pro
The best budget Powerbeats Pro alternative
Pros
Very comfy fit
Fit smaller ears
Good sound quality
Decent ANC and ambient modes
Great app support
Cons
No custom EQ presets
No aptX support
No wireless charging
Why you should buy them: They're highly affordable without sacrificing too much. 
Who they're for: Active people who'd like to save money while getting important earbud features.
Why we picked the 1More PistonBuds Pro:
If you want to save a lot more compared to the Powerbeats Pro, take a look at these buds from iMore. They're smaller earbuds with a compact form that's a good fit for smaller ears, but they don't compromise when it comes to sound — and they're only a fraction of the cost of Powerbeats models, making the PistonBuds Pro a great budget pick.
Even at this price, the PistonBuds Pro offer important features including active noise cancellation and passthrough mode, as well as easy-to-use touch controls on the buds. The 1More Music app also offers welcome customization of the controls and a variety of EQ settings, but if you don't like tinkering, there are 12 EQ presets you can try out instead. The audio isn't the best on our list, but it's still very, very good, especially for how compact this model is.
Battery life for the PistonBuds Pro can extend to around six hours with ANC turned on (leaving it off adds a couple more hours), and the case offers three additional charges, albeit no wireless charging option. The IPX5 resistance rating also prepares them for sweat or light rain.
If saving money is your primary goal and you'd still like to check out what models other than the Powerbeats Pro can do, give these earbuds a shot.
1More PistonBuds Pro
The best budget Powerbeats Pro alternative
Amazon Echo Buds 2
The best hands-free Powerbeats Pro alternative
Pros
Hands-free Alexa
Good sound quality
Top-notch call quality
Excellent transparency
Cons
Poor battery life
Mediocre ANC
Why you should buy them: They're an excellent pick for Amazon Echo fans and work equally well on Android as on iOS
Who they're for: Those who want simple, effective earbuds with strong active noise cancellation — especially if they're Amazon fans.
Why we picked the Amazon Echo Buds 2:
iPhones reap the highest-quality sound from the Powerbeats Pro, but they still function adequately with Android phones. But Amazon's Echo Buds 2 are just as happy on Android as they are on iOS, making them an ideal workout partner for either platform users. They're compact, fit snugly (especially when using the optional wingtips), and can handle your sweatiest workouts thanks to IPX4 protection. However, the Echo Buds have many other features that make them stand out from the competition as a worthy alternative to the Powerbeats Pro.
You can easily enable or disable ANC using a passthrough mode, blocking out unwanted sounds to concentrate or letting them in for conversations. Additionally, you can control your buds hands-free with the handly voice-controlled Alexa feature they have built-in. 
This is the only set of non-Apple wireless earbuds with a comparable feature geared toward easy listening while exercising. We rank Amazon Echo Buds 2 in the middle range for sound quality between Apple's AirPods at the lower end and the Beats at the higher end. That makes them one of the better values in a true wireless earbud at the moment. It would be nice if battery life, which clocks in around five hours with ANC, could be better, but otherwise, these remain a great pick, especially if you plan on taking calls on the go.
Amazon Echo Buds 2
The best hands-free Powerbeats Pro alternative
Editors' Recommendations