The Samsung Galaxy Note 10 Plus is a beast of a smartphone, combining strong flagship specifications with a versatile triple-lens camera. The design is similarly top-notch, with glass curving almost seamlessly into the aluminum frame — but in some ways, the Note 10 Plus' great beauty is its biggest weakness. The glass body is beautiful, but if it takes a tumble, it can shatter and crack. No one wants that to happen, and that's why a protective case is an excellent idea.
Protect your day from going to pieces by checking out the best cases for your phone. We've gathered some of the top cases from the best manufacturers to bring you a list of the best Samsung Galaxy Note 10 Plus cases around.
Velvet Caviar Holo Moonstone Marble Case
Pros
Gorgeous style
Scratch-resistant
Anti-microbial
Cons
Not the strongest case around
For users who want to flaunt their new Samsung device in style, pick the Velvet Caviar Holo Moonstone Marble case. The style is gorgeous, with bright pops of color in a marble pattern. But it's not just about the looks. It's scratch-resistant and anti-microbial, so your precious phone stays safe while looking stunning. It's not the strongest or the sturdiest, but the eye-catching looks go a long way in making this a cool investment.
Velvet Caviar Holo Moonstone Marble Case
Spidercase Waterproof Case
Pros
Good price
Rugged and tough
Waterproof
This isn't the prettiest case, but it offers robust protection to keep your phone safe. It has a scratch-resistant back panel with a shock-absorbing layer for optimal protection. It is also waterproof so you don't have to worry about getting your phone wet. The makers say the case can easily take 2-meter drops, so you don't have to worry about breaking your phone after minor accidents. The cool part? It's available in seven styles and colors to choose from, so you can jazz up your device while keeping it safe.
Spidercase Waterproof Case
Burkley Carson Magnetic Detachable 2-in-1 Wallet Case
Pros
Beautiful leather design
All-around protection
Room for cards, cash, and more
For something a little more stylish for your Note 10 Plus, this 2-in-1 wallet and phone case from Burkley Carson ticks all the boxes. Available in a deep burnished red — our pick — or soft nude pink, this case is made from buttery soft, full-grain leather that will develop a gorgeous patina over time, making each case completely unique. The detachable leather phone case keeps the back of your Note 10 Plus safe from scratches and drops, while the wallet section of the case folds over the screen, providing 360-degree protection, with a magnetic clasp to keep it firmly closed in your bag or pocket. There's space for four credit cards, plus a built-in kickstand for hands-free calls or viewing. It may be a little pricier than some of the other cases on our list, but it's worth every penny.
Burkley Carson Magnetic Detachable 2-in-1 Wallet Case
Crave Dual Guard Protection Series Case
Slipping your phone in your pocket quickly becomes a habit — though not necessarily a bad one — and if that's what you do, you'll want a slim case that doesn't add bulk to your Galaxy Note 10 Plus. Step up this dual-later case from Crave, which comes in 10 hues and has a layer of TPU and a layer of high-grade polycarbonate to keep your phone safe from knocks, drops, and scratches. The case also features an enhanced rubber grip, a welcome addition to reduce the risk of drops and keep your phone firmly in your hand (or wherever you place it).
Crave Dual Guard Protection Series Case
ESR Mimic Tempered Glass Case
The Note 10 Plus comes in some stunning colors like Aura Glow, Aura Blue, and Aura White — so why cover the look and feel of it with a standard case? The ESR Mimic helps you retain the appearance of your Note 10 Plus and has a special trick up its sleeve: A backing made of tempered glass. Unlike the conventional clear case, holding the Mimic is like holding your phone caseless. You'll still be able to get that cool-to-the-touch sensation when resting your fingers against the glass cover, and it certainly feels premium. Note that the Mimic does have some drawbacks, like its proneness to fingerprints and smudges and susceptibility to cracking when dropped.
ESR Mimic Tempered Glass Case
Ghostek Atomic Slim
With a serious love for serious protection, Ghostek's Atomic Slim series is rapidly becoming one of our favorite cases. The Atomic Slim case offers great protection against a variety of potential hazards with multiple layers of protection. An inner TPU core absorbs impacts from drops and bumps, while the outer aluminum shell protects against more direct threats and adds a bold red flourish. A raised bezel protects the screen from harm, while the back features a scratch-resistant clear panel that shows off your Note 10 Plus's style. It's fully compatible with wireless charging and wireless PowerShare, and though the price is high, so are its protective qualities.
Noreve Custom Leather Wallet Case
Leather wallet cases are excellent options, but they can also be formulaic. If you've ever wanted more from your wallet case, check out Noreve's range of customizable cases. Each of Noreve's leather wallets is hugely adaptable, and you can change the leather it's made from, add a belt clip, remove Noreve's branding, and even add your own custom engraving. Of course, the price goes up with each alteration, and with the basic price starting at around $81, it's fair to say this case is for those who don't mind splashing the cash. But if you're looking for a touch of extravagance you can really call your own, look no further.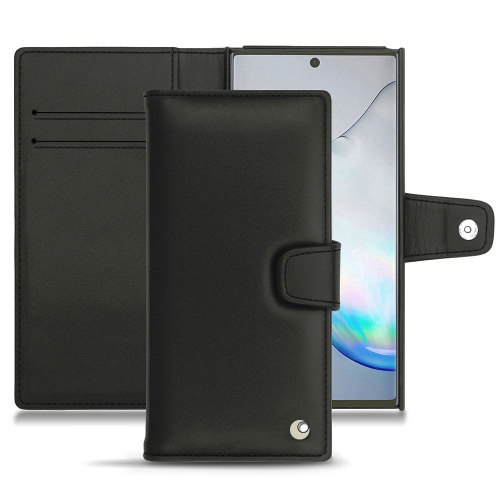 Noreve Custom Leather Wallet Case
FYY Luxury Cowhide Genuine Leather Case
Another leather wallet case, FYY's entry comes with a notable distinction: It includes materials that will block radio frequency identification (RFID) signals, just in case anyone should ever attempt to read info from your bank or ID cards using a remote RFID reader. Aside from that, the case is made of genuine cowhide leather, giving it a very suave and sophisticated appearance while making it very comfortable to hold. It also comes with a pocket for cash, slots for your cards, and a kickstand so that you can easily watch TV and films on your phone while on the move. There are five colors to choose from, too.
FYY Luxury Cowhide Genuine Leather Case
Rhinoshield CrashGuard Bumper Case
While offering less than the total protection you'll see on most other cases, a bumper case is still a good choice if you want to cover up as little of your phone as possible. Basically a tough plastic frame that runs around the edges of your phone, the CrashGuard bumper case does a surprisingly good job of protecting your phone. RhinoShield claims it offers drop protection from falls of up to 11 feet (3.4 meters), helped by an inner honeycomb structure that absorbs impact. However, it will leave your Note 10 Plus' glass back open, gathering fingerprints, dirt, and scratches — but if you can live with that, this is a great bumper case.
Rhinoshield CrashGuard Bumper Case
Tech21 Pure Clear Case
You didn't buy the $1,000 Aura Glow Note 10 Plus just to hide it away, but at the same time, that beauty deserves protection. Tech21's Pure Clear case gives you all the protection you need while allowing the Note 10 Plus to shine. It's made from flexible but tough TPU that provides good protection while also being completely clear. It's drop-resistant up to 12 feet (3.6 meters), has built-in anti-microbial protection and a self-healing finish, and is made from sustainable materials. The sides of the case have ridges for extra grip, and there's a raised bezel around the camera lenses to keep it safe.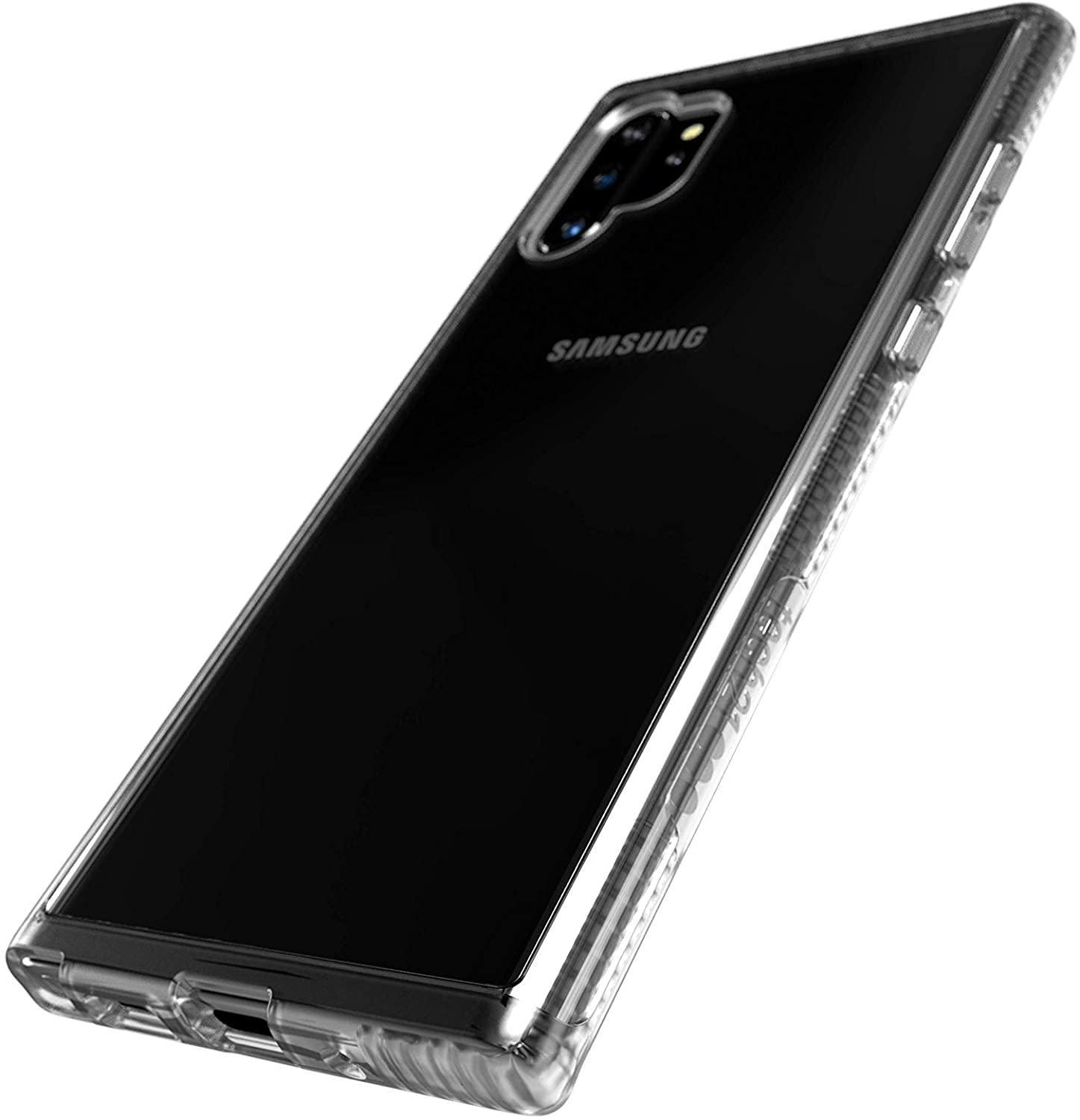 Speck Presidio Grip Case
Glass phones are slippery, and massive ones can be unwieldy. The Note 10 Plus is a huge glass phone, so the problem is doubled down. Stop your Note 10 Plus from slipping from your grasp with Speck's Presidio Grip. Those raised parallel lines are Speck's signature, and they offer a boost in grip, ensuring you can keep a solid hold on your phone. If you do drop your phone, don't worry, it's still well protected. The Presidio Grip has a double-layer construction that includes Impactium cushioning to further bolster against drops. It also has anti-microbial properties, while a raised bezel ensures your phone doesn't rest directly on surfaces.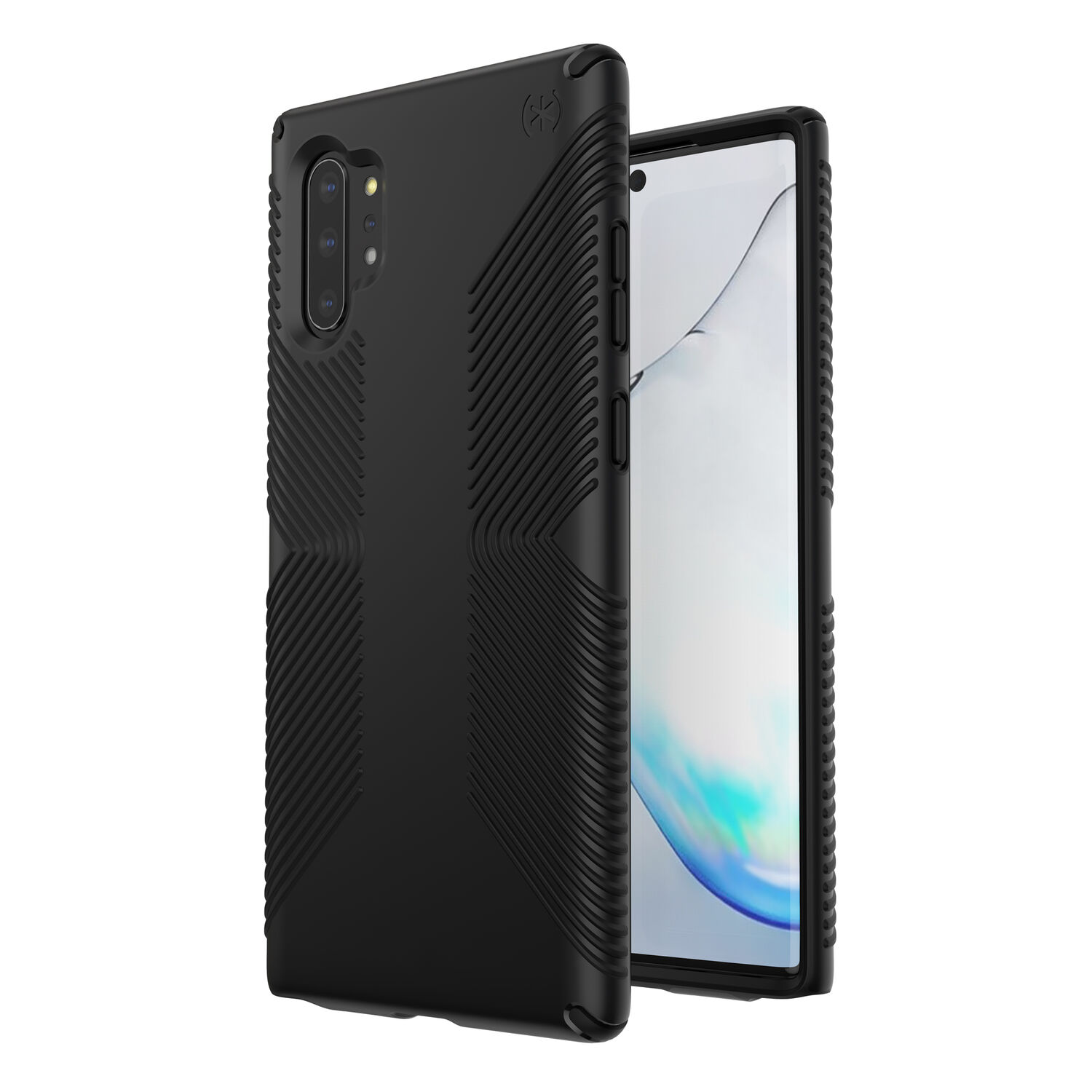 Scooch Wingman Case
Scooch's Wingman is the case we never knew we needed until we saw it. While it's initially odd-looking, that strange style has its purposes. The flexible band on the back of the Wingman can be used as a horizontal or vertical stand, a finger grip, or even a car vent mount, making it one of the most immediately useful cases around. It's also protective and uses Exo-D corner airbags to protect your phone from drops. It's so tough that it meets military standards for drop tests. It's also clear, letting you show off your Note 10 Plus. It doesn't have much style, and it's not as slim as it could be thanks to the band on the back, but it more than makes up for it with its usefulness.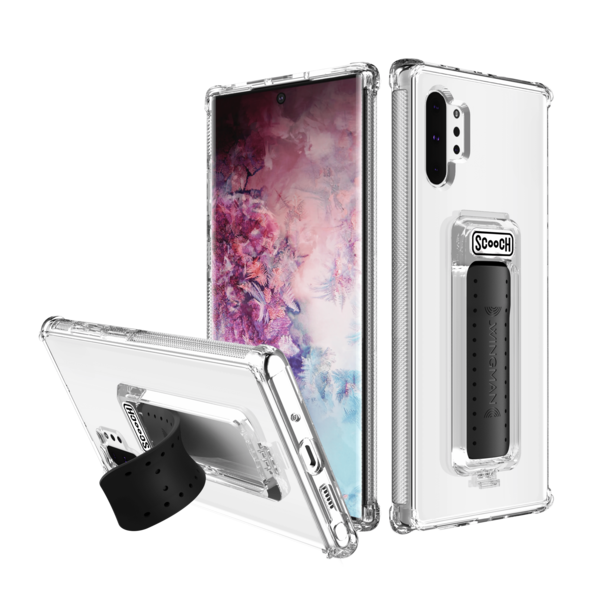 Spigen Slim Armor CS
We rarely miss recommending a Spigen case, and for the Note 10 Plus, we're recommending the Slim Armor CS. It's one of Spigen's slimmest cases, but it still offers strong protection against a variety of threats. It uses a combination of TPU and polycarbonate for a great mix of hard and soft protection, while Spigen's Air Cushion technology reinforces it against drops. But it's not just about protection. Slide the back panel and you'll find space for two cards, spare cash, or anything else that'll fit there. It's slim enough to slip easily into a pocket while being protective enough to guard against most daily hazards. At this price, this is a steal.
Poetic Revolution Case
Rugged cases tend to come on the expensive side, but they don't have to. Poetic specializes in providing the latter. The Revolution is one of our favorite cheap rugged cases, and it's easy to see why. It's made from a shock-resistant TPU core with a hard polycarbonate backplate, providing strong protection against drops, scratches, bumps, and more. There's a built-in kickstand on the back, and raised bezels make sure your phone doesn't rest on surfaces, preventing it from picking up scratches from dirt and grit. However, it's certainly a bulky case, and anyone looking for a stylish case that complements the Note 10 Plus's sleek look should skip this over. But it's still a must-buy for some.
Otterbox Defender Case
For the ultimate in everyday protection, you can't go wrong with the Otterbox Defender. A hard outer shell combines with a shock-resisting inner core to provide excellent all-around protection, while port covers make sure small particles don't find their way into your phone. There's a holster with a belt clip that can be attached, while raised bezels ensure your device doesn't rest on dirty surfaces. It's lacking in overt style, but it also doesn't sport the extremely rugged looks other protective cases go for — which makes it perfect for everyday use when you don't want to scream about how protective your case is. The $50 price may also put you off, but if you can justify it, it's a great investment.
VRS Designs Genuine Leather Diary Case
For a professional and mysterious look on your Note 10 Plus, consider the genuine leather VRS Designs' Diary case. The case morphs premium leather with a solid inner case that protects your phone and helps absorb shock. The case also has a leather folio-style wrap to protect your phone's screen when you aren't using it. The cover neatly folds back behind your device, so you don't have to worry about it flapping around or getting in the way. This particular case also functions as a small-scale wallet; there's storage space available for three credit cards or some spare cash. Right now, you can pick this case up for $40 from VRS Designs.
VRS Designs Genuine Leather Diary Case
Editors' Recommendations