Searching for a smart lighting solution for your desk, end table, or nightstand? Consider adding a smart lamp to your shopping list. These versatile products not only help illuminate a dark room, but often come with useful features such as timers, multiple selectable colors, and the ability to sync with the rest of your smart home.
The best smart lamps on the market are compact enough to fit easily on most desk or table setups, and offer a wide range of light color options, from different shades of white to every other color of the rainbow. You'll find a list of the best smart lamps of 2023 below.
Philips Hue Iris
Best smart lamp overall
Pros
Rich and vibrant colors
Very bright light output
Bluetooth connectivity option
Unique-looking design
Cons
It's on the pricey side
Can't cycle through colors on its own
Philips Hue is highly esteemed in the world of smart lights, offering one of the most robust lineups in the industry. The Philips Hue Iris is its latest smart lamp, which is notable for its unconventional design. Taking some of its design cues from the previous Philips Hue Bloom, the Iris sports a more spherical design that makes it perfect as a spotlight on a desk. It's great for accenting wall art, and there's a bit of residual glow around its translucent base, too.
It doesn't disappoint in its performance, delivering strong light that can illuminate corners and small spaces easily, and the colors emit a deep, vibrant glow. That's important when it comes to creating the right ambiance. Since it's part of the Philips Hue family, it can be paired with other smart lights from the company to deliver some breathtaking light scenes.
Philips Hue Iris
Best smart lamp overall
Sharper Image Bonsai Bluetooth Speaker Lamp with Wireless Charging Pad
Best smart lamp for the bedroom
Pros
Good audio quality
Beautiful design
Wireless charging for most smartphones
Cons
A little expensive
Relatively low brightness
If style is your chief goal, you'll love this little LED light inspired by bonsai trees. It's also quite versatile — there's a small Bluetooth speaker for playing soothing sounds from your mobile devices and a Qi standard wireless charger for charging your phone. Touch controls allow you to adjust the brightness of the LED light, or you can press and hold to active a sleep mode that shuts off after 30 minutes.
The Sharper Image Bonsai lamp is made of metal and cherry wood, and the LED light is a 20-watt equivalent, so you won't be using it to light up a whole room, but rather as an accent or nightlight. Keep in mind that you may need to take thicker cases off of phones to successfully charge them wirelessly on the lamp.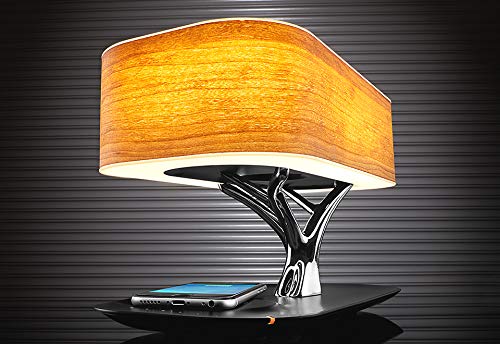 Sharper Image Bonsai Bluetooth Speaker Lamp with Wireless Charging Pad
Best smart lamp for the bedroom
Lepro Smart Table Lamp
Best smart lamp for the living room
Pros
Handy physical controls
High brightness
Useful alarm
Cons
Some challenges connecting to Wi-Fi
Loses color saturation at low brightness
This affordable smart lamp is an excellent starter model with a wealth of control options, including an app that makes it easy to adjust color, tune your white light temperature, and adjust brightness. For those who want to dive deeper, you can also set timers and schedules for how the lamp behaves throughout the day. Users who want to keep it simple can adjust the lamp with the onboard buttons. It's even compatible with Alexa and Google Assistant if you prefer to give voice commands or tie it into a routine.
We also like that the Lepro Smart Table Lamp cover diffuses the light enough that you can put this lamp nearly anywhere on the higher brightness settings without worrying about it becoming distracting. The lamp plugs into outlets with a USB-C cable and adapter, but if you have a compatible power bank, you can also turn it into a portable unit.
Lepro Smart Table Lamp
Best smart lamp for the living room
Globe Electric Smart Table Lamp
Best smart lamp for the office
Pros
Beautiful design
No hub required
Groups with other lights
Cons
Some shipping issues
Sometimes activates on its own
This elegant lamp from Globe Electric will be at home on any desk in your home office, but it houses surprisingly smart features that make it a major upgrade from any traditional desk lamp. Using the app, you can turn the 7-watt, 400-lumen bulb into any color or any color temperature you want for the exact look you need. Full scheduling is also enabled, and you can even control the lamp with Alexa, Siri, or Google Assistant. That also means it's easy to set routines with those services if you want something beyond the modes that the app offers.
Note that the Globe Electric Smart Table Lamp is primarily downward-facing and designed to illuminate your desk activities. This model isn't a good option for adding light to the entire room, just lighting your current work area. That's a plus if there are other people in the room you don't want to disturb, but it's not a great pick for an accent light or greater illumination.
Globe Electric Smart Table Lamp
Best smart lamp for the office
Amazon Echo Glow
Best smart lamp for kids
Pros
Compatible with Alexa Routines
Uses voice commands
Has app control
Kid-friendly
Easy to use
Cons
Not very bright
Doesn't dim with touch
Needs an Alexa device for voice controls
The Amazon Echo Glow provides a significant amount of entertainment and functionality. It connects with any Echo product, and it's interactive. Its unique Rainbow Timer can be enacted through a simple "set a timer for" command, bringing a fun, colorful light show to your space.
You'll know the time is winding down when the glow color transitions. It can work as a visual cue to inform you if something is almost done cooking or let kids know it's time to get ready for bed. The lamp can mimic a flickering flame, create a dance party atmosphere with its disco lights feature, and more. You can also set specific settings to prevent your child from accidentally finding inappropriate content. A subscription to Amazon FreeTime can limit your Echo Glow to kid-friendly audiobook and music titles.
Note: This product is different than the interactive Amazon Glow device.
Amazon Echo Glow
Best smart lamp for kids
Govee Lyra
Best stand-up smart lamp
Pros
Tons of preset light modes to choose
Potent brightness
Punchy colors
Govee does a great job with a wide range of smart lights, and their stand-up Lyra lamp is no exception. Once it's tucked into a corner, the mobile app provides a wealth of customization options. Set up different colors and animations, use the in-line mic to sync the light with music, and the Google Assistant and Alexa integration means you can pair it with your other smart lights. A weighted base keeps it a stable addition to wherever you want to place it.
Saturation and brightness are quite good and strong enough to flood an area with atmosphere. Individually-controlled LEDs allow for a smooth gradient to be produced along the length, so you aren't stuck with just a single solid color at any given time.
Govee Lyra
Best stand-up smart lamp
Hatch Restore 2
Best smart light with alarm clock
Pros
Minimalist design
Tons of lighting options
Functions as an alarm clock
Cons
Not as bright as other options
Some features locked behind monthly subscription
If you're searching for a bedside lamp, it's hard to beat the Hatch Restore 2. This sleek-looking device functions as both a lamp and alarm clock, offering dozens of customization settings that make it easy to personalize its performance. It's not nearly as bright as some other options on this list, but it makes up for it with a robust app that lets you set schedules, change its color, or select from several unique sleep sounds to aid in your nighttime routine.
The biggest downside to the Hatch Restore 2 is its price tag. It clocks in at a hefty $200 – and you'll want to join the monthly Hatch Sleep program to gain access to all its features. And at $5 per month, that can quickly add up. But if you don't mind the cost and need a lamp that pulls double-duty as a smart alarm, the Restore 2 deserves a closer look.
Hatch Restore 2
Best smart light with alarm clock
Moonside Lamp One
Best smart lamp for your gaming desk
Pros
Millions of color options
Highly customizable
Lights dance across the lamp in unique ways
Cons
Lacks HomeKit support
Feels cheap
Small, affordable, and with tons of customization options, the Moonside Lamp One is a great choice for a desktop smart lamp. Using an accompanying smartphone app, the Lamp One can produce a dazzling array of light shows. Whether you want dozens of colors to cascade across its surface or have a few colors pulse on and off, there's almost no limit to what it can achieve. Its construction is a bit less impressive than expected (instead of frosted glass or a squishy rubber, it's composed largely of cheap plastic), but that's a minor complaint about an otherwise versatile device. There's also the option to connect your lamp with Google Assistant or Amazon Alexa, making it easy to sync with the rest of your smart home.
Moonside Lamp One
Best smart lamp for your gaming desk
Frequently Asked Questions
What are the advantages of smart lamps?
Smart lamps offer a lot of advantages over traditional lighting, the least of which is energy-saving. Smart LED lights use less power than halogen or fluorescent bulbs, and the scheduling features mean you can automatically turn the lights off at a certain time without lifting a finger.
You can also use smart lamps as security. If you can tie your lamp into the rest of your smart home and have it activate when a security system detects motion, you provide the illusion that someone is home even if the house is empty.
Smart lights can serve dedicated purposes that traditional lights can't meet, such as the Glow Light helping you fall asleep or providing on-the-go illumination.
What should you consider when looking at smart lamps?
Smart lamps can become a staple product in your home. Many people are first exposed to smart products through smart lighting, and smart lamps are a direct extension of that. These lamps often feature equally as many (if not more) features than a standard smart bulb because they are designed from the ground up to serve a specific purpose.
When shopping for a smart lamp, first consider its use. Where do you want to place this lamp? Is it for reading, lighting up a room, or ambiance?
Consider whether the lamp needs to be plugged in at all times or if it can be placed after being charged. Lamps that don't require a power connection provide more flexibility in placement throughout the room and are often best for ambiance instead of utilitarian lighting.
What features are included in the lamp? Some lamps can pulse the lights in time with music, while others can only cycle through colors on command. You should also consider how smart its smart features are. Does it work with Amazon Alexa and Google Home, or can it only be controlled via the app?
What is your budget? Smart lamps range in price from $30 all the way up to $200 or more. Lamps that provide ambiance often cost more, but lamps that can light up a room or that aren't from as well-known a brand can be found for lower prices.
Editors' Recommendations