Buying holiday lights for your home is an investment, so don't go with lights that only offer one color choice. The best smart holiday lights can be changed to a wide array of colors and blinking patterns and can also be synced to music. You can control them using an app or voice commands using Alexa, Google Assistant, or IFTTT devices, and you can even put these types of lights on a schedule.
Love the idea of keeping your tree up year-round? With smart lights, you can change the light colors to fit the upcoming holiday or season. After the holidays, you could change your lights to pink and red for Valentine's Day; pastel colors for Easter; red, white, and blue for Independence Day; orange and purple for Halloween … you get the idea.
Here are our picks for the best holiday smart lights on the market.
Twinkly Smart Decorations Custom LED String Lights
Best pick
Pros
Loads of effects
Usable indoors and outdoors
Linkable with up to 10 devices
Cons
Some connectivity challenges
Twinkly's lights are on their second generation and have a lot of great features. The lights have an almost endless combination of effects, animations, and color ranges to give you a fully customizable experience. Twinkly smart lights also have a built-in microphone, so they can sense music and sync with the beat.
Since the Twinkly Smart Decorations Custom LED String Lights are rated for indoor and outdoor use, you can do one of those snazzy musical light show extravaganzas that's popular on YouTube. Setup is easy, too. They connect using Bluetooth, and from there, you can control the lights with the app or any Alexa-enabled device. Through Alexa, you can turn the lights on or off, set the brightness, or change colors. If you want a super easy setup, you can also get Christmas trees pre-lit with Twinkly lights.
Twinkly Smart Decorations Custom LED String Lights
Best pick
ILC LED Smart Floodlights
Quick installation
Pros
Creates mesh Bluetooth network
Bright
Easy setup
Cons
Lack long-term durability
If you want to set the mood outside but you don't want to string hundreds of lights, there is a fast alternative. Festive floodlights make it look like you went through some effort but with just a few minutes of work.
One of the best options are the ILC Floodlights. Put them on the ground, plug them in, and then project festive colored lights on the outside of your home. You can control the lights using an app, and they feature music-syncing abilities and a wide range of colors.
ILC LED Smart Floodlights
Quick installation
Philips Hue White and Color Ambiance Outdoor Lightstrip
Best year-round
Pros
16 million colors with adjustable output to 900 lumens
Weatherproof operation in all conditions
Freestanding or screw-clip mounting options
Simple installation with extension kit available for longer runs
Support for Amazon Alexa and Google Assistant
Cons
Strips can't be cut to size
Drab silicone cladding
While the Philips Hue White and Color Ambiance Outdoor Lightstrip isn't specifically for the holidays, this list wouldn't be complete without it. The Hue Lightstrip is the perfect choice if you want lights that can take you from Christmas, to spring parties, summer cookouts, and roasting marshmallows on the deck in the fall.
Durable and meant for year-round outdoor use, these Philips lights feature 16 million colors and "all shades" of white light. Plus, they are compatible with Alexa devices, Google Assistant, and HomeKit. You can also use the Philips Hue app to control them if you connect the lights with the Hue Bridge.
Philips Hue White and Color Ambiance Outdoor Lightstrip
Best year-round
Govee Permanent Outdoor Lights
Best outdoor lights
Pros
Music sync
Compatible with voice assistants
High saturation
For the truly festive, Govee has a new batch of lights that you install directly into the exterior of your house. With a little bit of elbow grease, you can have seasonal colors washing over your home with minimal profile on the fixtures themselves. These lights are perfect for those who want to go all-in with exterior smart lighting. Weatherproofing ensures these can last for the long haul, rain or shine. Govee rates these lights at up to 50,000 hours of runtime in temperatures from -4°F to 140°F.
Govee has a strong reputation in smart lighting for high brightness and saturation, a robust app for programming color schemes, and all the important connections to voice assistants. Music sync helps tie in with whatever festive tunes you have playing outside for a full multimedia experience.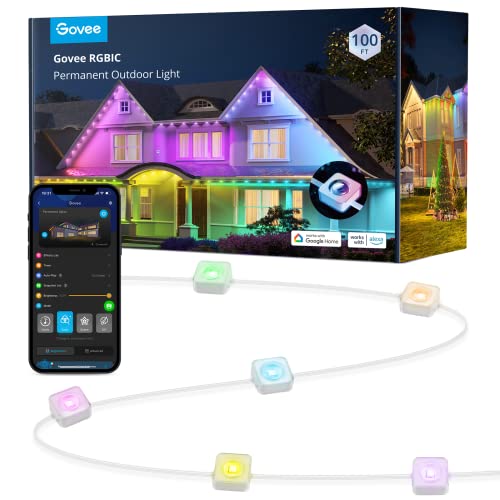 Govee Permanent Outdoor Lights
Best outdoor lights
iBaycon Smart Christmas Lights
Best for a festive look
Pros
Classic form factor
Easy to install
Good brightness
Cons
Included ground spikes are fragile
If you're particularly keen on Christmas, icicle lights are a must-have. iBaycon makes a great set available in 25, 50, and 100 LED lengths. A built-in microphone provides for music syncing with your favorite holiday tunes.
On the mobile side, there's a Bluetooth app so you can jump between a wide range of preset scenes. Timers are also available - no point in having the lights up until the sun is good and set anyway, right?
iBaycon Smart Christmas Lights
Best for a festive look
Editors' Recommendations