Books are wonderful things, and if you have a mini library at home, we're willing to bet you wouldn't trade all of them for an e-book reader loaded down with your favorites. But while they may lack the tactile nature of a book, an e-book reader is still something every keen reader should consider. Many of the models available come with backlights so you can read in lower light, can make the font bigger to suit your needs, and are small enough to slip into a pocket — and e-book readers are always going to beat physical books when it comes to going on holiday, especially if you're a fast reader.
But which e-book reader should you buy? There's no shortage of great readers out there, and while Amazon's Kindle Oasis may be the biggest name that nearly everyone knows, there are other options available if you're looking to get an e-reader that's not tied to the world's largest shopping site. Here are the best e-book readers for 2022.
We've also found some of the best Kindle deals going on right now if you're looking for a new e-book reader on a budget.
Amazon Kindle Oasis (2019)
Best e-book reader
Pros
Excellent screen that's perfectly readable outdoors
Comfortable to hold
Color-adjustable front light allows for better nighttime reading
Good performance
IPX8 water resistance
Cons
No USB Type-C charging port
User interface could use a visual refresh
Why you should buy this: You already have a library of Kindle e-books, use your e-book reader for audiobooks, or just love the WhisperSync feature.
Who it's for: The hardcore reader who's heavily invested in the Amazon ecosystem.
Why we picked Amazon's Kindle Oasis (2019):
Amazon's latest Kindle Oasis (2019) is a minor revision over the 2017 model. It's still the best Kindle available, though it's also the most expensive. So what makes it such a great device? Featuring a beautiful 7-inch display, a pixel density of 300 pixels per inch, and well-placed navigation buttons, the Kindle Oasis revels in an excellent design.
Amazon claims the Kindle Oasis can last up to six weeks on a single charge, though you'll likely need to plug it in after a week or two of use (depending on your settings). It's still more than good enough for most people, and it's impressive it can go for so long given how thin the device is. There are also built-in ambient light sensors, which adapt to your surroundings so that you don't have to constantly adjust the screen.
All e-books are pretty lightweight, so internal storage isn't generally as important for an e-book reader as it might be for a tablet or smartphone. The Kindle Oasis offers 8GB of storage, which is enough for thousands of books, but there's a 32GB option that may be preferable for those who enjoy listening to audiobooks from Audible via Bluetooth earbuds. It's possible to get library books on your Kindle, too. Overdrive has a simple interface that lets you send e-books to your Kindle over the internet — no plugging-in required. You can also highlight passages from your favorite books and share them on social media, look up the meaning of words, and get context for fictional and nonfictional characters, places, settings, and more through a feature called X-Ray.
As far as new features go, the 2019 Kindle Oasis has a color-adjustable front light. The screen's color tone can shift to warmer hues at night, making it easier on the eyes and protecting you from blue light. There's also IPX8 water resistance, which means it's protected against immersion in up to 6.5 feet of freshwater.
Sadly, it still only accepts select e-book formats — you can read EPUB files, but it requires some manual work. Also, it still has a Micro USB port, rather than the more updated USB-C port you'll find on the newer Kindles. Regardless, the Oasis is our favorite Kindle and the one you should buy if you don't mind shelling out extra money for this e-book reader.
Amazon Kindle Oasis (2019)
Best e-book reader
Kobo Libra 2
Best Kindle alternative
Pros
Waterproof
Ergonomic design
USB-C port
Flexible
Blue light filter
Cons
Still expensive
Not tied into Amazon's storefront
Why you should buy this: It's a great e-book reader that's free from the restrictions Kindle owners face and has support for a large range of e-book formats.
Who it's for: Anyone who wants a waterproof e-book reader that isn't tied to Amazon.
Why we picked the Kobo Libra H2O:
Amazon may dominate the space, but it's definitely not the only game in town. Kobo's e-book readers are excellent and offer a place to read your e-books that isn't ruled exclusively by Amazon, and it has support for more e-book formats. The Kobo Libra 2 isn't at the top of Kobo's offerings, but it is probably the best standalone e-book reader Kobo offers.
We'll start with the design. Kobo has made a few improvements to the design from the previous Kobo Libra H2O, smoothing out the harsher edges and adding a more svelte style. There's a dotted texture on the back for grip, and the device now curves down on the edge with the page buttons, but it's still largely a familiar design for Kobo fans. The aforementioned page buttons can be used to turn pages without swiping the screen (handy for wet fingers) and can be used after rotating the device whichever way you prefer.
Yes, we mentioned "wet fingers" back there for a reason. The Libra 2 is fully waterproof, so you can read in the bath without worrying about water ruining your experience. There's also a blue light filter to stop the 7-inch screen from messing with your sleep instincts at night, and the two-week battery life means it won't need recharging very often either.
Best of all, it's not excessively expensive. With a design that's similar to the Kindle Oasis, and specs that match — and even, where USB-C is concerned, exceed — Amazon's most expensive Kindle, the Kobo Libra 2 still starts at $180 — a full $70 less than the Oasis' RRP. A great deal if you prize flexibility in your e-reader, but don't want to compromise on pure quality.
Kobo Libra 2
Best Kindle alternative
Amazon Kindle Paperwhite (2021)
Best cheap Kindle
Pros
Bigger, brighter screen
Warmer color temperature adjustments
USB-C charging port
Waterproof
Cons
Screen smudges easily
No auto-adjusting light
Why you should buy this: The updated Kindle Paperwhite offers unrivaled value for money, thanks to top-tier features at a reasonable price.
Who it's for: Anyone who wants a fully-featured Kindle at a lower price.
Why we picked the Amazon Kindle Paperwhite (2021):
How could we not? Amazon's Paperwhite is simply one of the best pure e-book readers available, and the best option to pick if you want a solid reader on more of a budget.
While Amazon hasn't tinkered with the Paperwhite's design too much, it has made two big changes to the overall formula — a larger 6.8-inch display, and USB-C charging. Why should you be excited about USB-C? It means faster charging speeds, but the biggest reason to celebrate is that it potentially cuts down on the number of cables you need to have ready at any one time. If your current smartphone or tablet of choice uses USB-C, as many modern devices do, well, there's no need to grab another cable just to charge your Kindle. In practice though, it's still likely a convenience more than a requirement, as the two-week battery life means it won't need to be recharged very often.
The new, larger, e-ink display has the same clear 300 pixels-per-inch (ppi) as its predecessor, so there's no drop in readability. The display changes brightness automatically and comes with a blue light filter for nighttime reading. Since it's an e-ink display, it can also be used perfectly well in strong sunlight as well — though the screen does seem to lack any real smudge resistance, which was annoying. It's also fully waterproof, which is one of the biggest reasons to buy this over the basic Kindle, as waterproofing does offer peace of mind that can't be replaced easily.
Alright, so prices starting at $140 means the Paperwhite isn't the cheapest of the cheap e-book readers. However, we still think it's one of the best value-for-money options out there, where Kindles are concerned. But if price is a real sticking factor, then the basic Kindle is also excellent — or, wait for a sales event, as Kindles are often heavily slashed in price during these events.
However, the Kindle Paperwhite's position in this list looks to be under threat, as there's strong competition from the new basic Kindle. The new $100 Kindle sports a USB-C connection, a boosted 16GB of storage, and a dark mode with adjustable front light. Basically, everything the Paperwhite has, except for the water resistance. Is being able to read in the shower worth the extra $40? You'll have to wait until we've had a chance to review the new Kindle to find out — but it's probably worth holding off for now if you were going to buy the Paperwhite.
Amazon Kindle Paperwhite (2021)
Best cheap Kindle
Kobo Clara HD
Best cheap Kindle alternative
Pros
Excellent battery life
ComfortLight Pro removes blue light
High-res screen offers crisp text and illustrations
Activity mode provides detailed information on your reading
Pocket integration makes reading articles offline easy
Cons
Lacks Overdrive integration found on other Kobo models
Not water resistant
Why you should buy this: You're looking for an inexpensive e-book reader with a front-lit HD display and plenty of storage.
Who it's for: The reader on a budget who enjoys purchasing media in multiple formats.
Why we chose the Kobo Clara HD:
The Kobo Clara HD features a gorgeous 300 ppi screen and 8GB of storage — just like the Kindle Paperwhite. The battery is large enough that you should get around a month of reading from a single charge. It also offers the same innovatively illuminated ComfortLight Pro as the more expensive models in Kobo's range. This feature uses red and orange LEDs to illuminate the screen without the need for blue light, which can cause trouble sleeping.
Just like the Libra 2, the Kobo Clara HD is compatible with many more formats than Kindle e-book readers, giving you the freedom to purchase your e-books directly from the publisher, as well as dozens of other third-party retailers.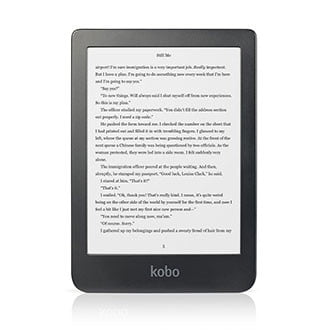 Kobo Clara HD
Best cheap Kindle alternative
Frequently Asked Questions
What is a Kindle?
Kindle is Amazon's line of e-book readers, and it debuted in 2007. Over the years, Amazon introduced new types of Kindle devices, from the basic Kindle to the Kindle Oasis, which comes with more features, like water resistance and a blue light filter.
Amazon also launched a line of tablets under the Kindle Fire branding — which confused many, as Kindle Fires are not e-book readers, but Android-based tablets. Thankfully, Amazon dropped the "Kindle" part of the name, rebranding the range as the "Fire tablet," as in the Fire HD 10 and Fire HD 10 Plus.
What is a Nook?
A Nook is an e-book reader from Barnes & Noble, a large U.S. book retailer. Like Amazon, the company also has a line of Nook Tablets that run Android, but the Nook originally launched as an e-book reader with an electronic paper screen.
What is a Kobo?
A Kobo is an e-book reader from Rakuten, a Japanese electronic giant. Unlike Amazon, Rakuten has less skin in the bookstore game, so it's easier to put e-books from outside of the Kobo store on your device. As such, Kobo devices are seen as more open than Amazon's Kindle range.
What format do e-book readers use?
One of the most annoying things about e-books is that there are many file types, and certain e-book readers don't support certain formats. Here's a breakdown of which e-book readers support which formats.
Kindle
AZW3
AZW
TXT
PDF
MOBI
RTF
HTML
EPUB
DOC/DOCX
HTML, DOC, DOCX, JPEG, GIF, PNG, EPUB, and BMP files are only supported through conversion. Amazon has a free downloadable software called Kindle Previewer, which you can use to upload and convert these files into a readable format on your Kindle. You'll need to manually plug your Kindle into a computer to transfer them.
Kobo
EPUB
EPUB3
PDF
MOBI
JPEG
GIF
PNG
BMP
TIFF
TXT
HTML
RTF
CBZ
CBR
Kindle files and Apple iBooks are not supported, but Kobo supports the most file formats natively of any e-book reader.
What's the difference between a tablet and an e-book reader?
A tablet is akin to a smartphone but larger. You'll get a full-color touchscreen with a high refresh rate. You can play games, watch movies and TV shows, and be productive with them. E-book readers are limited to reading because the electronic paper display has a low refresh rate. The screens look like paper, making them ideal for reading books, news, or magazines.
How do I get books on an e-book reader?
Whether you have a Kindle from Amazon or a Kobo from Rakuten, most e-book readers have a respective store accessible through the device where you can purchase books and more. You can also buy content on a computer and transfer the file to the e-book reader by physically connecting it with a cable.
When's the best time to buy an e-book reader?
This is an interesting question because the kneejerk answer is "when you want one". But the reality is there are some times in the year when it's just better to buy your e-book reader. Amazon's Prime Day and Black Friday are two such occasions, and if you're looking for an Amazon Kindle, then this advice applies even more. Amazon regularly discounts its Kindles heavily for both sales, and previous sales have seen the basic Kindle go down to half price and the Paperwhite down to below $100.
So really, while you should buy an e-book reader when you need one, if you can, try waiting for Prime Day in July, or Black Friday in November to get a great discount on your device.
How we test
Here at Digital Trends, we believe we're the most fortunate employees on the planet because we get to test e-book readers. So, essentially, we get to read for fun at work. It's incredible, and we're not complaining. The testing process involves more than just reading, though. When we experiment with e-book readers, we conduct a bunch of different tests. Some of these include testing the screen's brightness in different lighting and examining its durability by putting it in a variety of environments. If it claims to be waterproof, we take the reader for a swim in the bathtub and see if it measures up after a bubble bath. 
We also transfer current e-book files onto the e-book reader, rent some e-books from the library, and buy books from various stores. We understand the e-book files are incredibly hard to convert, so our hearts go out to you and the many other avid readers who'd rather read in a different file format. Believe us, we've done our research, and we feel your pain. 
The most critical piece of our testing process is our home simulation experiment, where we read these e-books in the comfort of our own humble abodes.
Editors' Recommendations