Buying a better keyboard is one of the easiest things you can do to upgrade your PC setup. But which to buy?
Whether you need a gaming keyboard, a mechanical keyboard, a wireless keyboard, or even just a basic work keyboard, our complete list of the best keyboards has the ideal choice for everyone.
Microsoft Surface Keyboard
The best keyboard for work
Pros
Simple and sleek design
Quiet, comfortable typing
Aluminum base feels sturdy
Up to a year of battery life
Cons
Only connects to one device at a time
Requires batteries
As popular as mechanical keyboards have become, many people still prefer quieter, simpler keyboards for work and general use. That's where the Microsoft Surface Keyboard comes in. Its simple grey aesthetic is bound to fit well in most desk setups, it has a low profile so it doesn't strain your wrists, and the build quality is as good as it gets.
This full-size wireless keyboard feels comfortable and familiar to type on too, which is just what you want. The layout puts everything you need in reach, and thanks to the claimed one year of battery life, needing to recharge the keyboard is extremely rare. The only downside is that it is powered by two AAA batteries, and cannot be used wired.
Microsoft Surface Keyboard
The best keyboard for work
Logitech G Pro X
The best gaming keyboard
Pros
Clean, understated look
Swappable switches aid customization
Detachable USB cable is durable
Solid build with rubberized feet
Game mode is useful and simple
Cons
RGB lighting doesn't cover entire keycap
No dedicated media keys
Only F keys can be remapped
Logitech's G Pro X is a fantastic, compact gaming keyboard that ditches the number pad for a more dense, portable design. Not only does it sport a more restrained form, but it also has a unique feature in the way you can swap out the mechanical switches if they die (or you just don't like them). Compatible with both Logitech's own GX switches and Cherry's MX range, you can effectively equip this board with whatever you want. Just swap in the switches when you want them using the handy picker tool.
The Logitech G Pro X is also packed with top-tier gaming features, including fully customizable RGB lighting, solid media controls, and a swappable cable that removes one more potential point of failure and makes it more portable. We loved how durable this keyboard was and could be, and we think it's one of the best we've used in some time. If you don't care about swapping switches, though, the new, standard G Pro is much the same, but without that one feature — and it's less expensive.
Logitech G Pro X
The best gaming keyboard
Keychon Q1
The best mechanical keyboard
Pros
Range of customizable elements
Aluminum case is durable
Works with Mac and Windows
Key mapping software compatibility
Cons
No Bluetooth
No height or angle adjustment
Mechanical keyboards are all the rage these days, and Keychron has been one of the brands pushing the category forward with beautifully minimalist aesthetics and premium designs. The Q1 is one of the company's latest products, which puts customization at the forefront, one of the hallmarks of the mechanical keyboard craze.
You can purchase it preassembled with switches and keycaps, of course, but the magic is the long-term viability of the Keychron Q1, which can be customized to your heart's content. "It's a keyboard that can grow with you," as our review puts it. Meanwhile, if you're looking for something more affordable, the Keychron K8 is a good option too.
Keychon Q1
The best mechanical keyboard
Logitech G915 Lightspeed TKL
The best wireless keyboard
Pros
Superb typing experience
Bright RGB lighting
Fast wireless technology
Long battery life
Bug-free, useful software
Cons
Expensive
Incompatible with most mechanical keyboard accessories
The best wireless keyboards are natural companions to more flexible computing arrangements and more casual positions, but people sometimes worry about performance issues or lack of quality when going wireless. No need to worry with the G915: It's a wireless keyboard created to provide high-performance results with low-profile mechanical keys that deliver a 1ms report rate, which Logitech claims outperforms many wired keyboards.
We especially like the slimmed-down design of this Logitech keyboard, which makes it easier to find the right position or even hold it in your lap. There's also unobtrusive RGB lighting that can be customized per key as desired or even synced to music and games. The battery takes around three hours to charge and can deliver up to 30 hours of gaming before needing a power connection. There are also five G Keys that you can customize with macros of your own for often-needed tasks, plus a volume roller and dedicated media controls.
Logitech G915 Lightspeed TKL
The best wireless keyboard
Apple Magic Keyboard
Best keyboard for iPad
Pros
Tactile, precise typing experience
Responsive trackpad
Perfectly weighted for desk or lap use
Genuinely increases productivity on iPad Pro
Cons
An expensive accessory
Screen angle adjustment is limited
Apple has an array of Magic Keyboards for various Mac and iOS devices, all durable, flat keyboards with quick responses and a general Apple aesthetic. But when it came to the Magic Keyboard for the iPad Pro, Apple understood that people expect a bit more. And it delivers.
This iPad keyboard is made to both magnetically connect to and prop up iPad Pro models for serious, long-term work. The keys are full size, backlit, and use a scissor mechanism with a 1mm travel time. That magnetic attachment also can charge the iPad Pro via a USB-C connection on the keyboard, which leaves the USB-C port on the iPad open for other attachments (something many professional users desperately need). It even has a trackpad, which you'll want if you plan to use your iPad as a laptop replacement.
Apple Magic Keyboard
Best keyboard for iPad
Logitech Ergo K860
The best ergonomic keyboard
Pros
Adjustable palm lift
Comfortable keycaps
Lots of wrist support
Appealing design
Can connect to multiple devices
Cons
Not backlit
Not rechargable
Ergonomic keyboards can come in a bewildering number of shapes and sizes, but Logitech hit gold with this Ergo model, which provides important wrist support without being intimidating to use. The angled key sections, plus the cushioned rest, help keep carpal tunnel at bay, while the sloped design and scooped keys ensure your fingers won't easily get tired even during long sessions of work.
The slope and rest are also adjustable to three different levels, so you can change them to find which works best (for sitting versus standing, for example). But the Logitech Ergo keyboard isn't just comfortable — it also has several features ideal for professionals, including FN keys that can be customized with macros and a full number pad. It can also go wireless up to more than 30 feet. Oh, and it's fully compatible with Windows or MacOS. Pair it with a Logitech ergonomic mouse for the best results — you can often order them both together in a bundle to save money if you prefer.
Logitech Ergo K860
The best ergonomic keyboard
Razer Hunstman V2 TKL
The best wired keyboard
Pros
Oh-so smooth linear opto-mechanical switches
Great wrist rest comfort and ergonomics
Quiet typing
Tidy design
Detachable USB-C cable
Cons
No media keys
Although comfortable, wrist rest has a handful of issues
No tactile switch option
Most keyboard buyers in 2022 are looking for a wireless option. But if you're old school, whether it's because you're a hardcore PC gamer or because you just would rather not deal with recharging, the Razer Hunstman V2 TKL is the best keyboard for you.
It sports Razer's optomechanical switches for super smooth travel, and it comes with a comfy wrist rest if needed. And while, yes, this is a gaming keyboard, its design is simple enough that it won't turn heads at the office either.
Razer Hunstman V2 TKL
The best wired keyboard
Logitech MX Keys Mini
The best keyboard for Mac
Pros
Comfortable typing experience
Compact and lightweight for travel
Ergonomic
Advanced features
Sustainable design and packaging
Cons
Expensive
Can't be used as a wired keyboard
Most Mac users will stick with the generic Magic Keyboard, as made by Apple. There's no shame in that. But if you want something smaller with some different features, the Logitech MX Keys Mini is your best bet.
Logitech's MX Keys Mini is a tiny, wireless keyboard that pairs with up to three devices at once, much like our favorite wireless keyboards. It sports keycaps that offer both Windows and MacOS indicators, which are complemented by six levels of uniform backlighting throughout the board. Most people will not miss the lack of the number pad, and if you do, you can always opt for the full-size MX Keys.
Logitech MX Keys Mini
The best keyboard for Mac
Logitech MX Mechanical keyboard
The best multipurpose mechanical keyboard
Pros
Excellent typing experience
Works with Windows and MacOS
Pairs with up to three devices at once
Adaptive, useful backlight
Pairing is a breeze
Cons
A bit expensive
Limited key remapping options
No hot-swappable switches
Logitech makes great keyboards, and the MX Mechanical takes the best from the Logitech MX lineup and combines it with features from Logitech's gaming keyboards. This keyboard features three different switch types, that can fit your needs. Either quiet, tactile, or clicky. You even can remove the keycaps to clean them.
There's also the fact that the MX Mechanical works with many different devices via Bluetooth as well as the traditional Logitech Bolt Dongle. And for moments when the lights are out? You can enjoy different lighting effects but toned down without the fancy RGB colors. This makes the MX Mechanical one of the best productivity-focused mechanical keyboards on our list.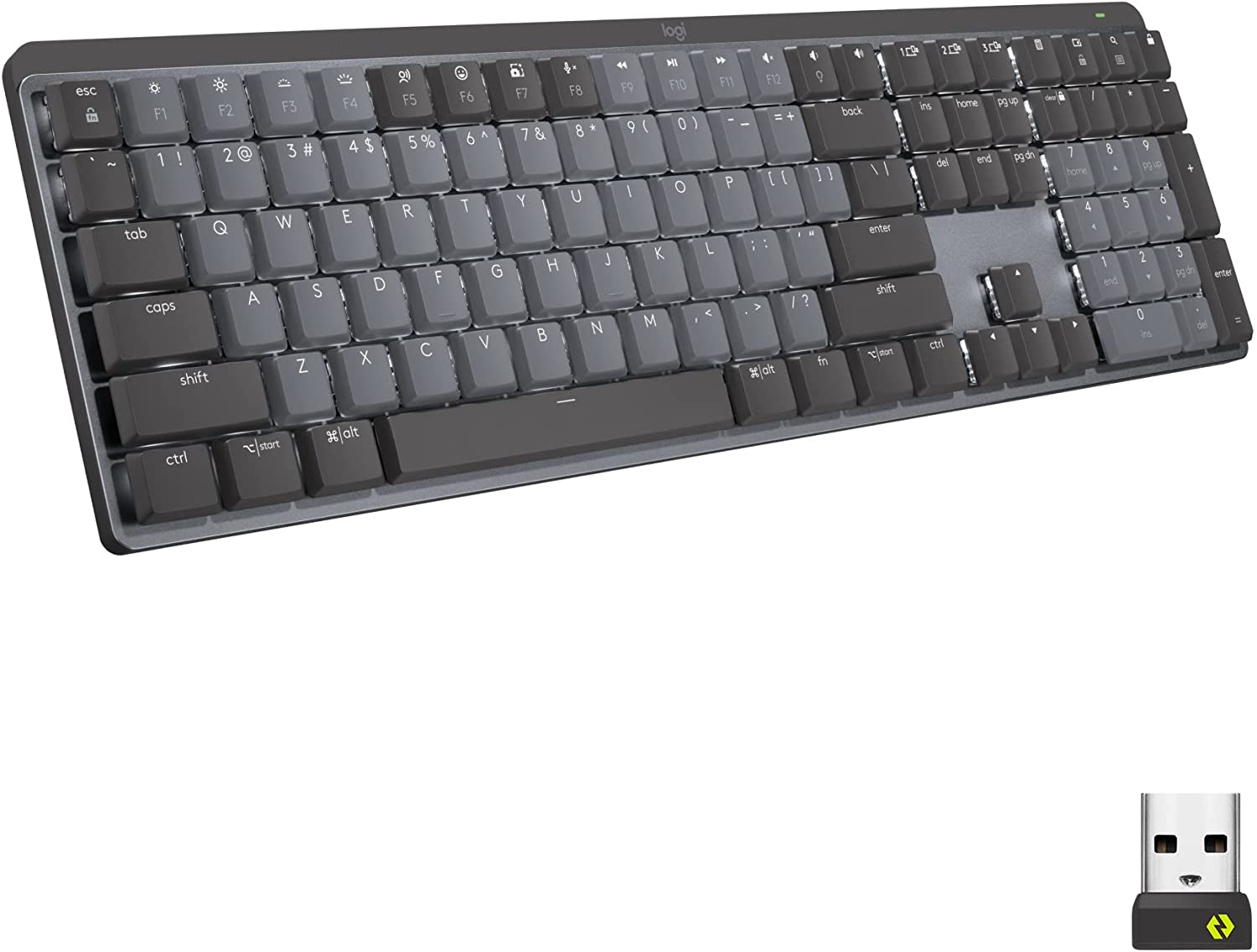 Logitech MX Mechanical keyboard
The best multipurpose mechanical keyboard
Frequently Asked Questions
How does a keyboard work?
Underneath each key, there is an electrical switch, and the full array of switches is called a key matrix. These switches come in many different designs, but they all serve the same purpose: When you press down on a key, the key presses down on the switch and completes a circuit.
Wired vs. wireless: Which should I get?
Traditionally, wireless keyboards were easier to move around but somewhat slower to activate due to sending a wireless signal, while wired keyboards were faster but can't be repositioned as easily.
What is a mechanical keyboard?
Mechanical keyboards use full switches with metal contacts and a small spring and avoid digital contact designs. This makes them one of the largest and loudest types of keyboards.
What is a scissor keyboard?
A scissor keyboard uses plastic cross switches shaped a little like a pair of scissors. When pressed, the two pieces close together and activate.
What is a butterfly keyboard?
A butterfly keyboard looks like an inverted scissor keyboard: Two cross switches meet in the middle and are pushed down to activate (like a butterfly's wings flapping down).
What should I look for in a keyboard?
Start with the most important considerations. If you struggle with finger or wrist pain, look for an ergonomic keyboard or one with wrist support. If you are a competitive gamer, make sure you choose a keyboard that has key remapping and fast switches. If you need a numeric keypad, make sure it's included.
Where can you find the best deals on keyboards?
As with many electronics, it's always a good idea to watch for deals on holiday weekends and similar occasions (Amazon Prime Day, etc.). However, if you want to cut straight to the current discounts, we keep our keyboard deal guides updated with the latest offerings.
Editors' Recommendations