Roku TV is a smart TV platform and user interface that can be found on Roku's first-party streaming devices and compatible QLED and LED TVs. Our focus today is on the latter, and fortunately some pretty awesome brands have signed their souls away to the Big R. As it stands, TCL is the kingpin of Roku-powered TVs, but depending on where you're shopping, you'll also be able to find some other noteworthy companies to grab a Roku TV from. These are mostly budget-friendly names like Hisense, Westinghouse and Roku themselves, but "budget-friendly" doesn't translate to "low quality." In fact, some of these Roku TVs are pretty dang great when it comes to things like HDR performance.
If you're looking for a sale, take a look at some of the best TV deals.
TCL 6-Series (2022)
The best overall Roku TV
Pros
Punchy HDR brightness and color
Minimal backlight blooming
Good motion resolution
Great viewing angles
Intuitive Roku interface
Cons
Requires adjustment for best picture
Struggles to clean up low-quality content
TCL's 6-Series (R655) holds its spot at the top of this list with the 2022 model of its stellar 4K mini-LED TV. The 55- and 65-inch sizes both come in at an insanely affordable sub-$1,000, making them an obvious choice. But let's dig in.
TCL took more of an "if it's not broken, don't fix it approach" to the 2022 model of the 6-Series, but has made some welcome changes. It's the brightest 6-Series TCL has ever made, delivering Dolby Vision, HDR10, HDR10+, and HLG contrast at just under 1,500 nits peak brightness in our tests, with minimal blooming and great color. In short, this thing is stunning.
And while the 6-Series' black levels and contrast aren't quite as good as the best QLED and OLED TV models, the gap has never been smaller. It's an accomplishment that is all the more remarkable when you consider the price.
The latest TCL 6-Series, like its predecessor, is also Dolby Atmos-capable, which isn't going to mean a thing if you're planning on using the built-in speakers in the TV (who does that anyway?), but it will ensure you'll get amazing surround sound when and if you add a soundbar or AV receiver setup.
Gamers will appreciate the 6-Series too, as it supports AMD FreeSync Premium Pro for color accuracy and contrast, as well as a variable refresh rate (VRR) of up to 144Hz to fend off lag and stutter during gameplay and to ensure smooth gaming. There's also an auto gaming mode that adjusts the picture mode automatically when you get after it.
This Roku Smart TV also has a voice-capable Roku remote control that lets you issue commands like "start Netflix" to control TV functions or "Margot Robbie" to search for all movies and shows that feature the actor. Alexa and Google Assistant compatibility give you access to many similar voice commands through a smart speaker if you already own one, and Apple AirPlay compatibility lets you share stuff off your iPhone to the TCL TV.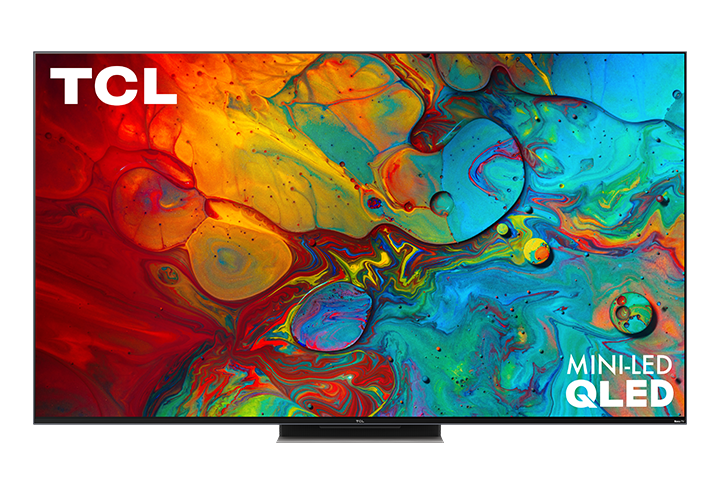 TCL 6-Series (2022)
The best overall Roku TV
Roku 55-inch Class Plus Series QLED
A Roku and Best Buy exclusive
Pros
High brightness
Brilliant color
Snappy operation
Impressive sound
Great remote
Cons
Poor off-angle performance
Contrast suffers in high-brightness scenes
Some motion blur
This amazing Roku deal can only be found at Best Buy, but if you've been looking for a breathtaking QLED TV that looks and performs like a high-priced Samsung or Sony, but at a much lower price, you're in the right ball park with the Roku Class Plus Series. Available in 55-, 65-, and 75-inch sizes, the Class Plus Series supports HDR10+ and Dolby Vision, so if you're really into streaming 4K movies from services like Netflix and Prime Video, you'll get to experience a whole new world of brightness, colors and contrast. That's on top of QLED lighting, a type of LED that is renowned for delivering strong peak brightness levels.
There are also four HDMI inputs to connect all your go-to AV devices to, and the onboard speakers are Dolby Atmos-certified. One little bummer is that the refresh rate only tops out at 60Hz, and unlike its competition, there doesn't seem to be any digital motion enhancement tools built into the Plus Series to give a boost to the TV's overall motion clarity. While gamers and sports enthusiasts may want to look for a Roku TV that delivers 120Hz, the Roku 55-inch Class Plus Series is still a great option for less action-oriented content.
Roku 55-inch Class Plus Series QLED
A Roku and Best Buy exclusive
Roku 65-inch Class Select Series
Another solid first-party option
Pros
Available in a range of sizes
HDR10+ support
Has four HDMI inputs
Awesome price
Works with Alexa, Google Assistant and Apple HomeKit
Cons
Only 60Hz refresh rate
Roku Class Plus Series QLED delivers a brighter and more colorful picture
Only sold at Best Buy
Another Best Buy exclusive, the Roku 65-inch Class Select Series is one step down from the Roku Class Plus Series. Now in terms of picture, we're betting you're wondering where this set takes a ding or two? Mostly it's just in the LED-lighting style department. The Plus Series is a QLED model, which means the overall brightness is a bit stronger and the black levels a little bolder. The Class Select Series uses regular LED lighting, which still delivers a pretty great picture, especially when watching HDR10+ content (no Dolby Vision support here though).
As far as motion clarity goes, like the Plus Series, the Select only delivers up to 60Hz across its four HDMI inputs, but you'll still have access to Alexa, Google Assistant and Apple HomeKit, as well as Roku's incredible smart TV platform. The Select Series also costs a bit less than the Plus, with this 65-inch model going for $200 less than its higher-priced sibling (in the 65-inch size). The TV is also available in sizes as small as 43 inches and as large as 75 inches.
Roku 65-inch Class Select Series
Another solid first-party option
Hisense 43-inch RG6 Roku TV
Great for gaming
Pros
Great picture for the price
HDR10 and HDR10+ support
Works with Alexa, Google Assistant and HomeKit
Integrated Game Mode
We're seeing more and more Hisense TVs these days, and if you've been on the lookout for a midsized Roku TV that delivers a punchy picture and great streaming capabilities, the Hisense 43-inch R6G should definitely be a consideration. Unlike other TVs at this size and price, this Roku TV has built-in support for Alexa, Google Assistant and Apple HomeKit, allowing you to control smart home devices from the comfort of your bed or living room couch. You'll also be able to enjoy some exceptional color and contrast detail with the R6G's HDR10 and HDR10+ support (no Dolby Vision though).
As far as motion clarity goes, this is another set that tops out at 60Hz, but don't let that deter you. When watching TV on a smaller screen (like this one), having that treasured 120Hz refresh rate is a little less important. Plus, Hisense thought to include a digital motion accelerator called Motion Rate 120; in addition to an integrated Game Mode that helps to reduce input lag. Oh, and of course you'll have access to Roku TV for all things streaming!
Hisense 43-inch RG6 Roku TV
Great for gaming
TCL 4-Series 55S455
The best value for size
Pros
Roku OS easy to use
Great 4K value for the size
Four HDMI inputs
HDR10 and HLG support
Cons
Only tops out at 60Hz
Poor off-angle viewing
If you've been wanting to invest in a new TV, and want a good-sized screen for a rock-bottom price, the TCL 55-inch 4-Series is your dream come true. Topping out at 4K resolution, even if you're not watching something in native UHD, the 4-Series will do a fantastic job at upscaling HD and SD content to give it more clarity, pop, and punch.
On top of four HDMI inputs and HDR10 and HLG support, the 4-Series is also compatible with Google Assistant, Alexa, and Siri, and even includes a game mode that automatically optimizes picture quality for next-gen consoles like the PS5 and Xbox Series X.
It's not the strongest TV in terms of overall motion performance (only 60Hz refresh rate) and HDR capabilities, and there are some handy picture adjustments tucked away in the Roku companion app, but that doesn't mean you should steer clear. In fact, for the price and range of features, the TCL 55-inch 4-Series is an absolute steal.
TCL 4-Series 55S455
The best value for size
Frequently Asked Questions
What TV brands is Roku available on?
For several years, Roku in North America has primarily been built into TCL and Hisense TVs, which is why they have dominated our list. Hisense only has a handful of Roku TVs left on its roster, signaling that the brand may be leaving Roku behind. The big news of 2023, though, is that Roku launched its own TVs.
What should you consider before buying a new television?
It's always a good idea to start with your budget and how much space you have for a new TV (remember, screen size measurements generally refer to the diagonal length on TVs). Our guide here focuses on the Roku TV platform. If you don't need a smart TV platform — for example, if you use the interface on a game console or set-top box – then this isn't much of a consideration. But if you will be using the smart TV platform, it's a very important choice. Google TV, for example, is a common alternative to Roku TV. Take some time to look at interfaces and think about what you want! After that, it's time to think about panel types, such as QLED versus OLED, resolution, and other important specs. Check out our TV buying guide for more information.
What is the difference between Roku TV and Apple TV?
Thinking about the differences between Roku TV and Apple TV? There are several things you should know:
These Roku TVs have Roku's user interface as a built-in platform. The Apple TV is a separate set-top box device that connects to a TV – there are no TVs with Apple's tvOS built in (at least not in the same way). Roku has its set-top boxes as well, but the advantage of these TVs is that you don't need another Roku streaming device.

Apple TV is a streaming device generally designed to supplement an existing TV, doesn't need a smart TV to work, and can easily be moved between TVs, which is an advantage to using a set-top box versus a built-in platform. You will need an HDMI port to connect it.

If you're an Apple fan, there's some good news: Roku TVs generally support the Apple TV app, which allows you to stream Apple TV+, so you can still watch Apple shows.

However, features like Apple Arcade and Apple Fitness only are available on an Apple TV set-top device, so there are some limitations there.
Do you have to subscribe to Roku to use a Roku TV?
No, the Roku platform itself is free to use. You can still stream from apps like Netflix, Amazon Prime Video, etc., without worrying about having to pay a Roku fee (as long as you are managing subscriptions for those individual services). These days, Roku doesn't offer much in the way of subscription services, so it's unlikely you'll ever have to pay Roku an ongoing fee after you have purchased your TV or device.
Can you watch normal TV on a Roku TV?
Yes, although that depends on what your definition of normal TV is. You can connect your TV to a receiver, set-top box, or cable box and watch TV that way, just as you would with any other TV. You can also connect an antenna and watch any free channels that you can pick up in your area. There is no requirement to use the Roku platform itself unless you want to stream apps and channels directly from your TV.
What channels on Roku are free?
The first place you should go for free streaming content is The Roku Channel. Roku offers most content on this channel for free and includes a broad amount of content, from kids' shows to popular movies of decades past. There's some premium content on this channel that you have to pay for, but the majority of it is free to watch. Roku also supports other apps that don't require a subscription, including popular options like Crackle, Pluto TV, Tubi, and others.
However, the popular third-party streaming apps — Netflix, Disney+, etc. – that require subscriptions to watch will still require fees when used on Roku. You will need to sign in with your account information when first opening these apps.
Does Roku work without internet?
No. The Roku platform will require an internet connection to work, usually through Wi-Fi. That doesn't mean you can't use your TV, but none of the smart features Roku offers will be able to function without an internet connection.
Does Roku work with AirPlay?
Yes, many Roku TVs work with AirPlay and HomeKit, so it's quite Apple-friendly. You may also be able to cast to a Roku from an Android device, although this can vary.
Editors' Recommendations