When it comes to foldable phones, Samsung has hit the ball out of the park with its third-generation flagship foldable models: The Galaxy Z Fold 3 and the Galaxy Z Flip 3. It's fair to say reviews have judged these folding phones to be home runs. No, they're not perfect — not yet — but the third try makes it clear that folding smartphones will be a valid design alternative to the "Great Glass Slab" from now on.
For the moment, folding phones come at a premium. Despite their hefty price tags, the marketplace for foldables continues to heat up. Apple analyst Ming-Chi Kuo has predicted foldable smartphones will eventually become a "must-have" offering for major smartphone brands. The compact, hybrid folding phone-slash-tablet combo is designed for people who seek more screen real estate but dislike the newer gigantic phablets. The small models are for those who always longed for their clamshells of old.
In addition to Samsung's latest handsets, the few foldable phones available sport a variety of styles and forms, while TCL has famously experimented with less conventional design concepts.
In the future, we expect folding phones from companies such as TCL and Apple, though some manufacturers may target local markets, like the Vivo X Fold, the Oppo Find N, the Xiaomi Mi Mix Fold, all currently only available in China. There's even word of a foldable from Google, which could be the Pixel Fold or Pixel Notepad.
As companies like Samsung, Motorola, and Huawei lead the charge for a creative overhaul of the smartphone genre, we present the best foldable phones available today.
Samsung Galaxy Z Fold 3
Pros
Improved screen durability and IPX8 waterproofing
Powerful hardware and capabilities
Solid rear cameras
Great for multitasking and productivity
Cons
Still expensive
Lackluster battery life
The smart money had it right: Last year, Samsung, as anticipated, released the third generation of its flagship foldable phone, the Galaxy Z Fold 3. The reception for this product has been overwhelmingly positive and most of the earlier predictions regarding upgrades to the handset — S Pen support, IPX8 rating water resistance, and an under-display camera — came to pass.
The 6.2-inch 5G smartphone is available in Phantom Black, Phantom Green, and Phantom Silver. When open, you get 7.6 inches of AMOLED 2X screen made with Corning Gorilla Glass Victus. An additional panel layer and protective film make the Fold 3's interior main screen more durable. Screens are accompanied by Dolby Atmos and stereo speakers and a refresh rate of 120Hz. The under-display camera is hidden beneath the main screen. You can split the screen into three apps and then open five more via pop-up for multitasking. The Fold 3 sports 12MP telephoto, 12MP wide-angle, and 12MP ultrawide-angle cameras in an Armor Aluminum frame.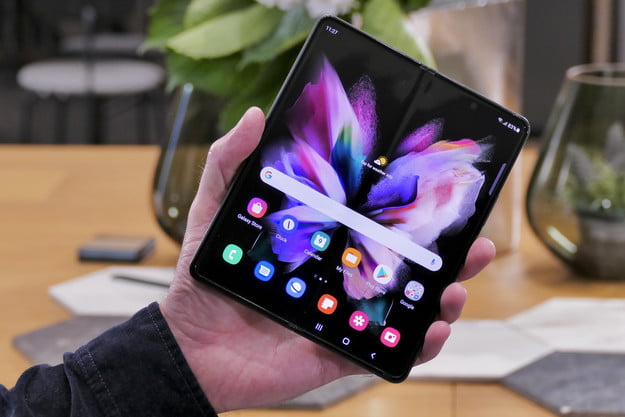 Samsung Galaxy Z Flip 3
Pros
Truly compact
Water resistance increases durability
Beautiful screen
Cutting-edge, eye-catching design
Cons
One-day battery life
Cover Screen lacks features
The 4.2-inch Samsung Galaxy Z Flip 3 — in Cream, Green, Lavender, or Phantom Black, plus a range of Bespoke Edition colors — debuted alongside its sibling, the Z Fold 3 last year. The beloved clamshell design is intact with a whole lot more goodies, such as an IPX8 water resistance rating.
The 6.7-inch dynamic AMOLED 2X, 120Hz display offers a bright, clear, responsive visual, while the 1.9-inch cover screen shows and lets you interact with notifications. The glass is both flexible and durable with a new protective layer and film. The exterior front cover and back cover are made with durable Gorilla Glass. When it comes to shooting pics and selfies, the Flip 3 has you covered with a 10MP front, 12MP ultrawide, and 12MP wide-angle camera and selfies from the dual rear camera. Split your screen in two to multitask. The 3,300mAh battery adjusts based on your daily use.
Motorola Razr (2020)
Pros
Water-repellent design
Smaller chin than 2019 Razr
Improved hinge
Cons
No MicroSD card slot
Small 2,800mAh battery
This newest model is Motorola's successor to the Razr 2019 and addresses many of the complaints about the older phone, including a lack of splash resistance. The Razr 2020, available unlocked, heavily resembles the look of the older model, with the same size, clamshell design, and dimensions, as well as the internal 6.2-inch 21:9 foldable display and external 2.7-inch Quick View display. It also runs the same software — though the Quick View display can now run any app, accomplish quick tasks, and reply to messages. The new device sports 3D curved glass on both sides with an aluminum frame in Black, Blush Gold, and Gray. The chin at the bottom is smoother and smaller, and the fingerprint sensor is now on the back of the phone.
Samsung Galaxy Z Flip 5G
Pros
Compact design
More affordable than other foldables
Durable display
The original Samsung Galaxy Z Flip was upgraded to include 5G. With its 6.7-inch AMOLED display and 2636 × 1080 resolution, the updated Z Flip appeals to a certain class of buyer. While there is a noticeable crease in the middle of the device at the bend area, it is hard to see when looking directly at the device. A Flex Mode detects when the phone is half-open and automatically separates the interface into two screens for certain apps.
With Qualcomm's Snapdragon 865 Plus processor, 8GB RAM, and 256GB storage, the Samsung Galaxy Z Flip's chipset is up there with the high-end flagships. The device has a 3,300mAh battery and the ability to charge or share power wirelessly with other devices. It also features a pair of 12-megapixel wide-angle and ultrawide-angle cameras.
Samsung Galaxy Z Fold 2 5G
Pros
Foldable screen opens new possibilities
Excellent hardware quality
Reassuring hinge and screen durability
Very good triple camera
Top-end specs and core flagship features
Cons
Heavy and awkward to use one-handed
Many apps aren't optimized for foldables
Much more expensive than most phones
The Samsung Galaxy Z Fold 2 is still available, despite the newer model. It features a 7.6-inch inner touchscreen, a 6.2-inch cover touchscreen, and a 12MP telephoto camera lens. It runs on a powerful Snapdragon 865 Plus processor and a sleek body. Samsung has outfitted the device with the latest Ultra Thin Glass (UTG), which made the Z Fold sturdy. The hinge, which uses tiny bristles to banish dust and debris, is a huge improvement over the original Fold.
Samsung Galaxy Z Fold 2 5G
Microsoft Surface Duo 2
Pros
Marked camera upgrade over predecessor
Large aspect ratio for reading and multitasking
Software is largely fixed
Top-tier flagship specifications
Superior multitasking capabilities
Cons
Poor lowlight camera performance
Awkward to hold for camera use
Still a few software bugs to work out
In October 2021, Microsoft released the Surface Duo 2, the follow-up to the original Surface Duo. This dual-screen phone ships with Android 11 and, when unfolded, has a larger 8.3-inch display than its predecessor, measuring in at 5.8 inches while folded. The PixelSense AMOLED display has a resolution of 2688 x 1892 while open and 1344 x 1892 when closed. There's also a bump to a 90Hz refresh rate. The phone can fold completely closed, open like a book, or fold back on itself for single-screen use.
Under the hood, the Surface Duo 2 packs a Snapdragon 888 processor, 8GB of RAM, and up to 512GB of onboard storage. Strong battery life and a triple camera array round out the package, plus 5G for future-proofing and NFC. However, unlike Samsung's foldables there's no IP rating here.
Frequently Asked Questions
What sets a foldable phone apart from a normal phone?
There are two major genres of foldable phones: A tablet that folds in half and a clamshell that's reminiscent of the folding cell phones of the early 2000s. Both designs are compelling.
With a large foldable phone like the Galaxy Z Fold 3, you get a generous screen for videos, games, reading, and web browsing. Splitting the screen into multiple sections lets you display different content while using apps, watching videos, messaging, or zipping through your Google photos. The Galaxy Z Flip 3, for example, offers unique features, and can also work as a tripod while taking pictures with the front or back cameras.
Whether you choose a large or small model, a foldable phone boosts the value of your device. Large screen devices fold out to tablet size while a smaller size clamshell fits easily into your pocket. Samsung's App Continuity feature gives folding phones the flexibility to adapt apps for more than one screen on the fly.
Who should consider a foldable phone?
A big-screen folding phone does things flat phones can't. It lets you play games, read PDFs, and create content in unique ways — all at the same time. Even more than the largest slab phone, it can serve as your exclusive device for most of the day, allowing you to multitask on split windows and screens. If you need your phone for multitasking, movie watching, viewing maps, and using productivity or art apps, a folding phone may be in your future.
Which type of foldable phone should I pick?
When deciding which foldable phone you want, first decide what functions are most important to you. Are you looking for productivity? Or are you looking for the most convenient small device that fits in your pants pocket? Sometimes it's not an either/or question. If you want to use your mobile device for reading, either size makes a great reader, but for larger format documents, a fold-out phone makes more sense. While it may seem like a larger screen is best for video watching, a clamshell is both lighter and more widescreen compatible. Depending on your favorite games, you may pick the size based on your gameplay preferences.
What can you expect to pay for a quality foldable phone?
Foldable phones are very expensive right now because they are made with new technology and processes that are still being perfected with materials still being sourced. You should expect to pay at least $1,000 for a high-quality foldable phone, which is the price of the Samsung Z Flip 3. The clamshell style is pocketable, but with nicely updated screen technology. For an even larger phone, like the Galaxy Z Fold 3, you can expect to pay at least $1,800 to $2,000. However, you may get a bargain if you can trade in an older phone or get in on the ground floor of sales offerings.
Editors' Recommendations