It's a fantastic time to be a gamer — when it comes to platform choice, there have never been more options available.
You could grab a PlayStation 5 and enjoy its killer lineup of exclusives or dive into the Xbox Series X's deep game library (not to mention the fantastic deal that is Game Pass). Fandoms aside, the race between the two major consoles is closer than you'd think.
Or, if portability is a priority, you might be considering the time-tested Nintendo Switch or even giving the more experimental Steam Deck a shot.
We've spent a considerable amount of time with all these systems and can safely say that whichever one you pick is a solid choice. From impressive visuals to smooth performance and the ability to take your gaming experiences on the go, these devices have something for everyone.
Whatever your gaming needs are, we'll help find the right video game console for you. These are the best video game consoles to buy in 2023.
Playstation 5
The best gaming console
Pros
Speedy hardware
Excellent game load times
Solid storage
Lots of must-own exclusives
New controller with enhanced haptics
Cons
Awkward design, even on new model
Why you should buy this: It's the latest iteration of one of the most popular consoles of all time and has the best exclusive lineup of any console to date.
Who it's for: Everyone.
Why we picked the PlayStation 5: With lightning-fast load speeds, a new controller, and a phenomenal lineup of titles (including fan favorites and new exclusives), the PS5 is the best plug-and-play gaming platform available.
First of all, the PS5 currently has the upper hand when it comes to games. PlayStation gamers have been enjoying Sony exclusives like God of War: Ragnarok, Horizon Forbidden West, and Spider-Man: Miles Morales. Xbox fans, on the other hand, have been subject to a slimmer list of top-tier exclusive. Sony also has finally brought backward compatibility into the fold, too, and the PS5 will be able to play most PS4 games, so you won't miss out on late-gen titles like The Last of Us Part II and Ghosts of Tsushima. The PS5 simply has the best game library out there right now.
The PS5's solid launch lineup is only part of the equation, however. Slightly larger than the DualShock 4, the new DualSense controller refines haptic feedback, incorporating a precise sense of touch into the gaming experience that force feedback never achieved. If you're draining your stamina bar to pull back a bowstring or attempting to bust down a locked door, for example, the hand triggers can convey that tension. Of course, if you need a little more from your controller, you can always shell out for Sony's improved DualSense Edge controller.
Speaking of peripherals and hardware, both iterations of the console use AMD chips across the board, including an eight-core CPU running on a modified version of the Ryzen line. The PS5's GPU also is from AMD and provides 10.28 teraflops of power, while supporting resource-intensive processes like ray tracing, which allows for more advanced lighting in games. It also comes with a 4K Blu-ray player, putting it in line with the Xbox One S and Xbox One X. In layman's terms, the PS5 is technically less powerful than the Xbox Series X, but still packs a punch and represents a massive upgrade from last-gen consoles.
On top of all that, the PS5 will soon have its own designated virtual reality headset in the PlayStation VR2 -- we haven't gotten a chance to give it a test run just yet, but the list of launch titles is very impressive.
If discs aren't your thing — or you simply want to save some cash — look no further than the PS5 Digital Edition. It retails for $100 less than the standard PS5 but is identical in terms of specs. The only difference between the two is that the Digital Edition has no disc drive, meaning Ultra HD Blu-rays are out of the equation, and you'll need to rely on digital downloads. Everything else, including the launch lineup, remains the same.
Playstation 5
The best gaming console
Xbox Series X
The best Microsoft gaming console
Pros
Gobs of potential
More storage than PS5
Accessible library through Game Pass
Good value
Cons
Lacking big exclusives
Difficult to fit in most A/V cabinets
Next-gen potential is untapped
Why you should buy this: It's the most powerful Xbox available right now, and Game Pass is an attractive value.
Who it's for: Players who want to play as many new games as possible with the best visual fidelity.
Why we picked the Xbox One X: The Xbox Series X is a tech powerhouse. The console features 12 TFLOPS of power and up to eight times more graphical performance than Xbox One, not to mention twice as much as the Xbox One X. The Xbox Series X also has 16GB of GDDR6 RAM and supports variable refresh rate, Variable Rate Shading technology, and a low-latency mode that allows for better responses out of your games. The power in this next-gen console is sure to wow gamers — that is when there are true next-gen games available for it.
The Series X launch lineup was a little lackluster for a while — Halo Infinite was the big launch title and has since petered out — but 2023 looks like it's going to be a big year for the console with exclusive titles like Redfall and Starfield on the way, along with plenty of other launches throughout the year.
In the meantime, Xbox Series X owners have no shortage of games to play. Xbox Series X will support every previous generation of Xbox games, similar to how Xbox One did. This means you'll be able to play select Xbox, Xbox 360, Xbox One, and Xbox Series X games all on the new machine — a huge win for game preservation. The Xbox also is home to Game Pass, the best deal in gaming. With more than 100 heavy-hitting games on the roster and promises of Project xCloud integration, gamers can explore and test out new titles for a low monthly fee. The library isn't made up of last-gen throwaways, either; there are plenty of newer first-party titles that'd cost you a premium if you were to go out and buy them right now. Given Game Pass is available on PC as well, the Series X also allows for more cross-platform opportunities than Sony's offerings.
While the Xbox Series X is a powerful machine, it's also a surprisingly quiet one. The console's cooling architecture is incredibly efficient, so much so you might wonder if the console is even on at times. The Xbox One, by comparison, is as loud as can be.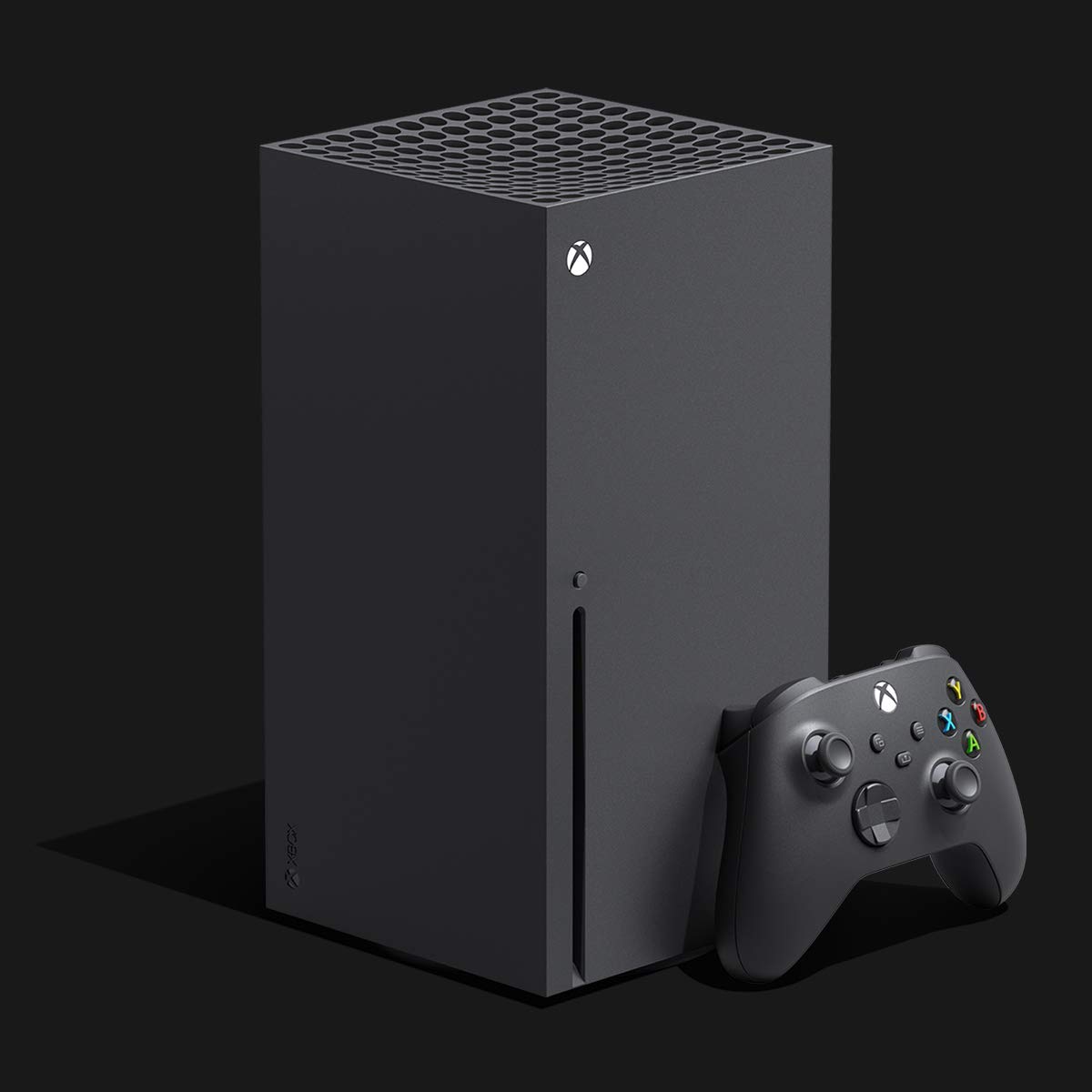 Xbox Series X
The best Microsoft gaming console
Nintendo Switch
The best portable game console
Pros
Game at home or on the go
Sharp display
Unique multi-mode controller
Excellent game library
Great battery life
Cons
Limited internal storage
Some controller options are uncomfortable
Why you should buy this: You want a console gaming experience — but on the go with unmatched first-party support.
Who it's for: Everyone.
Why we picked the Nintendo Switch: Nintendo sidestepped the current console arms race by changing not how you use your console, but where. The Switch is a hybrid device that plugs into a TV, like the PS5 and Xbox Series X, but also works as a handheld.
While it doesn't quite have the oomph to play the latest 4K, 120 fps releases slated for next-gen consoles, the Switch can play Doom at a smooth 30 FPS anywhere you want, and that's more than enough for a lot of gamers. In addition to contemporary titles like Control, the Switch is a fantastic venue for reviving modern classics, such as The Witcher 3, L.A. Noire, and Dark Souls Remastered.
More than just a clearance house for lightly-aged AAA titles, the Switch also offers an ever-growing catalog of fantastic first-party games like Super Mario Odyssey, The Legend of Zelda: Breath of the Wild, and Animal Crossing: New Horizons, as well as excellent indies such as Stardew Valley, Celeste, and Ori and the Will of the Wisps. Add in some old-school Nintendo nostalgia with a growing list of NES and SNES games through Nintendo Switch Online, and the Switch is a well-rounded console.
The Nintendo Switch is also a great companion console for anyone who already owns a PlayStation or Xbox console. It can do things the competition can't, and offers a host of great titles that will likely never appear on a Sony or Microsoft system.
Nintendo Switch
The best portable game console
Steam Deck
The best premium portable console
Pros
A massive library of Steam games
Best specs of any handheld system
Customizable controls
Why you should buy this: It features a massive library of high-quality Steam games that look and run admirably.
Who it's for: Players looking for console-like performance and selection on the go.
Why we picked Steam Deck: The Nintendo Switch made us hungry for high-quality games on the go, but sadly, the system was never powerful enough to run fan-favorite third-party titles you'd find on PlayStation, Xbox, or PC. The Steam Deck makes that dream a reality, giving you access to a huge chunk of games available on Valve's platform without sacrificing too much quality. Sure, the games don't look and run as great as they would on a powerful PC, but the Steam Deck does a surprisingly good job of showcasing graphically intensive games in a way Nintendo Switch never could.
Aside from featuring a robust lineup of games (that are shared across your Steam account), the Steam Deck offers plenty of control customization, a clean UI, and a reasonable price. We also can't overstate how nice it is to jump into the system and see all the games available that you've purchased over the years through Steam. Sure, not every game is compatible with the device, but practically every new release works on Steam Deck, making it well worth the purchase.
Sadly, the Steam Deck is still hard to find, just as many new consoles are. You can visit Valve's site to pre-order one, but don't expect to get your hands on it for several months.
Steam Deck
The best premium portable console
Nintendo Switch OLED
The best premium Nintendo console
Pros
Improved screen
Improved onboard audio
Much better kickstand
Cleaner dock design
Cons
No upgrades for TV
Storage is still small
Why you should buy this: The Nintendo Switch OLED is a mid-generation upgrade that boasts a bigger, better screen and a flurry of bells and whistles to warrant the price of entry at $350. It's ideal for those who are jumping into the Switch family for the first time, especially if you plan on primarily playing in handheld mode.
Who it's for: Players who want a better-looking screen in handheld mode or who play online while docked. It's great for users who plan on upgrading or who have never owned a Switch system before.
Why we picked the Nintendo Switch OLED: We picked up the OLED to take advantage of the bigger, more vibrant screen. It's fascinating just how much better the new OLED screen looks compared to the LCD display on the original model. And the larger 7.0-inch screen on the new OLED model is a major improvement, giving you a bit more mileage out of the device without increasing the size of the machine overall.
The Switch OLED is an excellent choice because it uses all the accessories from the previous model including Joy-Con controllers, dock, microSD memory cards, and, of course, games. This means users who are upgrading can use all of their old accessories on the new OLED model.
While the Switch OLED does play all the same games as the original Switch, games simply look better on the new machine — at least in handheld mode. When placing both systems side by side, it's easy to see the difference between the two screens. Since the OLED has a built-in LAN port in the dock, you'll be able to plug in an Ethernet cable to enjoy online gaming without some of the headaches that come with using Wi-Fi.
Users who like to play in tabletop mode will be pleased with the Switch OLED's new kickstand, which covers the entire backside of the system. This is a huge improvement over the thin, flimsy kickstand on the original model. Overall, the original Switch still gets the job done, but the OLED model is a significant improvement in more ways than one. Like the original Switch, the OLED won't run games at a higher fidelity but is perfect for those who love high-quality Nintendo games or ports of older beloved classics — especially in handheld mode.
Nintendo Switch OLED
The best premium Nintendo console
PlayStation 4 Pro
The best budget game console
Pros
4K gaming for less than $500
Improves visuals on select PlayStation VR titles
Makes all games run slightly better than standard PS4
Looks good even on 1080p TVs
Supports all PS4 games
Cons
HDR can be difficult to set up
Very few titles offer 4K support at launch
No 4K Blu-ray Player
Why you should buy this: This last-gen console has a healthy catalog of top-tier games and the price tag has dropped since the release of the PS5.
Who it's for: Anyone who wants to game without breaking the bank.
Why we picked the PlayStation 4 Pro: While plenty of gamers are making the jump to the PlayStation 5, there's still a lot of life left in last-gen consoles. The PlayStation 4 Pro is still a serious gaming machine with a vast library of games, and the console's price tag (and the cost of games, accessories, etc.) only is going to continue to drop. The PS4 Pro is also slightly easier to find than the PS5, though, most modern consoles have suffered from low availability following the recent chip shortage. The PS4 Pro delivers an impressive playing experience for 4K television owners because of the enhanced graphics and sharper images for 4k-enabled titles.
We're not going to pretend that the PS4 Pro is close to matching the superior PS5, but it's still a worthwhile gaming experience. Aside from a handful of titles exclusive to the PS5, you're going to have access to most major titles out now and all the most popular free-to-play titles.
Price is a major factor when deciding whether to upgrade to a new system — there's no shame in snagging a last-gen console to play with until the PS5 becomes less expensive and more widely available.
PlayStation 4 Pro
The best budget game console
Nintendo Switch Lite
The best budget portable game console
Pros
Comfortable design
Sharp and vibrant display
Solid battery life
Brings back the iconic D-pad
Affordable
Cons
Slightly smaller game library
No TV mode support
No motion controls
Why you should buy this: The Nintendo Switch Lite is the best handheld game console out right now, giving you access to all the latest and greatest Nintendo titles without the price tag of its hybrid counterpart.
Who it's for: Everyone
Why we picked the Nintendo Switch Lite: If you plan on only using your Nintendo Switch in handheld mode, the Nintendo Switch Lite makes for a great option at a slightly lower price point. It lacks the television docking support of the standard system but features a smaller size and a slightly better battery life than the updated Switch console that launched last year. It's compatible out of the box with nearly every Nintendo Switch game, as well, and is perfect for games like Pokémon Sword and Shield.
Ditching the Joy-Cons, the Switch Lite comes with an all-in-one design. It's almost an inch shorter in width, making it more compact than the original. Coming in at 9.7 ounces, it's lighter, but not so much that it feels flimsy. Being smaller than its predecessor, the button layout had to be altered slightly, but the console is still incredibly comfortable and easy to navigate.
There aren't any obvious differences in gaming performance on the smaller console, either. Revving up the field in Rocket League or building your defenses in a tense Fortnite match will feel just as smooth on the Switch Lite display versus the original Switch's screen. With no dock, HDMI support, or Joy-Cons, the Switch Lite doesn't have TV support or motion controls, which slightly impacts your gaming options, but most of the Switch library is available.
Nintendo Switch Lite
The best budget portable game console
SNES Classic Edition
The best retro game console
Pros
Games all work exactly as they should
Rewind feature works very well
Great game library
Star Fox 2 released, for the first time ever
Beautiful miniature replica design
Cons
You need to hit the console's reset button to change games
Slimmer game selection than NES Classic
Why you should buy this: It has 20 of the best games ever made for only $80 (retail price).
Who it's for: Nintendo fans old and new, and those who grew up with video games.
Why we picked the SNES Classic Edition: The 16-bit era saw Nintendo at the peak of its creativity, releasing popular, acclaimed games like The Legend of Zelda: A Link to the Past *and *Super Metroid alongside cult hits like Earthbound. Third-party companies didn't take a backseat, with Square Enix's Final Fantasy VI and Konami's Super Castlevania IV among the best games of all time.
With the plug-and-play SNES Classic Edition, you can experience all over your favorite classic Super Nintendo games as you remembered them through retro gaming. There's even a CRT filter option mimicking the look of your old television.
With the addition of a save-state feature, playing old Nintendo games on the SNES Classic is significantly less frustrating than it was 25 years ago, and when you're ready to sit down and game with a buddy, classics like Super Mario Kart and Street Fighter II Turbo: Hyper Fighting give you a chance to compete for bragging rights.
The SNES Classic Edition also is the only way to play Star Fox 2, outside of the Nintendo Switch Online service, a game Nintendo canceled just before its original release date. To unlock it, you just need to beat the first level of the original Star Fox, but it will be very tough to pull yourself away once you start playing.
SNES Classic Edition
The best retro game console
Sega Genesis Mini
The best alternative retro game console
Pros
Authentic design
Huge library of games
Clean, convenient menu system
Why you should buy this: The Genesis Mini is Sega's retro console offering, renewing the classic Nintend0-Sega rivalry in a new era.
Who it's for: Those who preferred Sonic's blazing speed to Mario's block-breaking ways.
Why we picked the Sega Genesis Mini: While the SNES Classic was our top retro pick, there are some golden age classics that only can be found on the Sega Genesis. From groundbreaking platformers Sonic the Hedgehog 2 (arguably when the company's speedy mascot was in his prime) and Earthworm Jim to iconic fighter kings Streets of Rage 2 and Mortal Kombat II, you have to admit that Sega has just as many stellar, nostalgic titles as its Nintendo counterpart console.
The Sega Genesis Mini features 42 games — 40 of which are Sega classics — while the once Genesis-bound Tetris and arcade shoot 'em up Darius sweeten the pot. The package includes a sleek, miniaturized version of the Sega Genesis console and two classic controllers. The console is ready to plug and play and includes a power adapter and an HDMI cable.
The games are presented almost exactly as they were, but the console does include a save-anywhere function, which is quite a time-saver. Overall, your preference for retro console will largely be driven by whether you prefer Sega's lineup or Nintendo's. There are certainly no wrong choices, and this is exemplified by the fact that these consoles still generate hype decades later.
Sega Genesis Mini
The best alternative retro game console
PlayStation VR
The best console add-on
Pros
Good game library at launch
Great headset security
Achieves that "full VR" sensation
PlayStation Network filters out broken games
More affordable than Rift or Vive
Cons
Makes a mess
Not as powerful as Rift or Vive
Why you should buy this: Sony's PlayStation VR headset is the most affordable way to give virtual reality gaming a try.
Who it's for: PS4 gamers (or anyone) who want to play virtual reality games.
Why we picked PlayStation VR: Okay — we know that PlayStation VR isn't technically a standalone gaming console, but it might as well be with the way it completely transforms gaming on the PS4. A new PlayStation 4 and a headset bundle comes in a lot less expensive than a gaming PC and either an Oculus Rift or HTC Vive headset, making it the most affordable virtual reality gaming option by a long shot.
It should come as no surprise that the PlayStation VR headset does not have the technical capabilities of its full VR counterparts. The headset sports a pair of 960xRGBx1080 RGB displays — one for each eye — and runs off the PS4's AMD Radeon GPU, which is far less powerful than the minimum required specs for a Vive- or Rift-compatible PC. It also has a 100-degree field of view, which is slightly smaller than the Rift and Vive. That being said, PlayStation VR achieves that feeling of complete immersion that comes from a "full VR" device, as opposed to mobile-powered options like Google Cardboard.
There are so many fantastic games available on the platform, ranging from action and shooter to platformer, puzzle, and a slew of others. Good luck trying to figure out which are the best to play (or which you can handle being fully immersed in).
If you haven't used VR much, the PlayStation VR will blow you away. If you've tried more advanced VR tech, you might be a little let down — but this is the most consumer-friendly way to play VR games in the comfort of your own home.
We're still waiting to see how well Sony's PSVR 2 performs, but based on what we know about it so far, it seems to be a huge leap ahead of its predecessor.
PlayStation VR
The best console add-on
4K, HDR, and buying game consoles
The PS5 and the Xbox Series X support high-resolution gaming that can take advantage of emerging display standards, 4K, and High Dynamic Range (HDR). Some people don't have a 4K TV, and fewer still have quality HDR support, which is broken down into its own sub-categories.
While there was just a small selection of games for last-gen consoles that took full advantage of these features, the newest slate of consoles will better leverage these technologies moving forward, essentially standardizing them. Keep in mind, however, that no console requires you to own a 4K or HDR-compatible TV, meaning you can buy a new console and hold off on buying a more capable TV until you've done more research, found games you feel are worth upgrading for, or are otherwise ready to commit.
If you do decide to purchase a new TV for the sake of a video game console, you should look for a 4K TV that runs at 60Hz and supports HDR 10, as opposed to HDR "Premium."
Editors' Recommendations